An inmate at New Jersey's only women's prison has revealed to Reduxx that a violent trans-identified male transferred into the facility has been allowed to marry a female inmate while serving a 50-year-sentence for the brutal murder of a prostituted woman.
Perry Cerf, 39, was arrested for the rape and murder of 47-year-old Ecuadorian immigrant Flor Andrade in 2002. Cerf, who now goes by the name Michelle Hel-loki Angelina, was wearing his victim's clothes and utilizing her identification when he was found by police.
Cerf had been stopped for speeding while driving her car in Demearst, New Jersey, and further investigation by police led them to the body of Andrade, whose naked and bound body had been dumped in a nearby ravine. He was charged with murder, felony murder, robbery, aggravated sexual assault, possessing a knife, providing false information to police, and various motor vehicle offenses.
While awaiting trial, Cerf penned a letter to The New York Daily News confessing to the crime and boasted of drinking the woman's blood. As reported by The Record of Hakensack, Cerf bragged in graphic detail about the brutality he had inflicted on Andrade, and said he drank her blood "so I could allow this person to live vicariously through myself."
Speaking to media in 2005, Cerf said he had no regrets about murdering Andrade. "Personally, I don't like to say I regret things that I've done," he said, concluding: "I feel bad because I got caught."
During his trial for the 2002 murder of Andrade, prosecutors initially offered Cerf a 40-year sentence if he pleaded guilty to rape and murder. However, Cerf told authorities he didn't want to enter prison on a sex-related charge and accepted a 50-year sentence to avoid a rape conviction.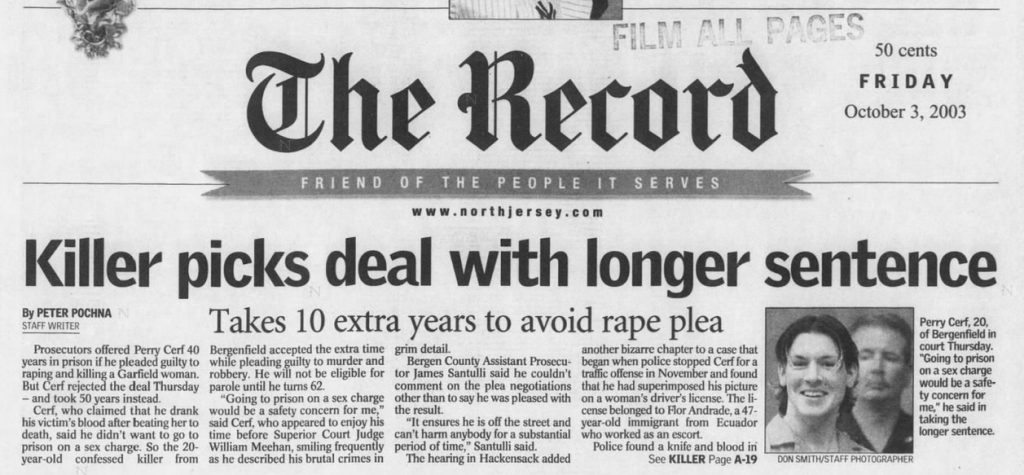 "Going to prison on a sex charge would be a safety concern for me," Cerf said at the time. He was being held among other men at New Jersey State Prison, where Cerf assaulted inmates and at one point was placed in solitary confinement for 23 hours each day. He had initially been placed in the mental health ward but was moved because of "aberrant behavior" against others.
Cerf was quietly transferred to the women's facility at an unknown date after beginning to identify as transgender.
Speaking to Reduxx, a currently incarcerated woman at Edna Mahan stated that Cerf was recently allowed to marry a female inmate and that the pair are now living together in the same quarters.
Kokila Hiatt, who has previously spoken out against New Jersey Department of Correction's decision to house male inmates in the women's facility, told Reduxx Cerf had married Jennifer Pasquarello, a former middle school aide currently incarcerated for sexually abusing one of her male students.
Hiatt told Reduxx that a few men transferred to EMCF who have undergone vaginoplasty surgeries are "free to engage in sexual relationships with the women simply because they no longer have the capability to impregnate anyone. Angelina [Cerf] actually married a woman here and the facility is housing them together."
Since becoming involved with Cerf, Pasquarello has begun identifying as non-binary. The wedding, which was held in the gym of Hiatt's unit was described by Hiatt as a "spectacle … since everyone thinks his relationship with the girl is [bullsh*t]. He has essentially turned her into his puppet."
Hiatt explained that Pasquarello and Cerf are now working together to enact something of a campaign of terror against the female inmates. The two frequently threaten women, and have on at least one occasion coordinated an assault on inmates who complained about their behavior.
Hiatt, who was housed in the same unit with the couple, said she was among the women specifically targeted by Cerf and Pasquarello for abuse. In order to avoid censorship by prison staff, Hiatt referred to Cerf by the female name he had adopted.
"[Cerf] frequently would threaten women. He threatened me one time because I was one of the ones who worked to get him and his (at the time) girlfriend Jennifer Pasquarello moved."
"He told me that my laughing was going to 'get me in trouble' as he ground his fist into his other hand. He told another woman she was going to 'take a trip,' meaning a trip to the hospital."
Hiatt and a few other women filed a formal complaint detailing instances of threatening and aggressive behavior in an attempt to have the two separated.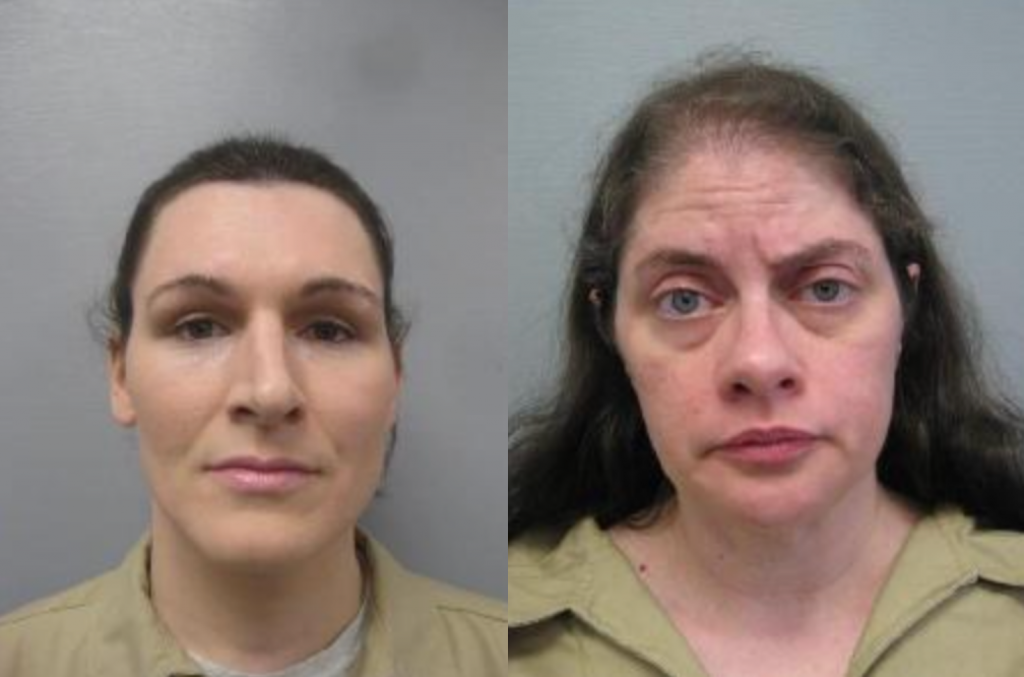 "They both lived in this unit on separate wings, but were allowed ample contact time with each other. After many complaints about their behavior the facility decided to move [Pasquarello]. When [she] got told to pack up, they devised a plan that would get them put in lock [solitary] together. Their plan was that if they couldn't at least live in the same unit together then they would go to lock together," Hiatt said.
This prompted Cerf and Pasquarello to formulate a strategy to assault two women who had made formal complaints.
"When [Pasquarello] was to be moved to another unit … they then hatched a plan to assault two other women. The [Correctional Sergeant] had called for extra officers to assist in the moves. [Cerf] screamed, 'They're sending teams to lock us, Jen,' [and] at that point Jen screamed 'Do it now!'Each went running down their respective wing to assault their individual intended targets."
Within one week, according to Hiatt, Cerf was found 'not guilty' of his assault charges. Hiatt also stated that he was "receiving property in lock that no other inmate would have had access to," such as his typewriter and a battery-operated shaver.
Pasquarello, however, was found guilty for assault and was out within a few weeks despite receiving a sentence of 90 days. Hiatt clarified that while "early releases from lock are not uncommon" and Pasquarello had no prior disciplinary record, it was "only after being involved with [Cerf] did a whole other side of her come out." The marriage, said Hiatt, was allowed to occur regardless of the incident.
The married couple is being housed together, despite the fact that the facility separates immediate family such as sisters, mothers and daughters, Hiatt added.
Cerf was removed from the facility on July 5 to receive breast implants, subsidized by the state. For some time prior, Hiatt said, he had been "provided with prosthetic breasts to wear."
Trans-identified male inmates are being prioritized over women for hormone treatment, even in circumstances where women are in medical need, multiple women told Reduxx. The men claiming a transgender status are able to receive hormones on the basis of a mental health treatment once they acquire a gender dysphoria diagnosis. They are also able to receive certain cosmetics for free which the female inmates have to purchase, in addition to the breast implants and hormones.
"Women cannot receive these things as 'medical treatments' because we are actually women and not diagnosed with a mental illness," Hiatt stated. "Those types of things are not seen as medically necessary for conditions we may experience. A woman could have a mastectomy and not be able to get implants to replace her breasts because she is a real woman, but [in order to make Cerf] feel like a woman, he was provided with implants."
"Whether it is men trying to become women or women trying to become men, both are accommodated. Real women who are going through menopause are not allowed hormone therapy as a palliative treatment for menopausal symptoms," Hiatt explained.
Another female inmate at Edna Mahan, Michelle Tierney, affirmed Hiatt's claims and added that women suffering from a medical condition called endometrial hyperplasia – caused by a lack of progesterone – were unable to receive hormone treatment. Moreover, women going through menopause are denied hormone replacement therapy, as are women who have had hysterectomies to treat cancer.
According to court records, Cerf suffers from "several mental diseases" and had on more than one occasion attempted self-castrations.
In 2005, he told his prison psychiatrist, Dr. Marina Moshkovich, that he wanted to murder the Associate Administrator Michelle Ricci by breaking her neck, hitting her in the head, beating her up, and choking her.
He had also grabbed his psychiatrist by the hair and attempted to beat her. He was served with a disciplinary report for threatening another person and for assault, and for fifteen other offenses for which were ultimately either dismissed or for which he was found not guilty.
Edna Mahan, New Jersey's only correctional facility for women, continues to be a source of ongoing controversy.
Multiple women have come forward to reveal the ways in which conditions within the institution have changed since a settlement between the ACLU and state Department of Corrections was reached in 2021. The settlement stipulated that trans-identified male inmates must be housed on the basis of their gender identity, resulting in the transfer of multiple violent male offenders.
On April 13, 2022, the New Jersey Department of Corrections confirmed that two female inmates at Edna Mahan had become pregnant after sexual encounters with trans-identified male inmates housed there.
---
Reduxx is a newly-launched independent source of pro-woman, pro-child safeguarding news and commentary. We're 100% reader-funded! Support our mission by joining our Patreon, or consider making a one-time donation.