Tech companies appear to have targeted political dissidents this week as multiple groups were slapped with bans to crucial operating services. Toby Young's Free Speech Union and Daily Sceptic were banned from PayPal, while child safeguarding advocacy organization Gays Against Groomers was suspended from PayPal, Venmo, and even Google.
According to Jaimee Michell, the founder of Gays Against Groomers, her group was permanently banned from PayPal and Venmo without warning or explanation on September 20. A Google ban followed less than 24 hours later, but has since been reversed on appeal. The news of the initial suspensions came just one day after Gays Against Groomers announced it had successfully obtained 503(c) charity status.
Gays Against Groomers has received widespread publicity for its pro-child safeguarding advocacy since its launch earlier this year. The grassroots group describes itself as "a coalition of gays against the sexualization, indoctrination and medicalization of children," and often focuses on hot-button issues such as gender ideology in schools, the medical transitioning of children, and inappropriate conduct at so-called "family friendly" drag events.
But Gays Against Groomers wasn't the only dissident group deplatformed this week.
On Wednesday, Toby Young, founder of British non-partisan organization the Free Speech Union and news site the Daily Sceptic, reported that PayPal had shut down both of their associated accounts. Like Gays Against Groomers, Young was told that his activity had violated PayPal's terms of service, but was not offered further explanation.
The abrupt suspension has threatened the Daily Sceptic and Free Speech Union's ability to operate. In an article for The Spectator, Young wrote that nearly a quarter of Daily Sceptic's revenue is processed through PayPal and that roughly one-third of the Free Speech Union's 9,500 members pay their dues via PayPal. Young has been unable to have the accounts reinstated despite multiple appeals to PayPal's customer service department.
Free Speech Union is known for advocating on behalf of its members on matters pertaining to freedom of speech. They exist to protect students, employees, and academics against being penalized for holding political views which might be unpopular or go against mainstream narratives.
In his Spectator writeup, Young speculates that the Daily Sceptic may have been suspended in response to publishing critiques of COVID-19 lockdowns and mRNA vaccines, while the Free Speech Union might have been targeted due to their defense of members who have faced consequences for resisting gender ideology in the workplace. Young also notes that Colin Wright, a journalist and biologist who has criticized the erasure of biological sex, had his PayPal account terminated in June.
Speaking to Reduxx, Jaimee Michell of Gays Against Groomers says her organization's bans spoke to the priorities of these platforms.
"The fact that PayPal and Venmo banned an organization completely comprised of gay people, which also has multiple trans contributors, that exists solely to safeguard children from predators, says everything you need to know about the state of our society."
Michell, who is a lesbian, has been a vocal critic of gender ideology and its impact on children since first establishing her organization in June.
"These platforms claim to promote and support minorities, especially from the LGBT community, but clearly that only applies when they fall in line with the agenda being pushed," Michell says.
Following the ban, Michell pointed out that while the big tech censorship campaign appears to be going after those who deviate from mainstream political narratives, there are far more dangerous actors using the same platforms to finance themselves without issue.
On September 22, the Gays Against Groomers official Twitter announced that Prostasia, an organization many have called "pro-pedophile," was utilizing both PayPal and Venmo to solicit donations.

Prostasia, a California-based registered non-profit, has become infamous in recent years for their campaigns which focus on supporting "minor attracted people," decriminalizing child-like sex dolls, and keeping "artistic" child pornography legal.
The charity has had at least one registered child sex offender pen blog posts for them in the past. Guy Hamilton-Smith, a licensed lawyer in the state of Kentucky, is currently on a 20-year registry for a conviction related to possessing child sexual abuse material.
Hamilton-Smith has penned two essays for the Prostasia blog, and allegedly sits on the organization's advisory council. One of Hamilton-Smith's essays argues for the removal of social media bans from registered child sex offenders.


Recently, Prostasia began collaborating with an organization it calls the MAP Support Club, an unregistered group which claims to provide "peer support" for pedophiles, and invites "minor attracted people" aged 13 years old and up to participate in online chats about "minor attraction."
Prostasia also runs a Discord server which was recently exposed by internet sleuths for hosting disturbing, highly sexual communications in the presence of minors.
This morning, Twitter suspended an account that was in the process of exposing Prostasia's discord server which hosted less than reasonable content. pic.twitter.com/uMSajtJbf4

— Reddit Lies (@reddit_lies) July 21, 2022
But Prostasia is far from the only disturbing "pro-pedophile" organization using PayPal to solicit donations in the midst of suspensions being leveled against political dissidents.
B4U-ACT, a registered non-profit based in Maryland, has also been using PayPal as their donation platform. B4U-Act is widely credited with popularizing the term "minor attracted person" to reference pedophiles.
The organization was founded by a convicted child rapist named Michael Melsheimer, who explicitly stated that the purpose of B4U-Act was to gain widespread public support for pedophilia where the National Association of Man-Boy Love had failed to do so.
Around the time of B4U-Act's creation, Melsheimer advised his fellow pedophiles on pederast forum BoyChat that his new approach for normalizing pedophilia would be focused around garnering public sympathy by deceptively claiming that the destigmatization of pedophilia would lead to a reduction in child sexual abuse. Melshiemer also assured them that the group would make no effort to prevent the sexual abuse of children.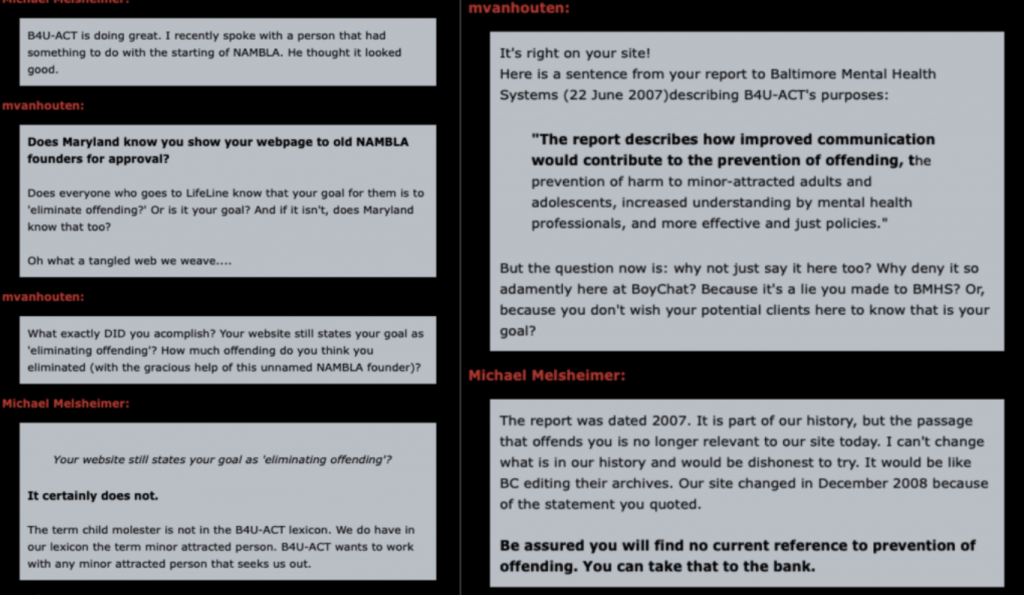 In the past, B4U-Act has pressured medical professionals to alter the classification of "pedophilia" in the fifth edition of the Diagnostic and Statistic Manual for Mental Disorders (DSM) in order to reduce stigma against child sexual abusers.
The clamp-down on Gays Against Groomers, the Free Speech Union, and the Daily Sceptic come on the heels of outrage over selective ideology-based policing on other platforms, most notably Patreon.
Last week, Reduxx reported that Patreon had allegedly been ignoring staff and user concerns about campaigns facilitating potential child exploitation. The news came to light shortly after Patreon announced the termination of its entire security team.
Following the mass-layoff, a GlassDoor review left by an alleged former employee in August began to circulate, with the ex-staffer claiming Patreon's Trust and Safety monitors had been explicitly instructed to ignore reports of child exploitative material unless contacted by law enforcement.
The review prompted interest in a series of videos released by a child safeguarding TikToker earlier this year in which she catalogued her difficulty in having Patreon remove an account which she says featured sexual photos of children. Sarah Adams told Reduxx it took Patreon almost 5 months to take down the account, and that the platform had initially defended its decision to keep it active.
While Patreon reportedly had qualms about removing a "pedophilic" campaign, the platform has been notorious for suspending creators who express views on political subjects that don't align with the mainstream.
Earlier this year, YouTuber Sydney Watson was suspended from Patreon for "hate speech." While Patreon did not explicitly state what Watson had done that fell under that policy, they did confirm it hadn't been anything she said on their platform, and had been from activity of hers they had been monitoring elsewhere on the internet.
In 2021, Kellie-Jay Keen, a popular feminist activist from the United Kingdom, was also banned from Patreon. Like Watson, Keen was told she had violated "hate speech" policies, though Patreon never specified what she had done wrong.
Get The L Out UK, a grassroots campaign group which advocates for the rights of lesbians, was also recently banned from Patreon.
---
Reduxx is a newly-launched independent source of pro-woman, pro-child safeguarding news and commentary. We're 100% reader-funded! Support our mission by joining our Patreon, or consider making a one-time donation.