A statue being displayed at Switzerland's Art Basel event is being described as the "first ever sculpture depicting a nude trans woman." The figure, based on a 3D-scan of the artist's body, depicts a naked man with male genitalia standing on a pedestal with the word "woman" carved prominently at the base.
The display was designed by American trans-identified male activist Jade Guanaro Kuriki-Olivo, who uses the moniker "Puppies Puppies" and will be publicly installed at the intersection of Freie Strasse and Bäumleingasse in Basel.
In an interview released today, Olivo, whose given name is Andrew, told The Art Newspaper: "My continued existence is revolutionary, and I need to be hyper-present in the world. It is important for me to have this sculpture in the public sphere."
Olivo frequently poses nude in photographs and public appearances. On April 26, Olivo posted on Instagram that he had given a series of lectures as a visiting artist at Northwestern University where he spoke to a class while lying naked on a bed. The event's description contained a warning for nudity and "sexual actions."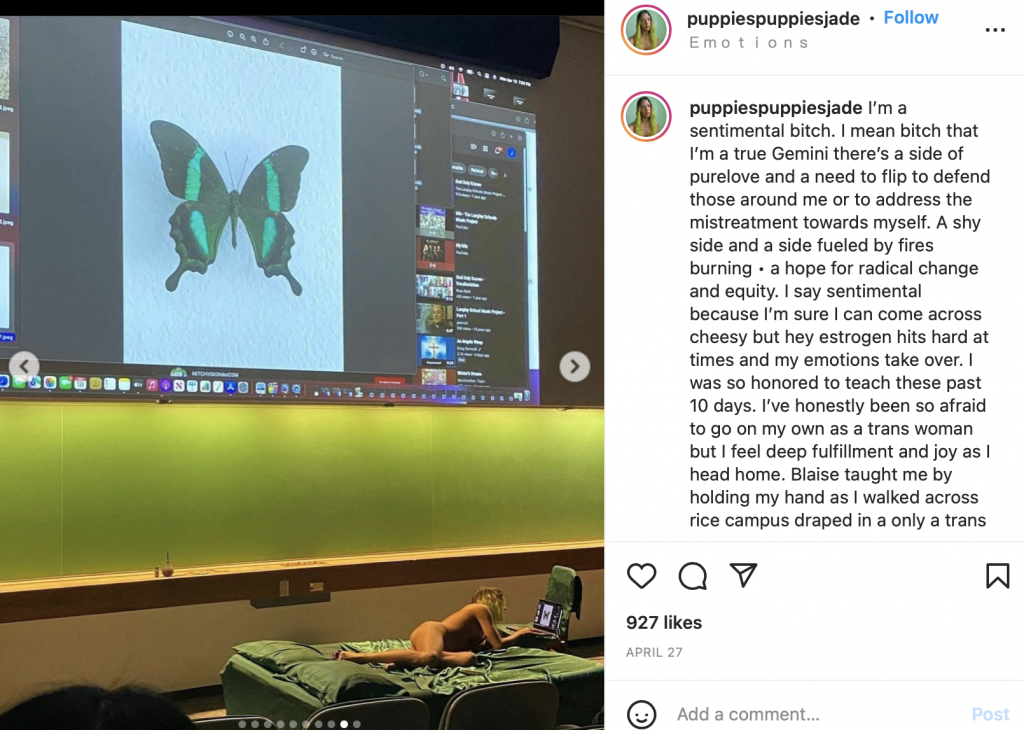 That same week, Olivo boasted of having walked naked across the campus of Rice University wearing only a trans flag draped across his back.
The post was made the same day Olivo spoke at Rice University as a part of the institution's visiting artist lecture series. "I'm ready to fuck it up… I'll be naked, I'll show them what trans liberation is all about," Olivo said in an announcement he posted to social media.
Speaking with Art Review in 2020, Olivo said, "The majority of my performances for the last year have been naked. I have done four already." The title of these performances is Naked Self (Transitioning). "I also want these performances to document the ways in which my body and appearance have changed the longer I'm on hormone replacement therapy. My testicles have shrunk. I barely produce sperm anymore."
Graphic descriptions of Olivio's genitals have been a central focus of his art, with Olivio having made multiple art displays based on feminizing his male genitalia.
Last October, Olivo painted the words "woman with a penis" on the outside of the Fitzpatrick Gallery in Los Angeles, where he displayed photographs of his penis and anus which he captioned, "This is not a penis. This is an enlarged clitoris" and "This is not an anus. This is a vagina with exterior ovaries."
Olivo also recently presented an exhibition in Berlin highlighting corrections to what he deemed "transphobic" language used for genitals. Among the murals was the phrase, "Woman with a Penis," and a definition of the term "trans woman" as a "woman with an enlarged clit and exterior ovaries." Olivo also compared his anus to a pornographic word for a woman's genitalia.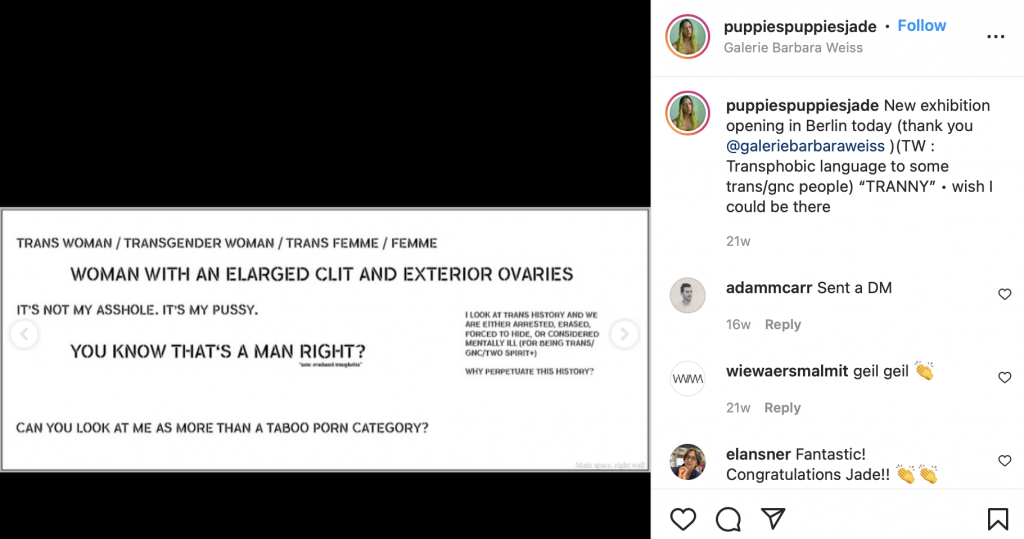 An April 18 post to Olivo's Instagram denounces women he describes as "TERFs". The term is an acronym for "trans-exclusionary radical feminist" that is used as a slur, often accompanied by a threat of violence, towards women who do not accept that men can change their sex.
"Can we take the radical out of the term TERF? There's nothing radical about being a TERF it's actually the majority of cis women and lesbian women," Olivo wrote.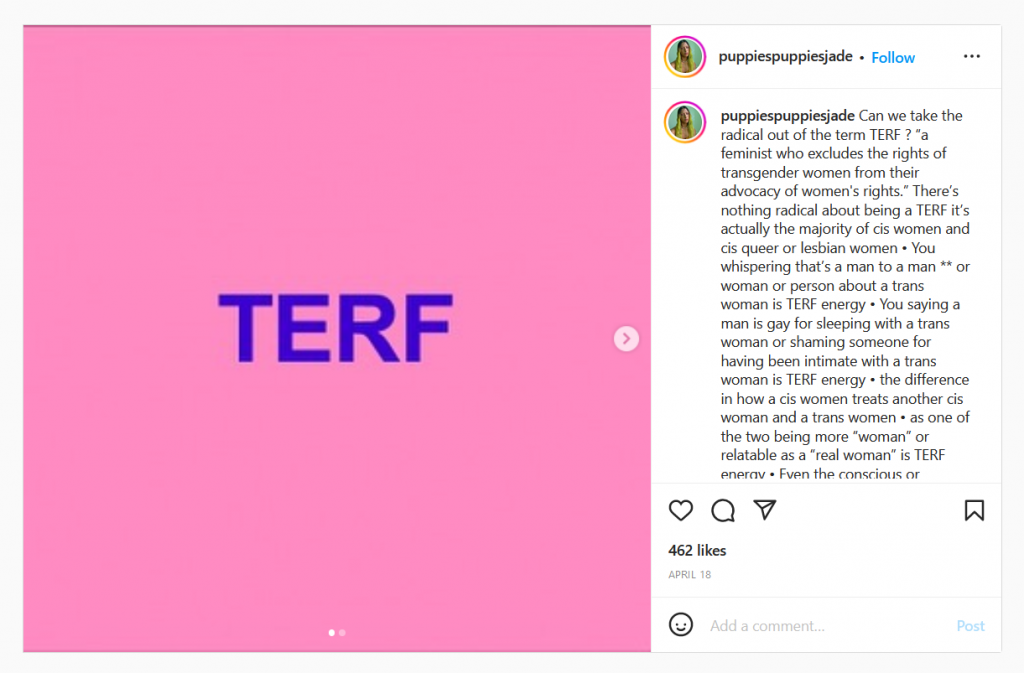 The exhibition also featured a pornographic video of Olivo in women's lingerie titled, "I often feel like I'm being f*cked over by a white man."
On June 18, Olivio is set to "recreate" a performance work by legendary Cuban artist Ana Mendieta at Art Basel. The performance, an untitled scene, was originally performed by Mendieta in response to the brutal rape and murder of a nursing student as a commentary on violence against women and girls.
---
Reduxx is a newly-launched independent source of pro-woman, pro-child safeguarding news and commentary. We're 100% reader-funded! Support our mission by joining our Patreon, or consider making a one-time donation.