Athletics Canada's former head coach has come forward to reveal that he was threatened by the Canadian Olympic Committee lawyers after expressing discontent with the results of the women's 800m at the 2016 Olympic Games. The competition saw three biological males take the top spots, displacing the female Canadian bid to fourth place.
Peter Eriksson, the record-making former head coach for the Canadian Olympic and Paralympic program, spoke to Reduxx about what happened at the 2016 session in Rio, and the consequences he faced if he spoke out on behalf of Canadian athlete Melissa Bishop. Bishop placed fourth after three males competed in the female division.
In the 800m women's race, Caster Semenya of South Africa took home gold, with Francine Niyonsaba of Burundi placing silver and Margaret Nyairera Wambui of Kenya finishing with bronze. All three of the athletes have Differences of Sexual Development (DSD) and while they are recognized as "female" legally, they possess XY chromosomes and are biologically male.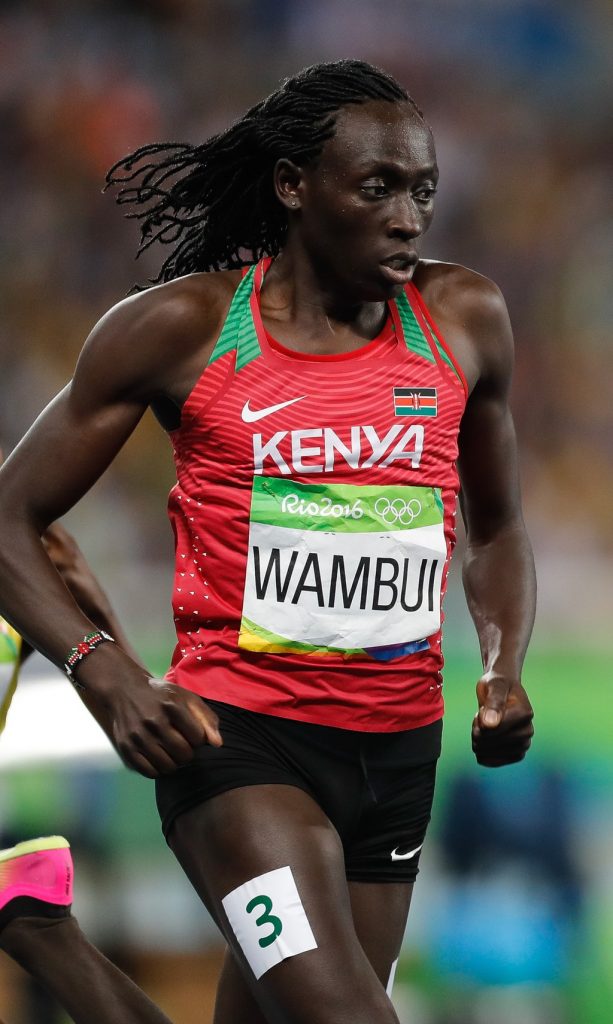 Semenya in particular has been the subject of much controversy dating back to 2009 when he first began participating in elite women's sport. Semenya's rapid improvements in performance initially triggered suspicions of drug use, and World Athletics (then called IAAF) was internationally denounced for requesting Semenya take a test to ascertain his biological sex.
Most women, including elite female athletes, have natural testosterone levels of 0.12 to 1.79 nanomoles per liter (nmol/L), but Semenya has male gonads producing a normal level of testosterone for a male. In 2011, Semenya was measured as having 15.6 and 29.3 nmol/L. Years later, a decision in the Court of Arbitration for Sport revealed that Semenya has a genetic disorder where the normal male sexual development fails in utero, resulting in external genitals that appear to be a vagina at birth, but is in fact an underdeveloped penis.
Athletes with DSDs similar to Semenya's were once actively sought out by national coaches because of their tremendous "natural" advantage.
Speaking to Reduxx, former Athletics Canada head coach Peter Eriksson says that he was outraged at the results of the 2016 women's 800m, and had wanted to speak out agains the injustice on behalf of Melissa Bishop, the Canadian female runner who would have come in first place if not for the three male athletes.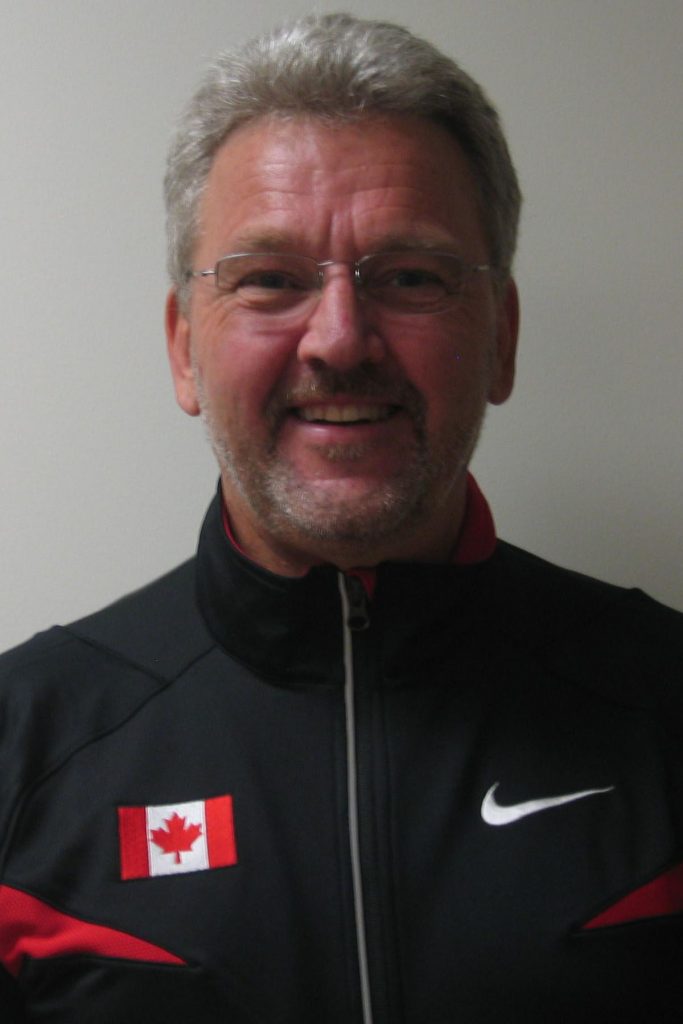 "I was the first one to see Melissa after the race and what do you even say in that scenario? 'You're the best woman in the race?' You don't get a medal for that," Eriksson says. "This was such an injustice I wanted to speak out, and then I got a call from the Canadian Olympic Committee's lawyer saying that if I opened my mouth, I would be banned for life in sport."
Eriksson explained that, at the time, World Athletics claimed there was a lack of evidence on the advantage possessed by DSD athletes, but that there had been no confusion on the ground about what Semenya and the others were.
"Everybody knew Caster Semenya, for example, was a male. Everybody was aware of it, but I think that World Athletics didn't want to do anything," Eriksson says. "This is now also documented in court records. [He] has very high testosterone and is XY. A few years earlier [he] had tried to lower [his] testosterone and began to perform poorly, so [he] stopped."
Eriksson was hired to the head coach position at Athletics Canada in 2013, and, during his tenure, Eriksson made history by leading Canada to record medal counts at major events. He also established himself as the most medal-winning head coach in Canadian athletic history.
But Eriksson's contract was cancelled just months Rio Olympics despite him having led Team Canada to the highest medal count in track and field since 1932. Eriksson says he was never given a reason, but Athletics Canada stated the decision was due to "changes to its high performance structure."
Now retired, Eriksson recounts that Bishop's loss had a massive impact on her life both emotionally and financially.
Bishop's lifelong coach had been very sick during the 2016 Olympic Games, but had made great effort to be present and witness her most important competition ever. Bishop took her fourth place ranking as a failure and it impacted her greatly.
Eriksson says that he was the first to speak to Bishop after her race, and that she had been in tears. Although she was the true female winner, she didn't receive the gold medal and lost out on massive earnings that could have followed if she had earned the medal.
Eriksson told Reduxx that Bishop had stood to gain "lots of money" through her Nike contract had she placed in the top 3 and that she was a prime candidate to be a flagship female athlete for them. But all of her opportunities were lost without a medal placement.
"At the time, Melissa was 27 years old and that's a prime age for being a top athlete on that event and being a medalist and it was taken away. And nobody was saying it and the Canadian team wouldn't speak up," he says. "Melissa knew her life went away with all of this."
Lynsey Sharp, a Scottish runner who placed sixth in the 800m, had been one of the few athletes to publicly speak about the results. Sharp was interviewed after the race, and, in tears, explained that it had been "difficult" to compete against Semenya and other hyperandrogenic athletes.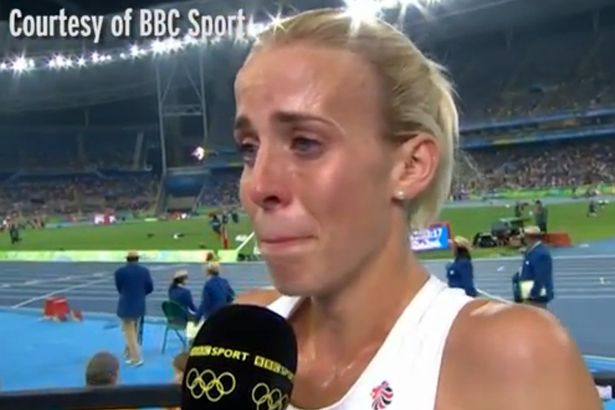 "I couldn't keep up with what was going on in the front, and I knew that," a breathless Sharp said to BBC Sport. "We [female athletes] know how each other feel, but it's out of our control … I think the public can see as well … All we can do is give it our best."
Sharp was slammed by trans activists and those who accused her of "racism" for her reaction. Taking to Twitter just days after the 800m race, Sharp posted a statement attempting to refute the claims and settle the matter.
"I have a tremendous amount of respect for Caster … I felt I gave an honest and diplomatic response," Sharp said. While Sharp has since deleted her Twitter account, archives preserve the tweet along with the hateful comments in the reply section directed towards Sharp and her "white tears."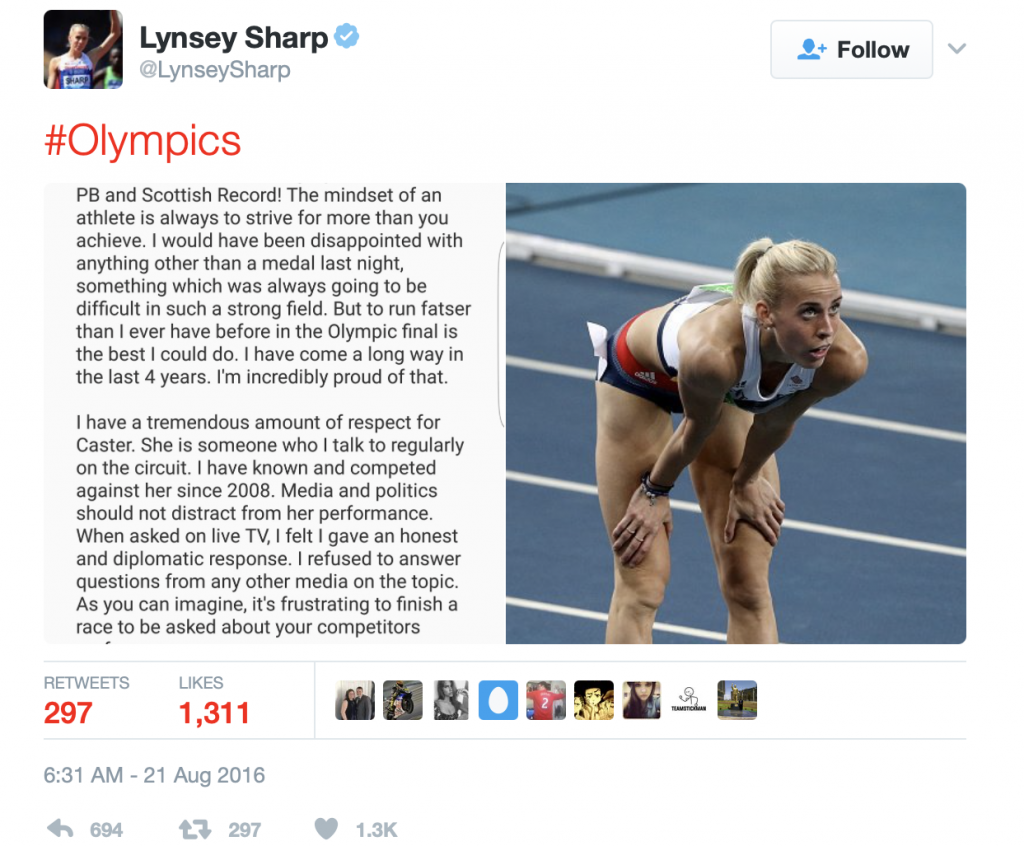 According to Eriksson, Sharp also received threats against her life and against her family from the transgender community following her televised reaction.
Linda Blade, a Canadian coach and vocal advocate for the rights of female athletes, was first to renew interest in the results of the 2016 women's 800m results after posting information about the threats Eriksson received to her Twitter.
Blade added her own commentary to the matter, tweeting: "Our own country's leadership would rather sellout to a cult rather than to defend one of our champions – even at the expense of waving GOODBYE to #Olympic Gold!! Sacrificing a woman and her entire career on the alter of #GenderIdeology. Just let that sink in."
Eriksson told Reduxx that Melissa Bishop saw Blade's tweet and the overwhelmingly sympathetic response to it, and became emotional.
"When she saw the tweet from Linda, she called up one of the people who was on the team and she was emotional. She was thankful that people remember it and that I spoke up about it," Eriksson says.
Blade has called on the International Olympic Committee and World Athletics to rectify the results of the 2016 Olympics for Bishop, asking for the gold to be retroactively reassigned in the same way that is sometimes done in doping cases.
Eriksson agrees with Blade, and also believes that Bishop should be given her medal.
"You can't say that you're just a woman and run in the women's division. This is wrong. There's no fairness in that. Plus, the science tells you the true story as well," he says.
Amidst growing pushback, World Athletics recently announced they would be prohibiting transgender athletes who have undergone "male puberty" from competing in women's world ranking competitions. During a press conference in March, World Athletics President Sebastian Coe cited scientific consideration and fairness for female athletes, stating he and the organization "believe the integrity of female category in athletics is paramount."
But for athletes with a DSD, World Athletics has simply placed a limit on their testosterone, restricting levels to 2.5 nmol/L. Eriksson says this is insufficient.
"If you had that level of testosterone as a woman, you'd get a life suspension," he says, adding: "99% of women have under 1 nmol/L of testosterone. It is hypocrisy."
Still, he believes "the problem is not World Athletics, but the International Olympics Committee (IOC)," which has a different policy with respect to transgender and DSD athletes. In December, the IOC released an update to their transgender guidance in an effort to address the criticisms leveled against them by female athletes after their original frame work came under fire.
The IOC's original framework, published in November 2021, was centered around "non-discrimination," and argued that male athletes should not have to drop their testosterone levels in order to compete in women's sport.
Eriksson believes sports should be fully sex-segregated, and notes that the benefits of male puberty which effect bones, lungs, muscles, and overall strength cannot be generated as a woman.
"There is no one who says that transgender or DSD athletes should not be able to compete in sport. Of course they should be able to. But they need to compete in the category of their sex. Not based on what you think you are," Eriksson says.
"They can either have their own classifications, like in Paralympic sport. Or they can go into the class of the sex they are born with. But you need to stay in your biological sex."
EDITOR'S NOTE 07/12/2023: World Athletics has reached out to Reduxx to reject Eriksson's statement that World Athletics was aware that Caster Semenya was male but "didn't want to do anything."
Nicole Jeffer, a representative with the governing body, stated: "World Athletics did not neglect its DSD regulations in 2016 – they were struck down by the Court of Arbitration for Sport in the Dutee Chand case in 2015. We didn't have time to return to CAS with new evidence before the 2016 Olympics. The new regulations came into force in 2018."
Reduxx reached out to Peter Eriksson, who challenged World Athletic's statement.
"It's interesting that they say the reason they were unable to do anything at the time was because of the Court of Arbitration for Sport ruling in 2015, because the fact is that [at] the last world championship in 2022 they allowed a these male athlete to compete in the 100 and 200 meter races. A DSD athlete took a silver medal in one of the races," Eriksson says.
"Why did it take until late 2022 before changes were made? To this day, it is not in place for all events. Races over 1500 meters have DSD athletes, as do throwing events. And why does the description in their rule book still include males in the female category?"
---
Reduxx is your source of pro-woman, pro-child safeguarding news and commentary. We're 100% independent! Support our mission by joining our Patreon, or consider making a one-time donation.