A workshop to help trans-identified males overcome lesbians' sexual boundaries "is similar to South Africa attempting to racially integrate society" the Central London Employment Tribunal heard today.
The shocking statement was made by Cathryn McGahey while providing evidence in the Allison Bailey v. Stonewall & Garden Court Chambers case. Bailey, a criminal defense barrister and LGB Alliance co-founder, has pursued legal action against her employer, Garden Court Chambers, and trans activist charity Stonewall.
Bailey's case asserts that Stonewall influenced her employer – who are part of Stonewall's controversial Diversity Champion Scheme – to withhold work from her as penalization for her 'gender critical' beliefs and pro-woman activism. Bailey has accused Stonewall of encouraging her Garden Court Chambers to investigate her in an attempt to cost her her livelihood.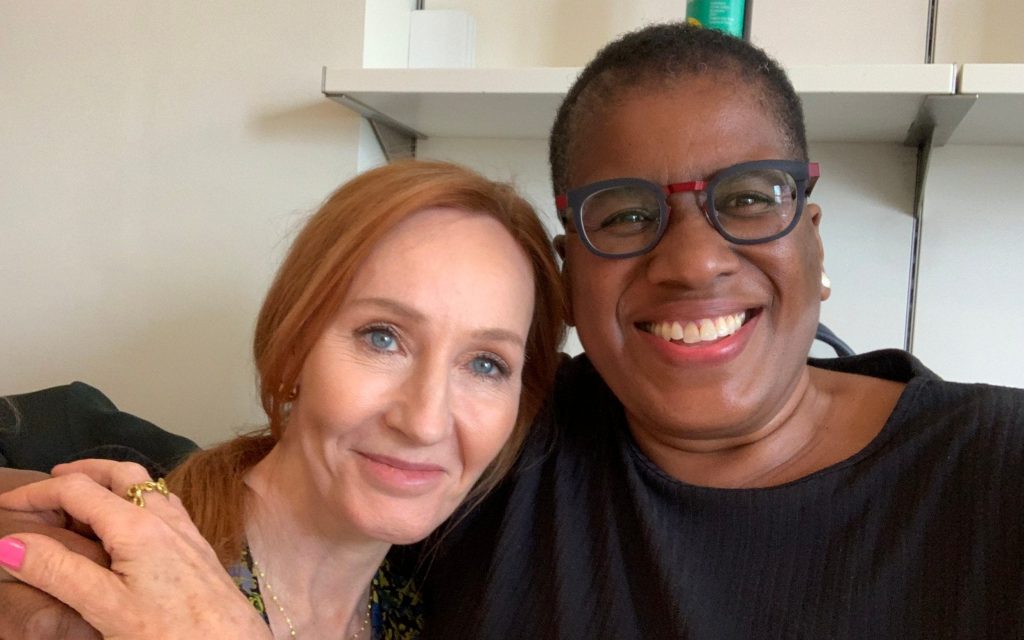 Today, the courts heard from Bailey's legal representative, Ben Cooper, that Stonewall had sent a complaint to Garden Court Chambers regarding comments made by Bailey on her personal twitter account where she referred to trans-identified males as "male-bodied" when referencing a controversial workshop.
The 2012 workshop was organized by Morgan Page for Planned Parenthood in Toronto, and was titled "Overcoming the Cotton Ceiling: Breaking Down Sexual Barriers for Queer Trans Women."
The "Cotton Ceiling" is a term widely attributed to trans-identified male porn star Drew DeVeaux. It disparagingly refers to lesbians as exclusionary for not wanting to have sexual intercourse with men. The name is a reference to the 'glass ceiling,' which is a form of discrimination experienced by women in the workplace
Today at the Bailey tribunal, a legal expert representing Garden Court Chambers took the stand, and made a dramatic comment that has set social media ablaze in shock.
Under question by Bailey's legal representative, barrister Cathryn McGahey said that she understood that the concept of the cotton ceiling as "overcoming the reluctance of lesbians to have sex with trans individuals," but argued that the workshop was not coercive as Bailey had commented.
"It's important to understand what happens or happened at the workshop. There is nothing in the material put out by Planned Parenthood Toronto that advocates coercion," McGahey stated. She then argued that Bailey's claims that the workshop was coercive was not sustained and said that the workshop was "similar to South Africa attempting to racially integrate society."
BC: still believe workshop is inherently coercive.
CM: No, it is similar to South Africa attempting to racially integrate society. Morning break.

— Allison Bailey's Tribunal – Tribunal Tweets (@tribunaltweets) May 24, 2022
The comparison caused uproar on social media, with many users outraged over the apparent comparison of lesbian sexuality with racial segregation.
"This barrister showing a shocking disregard for lesbian boundaries and a total misunderstanding of the horrors of racist apartheid. A shamefully homophobic comment. A shamefully racist comment. How utterly embarrassing" Twitter user @luluchops1 wrote.
"Lesbians saying no to sex with males compared to the violent white supremacy of apartheid. This is racist, misogynistic, and lesbophobic," author Claire Heuchan tweeted.
Many other users pointed out the homophobic and racist nature of comparing overcoming lesbians' sexual boundaries to racially integration following apartheid.
"A workshop 'strategizing' how to get into unwilling women's knickers is like Nelson Mandela's struggle against apartheid, according to a leading QC from #GardenCourtChambers" another twitter user commented.
Following the controversial comparison by McGahey, the court went for an immediate break.
Cathryn McGahey QC is vice-chair of the Bar Council's ethics committee. According to her profile on the Temple Garden Chambers website, she has been repeatedly listed in the Legal 500 list of top lawyers in the United Kingdom.
Allison Bailey first announced she was launching the case against Stonewall and her Chambers in 2020. She launched a successful campaign to help crowdfund her case, raising over £550,000 from over 9,000 donors across the globe.
---
Reduxx is a newly-launched independent source of pro-woman, pro-child safeguarding news and commentary. We're 100% reader-funded! Support our mission by joining our Patreon, or consider making a one-time donation.