Women's rights activists are raising concerns about a 59-year-old trans-identified male who is serving in a leadership role for the US-based National Organization for Women (NOW). James Gallmeier, also known as Jenny-Jaymes Gunn, once described rape as an "introduction to womanhood."
The National Organization for Women (NOW) bills itself as an "intersectional, multi-issue, multi-strategy organization that takes a holistic approach to women's rights." Part of their purported aim is to fight "discrimination based on sexual orientation or gender identity in all areas, including employment, housing, health services, and child custody," and one of their six core "issues" is "LGBTQ+ Rights."
Gallmeier, who identifies as a pansexual transgender "demigirl," has been serving as a board member for the North Carolina chapter of NOW since 2019, a group which is currently lobbying against a bill designed to keep parents informed about what schools are teaching their kids. Gallmeier, NOW's LGBTQ+ Outreach Coordinator, is also known by the name Jenny-Jaymes Gunn.
It was recently learned that Gallmeier often publicly posts about his BDSM and "sissification" fetishes on various social media platforms, while lobbying against a major child protection bill in the state of North Carolina.
State Bill 49, also called the "Parents' Bill of Rights," was passed by the Senate at the beginning of February despite opposition from trans activists, and is expected to be approved by members of the House of Representatives. The legislation requires schools to inform parents if their children seek to "change gender," and gives parents more direct access to the school curriculum.
Yet Gallmeier and other "activists" have encouraged Governor Roy Cooper to veto the parental protection bill, reports The Distance.
As a result of his recent activism against parental rights with respect to their child's education, Gallmeier and his lengthy history of fetishism has come under scrutiny from women's rights advocates and proponents of child safeguarding.
Sloan Rachmuth, an Education Activist and Investigative Journalist in the state, has called attention to Gallmeier's publicly held position with NOW, and recently took to social media to draw local attention to Gallmeier's online activity.
"Hey NC peeps, how'd you like your Pre-K to 12th-graders being taught SEX ED by Charlotte's own 'Jenny-Jaymes Gunn' aka James Gallmeier w/ National Organization for Women?" Rachmuth tweeted on February 11.
She accompanied her question with screenshots from some of Gallmeier's social media accounts, including a screenshot taken from his TikTok where he was posing in fetish lingerie, and tweets of him boasting about anal sex and gangbangs.
Gallmeier's Instagram features similarly disturbing content.
He appears to have compiled highlight reels of various pornographic photos and videos, including one reel called "Latex Art" that features various photos of both himself and fetish models in latex outfits.
In one photo Gallmeier reposted to his Instagram, a heavily pregnant woman is seen posing in fetish gear.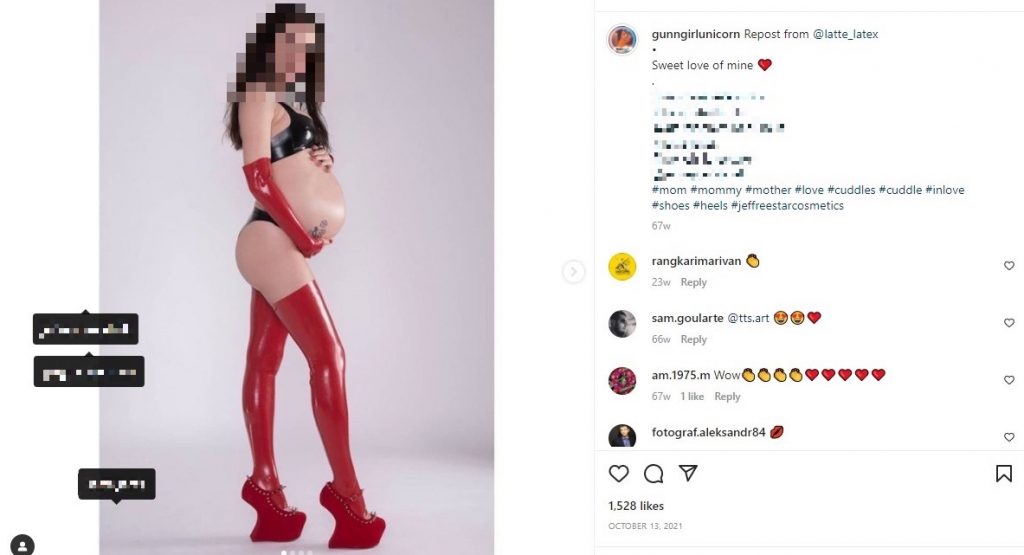 Gallmeier frequently posts images of himself in fetish gear on Facebook as well, and has shared multiple images of himself wearing rubber in public.
In addition to his disturbing social media accounts, Gallmeier has a past which includes ostensibly abusive behavior towards at least one of his ex-wives, who took out a restraining order against him in 2004 while the couple had been living in Texas. By the time the order was issued, Gallmeier had already gotten married to another woman.
Gallmeier's second wife would fall severely ill in 2012, and would be admitted to hospital multiple times as the two struggled with financial difficulties. But by 2015, Gallmeier was active in online fetish communities, presenting himself as a crossdresser and "sissy."
The two would be formally divorced in 2016, and Gallmeier has publicly blamed her for their separation, asserting that she failed to give him space "to transition" into a woman. He had allegedly been cheating on his wife with men just prior to their separation.
During one interview given on YouTube, Gallmeier claimed that in 2015, one year prior to his wife filing for a divorce, he was the "victim of a hate crime over [him] being trans."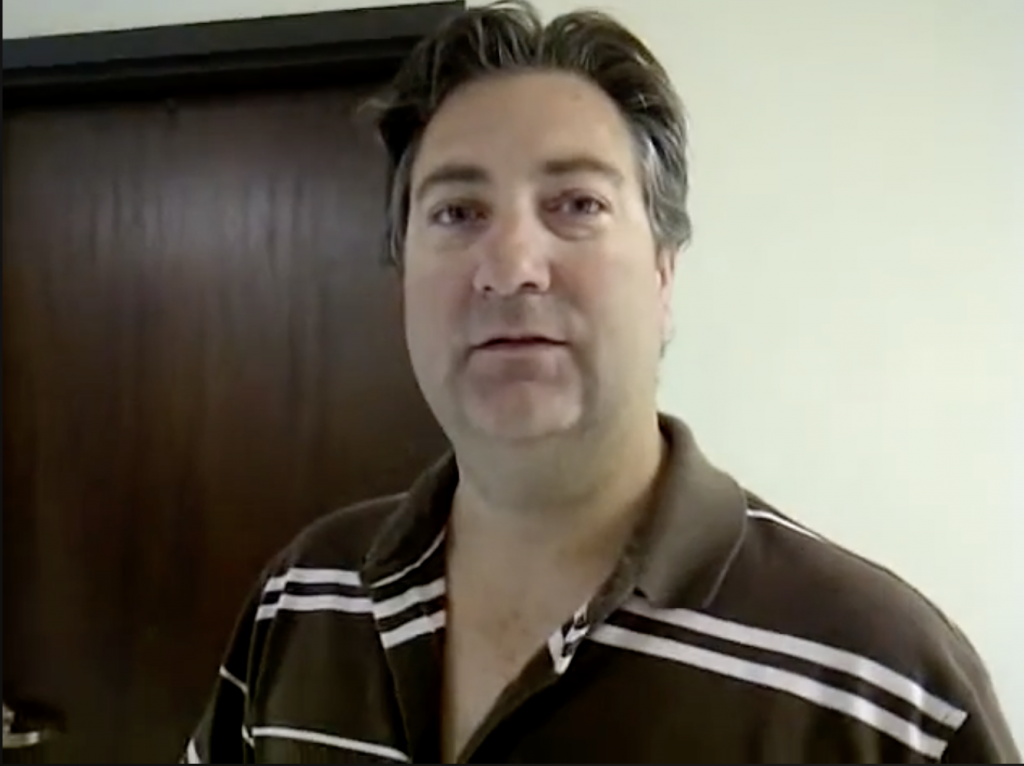 He told an interviewer, "I had just started to come out, socially, to a select few people even though the physical part was still pretty far off and pretty inconceivable."
He describes being assaulted by multiple men after opening up to them that he and his second wife had broken up so he could "transition." One man invited him to a party after Gallmeier showed him some photos on his phone of him "as a woman."
That party was where Gallmeier describes being physically and sexually assaulted by multiple men. He says of his experience of physical and sexual harm: "It was my introduction to womanhood. It was my introduction to how dangerous the world is."
It was at this same time that Gallmeier became active on FetLife, a leading online fetish forum and community. He joined a group called "Enriching the Bonds of Enlightenment," a "sissification" group for men who are aroused by participating in acts of sexual submissiveness and humiliation.
Sissification pornography frequently incorporates the concept of a man being forced to wear clothes associated with women or young girls. In some cases, forced sexual abuse is portrayed as a rite of passage into "womanhood."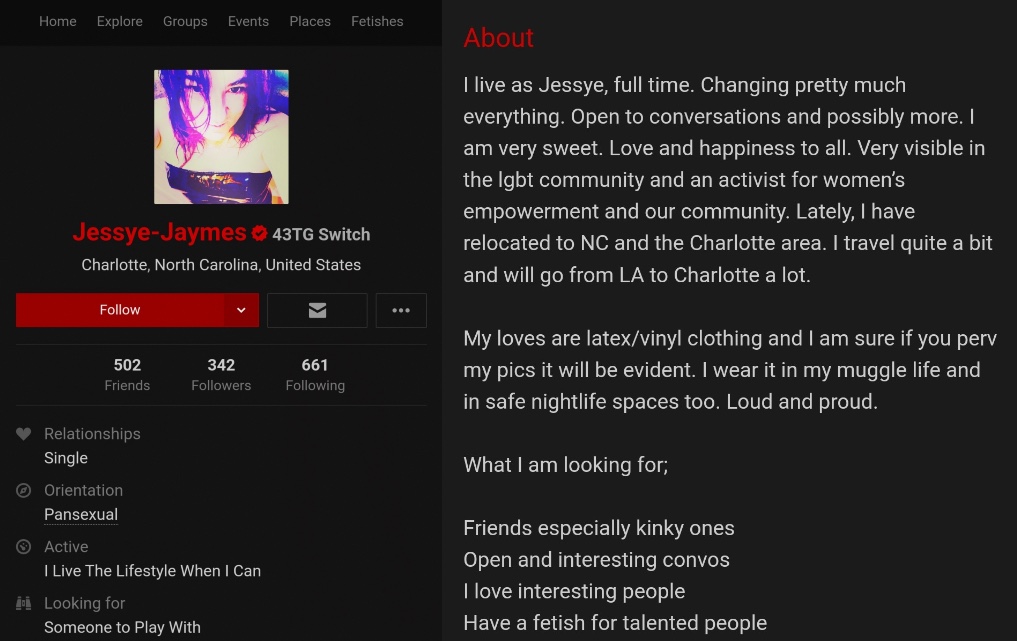 On FetLife, Gallmeier used the name "Jessye-Jaymes," and screenshots of his activity on the platform show that he frequently interacted with pornographic photos of men's genitals in women's underwear or chastity devices, a trans-identified male licking a toilet, and various photos of women in fetish gear.
Gallmeier would regularly post in the "Enriching the Bonds of Enlightenment" group about his sexual activity, including fulfilling sexual directives given to him by the crossdressing male leader of the group, known as Madam Mary Josephine. Gallmeier would publicly report to Josephine how many males he had sexual encounters with.
In September of 2018, shortly after launching a Facebook account with his new "female" identity, Gallmeier moved from Texas to Charlotte, North Carolina. He first began appearing in NOW resources the following year.
Gallmeier has since been active in many social justice organizations in the Charlotte, North Carolina area, including having served as the Charlotte Trans Pride Coordinator with Charlotte Pride. He also co-hosts a show called Coffee and Pan Dulce, where he and ex-Congressman Christian Cano talk about their progressive politics.
In the Spring of 2020, Charlotte Pride featured "Jenny-Jaymes Gunn" on their "Digital Trans Day of Visibility," where he answered the question "What does trans visibility mean to you?"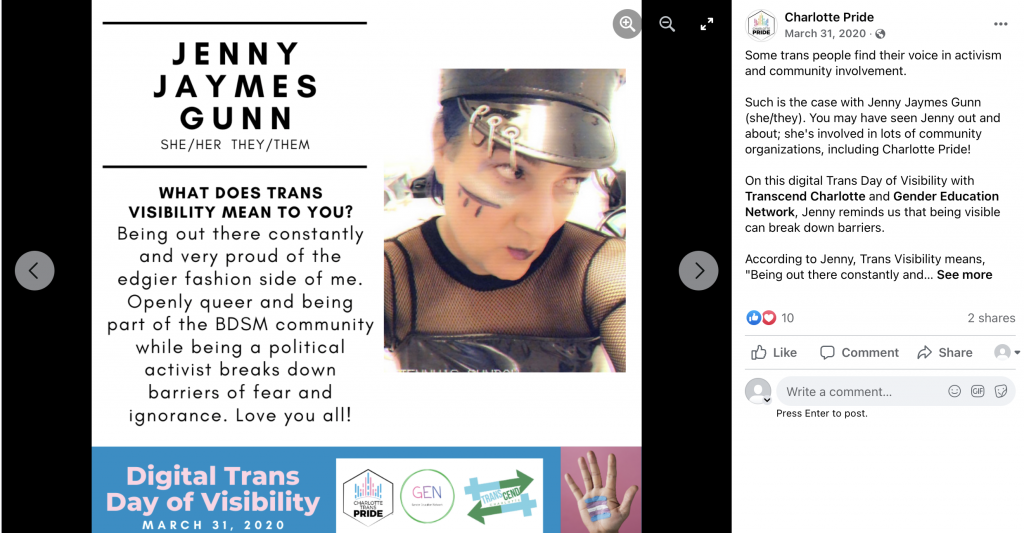 Gallmeier responded that to him, "trans visibility" means "being out there constantly and very proud of the edgier fashion side of me," before boasting about how being "openly queer and part of the BDSM community while being a political activist breaks down barriers of fear and ignorance."
In 2021, Gallmeier was also invited by Wedgewood Community Church "to give a half hour long sermon about the redundancies of gender" on Mother's day.
"One of my contentions is that many of our labels or terms of endearment, like 'mother,' build walls instead of bridges," Gallmeier said during his sermon. He went on to compare the word 'mother' to forms of racism, and added that the word "serves no purpose in the 21st century."
Gallmeier has also been honored for several awards and grants since his move to Charlotte. In 2022, he was awarded the "Progress Award" by the LGBTQ Democrats of Mecklenburg County.
He was also appointed as a member of the Community Relations Committee by Vi Lyles, the mayor of Charlotte. For being "trans," the Carolina LGBTQ+ Chamber of Commerce bestowed him with a mentorship, as well as a scholarship and business grant for an undisclosed amount.
---
Reduxx is your source of pro-woman, pro-child safeguarding news and commentary. We're 100% independent! Support our mission by joining our Patreon, or consider making a one-time donation.