Luxury fashion house Balenciaga is raising child safeguarding concerns after launching a new ad campaign featuring children and bondage-themed toys that many are calling "disturbing."
On November 19, Twitter user @DatCatDer posted two screenshots from the Balenciaga official website showing off images being used to promote the site's holiday gift shop.
Both of the images feature very young child models holding teddy bears. But what looks like an innocent enough photoshoot at first glance will quickly raise eyebrows once the accessories the bears are wearing are given a closer look.
In one photo, taken from the main page of Balenciaga's US site, the child is standing on a pink bed holding a teddy bear wearing a fishnet top, collar with lock, and ankle and wrist restraints. In the full-sized version of the image, a second teddy bear is visible in the bedroom wearing a collar and blindfold.
In the second image, taken from the gift shop's catalogue, a different child model is seen standing on a couch holding a teddy bear that is wearing a leather chest harness and collar. As in the first, a second teddy bear is visible in the room wearing more leather gear.
The bears are in fact hand-held accessories from Balenciaga's Spring 2023 collection.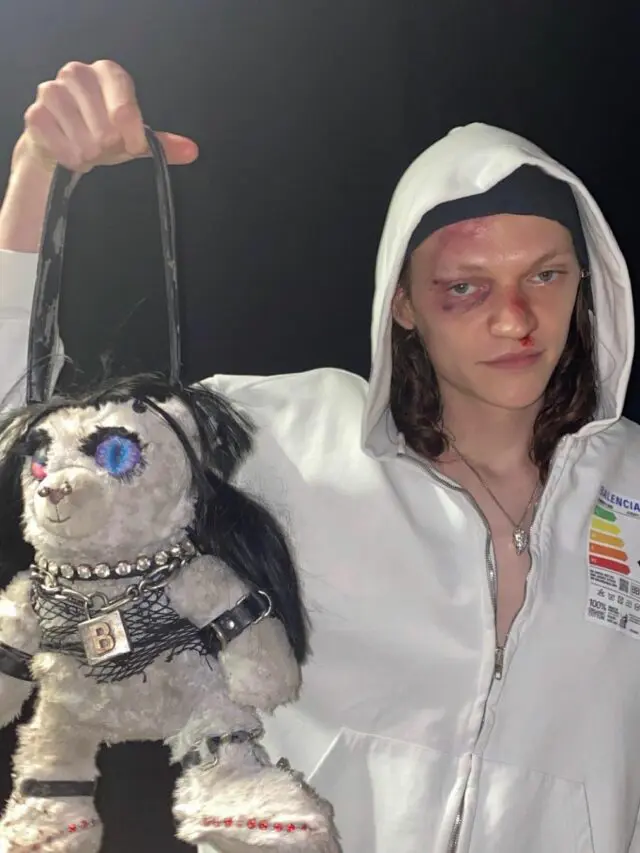 Both of the screenshots @DatCatDer posted were part of a larger series of photos which first began cropping up on Balenciaga's official Instagram on November 16. Since then, 6 images in total have been released, all of which feature young child models posing with items from the Balenciaga gift shop. Only one of them does not include the BDSM-styled toys.
All of the photos were taken by National Geographic photographer Gabriele Galimberti, whose Instagram features more pictures of kids he has taken as part of his "Toy Stories" project — a portfolio featuring photos of children from around the world and their favorite toys.
Some of the comments on Balenciaga's Instagram feed were critical, with users questioning the appropriateness of the photos featuring the bondage teddy bears. One user called the images "soul crushing on so many levels," while another user commented "now you've crossed the line for me."
The fashion house has since limited the ability for users to leave comments.
On Twitter, where Balenciaga has just recently deleted its account in apparent protest of Elon Musk's takeover, users expressed outrage and concern over the campaign, with many pointing out the disturbing implications of the photoshoot.
"The looks on these girl's faces are also deliberate choice of the picture editor too. Very unsettling," @SarahStuartxx wrote.
Chipping away at those boundaries and normalising this crap one campaign at a time.

— Terfette ⓥ (@CenderGrit) November 20, 2022
"This destruction of innocence & normalization of fringe behaviors seems like an effort to make acceptable previously unimaginable scenarios (like men in women's prisons & shelters / children having "gender identities" / adult-dancing in libraries). None of this is acceptable," women's rights campaign group Keep Prisons Single Sex USA tweeted in response to the photos.
"The mainstreaming of harnesses has always been weird but this is extra. The kids don't know it's fetish gear but the adults seeing these pics sure do," another user stated.
Balenciaga bringing Pedo Chic to the masses. Very on-brand for 2022.

— Purple Sneakers (@PurpleSneakers3) November 20, 2022
Balenciaga's ad campaign comes at a time when the apparent normalization of youth exposure to "kink" has become a point of issue for those concerned about child safeguarding.
Earlier this year, a parenting lifestyle outlet attracted widespread backlash after publishing an article encouraging parents to prep their children for exposure to nudity and public BDSM acts at LGBT pride parades.
In the article, Fatherly provided comment from Dr. Jennifer McGuire, an associate professor of family social science at the University of Minnesota. Fletcher is quoted as saying her kids have now been taught to "expect nudity and other surprises" when she brings them to pride parades, and to find enjoyment in what they witness.
"They just had to learn to laugh and enjoy things. Like there were these Beanie Babies with giant penises on them," McGuire says. "For a fourth- and fifth-grade kid, that's super funny."
One month later, a video from a pride parade in Berlin went viral, showing a little girl playing with an adult male"leather pup" who was housed in a cage. According to The Post Millennial, the girl was also seen getting inside of the cage at one point during the filming.
In 2021, The Washington Post published an article titled "Yes, kink belongs at Pride. And I want my kids to see it." In the article, non-binary writer Lauren Rowello described taking her young children to a pride parade in Philadelphia with her spouse.
Rowello wrote that her children witnessed two men, one of whom was scantily clad in nothing but a leather thong, engaging in BDSM in public. Rowello also notes that the children witnessed several more men wearing leashes and sporting whips and batons, and that she explained to the kids that the men's behavior was "members of our community celebrating who they are and what they like to do."
Rowello went on to state that children should be exposed to sexual fetishism in order to be "reassured that alternative experiences of sexuality and expression are valid."
UPDATE 11/21/22
Balenciaga has scrubbed its official website's home page and social media following increasing public scrutiny.
Both photos of the young children holding the teddy bear accessories have been removed from the website, and replaced by another photo from the campaign where the child not is not directly interacting with the "bondage" bear.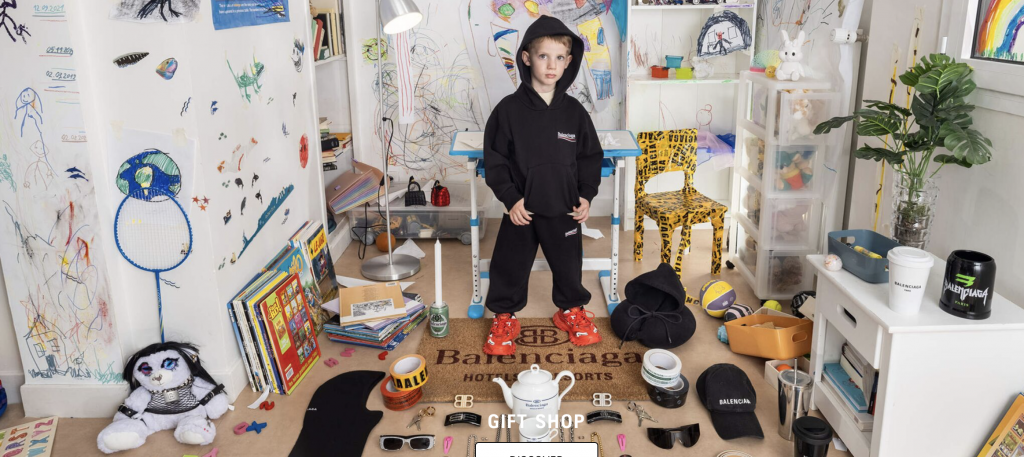 The luxury brand has now also deleted all of the campaign photos featuring children from its Instagram page, which now appears empty. The deletion comes after scrutiny from the public increased following the identification of a bizarre prop in another one of their photoshoots advertising a handbag.
In the photo, which did not include the child models, one of the brand's Adidas collaboration handbags was seen laying on a desk littered with documents. One of the papers, upon closer investigation, appears to be from the 2008 Supreme Court case, United States v. Williams.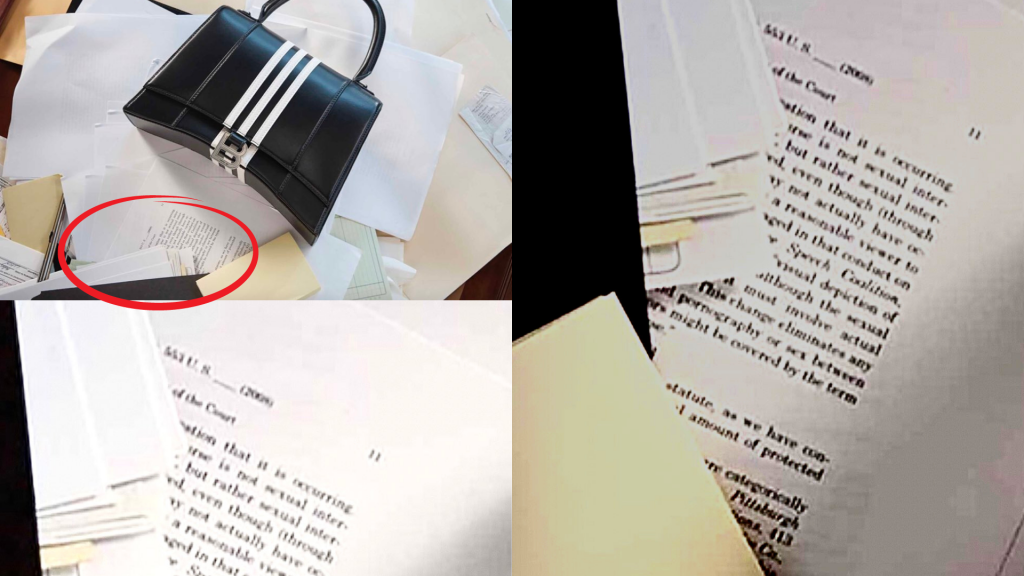 The case involved a man named Michael Williams who, in April 2004, used a public internet chat forum to post a message offering to exchange child sexual abuse materials with other users in the group. The message read: "Dad of toddler has 'good' pics of her an [sic] me for swap of your toddler pics, or live cam."
Secret Service agent Timothy Devine responded to Williams' offer in a private discussion where the two proceeded to share non-sexual photos of children. Following this, Williams claimed to have nude images of his four-year-old daughter being sexually abused, and promised to produce them if Devine would reciprocate.
When Devine did not send on pornographic content of minors, Williams provided a link in the public chat that led to seven files containing sexually explicit images of children ages five to fifteen. Agent Devine was then able to procure a search warrant for Williams' home, where, according to court records, agents seized two hard drives containing "at least 22 images of real children engaged in sexually explicit conduct, some of it sadomasochistic."
Williams was charged with one count of "pandering", or promoting, child pornography and one count of possessing child pornography. Williams pleaded guilty to both charges but reserved his right to challenge the conviction in a court of appeals. The District Court of Florida sentenced Williams to 60 months in prison.
Williams then filed a motion to dismiss the pandering charge on the basis that the legal statue was overly broad and infringed on his First Amendment free speech rights. The U.S. Court of Appeals for the Eleventh Circuit agreed with Williams, thereby sending the final decision to the Supreme Court, which ultimately ruled that freedom of speech protections did not extend to offers to proliferate child sexual abuse materials.
---
Reduxx is a newly-launched independent source of pro-woman, pro-child safeguarding news and commentary. We're 100% reader-funded! Support our mission by joining our Patreon, or consider making a one-time donation.