A Dutch foundation dedicated to youth sexual education is under fire after producing a video featuring children being quizzed on sex and masturbation.
On March 20, the Rutgers Foundation uploaded a video titled Wat vind ik fijn (Eng: What Do I like?) to social media. The charity, which is funded by the Bill and Melinda Gates Foundation, purports to focus on issues of childhood sexuality and sex education.
The 5-minute long video produced by Rutgers was intended to kick off "Spring Jitters Week," a national project encouraging the expansion of sexual education in primary schools.
In the video, young children of varying ages are seen discussing sexual topics with their parents or guardians. But the graphic nature of the conversations left many viewers disturbed.
In one of the first scenes, a 6-year-old boy named Loek is spoken to by his gay male fathers.
"Do you like it when someone is petting you," one of the adult men asks, to which the boy shakes his head. The man continues: "And what about being tickled?"
Loek responds, "That, I do!"
"Oh, we'll have to do that every night then before you sleep."
A Dutch youth sexuality charity is under fire for releasing a video showing adults discussing sex and masturbation with young children.

The Rutgers Foundation has deleted the video and is threatening legal action against those who re-upload it.

READ: https://t.co/5jKJipuyvy pic.twitter.com/HBrSTUAQLi

— REDUXX (@ReduxxMag) June 8, 2023
Speaking to a 9-year-old girl naked Puk, her mother says: "Sex is not only for when you're just making babies. I've said before that it's also fun to do. You discover how your body works and how my body works."
She continues: "Not only boys can have an orgasm. Girls, too, can have an orgasm. But they don't have ejaculation then, because we don't have sperm. But it's a nice feeling. And uhm, you've obviously looked at your vagina before haven't you?"
The adult later begins to describe the external female genital anatomy to the girl, as she sits silently.
"You have your inner labia and there are two little holes there, one for peeing and one where the baby comes out. And above those holes is also a kind of button. Did you ever see that or not?"
The girl shakes her head in disagreement, prompting her mother to respond: "You've never studied it like that before, huh? The little button you call your clitoris. When you touch that it gives a very nice feeling. It's actually very nice when you're touching that button. For example, you can rub it with your finger…"
To a 4-year-old boy named Mats, equally as invasive questions are posed about penises and masturbation.
"What about you? Do you ever play with your dick? Do you ever touch your willie," his mother asks. "Yes, and how does that feel? And when do you do that?"
The young boy responds that he is unsure of how to answer.
His mother continues with a barrage of questions:  "Do you do that when we're eating? No, right? Or in the classroom? No, not at all. Why don't you do that in class? When can you play with your dick?"
To another boy, referring to sex as "fucking or sucking" is suggested by his mother and father.
Less than 24 hours after the video was released, the Rutgers Foundation deleted the video, claiming it was being taken "out of context" by some.
"We find that the video is being taken out of context by some people online and used to spread misinformation. To protect the children in the video, we have taken the video offline," the foundation wrote on their official Twitter.
We constateren dat de video online door sommige mensen uit context wordt gehaald en wordt gebruikt om misinformatie te verspreiden. Om de kinderen in de video in bescherming te nemen, hebben we de video offline gehaald. 5/6

— Rutgers (@RutgersNL) March 21, 2023
But shortly after, Forum voor Democratie (FvD), a Dutch right-wing populist party, re-uploaded the deleted video to raise awareness for what they called the "sexually tinted propaganda" children were being exposed to.
Rutgers is now threatening to sue the FvD to have the content removed from the internet, but the FvD is refusing to delete the content.
A spokesperson for the party has said that the video will not be removed because they believe Rutgers is attempting to scrub their past.
"It is very clear that Rutgers feels caught and that it is doing everything it can to cover its dirty tracks. We consider it a matter of public interest to make public the sexually objectionable material of Rutgers."
Rutgers has since submitted a copyright request to YouTube to remove FvD's upload from the site, citing that the "parents and children have not given FvD permission to publish the images." Rutgers claims that they are trying to "defend the protection of [the] children to the highest court." 
Rutgers Netherlands addressed the situation from their Twitter in late March, saying it is "utter nonsense" that the lessons as part of the "Week of Spring Jitters" sexualize children. They stand behind the claim that: "Research shows that children who are well informed actually start having sex later."
Rutgers says that the video "has taken on a life of its own on social media." They said they removed the video "to protect the children in the video," but sexuality education expert Luc Lauwers says that both Rutgers "and the parents in the video remain fully committed to the content."
The Rutgers Foundation has previously come under fire from critics concerned about the appropriateness of their recommended sex education curriculums, some of which encourage children to be educated on sex from birth.
In a document distributed by the Rutgers Foundation for youth aged "0-18," a list of recommended reading materials are provided. Amongst them, a book recommended for 6-year-olds titled What is sex? features education and instruction on oral pleasure.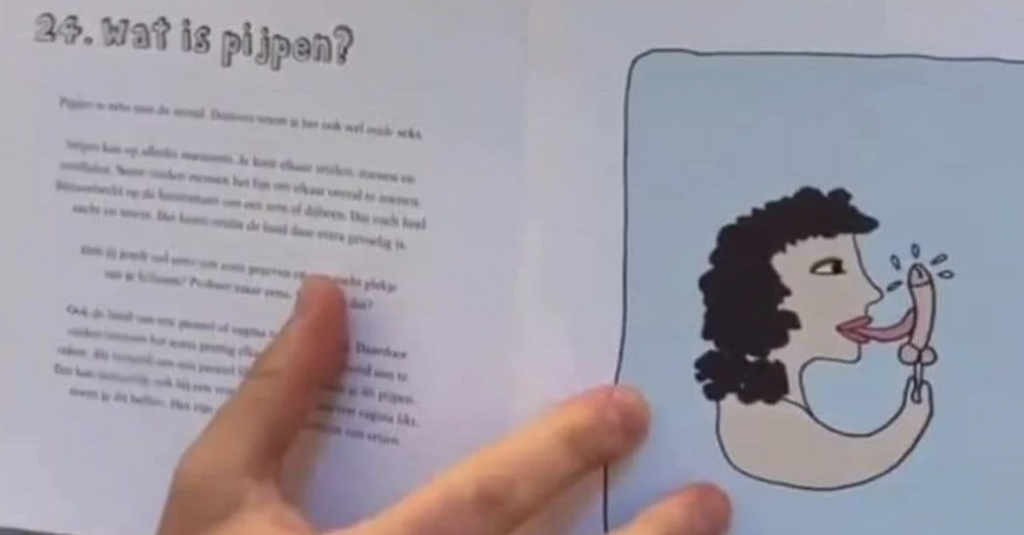 The book was the point of a Dutch parliamentary debate in March when the Education Minister, Dennis Wiersma, was challenged by Forum voor Democratie on its contents.
The Forum party was supported by DENK, a left-wing party focused on immigrant rights, which similarly expressed concerns about the "Spring Jitters Week" curriculum being pushed by Rutgers.
"There's a teacher's guide that says: 'Tell students that it's nice to touch yourself and that it's nice to touch genitals.' We are talking about children of 5 years of age being told this… Those teachers should teach children to read and write, instead of telling them that it is important or nice to touch genitals," said DENK's Stephen Van Baarle.
"Spring Jitters Week" took place in some 2,000 primary schools across the Netherlands in March of this year. 
According to the website for the Spring Jitters project: "One of the goals of the Spring Jitters Week is to introduce schools to relational and sexuality education. It is a fun way to give school-wide attention to relationships and sexuality." 
The theme of "What do I like?" is advertised on the website as a positive introduction to sexual education. 
On June 6, Twitter user Gender is Harmful uploaded a clip from the Rutgers video, commenting that it was an example of "queer theory in action." The upload mistakenly attributed the video to the World Health Organization.
The World Health Organisation:

Teaching very young children about masturbation.

Queer theory in action. Breaking down sexual barriers and normalising the sexualisation of children. pic.twitter.com/u1IFsvvMK7

— gender is harmful (@genderisharmful) June 6, 2023
In response to the clip, many users expressed incredulity at the footage, with many questioning if the translations were indeed accurate.
"It's one thing when children discover this for themselves, but why on earth do they think adults need to teach children to masturbate," one user replied.
Many noted that the children looked "visibly uncomfortable," and that it was inappropriate for adults to be filmed discussing intimate details on sexual pleasure with children.
---
Reduxx is your source of pro-woman, pro-child safeguarding news and commentary. We're 100% independent! Support our mission by joining our Patreon, or consider making a one-time donation.