An independent Etsy shop is under fire after screenshots of a review for their "tucking" underwear intended for "transgender kids" began circulating on social media.
On March 11, a member of the Parents of Transgender/Non-Binary Kids Facebook group posted a review of specialty underwear ordered from Etsy intended to help a trans-identified male child "tuck" their penis. The parent was recommending the product to any other users interested, and included a link to the store they'd bought them from.
In the review, the parent noted that they'd purchased a set of the "tucking" underwear for their 6 year old child.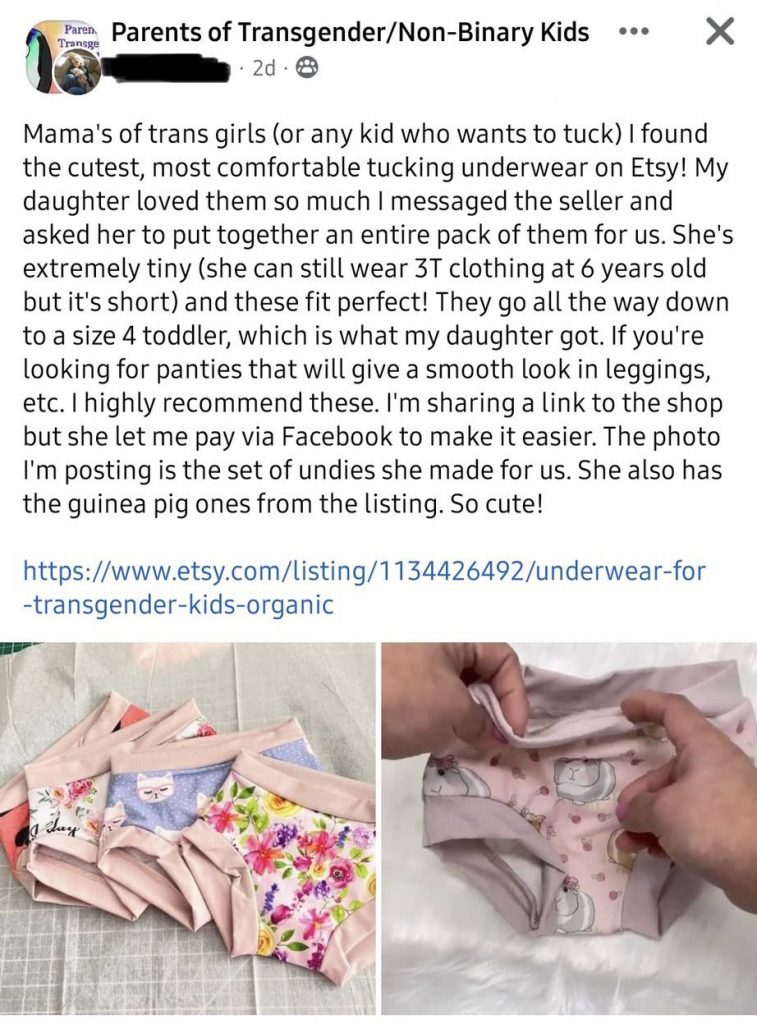 The shop, FGCostumeDesign on Etsy, sells the underwear as small as a toddler size 3 according to the Facebook review, but the shop currently has US kids size 4 and up in stock.
The description for the product, titled "Underwear for Transgender Kids," reads: "This really gives a very nice smooth flat front even if you wear legging this hides everything. Fits well and tucks nicely with a really cute print. The panties have a front padded panel to compress the genitals, they were designed for comfort so that you do not have to tuck."
In one review listed on the product's page, a customer says they purchased a pair of underwear for a child who has just started potty training. According to the Mayo Clinic, children are usually ready to begin potty training between the ages of 18 to 24 months.
The screenshot of the Facebook review began circulating on Twitter today, with many users outraged, but also confused as to why the product was even necessary. Dozens of replies to a LibsofTikTok post about the screenshot stated that it was tantamount to child abuse.
"This can cause irreversible testicular damage," Daniel Brammer wrote of the underwear, "The son will live with a disability for the rest of his life because of their abuse."
Another user wrote, "The horror stories of the children who survive this abuse will start coming out in about another ten years."
While the source of much of the online outrage due to the Facebook review, FGCostumeDesign isn't the only Etsy shop selling tucking underwear intended for children and does sell other non-trans related products. Merchant Rainbow Rears is another shop, but dedicated solely to selling "gender affirming" products such as tucking underwear, as well as other undergarments such as "tween" chest binders.
In 2021, a craft store called StitchBug Studios became the target of social media outrage after their site was found to be selling fabric "packers" — small, crocheted penises — intended for use by extremely young girls who allegedly identified as transgender and wished to exhibit the appearance of a male genital bulge.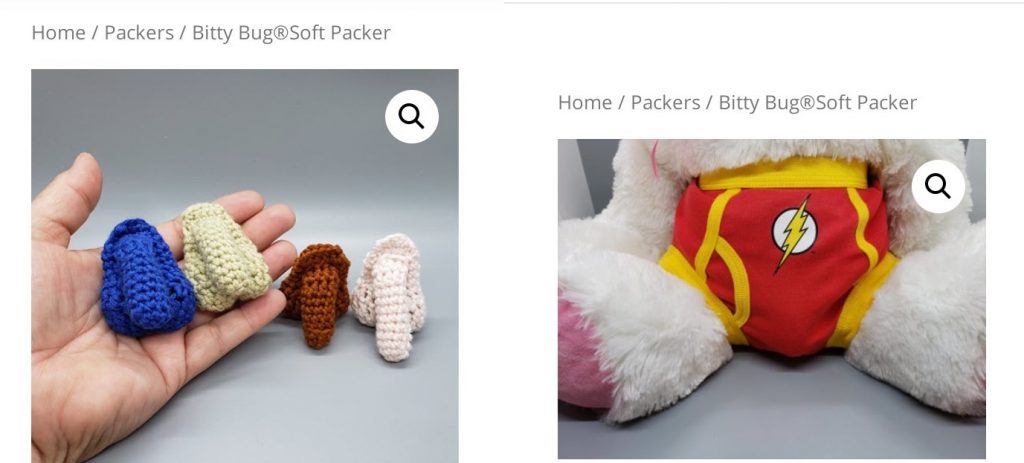 The prothetic penises were so small that the shop demonstrated them on a teddy bear wearing toddler-sized superhero underwear.
---
Reduxx is a newly-launched, independent source of pro-woman, pro-child safeguarding news and commentary. We're able to continue our work exposing predators and reporting the truth thanks to the generous support of our readers.