A Brazilian feminist is reportedly facing up to 25 years in prison after being charged for calling a trans-identified male politician a "man" in a case she says she hopes will wake the world up about the impact of gender ideology on women's rights.
Isabela Cêpa, also known by her social media handle FEMINISA, is a feminist influencer well-known in Brazil for her advocacy on the issues of sexual and domestic violence. She spoke exclusively to Reduxx on what she describes as "unconstitutional" criminal charges that have been formally lodged against her by the State on behalf of a trans-identified male politician – Erika Hilton of the Socialism and Liberty Party.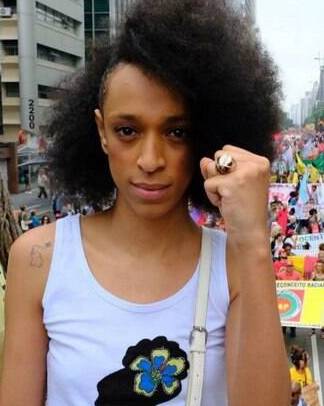 Hilton was elected to São Paolo's municipal government in November of 2020, winning his seat by a landslide that gave him the title of the most voted-for 'woman' in Brazil.
At the time of his victory, Hilton was celebrated in international media as being a "symbolic triumph" for transgender people. Hilton was amongst the top 10 most-voted for candidates in all of Brazil, and was touted as the "only woman" to make the list.
It was the widespread announcement of his victory that first put him on Cêpa's radar.
"At the time I didn't even know who this person was. I just saw a headline on an Instagram page celebrating that 'the most voted woman in São Paulo is a transwoman,'" she says, recounting how her ordeal began, "Then, I shared a video with my followers saying I was disappointed to hear that the most voted-for woman in São Paulo – later found out that it was in the entire country – was a man."
Cêpa says she left her home to go shopping, and when she had returned, a veritable firestorm of outrage had broken out, one which quickly spiraled out of control.
"When I arrived back home, I was already being attacked by thousands of people," she describes, stating Suyanne Ynaya, an editor at ELLE magazine's Brazil franchise and friend of Erika Hilton's, had posted her Instagram video to Twitter, calling her out for describing Hilton a "man."
But Ynaya's attack didn't just end there. The ELLE editor also accused Cêpa of filing a false sexual assault report against a Black man in an attempt to also paint her as a racist.
"This is something that just never happened. I've never reported a Black man for anything at all. So people started spreading the rumor that not only am I transphobic, but also a racist and a liar who takes advantage of the feminist movement to file false reports against innocent men of color."
Cêpa told Reduxx she had been the victim of a sexual assault, but that her rapist was Caucasian. Despite that, Ynaya continued to spread the rumor that she had reported an Afro-Brazillian man, and even engaged beneath Cêpa's tweets calling her "privileged and disgusting."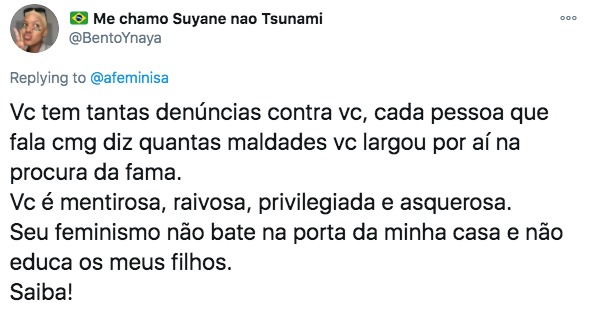 On Instagram, Ynaya threatened to physically harm Cêpa multiple times, threats she brought to the Police but nothing was done.
"I have no idea why she did it … She deleted tweets when she realized it would result in criminal charges against her," Cêpa says, noting that some survivors of sexual assault had begun to take issue with Ynaya's campaign to delegitimize Cêpa's sexual assault testimony, but the ELLE editor told them Cêpa did not deserve an apology because she was transphobic.
In an audio recording Cêpa provided to Reduxx for review, Ynaya is heard calling Cêpa a "racist" with mental health issues, and repeating the rumor that she had falsely accused a Black man of rape.
"I couldn't count how many threats I received, between my social media profiles and e-mail," Cêpa told Reduxx, saying that in the 24 hours after Ynaya launched her campaign, she lost over 11,000 followers on Instagram, "I was also uninvited to participate in a podcast where I was supposed to talk about sexual violence, as a survivor. My friends were threatened."
But the social media attacks had more than a cursory impact on Cêpa's life, they would also go on to impact a situation of domestic violence she was attempting to navigate shortly after.
"When I broke up with my [ex-boyfriend] after he raped me, he found a really comfortable space to say I was a false accuser. Things got to a point I coudn't go out anymore without being taped, watched or photographed by his supporters – all women. His ex-girlfriend – a very fanatic trans ally – sent private information about the investigation to media, and then many people started saying online that I was a false accuser."
Cêpa's ex-partner was convicted of violating her restraining order against him last week, with an additional 6 alleged crimes still being investigated. Cêpa says that he told her in a recorded conversation that it was "way too easy" to convince others he hadn't committed any wrongdoing against her because of the trans activist campaign that had been launched to discredit her.
While all of this was happening, Hilton was using Cêpa's fall from popularity as a talking point. In early 2021, he mentioned he was planning on taking 50 people to police, of which Cêpa and her friend, whom he called a "mythomaniac," were two of them.
Hilton didn't report Cêpa to police until November of 2021, and in January, police would turn up to Cêpa's mother's workplace to ask for her whereabouts.
"They just gave her a document and she called me, worried. At the time I was traveling in another town and had to call the police station to understand what it was about," Cêpa says, describing having to go to a local police station and speak with the officer there.
"When the officer told me it was about the politician I laughed. There was no other possible reaction … I said: Yes, I do defend women's rights on a biological basis. There is no crime in stating the facts."
After she spoke with police, Cêpa would be in the dark about developments in her case until June of 2022 when a reporter from a major Brazilian newspaper contacted her to ask for comment for a story she was writing on the charges.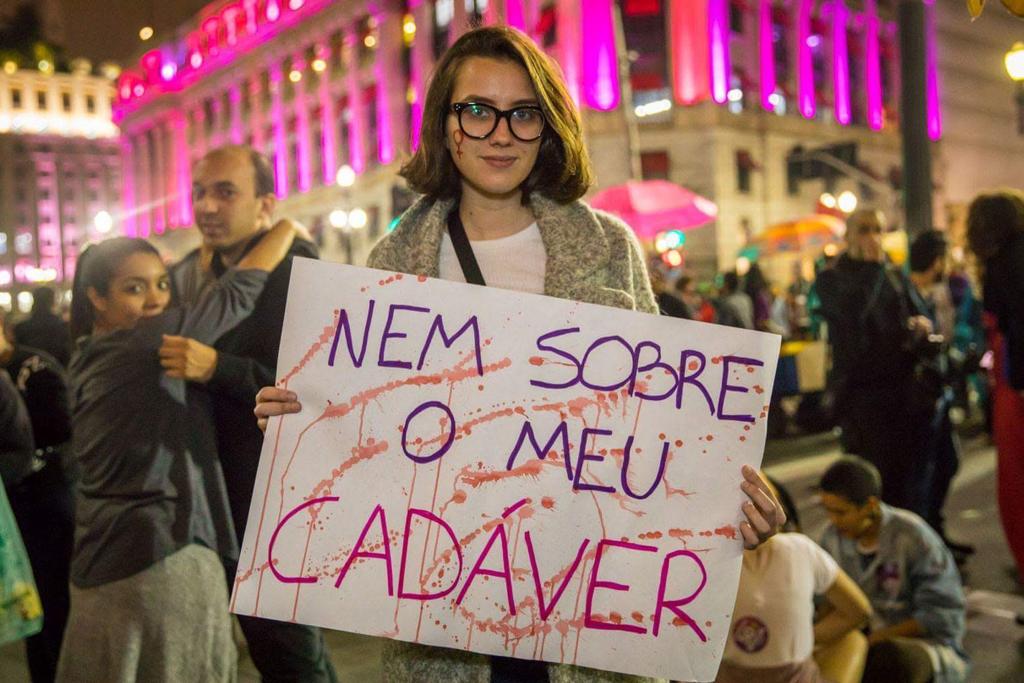 "I heard about my charges for the first time on June 18th when a reporter from Folha sent me a direct message on Instagram asking for a statement, minutes before posting the article," Cêpa says, "This was the first I had heard I was being formally criminally charged with anything."
Cêpa learned from the Folha article that she was being charged with 5 counts of racism after the Public Prosecutor combed her social media feed to find other "transphobic" statements.
In 2019, Brazil's Supreme Federal Court ruled that discrimination against 'LGBTQ Community' constituted a penal offense, but fell under existing race-based protections as a form of "social racism." This came a few years after State Police in São Paolo began to include trans-identified males in "femicide" statistics.
In addition to learning about the charges, the outlet announced Cêpa was facing up to 25 years in prison, a figure she says was manufactured to discourage other feminists from speaking out on similar issues.
"That [25 years] would be more time than a murderer convicted in the first degree would get here," she says, calling the threat of the sentence "psychological terrorism."
Speaking with Reduxx on Cêpa's case, Brazilian journalist Andreia Nobre points out political dynamics are likely playing a role in her ordeal.
"[Cêpa] is being punished by a man who says he's trans, because Brazilian media outlets wrote that he was the most-voted female councillor of all time and she challenged it," Nobre says, "All she stated was fact. How can anyone believe that a government composed of 50% males saying they are 'cis' and 50% males saying they are 'trans' would represent progress?"
Nobre, who is the author of the newly-released Grumpy Guide to Motherhood and critically-acclaimed Grumpy Guide to Radical Feminism, notes that females comprise less than 20% of political seats worldwide, and are massively underrepresented in politics in Brazil.
"It shows Brazilian women they are not humans deserving of rights," Nobre says, "It is definitely a setback. We barely have our rights respected in Brazil."
Despite still having no formal copy of the charges that have been filed against her by the State, Cêpa has put together a team of 12 female lawyers to fight on her behalf.
"It would be unconstitutional to convict me for any of these charges … I've been facing these kinds of attacks from trans activists for years, so when I heard about it, I just put my legal team together right away."
Last year, Hilton announced he would be suing 50 people for "transphobic" remarks, but as of right now Cêpa says she is the only one who has been formally targeted. In reports made across Brazilian media last year, Hilton appeared to be using the threat of suing feminists as a re-election strategy, rallying his supporters around the idea he will sue them after having them criminally convicted, and give the settlement money to other trans-identified people.
Cêpa says she hopes her ordeal will show how women are losing basic constitutional rights to validate the feelings of males.
"This case is not about a hate crime, but about a difference in political views. No one can impose upon a woman a belief that her sex is irrelevant."
---
Reduxx is a 100% reader funded source of pro-woman, pro-child safeguarding news and commentary. This Exclusive was made possible by the generosity of our supports. Help us platform more stories and get behind our mission by joining our Patreon. Or, consider making a one-time donation through cryptocurrency or PayPal.