A female skateboarding champion has said she is "done being silent," and is speaking out about her experience coming in second to a biological male allowed to complete in a women's competition.
On May 17, Taylor May Silverman, a professional skateboarder, posted a statement to her Instagram in which she called out the last Redbull Cornerstone skate event she took part in for allowing a biological male athlete to compete against women, and take the top spot.
In her statement, Silverman writes that she placed second in two previous competitions in which biological males were allowed to compete against female skateboarders, and notes that at the last Redbull-sponsored skate event, the female athletes lost out on financial awards because a transgender competitor took first place.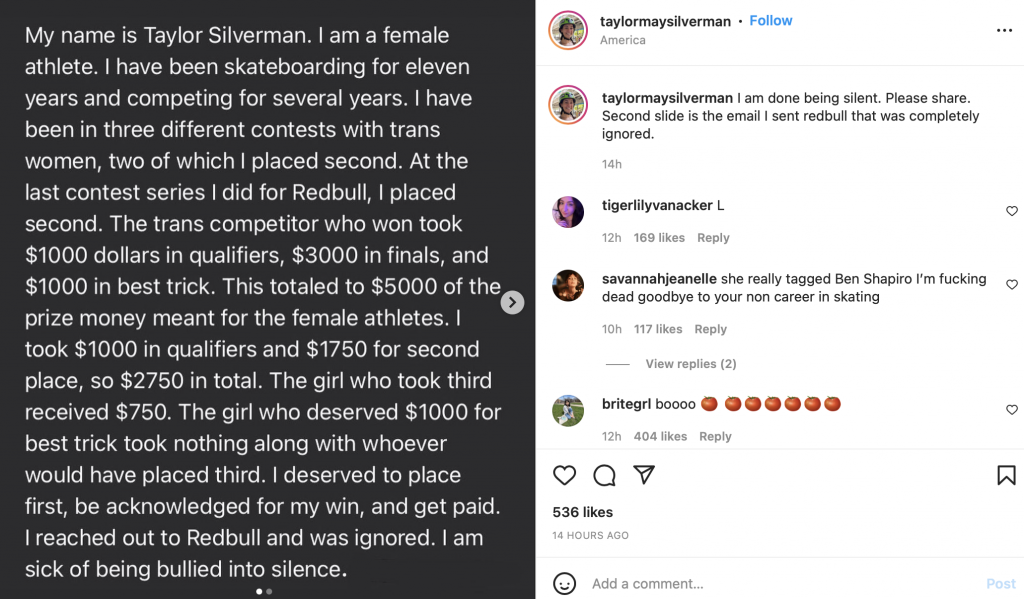 "I deserved to place first, be acknowledged for my win, and get paid," Silverman wrote, also providing the contents of an email she sent to Redbull's Senior Sports Marketing Manager, Erich Dummer.
In the email, Silverman calls the inclusion of trans-identified male athletes in the competition "unfair" and states that she had been too "uncomfortable" to speak up at the time of the event.
"A biological man with a clear advantage won the women's devision, best trick, and also won multiple qualifiers," She says in the email, continuing: "This took away the opportunity that was meant for women to place and earn money. I understand that in today's society even some women think this is acceptable, but I believe in doing the right thing even if it's not the popular thing."
The athlete ended the email by requesting a time to speak with Dummer, but noted in her first post that he never responded to her requests to discuss her concerns.
Silverman's instagram post has since been inundated with over 3,000 primarily hateful and abusive comments from trans activists, with many claiming she is being "transphobic" for having concerns about the fairness of the events she took part in.
"[ITS] CALLED WOMAN'S division not the "female" devision genitalia doesn't play a part in the red bull comp," one user wrote in reply. Another echoed the dozens of cries of 'transphobia' in the comments: "This is so incredibly transphobic. Trans women ARE women, period! Educate yourself & stop perpetuating harmful stereotypes. If you can't handle losing, don't enter competitions."
Silverman is just the latest sportswoman to cause waves by speaking out against trans-identified males participating in female sporting events, with the most recent surrounding UPenn swimmer Lia Thomas, a trans-identified male who has been participating in women's competitions.
Since identifying as a woman in 2019, Thomas has outperformed every female he has competed against, as well as broken multiple U.S. women's swimming records.
Last year, Thomas' teammates began expressing displeasure with his appropriation of female athletic spaces, with multiple women anonymously come out with harsh criticisms of his behavior and performance.
In December of 2021, Cynthia Millen, who had been an official with USA Swimming for 30 years, stepped down in protest of Thomas' continued participation in women's leagues, saying: "I can't do this … I can't support this."
A recent Gallup Poll revealed that 62% of Americans believe athletes should only be able to participate on sporting teams that correspond with their sex, not their chosen gender identity. Studies have also consistently affirmed that trans-identified male athletes retain competitive advantages years after starting hormone replacement therapy.
Reduxx reached out to Redbull's Erich Dummer with regards to Silverman's statement, but did not hear back in time for publication.
---
Reduxx is a newly-launched independent source of pro-woman, pro-child safeguarding news and commentary. We're 100% reader-funded! Support our mission by joining our Patreon, or consider making a one-time donation.