A male inmate who identifies as "transgender" will be transferred to a women's prison for the first time in Minnesota history after suing the state for "discrimination."
Christina Lusk, born Craig, launched the lawsuit against the state's Department of Corrections in 2022 after claiming to have been subjected to "misgendering" and "harassment" while incarcerated in the Moose Lake correctional facility for men. Lusk's suit was supported by Gender Justice, a trans activist organization, as part of their "dignity for trans people in custody" campaign.
Jess Braverman, the legal director at Gender Justice, previously claimed Lusk was vulnerable at the men's prison, stating: "She's a woman, and suddenly she's placed in a men's facility. She's in a locked cell with a number of men, and she's really exposed to harassment and violence in that setting."
Lusk was incarcerated in 2019 on charges of first-degree drug possession after being found with a copious amount of cocaine and methamphetamine as well as paraphernalia suggesting he had been dealing the deadly substance.
According to a 2018 court record, a warrant had been executed at Lusk's residence and officers recovered "various methamphetamine quantities" throughout the home. In Lusk's bedroom, police found a total of 697 grams of meth, two digital sales, a large quantity of plastic baggies, and $5,166 in cash.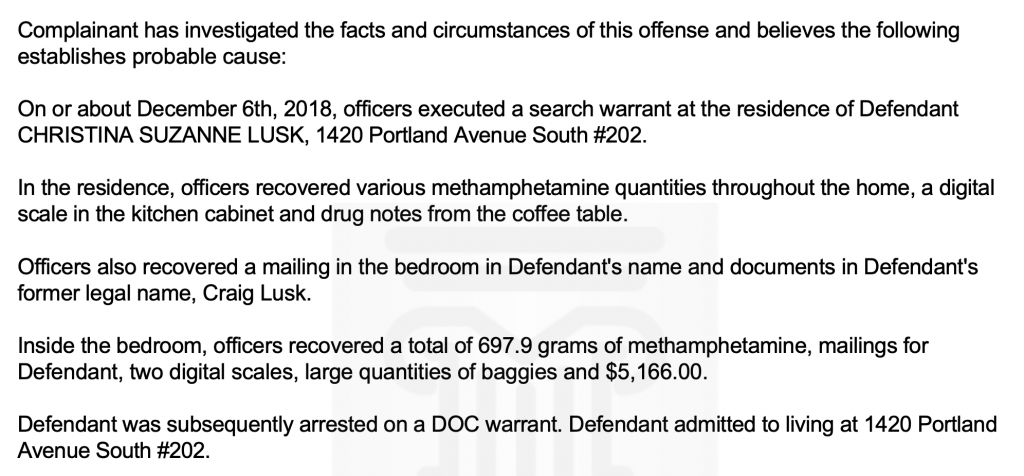 Lusk was arrested on two drug-related felonies, but was ultimately only convicted on one after striking a plea deal. He pleaded guilty to first degree possession of a controlled substance, and was sentenced to 98 months in prison. The defendant fact sheet lists Lusk's gender as "male," though he had changed his legal name the year prior.
Lusk had a previous felony conviction for first-degree robbery.
In June of 2022, Lusk filed a discrimination suit against the Minnesota Department of Corrections with the assistance of Gender Justice. In the court documents, it is claimed that Lusk "came out as transgender in 2008" and began "living authentically" as a "woman" at that time.
But Reduxx located a Facebook account belonging to Lusk from before he was arrested showing that he still appeared to identify as "male."
Using his birth name of Craig, Lusk's account obsessively posted about seeking female sexual partners.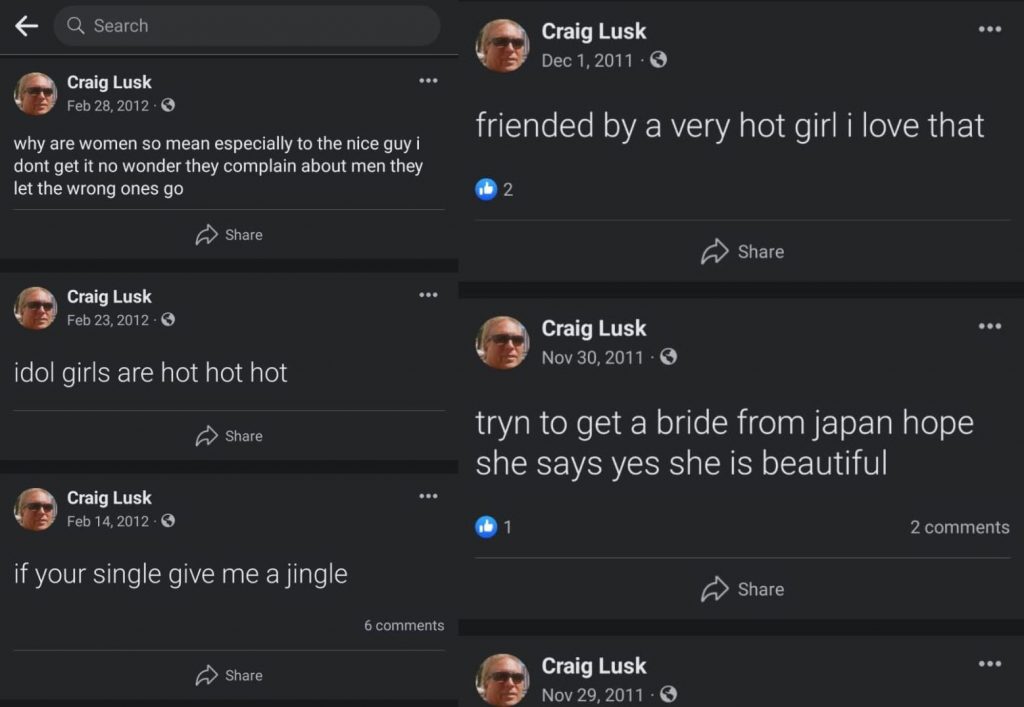 At one point, Lusk posts his full phone number and asks women to call him.
Despite Lusk's claims that he began transitioning and living openly as "transgender" in 2008, Lusk's Facebook profile, which appears to have been operated from 2011 to 2012, has a "male" gender marker.
According to the 2022 complaint filed by Lusk and Gender Justice against the Minnesota Department of Corrections, Lusk claimed to have been subject to sexual harassment by male correctional officers who "stared" at his breasts, and gave him male undergarments while he was in segregation. Other examples posed of discrimination faced by Lusk include him having been reprimanded for not wearing a bra, as well as wearing a "nightgown" with no pants beneath.
On June 1, the Minnesota DOC announced it had come to an out-of-court agreement with Lusk to transfer him to the state's only women's prison as well as provide him $495,000 in compensation.
In the statement, the DOC noted that their existing policy "allows transgender or gender non-conforming individuals to request placement at a facility matching their gender identity," and that requests will be granted "unless the requested placement would pose a heightened risk of physical or sexual harm to that person or those housed in the preferred facility."
Lusk is slated for release in May of 2024.
According to the Minnesota DOC, there are 48 transgender inmates in custody in the state out of a total state inmate population of 8,000.
Minnesota is home to another notorious trans-identified male inmate. Mosque bomber Emily Claire Hari, born Michael, is currently being held at a federal prison in Pennsylvania.
Hari, along with the small group of far-right militants known as the White Rabbits, began engaging in criminal activity in 2017 with the intention of carrying out acts of domestic terrorism. In August of that year, Hari's group set an improvised incendiary device near the Imam's office of the Dar-al Farooq Islamic Center in Bloomington, Minnesota. One of Hari's associates, Micheal McWhorter, would later confirm the purpose of the attack was to "scare Muslims out of the United States." No one was injured in the bombing.
During his trial, Hari began to identify as a "woman" and asked the court to take his dysphoria into consideration in sentencing. Since being convicted, he has made a request for an amended Federal prison placement based on his identity.
---
Reduxx is your source of pro-woman, pro-child safeguarding news and commentary. We're 100% independent! Support our mission by joining our Patreon, or consider making a one-time donation.