The owners of a top porn site have been indicted for complicity in rape and human trafficking after a number of women came forward and to report they had been sexually assaulted in the videos posted to the site.
Michel Piron, 64, owner of the French pornographic site Jacquie et Michel was indicted on Friday for complicity in rape and human trafficking. Piron and his wife were taken into custody on June 14 "over alleged pimping, complicity in rape and complicity in sexual assault between 2009 and 2015."
In addition to the site's owners, three male porn actors were arrested for rape allegations made by seven former actresses who said they were sexually abused during filming. The complaint was lodged on behalf of the victims in July 2020 by the women's rights organizations Les Effrontées, Osez Le Féminisme, and Mouvement du Nid, which campaigns for the abolition of prostitution.
"It's a great day for all women victims [and] the end of impunity for the criminal pornographic industry," said Lorraine Questiaux, a lawyer for the feminist groups who filed the charges. "There's still a lot to do but it's an important new step that places human dignity and the fight against sexual exploitation at the heart of penal priorities," she added.
In February 2020, Konbini News published a video of the testimonies of two women describing how they were lied to, trafficked and raped for the filming of videos for Jacquie et Michel. Additionally, the exposé featured a recording of one of the site co-founders admitting to acts of organized pimping.
"We went down into a cellar. There were 3 guys. I said I didn't want to. (…) The doors were closed. Each in turn… They forced things on me that I didn't want. They told me: 'Even if you don't like it, pretend to have fun!' It was just horrible," said one of the women.
When the investigation was initially launched in 2020, Fabienne El-khoury, a representative for Osez Le Féminisme, writing for UK-based feminist group Filia, said, "Hopefully the investigation will lead to court sentences for all implicated pimps and rapists. We also hope that this case will provoke a reckoning against the porno-criminal industry in the public opinion, just like #MeToo did for non-filmed sexual violence."
In a statement posted to their website regarding last week's arrests, Mouvement du Nid said, "We demand justice for the victims, and that the criminal responsibility of the entire industry be recognized and its perpetrators punished: actors, recruiters, producers and broadcasters. We support the words of these women so that the criminal porn industry can finally be judged for what it is: a system of trafficking, sexual violence and pimping on an industrial scale."
Prior to founding the pornography enterprise in 1999, Piron worked within the National Education system as a teacher. Currently, there are more than twenty porn websites under the Jacquie et Michel brand, which has also diversified into merchandising. The site's slogan "Merci Jacquie et Michel" has been used by celebrities. In 2020, Piron launched an OnlyFans competitor site called MerciFans in an attempt to capitalize on self-made amateur content during the pandemic. At the time, it was heralded as a way to show "solidarity" with "sex workers."
This is the second large-scale investigation into sexual violence on pornography film sets in the past two years. The recent indictments are part of a larger trend of French women's rights organizations pushing back against the sex industry not only through lawsuits, but also with public activism.
Last October, four male porn actors were charged with rape during an investigation into another amateur porn website called French Bukkake. At the start of the investigation in March 2020, 53 women came forward to recount their experiences of sexual abuse while being filmed.
Women detailed experiences where they were forced by directors to accept scenes that were not discussed or agreed upon prior to filming. Their testimonies led to at least a dozen people thus far being investigated for human trafficking, gang rape and pimping — including the porn director, actor and producer who founded the French Bukkake website.
Known by the pseudonym of 'Pascal OP', he had become notorious in the industry for producing violent, gonzo-style content. Both Pascal OP and another porn producer for the site known as 'Mat Hadix,' who were indicted in September 2020, are currently under investigation and being held in pre-trial detention.
In October, Le Parisien reported how even the male actors being charged with rape found it difficult to view the pornographic videos in the courtroom. One man was asked to watch a scene in which he violently forced a woman into a sex act. The judge then asked him to describe the scene. He responded by saying, "In this case, I'm guilty, I don't have an excuse. From what you've told me, it's rape, because the girl's consent isn't …" before bursting into tears.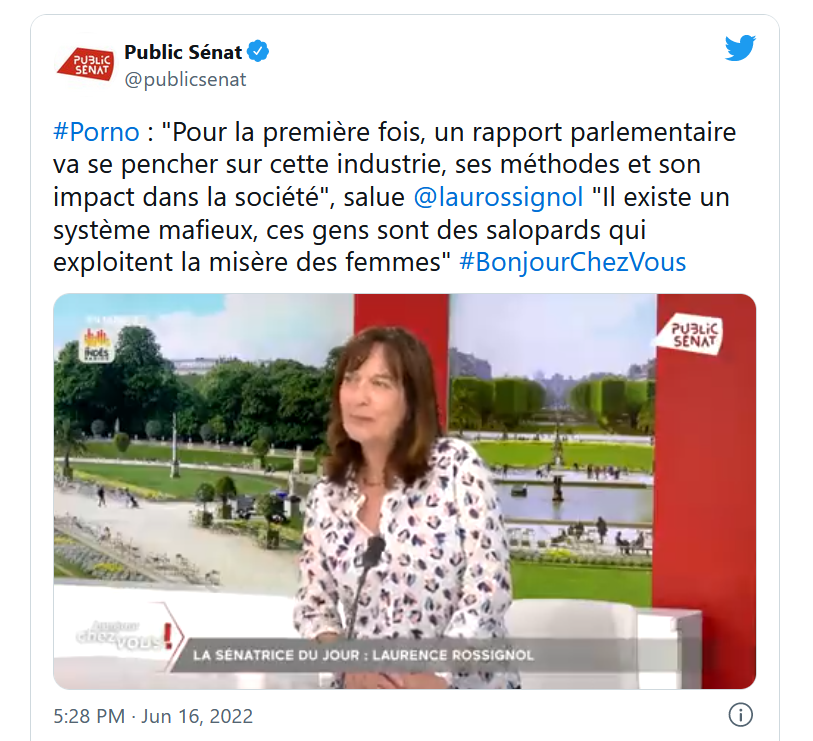 On June 16, in response to the arrests last week involving the Jacquie et Michel site, Laurence Rossignol, a member of the Senate, told Public Sénat, "For the first time, a parliamentary report will look into this industry, its methods and its impact on society. This is a mafia system [and] these people are bastards who exploit the misery of women." The video of her interview was deleted from Twitter five days after it was posted.
"Prostitution and pornography are two sides of the same patriarchal coin, the only difference being that pornography is filmed," said Fabienne El-khoury. "Both are based on the exploitation of girls and women, both are concomitant with human trafficking, both profit from systemic racism, both normalize the erasure of women's desires and sexual agency, and falsely present violence as sex."
Extensive research has established that pornography is regularly produced under conditions that meet the legal definition of trafficking, which includes conditions where a commercial sex act is induced by force, fraud, or coercion. This has resulted in the violent sexual abuse of women and children being uploaded to streaming porn sites with almost no oversight or recourse for victims. One notable example of this situation involves PornHub, which has come under fire for profiting from the rapes of women and girls.
Additionally, pornography fuels the demand for sex trafficking. Researchers who work with those who struggle with pornography addictions have documented an increasing tendency to act out the behaviors they see in the videos. Women who have exited prostitution report how johns frequently use pornography to illustrate the types of acts in which they would like to engage.
According to a 2021 Trafficking in Persons report, the government estimates that the majority of the 40,000 to 50,000 individuals in the sex industry in France, about 90 percent of whom are not French nationals, are likely trafficking victims. Of the foreign nationals trafficked, the majority were Nigerian women and girls. Moreover, authorities noted an increase in French girls as sex trafficking victims, as well as a general increase in child victims since 2016.
---
Reduxx is your independent source of pro-woman, pro-child safeguarding news and commentary. We're 100% reader-funded! Support our mission by joining our Patreon, or consider making a one-time donation.