The Robert Koch Institute (RKI), a German federal government agency and biomedical research institute, has called women "people with short urethras" whose primary sex organs are the "front hole" or "pussy."
In March, RKI released a questionnaire for "trans and non-binary people" in which one of the questions asked participants if they were female without using the words "female" or "woman."
The text of the question read, "People with short urethras are sometimes at higher risk for certain infections, for instance inflammation of the urinary bladder. People with short urethras include, for example, people with a front hole, vagina, pussy, etc. Here we are referring to people who haven't (yet) had gender reassignment surgery as well as people who have had gender reassignment surgery. Are you someone who has a short urethra?"

Netizens responded using the hashtag #Harnröhre, or urethra, and expressed outrage at what they described as "pseudo-scientific" and a waste of taxpayers' money. Notably, though the question was written in German, the English language was used when listing the terms "front hole" and "pussy".
The term "front hole" is frequently found in pornography that involves women who have taken testosterone to resemble men, euphemistically referred to as "trans men." The expression linguistically situates female genitalia in reference to the anus, or "back hole." Additionally, "pussy" is also used to refer to female anatomy in the pornography industry.
American trans-identifying academic Andrea Long Chu compared female anatomy to the anus in his 2019 book Females. In one chapter, Chu details "forced feminization" pornography, which he describes as involving "former men who have been feminized (sissified) by being forced to wear makeup, wear lingerie, and perform acts of sexual submission." He continued to state that, in his view, the anus is "a universal vagina through which femaleness can always be accessed."
The US-based organization the Human Rights Commission (HRC) may have been the first to recommend the use of "front hole" as a replacement for more anatomically correct labels, such as vagina or vulva. In 2016, the HRC published to their site a document titled "Safer Sex for Trans Bodies," which was described as "a comprehensive sexual health guide for transgender and gender expansive people and their partners."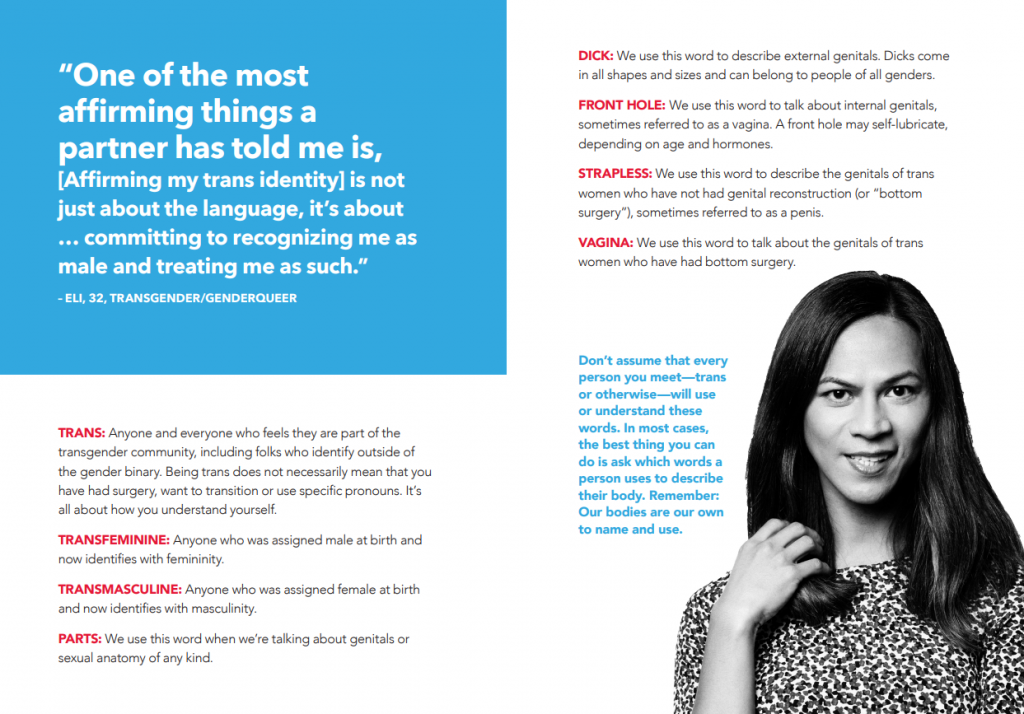 According to the HRC guidance, women who identify as transgender or queer ought to refer to their genitalia as a "front hole" while men who identify as women should refer to their penile inversion as a "vagina." The pornography-related terms "dick" and "strapless" are suggested, as well.
In 2018, Healthline Media, an American website and provider of health information headquartered in San Francisco, California, similarly published a LGBTQIA+ safe sex guide which used the term "front hole" when describing female anatomy.
"For the purposes of this guide, we've chosen to include alternative words for readers to use for their genitals," Healthline stated. "Whenever we use the medical term 'vagina,' we'll also include 'front hole,' as clinically recommended by researchers in the BMC Pregnancy and Childbirth Trusted Source journal."
Mimicking the rhetoric of the HRC, Healthline stated that many who are born female and identify as male may prefer call their vaginas "front holes" or "inside genitals" whereas those born male who claim a female identity may prefer to use the terms "girl dick" when referencing their penises.
Earlier this month, it was revealed that health chiefs in England had told midwives to use the terms "human milk" instead of "breast milk" and to say "front hole" instead of "vagina." In a care guide from Brighton and Sussex University Hospitals NHS Trust, midwives and obstetricians were told: "Some individuals may have preferred terminology for their anatomy. These should be used wherever possible. For example, some people may talk about 'front hole' or 'genital opening' rather than 'vagina.'"
A midwife employed at the trust disclosed that a number of maternity staff were unhappy with the language requirements but feared speaking out due to the political climate.
---
Reduxx is a newly-launched independent source of pro-woman, pro-child safeguarding news and commentary. We're 100% reader-funded! Support our mission by joining our Patreon, or consider making a one-time donation.