A German university cancelled a biologist's lecture on evolution after caving in to the demands of trans activists on the campus who called it "transphobic" for asserting there were only two sexes. The event, called The Long Night of Science, was scheduled to take place on Saturday, July 2.
Biologist and feminist Marie-Luise Vollbrecht, a PhD candidate at Humboldt University, was scheduled to give a presentation on the evolution of biological sex at The Long Night of the Sciences, a multidisciplinary annual event held at scientific institutions across Germany. The event is intended to use science as "an answer to fake news, conspiracy theories and fatal errors."
Vollbrecht's lecture, titled "Gender is not the same as sex. Sex, gender and why there are only two sexes in biology" was intended to demonstrate her research in her main area of academic interest, which includes neurobiology and animal physiology.
But Vollbrecht explains she was the victim of an abusive campaign launched by activists which demanded her talk be cancelled on the basis that her scientific research was bigoted.
"Two days before the event started, [trans activists] tried to intimidate me," Vollbrecht told Reduxx, "They mass-reported me, they sent screenshots of my supposed 'transphobia' to my PhD supervisor. I had to delete about 1,000 tweets because I didn't want my boss and everyone in the university to read my private Twitter account. They saw it as proof that I'm trying to hide [my] transphobia, but I was just arguing about science."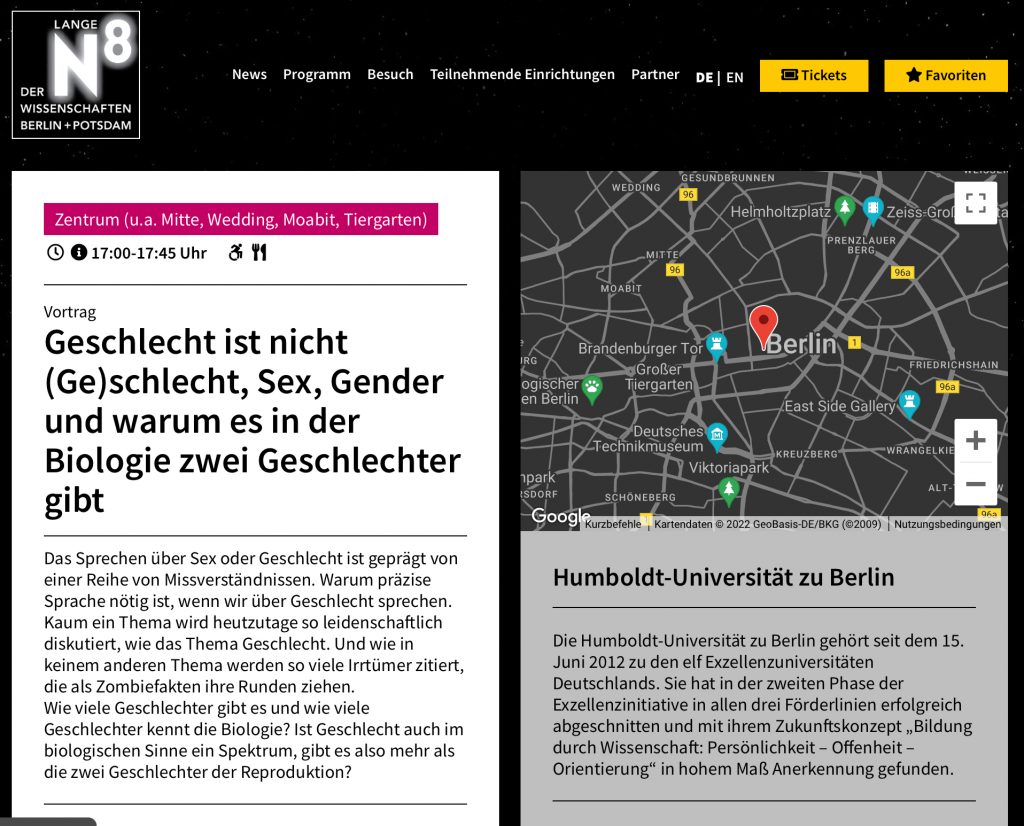 The General Students' Committee (Allgemeiner Studierendenausschuss, or AStA) sent an e-mail to the organizers of The Night of Long Science event wherein they claimed Vollbrecht's views were "unscientific" and "hostile" to transgender people.
"At the Long Night of the Sciences 2022 this Saturday, July 2, Marie-Luise Vollbrecht is to give a lecture in the prominent Senate Hall directly in the main building of Humboldt University, in which she claims that there are only two biological sexes," read the email.
"Not only is this thesis unscientific, but inhuman and hostile to queer and trans*! In addition, a few weeks ago, Vollbrecht, together with some other authors, published an inflammatory article Die Welt, in which she claims that public broadcasters spread 'transgender ideology.'"
The email continued: "To provide such a person with the most prominent room of Humboldt University as part of a science event, we find absolutely wrong! We students oppose this and call for a rally of the AKJ (Working Group of Critical Lawyers) from 4:30 pm in front of the main building. Come in large numbers, be diverse and show Humboldt University and the public that we will not put up with this."
The night before the event was scheduled to take place, AKJ utilized the university's e-mail server to message the student body in order to denounce Vollbrecht and call for protesters to demonstrate outside of the Senate Hall.
In response to escalating pressure, university administrators decided to cancel Vollbrecht's lecture on the premise that they could not provide security personnel to protect her or staff from the possibility of violence.
"They called me on Saturday morning some hours before I was supposed to give my presentation and told me that they had to postpone it for security reasons," Vollbrecht said.
Despite her lecture's cancellation, approximately 100 students protested outside of the building where The Long Night of Science was set to take place. A large banner attached to the gate of the Senate Hall, placed on top of the event poster, read, "No platform for anti-feminism, transphobia, right-wing ideology, and unscientific [views], f*ck off."
On Monday, July 4, a spokesperson for AKJ, Stefanie Richter, published a statement to the group's website which criticized university management's refusal to condemn Vollbrecht, and demanded that the university "clearly name transphobia as such."
Richter went on to call Vollbrecht a "TERF," and declared that her lecture on biological sex was simply "a presentation of (alleged) facts." On July 6, the General Students' Committee sent the AKJ statement out to the entire student body, again using the university's e-mail server.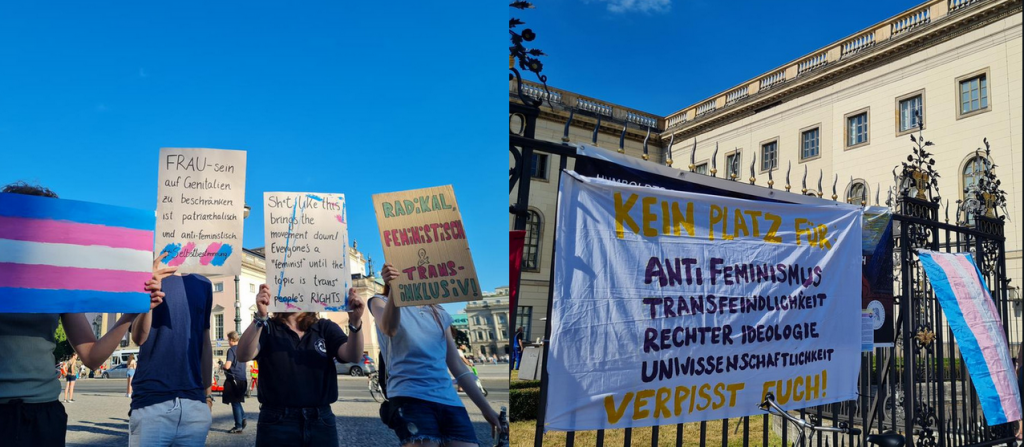 Leading up to the events on July 2, Vollbrecht had co-authored an open letter with several other academics, published on June 1, calling for an end to "false reporting" on the issue of gender identity ideology and the drugs euphemistically referred to as "puberty blockers." The letter has thus far been signed by over 1,600 individuals.
"The subject of 'trans' is brought to children and young people through public broadcasting, with the result that the number of children and young people treated for gender dysphoria has increased twenty-five-fold in less than ten years," reads the statement.
Published in conjunction with the open letter, Vollbrecht and others in the field of science released a dossier titled "Ideology instead of biology in the ÖRR." The ÖRR is the national broadcasting service of Germany, and academics had worked together to examine hours of media content produced and promoted by ÖRR. During the course of their research, they discovered "explicit sexual media directed at children and young adults" being promoted by government subsidized media channels.
In particular, Vollbrecht and the other academics involved highlighted a program aimed at young children which featured a man who identified as a woman. During the episode, which aired on March 27 to highlight the Transgender Day of Visibility, a man who goes by "Katja" showed off a collection of high heels and spoke of having been jealous of girls when he was younger. The program, targeted at children as young as four years old, introduced the concept of gender identity and promoted sex self-identification policies.
According to the dossier, another program that the ÖRR recommends for young people aged 14 and over introduces children to BDSM and pornography. A host named Leeroy explores adult sexual themes in his videos, including transsexuality, pornography, prostitution, rape, and pedophilia. Vollbrecht and the other researchers summarized their findings in an article for Die Welt, also published on June 1. It was the culmination of her research and criticism of national broadcaster ÖRR that resulted in a campaign of online harassment by transactivists.
Following intense media scrutiny of both Vollbrecht and the cancellation of her scientific lecture, she was afforded an opportunity to explain the contents of her presentation in an article published July 6 by Zeit Online:
"My lecture would have been about three things: to explain why there are only two sexes from a biological point of view; to make it clear that debates about social gender roles are something else; and to justify why I think it's wrong to mix the two."
She goes on to explain that unlike English, the German language does not distinguish between "gender" and "sex," saying: "In English, the linguistic separation is made by the words sex for biological gender and gender for culturally determined gender roles. In contrast to the concept of gender in biology – sex – the definition with regard to gender identities – gender – remains unclear."
Despite this, "the biological sex of humans is binary," asserts Vollbrecht. "There are male and there are female people. We are born male or female and retain our sex until the end of life."
While speaking with Reduxx, Vollbrecht insisted that she did not hold Humboldt University responsible, but felt that the trans activists who abused the mail server system to libel her should be held accountable. University administrators have proposed a future date for a debate, open to her detractors, which Vollbrecht has said she would participate in. Humboldt representatives have not responded to a request from Reduxx for comment at this time.
In response to the cancellation of Vollbrecht's lecture, Austrian YouTuber Donna Krasniqi streamed a live discussion with Vollbrecht in which she presented the research she had been set to lecture on. The video has since been viewed nearly 100,000 times, with commenters frequently remarking that nothing controversial was said.
"I wanted to show what I was going to talk about, and that there's nothing hateful in it. I feel most people are disappointed because they expected something more dramatic, but many people commented that this is just school biology. The talk I wanted to give was [made for] children," Vollbrecht said.
"This is the worst thing that has ever happened to me. I never wanted to be exposed like that… or in the spotlight. But I am glad that I could demonstrate that we really have a problem with radical activists at universities," she added.
"For months, I tried to tell people that a huge percentage of people now really believe that there are more than two sexes, and people in the science departments are really blind to it. I really hope that this now starts the conversation that we need to have."
The response to the attack on Vollbrecht's scientific lecture has been tremendous, with hashtags such as #HumboldtUni and #Geschlecht trending on Twitter. Even government officials have offered their perspectives on the situation.
The Minister of Education and Research, Bettina Stark-Watzinger, expressed concern over the university's actions, and told Bild Zeitung, "Science thrives on freedom and debate… It must not be in the hands of activists which positions may be heard and which may not."
Similarly, Bundestag Vice President Wolfgang Kubicki warned: "If we give in at this point and leave the playing field to the opponents of freedom of expression, it will have painful consequences for the freedom of all people in the country."
This is not the first instance trans activist student groups opposing discussion of biological sex within academic settings. Last November, University of Sussex professor Dr. Kathleen Stock resigned after enduring years of harassment from transactivists calling for the termination of her employment.
According to Dr. Stock, her "tipping point" came when her University sided with those who had waged a campaign of "intimidation" against her, but she had since received support from the feminist community and prominent figures like Richard Dawkins and JK Rowling. Dr. Stock is set to give a lecture on "varieties of feminism" at a newly-established University in Austin, Texas, indicating that trans activists' attempts to silence critical views are having the opposite of their intended effect.
---
Reduxx is your independent source of pro-woman, pro-child safeguarding news and commentary. We're 100% reader-funded! Support our mission by joining our Patreon, or consider making a one-time donation.