The internet was abuzz with discussion after the Greene County Circuit Court of Virginia announced the case of Christian Weston Chandler will be brought before a Grand Jury to determine whether or not his felony charges will go to trial.
Chandler, widely known by his moniker Chris Chan, was arrested in August of 2021 after it was revealed that he had engaged in sexual relations with his 79-year-old mother, who reportedly has severe mental impairments. Chandler was charged with one count of incest the time of his arrest, and has been held without bail awaiting trial since.
But on July 29, the case was updated at the Green County Circuit Court revealing Chandler's charges will be heard before a Grand Jury. A Grand Jury is comprised of civilians who are called to review a case prepared by the state. The purpose of the hearing is to determine if there is probable cause to believe the accused has committed the crime they have been charged with and should stand trial. In Chandler's case, he would be standing trial on felony incest, which comes with a potential prison sentence of up to 12 years if found guilty.
Chandler was arrested in August shortly after audio was leaked in which he repeatedly admitted to having had sexual contact with his elderly mother, Barbara. The admissions took place while Chandler was on a call with an individual he reportedly thought to be a trusted friend, who was in fact recording the conversation for the purposes of leaking it to a Discord sever.
In the audio, Chandler states he had been "doing it every third night" with his senior mother. Later text messages sent by Chandler included grisly details about having performed oral sex on the elderly woman, even after she told him "stop."
After the audio began to circulate, a flood of online sleuths began contacting local authorities, prompting them to conduct a welfare check on Chandler's mother, Barbara, on July 30, 2021. Authorities removed Barbara from the home and brought her to a hospital where a physical assessment was conducted. While the results of the assessment were not released, Chandler was immediately issued an emergency protective order barring him from access to the residence he shared with his mother.
Shortly after being made temporarily homeless by the EPO, Chandler reportedly stole money from his mother's bank account, which he had access to, in order to pay for motel accommodations and various cartoon toys. Some noted this move may have violated the EPO established by police.
Chandler has been considered a celebrity in some circles of the internet after first coming to attention in 2007 for his original comic Sonichu — a character representing a combination of Sonic the Hedgehog and Pikachu from Pokemon. The comics were extremely poorly drawn, resulting in memes and mockery. His life has spawned entire online communities who obsessively gather to discuss and share information on him, with some of those communities having been active for over a decade.
Chandler began calling himself a "lesbian-identified male" in 2014, shortly before coming out as transgender and adopting the name Christine. In 2016, Chandler announced on Facebook he had manifested a functional vagina and breasts after listening to YouTube hypnotization videos. Many speculate he simply mutilated his own perineum.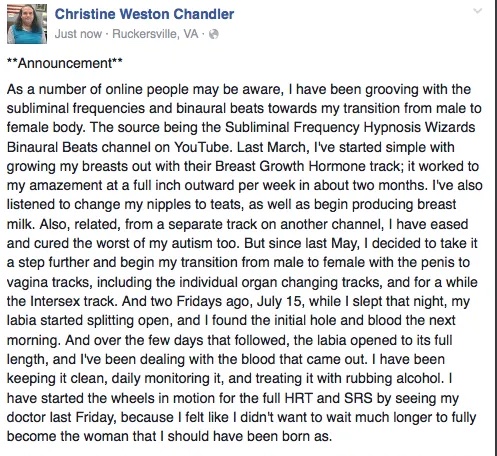 A pinned Twitter post made on July 11, 2021 reaffirms Chandler stating "I am female, please address and talk about me with the correct pronouns."
After Chandler was arrested in 2021, discussion on social media surrounding his pronouns and transgender identity became widespread as users argued about whether or not to "respect" how he identified, despite the facts questions still existed about his intentions for transitioning.
After the announcement that Chandler's case was going to be heard before a Grand Jury, his moniker 'Chris Chan' began trending on Twitter and re-igniting discussion around his pronouns.
Many trans activists have asserted that Chandler's pronouns must be respected even if he is misrepresenting his trans identity, which some have noted Chandler himself once claimed was a ploy to have sex with lesbian women.
Prior to the August 2021 arrest, Chandler had a run-in with the law in 2014 after macing a GameStop employee during a disagreement over Sonic the Hedgehog. Chandler spent 3 nights in jail and was later handed a 6-month suspended sentence and a $500 fine on a misdemeanor conviction.
Chandler was initially identified as a 'female' by Police, but his sex has since been corrected to 'male' within the jail system. He was reportedly initially housed with women after being arrested, but has since been moved to the male section of the Central Virginia Regional Jail.
The Grand Jury will be hearing Chandler's case on August 8.
---
Reduxx is a newly-launched independent source of pro-woman, pro-child safeguarding news and commentary. We're 100% reader-funded! Support our mission by joining our Patreon, or consider making a one-time donation.