An Austrian politician has been uninvited from a lesbian conference after organizers claimed her views on women's sex-based rights went against their values. Member of Parliament Faika El-Nagashi was told her position did not align with the conference's "trans inclusive" policy.
Organizers behind the EU-funded European Lesbian* Conference (EL*C) sent an email to El-Nagashi just a few hours before the event was due to start, informing her that she was no longer welcome. The email was titled "EL*C is a trans inclusive space."
In the email, EL*C stated the decision to bar El-Nagashi was based on her "recent public statements" which went against the organization's "core values." While it does not directly reference which of her statements was in violation of their policies, El-Nagashi told Reduxx that she can speculate on what it likely was.
"Before summer, I gave an extensive interview to a liberal weekly newspaper in Austria in which I … said it was a necessity to maintain the category of "woman" as based in material reality," El-Nagashi says. "I also called for the protection of trans people from discrimination in the same interview. But afterwards, I was met with tremendous hostility. I assume this is what made it onto the board of the EL*C and led to me being excluded."
The interview El-Nagashi is referring to was published in Der Standard in July of 2022. During the interview, she was critical of the demands of trans activists, and raised concerns about the ease with which hormone treatments were being prescribed to children. While she maintained that women's rights should be based in the material reality of their sex, she also emphasized the need for trans people to be protected from discrimination.
The article was met with backlash from trans activists in the European Union, who also took issue with her subsequent comments on social media. El-Nagashi says that the last-minute decision to disinvite her could have been due to pressure from donors, partners, individual activists or groups on or related to the EL*C board.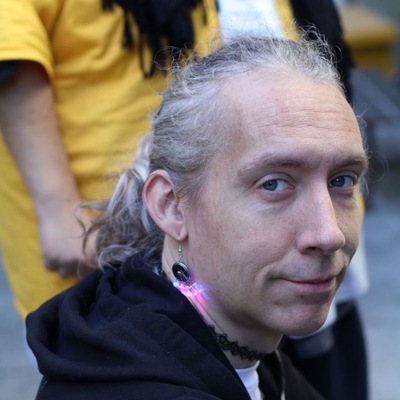 One member of the EL*C governing board who may have been the source of the initial complaints on El-Nagashi's attendance is a trans-identified male from Austria.
On the the EL*C's website, Rhonda D'Vine is identified as "trans-feminine," and is set to host a panel at the conference on bisexuality. He will also reportedly be leading the Dyke March.
El-Nagashi, who has been a social justice advocate all her life, is a member of parliament for the Austrian Green Party (Die Grunen) and the spokeswoman for the Party's diversity and integration policy. She is one of the only outspoken gender critical politicians from a left-wing party in the European Union.
In a September 28 Twitter thread, El-Nagashi explained that she had a long history of collaboration with the EL*C organizers. She also says she has been heavily involved in the planning of the event in the past.
The conference, which takes place in a different European city each year, states on its website that its definition of lesbian includes "anyone who identifies as lesbian, feminist, bi, trans or queer, and all those who feel connected to lesbian activism."
The EL*C grew out of the International Lesbian, Gay, Bisexual, Trans and Intersex Association (ILGA), and is partially funded via grants from the European Commission. Their 2022 event is taking place in Budapest.
The organization places an asterisk next to the word 'lesbian' to indicate they support the inclusion of trans-identified males in lesbian spaces.
"I was just getting ready to leave Vienna for Budapest when I read the email," El-Nagashi told Reduxx. "I was truly shocked. The message was very impersonal." She says the abrupt move was a major inconvenience as she had already arranged for accommodations, vacation time, and her travel.
"On a personal level, it is extremely painful to be ostracized like this," El-Nagashi says. "On a political level, I think it is shameful and disastrous for the lesbian movement to be policing what women think, say, do and to then decide if they are allowed to be present or not."
Just before the conference, the EL*C published a video made in collaboration with trans advocacy group Transgender Europe, in which they declare the trans and lesbian movements united in solidarity.
"Unfortunately, this seems to mean that the lesbian movement can no longer be united or in solidarity with lesbians."
El-Nagashi explains that any project or organization which purports to be centered on lesbianism or women's rights in the European Union is being forced to perform ideological purity tests to satisfy trans activists.
"It has to answer two questions: Are you trans inclusive? And what is your definition of woman/lesbian?" She notes that both questions must be answered within the framing of gender ideology if the organization is going to be allowed to survive financially or politically.
"There is a huge richness among lesbian and feminist activists, in terms of diversity of experience and expertise, backgrounds and biographies, positions and strategies. This is what we have to center. All the voices of lesbians. Not the wishes of some extreme activists who harm our movement and have moved it into a dead end," El-Naghashi says.
"We have to restart and rebuild a resilient and unapologetic lesbian movement."
Reduxx reached out to the European Commission, which provides funding to EL*C, for comment on one of their grant-holders excluding a lesbian activist for her views on sex. A request for comment was also sent to EL*C organizers. At the time of this article's publishing, neither has responded.
EDITOR'S NOTE: At the request of Faika El-Nagashi, some direct quotes were changed in post-publishing.
---
Reduxx is a newly-launched independent source of pro-woman, pro-child safeguarding news and commentary. We're 100% reader-funded! Support our mission by joining our Patreon, or consider making a one-time donation.