A trans-identified male in New Zealand has been handed a 9-year prison term for a stabbing spree at an Indian restaurant earlier this year which left three people, including his ex-girlfriend, severely injured.
Matthew Richard Nelson, a male who identifies as a woman named Pandora Electra, appeared for sentencing in the Hamilton District Court today. He had pleaded guilty to three charges of wounding with intent to cause grievous bodily harm, as well as charges of breach of a protection order, intentional damage, and resisting police.
Nelson, 31, had stood accused of stabbing three victims at the Sahara India Restaurant in Cambridge on May 4 of this year. One of the victims, a female, was Nelson's former partner. A police summary of the incident presented to Court during a hearing earlier this year said Nelson had acted in a "quick and aggressive manner."
According to police reports, Nelson had entered through the rear door of the restaurant and stabbed a male staff member in the shoulder as he worked in the kitchen.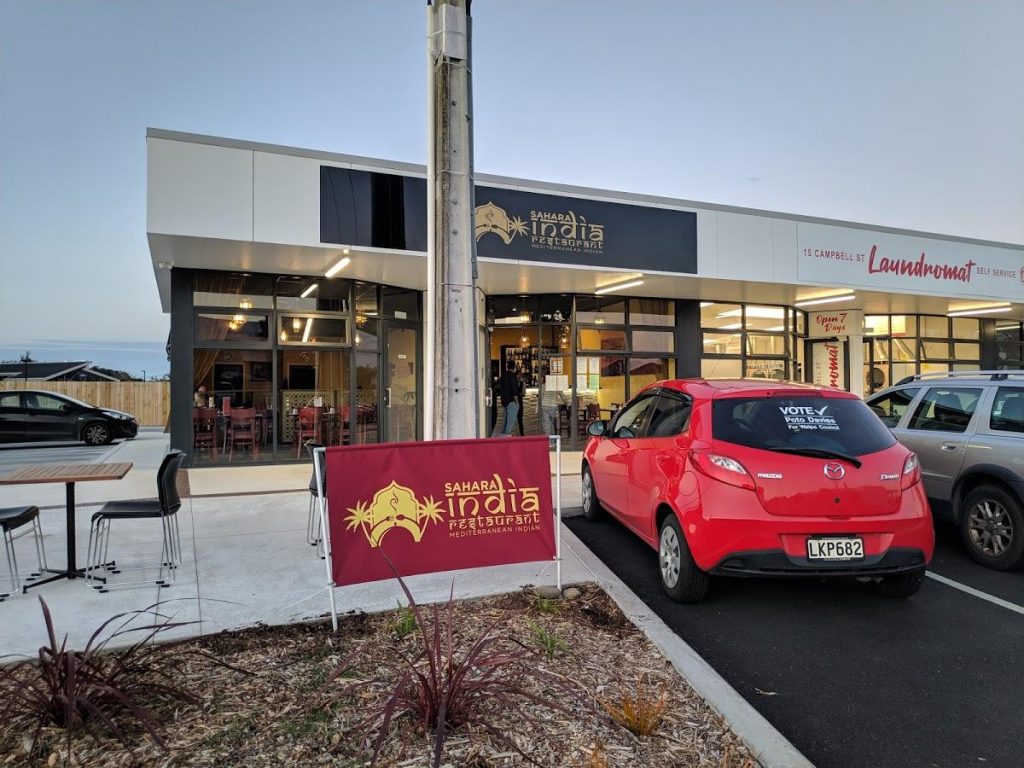 Nelson quickly targeted another worker, a female who was later revealed to be Nelson's ex-girlfriend. He slashed her in the face and stabbed her in the upper back, causing her to suffer a punctured lung. Despite her horrific injuries, the woman managed to run out of the building and flee for help at a nearby gas station.
A customer who attempted to intervene in Nelson's stabbing spree was similarly attacked, losing over a liter of blood after he sustained an injury to his abdomen.
Nelson then grabbed a chair, which he used to smash the restaurant's front windows, and fled.
While being forensically swabbed in police custody by a doctor, Nelson is alleged to have remarked: "this is a bit excessive for only stabbing three people."
Today, Nelson was sentenced to 9 years and three months in prison — and must serve at least 60% of the sentence before he can be considered for parole. According to Stuff.nz, the presiding judge respected Nelson's identity as "Pandora Electra" — a new name he has introduced since previously identifying as "Emma."
A motive had never been clearly determined for Nelson's spree, and during the proceedings, the court sealed matters pertaining to Nelson's situation which may have shed clarity on the reasons for the attack.
Nelson is currently being housed at Auckland Women's Prison. A pre-sentence report submitted to the court had found Nelson to be a high risk of violent harm to others.
In December of 2021, the New Zealand Parliament unanimously passed a bill enabling total gender self-identification on legal documents. The Births, Deaths, Marriages, and Relationships Registration Bill dropped the requirements for any medical or court prerequisites prior to applying for a legal gender change.
Prison placement is largely based off of legal sex, with initial accommodations always matching the sex on the offender's birth certificate. If an individual does not have a legal gender change but self-declares a transgender identity, they may still be eligible for transfer. The only known restriction is that offenders convicted of "serious" sexual crimes cannot be transferred to a prison housing inmates of the offender's nominated sex.
The New Zealand DOC website advises prison officials to "consider the support the trans person needs and wants while in prison." Corrections staff are required to discuss a support plan with trans-identifying inmates within three days of their reception. Men who claim a female identity may be provided with prosthetic breasts, brassieres, and feminine undergarments, and they may choose to request to be searched by female officers.
In April this year, a concerned citizen requested information regarding the number of trans-identifying prisoners currently being housed in women's prisons. Dianne Landy filed a request asking for the figures, as well as the amount of individuals who have a medium to high risk security rating.
The DOC replied in an evasive manner, without providing the information and instead delayed their response indefinitely.
---
Reduxx is a newly-launched independent source of pro-woman, pro-child safeguarding news and commentary. We're 100% reader-funded! Support our mission by joining our Patreon, or consider making a one-time donation.