Yesterday, a verified account on Twitter issued one of the most deranged takes I've seen in a long time (and that's saying something).
Aella, a liberal feminist pornographer who stylizes herself as an "intellectual sex worker," tweeted to her 100,000+ followers: "Child porn is created when people get paid to make child porn; the rarer you make it, the more they get paid. The best way to protect children is to kill the economic demand; flood the market with AI generated, freely accessible stuff that's created with zero harm to actual kids."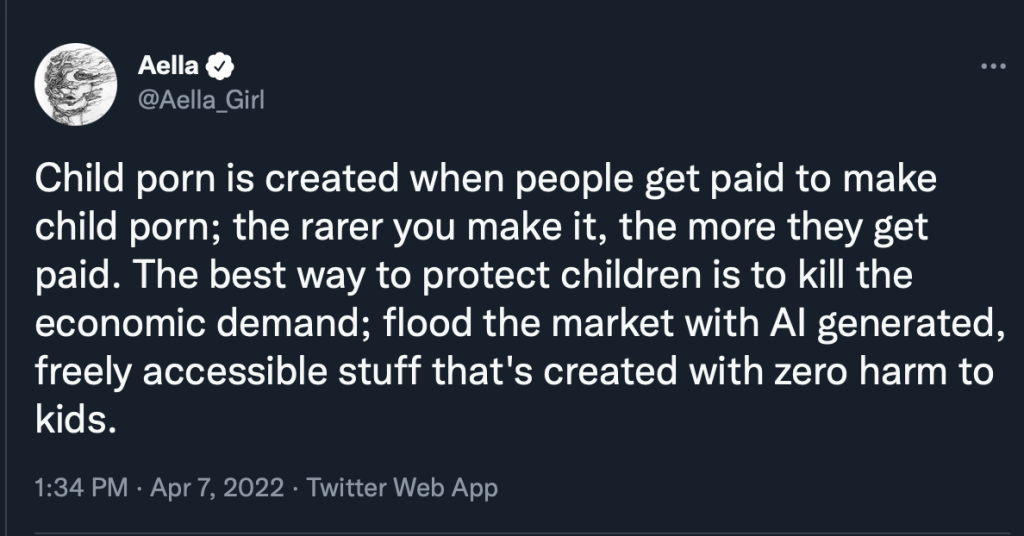 The tweet went viral for all the wrong reasons, wracking up a few thousand quote-tweets in one of the most epic collective ratios I had ever seen prior to being promptly deleted by the poster. Of course, she insists she deleted it not because it was a garbage take and she was getting her ass handed to her by the furious hoards, but because [insert cope here].
I'm sure Aella thought she was really doing something special, attempting to apply the recently re-popularized "harm reduction model" to child sexual abuse material. But, in fact, her cringeworthy ramblings are nothing but regurgitated drivel we've seen before… too many times.
Even as recently as a few months ago, the now-infamous ex-instructor Allyn Walker, formerly of Old Dominion University, similarly argued that "minor attracted people" could be provided "ethical child pornography" to facilitate a reduction in their offending. Prostasia, a pedophile-sympathetic organization has also been arguing for funding to explore "fantasy outlets" for child sexual abusers.
Of course, there is absolutely no evidence, beyond the qualitative interview-based musings from so-called "non-offending pedophiles," that any such strategy would work.
If access to a robust directory of child sexual abuse material negates the desire to harm a child in real life, as this argument is seemingly premised on, the rates of child sexual abuse amongst consumers of such material should be low, right? And yet…
According to one federal review (PDF), while 12% of a sample of criminals charged with child pornography-related offenses had prior contact sex offenses in their official records, 55% self-disclosed that they had prior sexual contact with a child. Another study placed the latter figure at closer to 85%. Yet another places it at 76%.
Interestingly, a 2009 study of men in treatment after being charged with receiving, possessing, or distributing child sexual abuse material found that while 74% of them had no prior criminal record for hands-on child sexual abuse, by the end of their 18-month program a whopping 85% had admitted to sexually abusing a child in real life at least once, with an average of 13.5 victims per offender.
And shifting to be as close to home as possible: I have to admit the eye-rolling, sardonic snort I let out when I discovered Ms. OnlyFans-Top-3%'s Tweets came roughly 24 hours after a pedophile in Utah was arrested for registry non-compliance and police discovered — you guessed it — computer-generated child pornography on his computer. The man had been on the registry for lewdness with a child, and had been posting on the internet about wanting to rape a little girl. According to police, he'd been staking out children at a local park.
But none of this is surprising to anyone who has even just one brain cell to split and half and rub together.
Despite the plethora of arguments I could make definitively demonstrating the consumption of child sexual abuse material does nothing to stop actual children from being assailed, I feel as though there is a critical disconnect with the purveyors of arguments like Aella's in which no amount of evidence could convince them of something other than that which they have set their minds on.
It is not that they hold this fundamentally flawed belief because they are ignorant of the reality, but rather because they don't care about it. Their reality is simply very different from ours.
I find it telling that, in her Tweet, Aella's first line was: "Child porn is created when people get paid to make child porn."
No. Child porn is created when degenerates are aroused by seeing children be sexually abused. The transactional details associated with the economy of the material is almost irrelevant when addressing the primary issue: that there is demand for it to begin with.
Aella-The-Intellectual's argument was dead-on-arrival and she didn't even see it.
But how could we expect her to look at the buyers? As a porn star, Aella's entire income relies on rationalizing the sick desires of the men who purchase her content and never interrogating them too deeply.
It's all just economics to her; on-demand, $3.99/month "fantasy outlets" intended to provide a way to "live out" totally innocent internal musings. We see this narrative amongst justifications for rape, incest, abuse, and torture porn — all of which are readily accessible at no cost, mind you, and yet have done diddly squat to impact the actual occurrence of those crimes.
Try to question why the demand for such porn even exists and you'll invariably be met with finger-wagging that you don't "stigmatize" or "kink shame" people's sexual proclivities.
Everything is justifiable if nothing really exists.
But unfortunately, it does. Child abuse is real. Rape is real. Abuse is real. Incest is real. And the sexualization of those grotesque realities isn't a side note to be skipped over in favor of debating the economics of the industries which cater to those who fantasize about them… It is quite literally the only thing that matters.
To emphasize that point, note that one Canadian study found the the consumption of even completely legal adult pornography amongst child molesters was a predictor for recidivism.
In her now-deleted Tweet, Aella was unable to recognize the importance of addressing the fundamental sickness actually driving demand because to do so would put her in the rather uncomfortable moral and intellectual position of accepting that, at the end of the day, it's all the same shit.
The solution isn't to "kill the economic demand," as she said. It's to kill the demand.
Take that how you will, but remember that it's all just innocent "fantasy."
---
Reduxx is a newly-launched independent source of pro-woman, pro-child safeguarding news and commentary. We're 100% reader-funded! Support our mission by joining our Patreon, or consider making a one-time donation.