Disturbing details are circulating regarding a trans-identified male who was charged with sexually abusing an 8 year old girl in Boise, Idaho while living with her polyamorous, non-binary family unit.
'Alyssa' Celusta, 35, whose arrest records list his name as Odinn Valur John Celusta, fled to Crescent, Oregon after abusing the girl, where he was arrested on August 18, 2021 after coming out on his Facebook profile as a pedophile.
In a series of Facebook posts, Celusta declared that in addition to being transgender, he was sexually attracted to children, and decried the oppression of what he portrayed as an innocent sexual identity.
"I am a pedophile. I have felt attraction to the very young for as long as I've been aware of what those kinds of feelings were," Celusta wrote. "I do not believe there's anything shameful in my feelings. I don't want to learn how to hide and repress and pretend I'm 'cured'. This is part of my sexuality, as real a facet of me as any other."
Celusta went on to claim that social stigma against pedophilia is what's placing children in danger of sexual abuse, a talking point gaining popularity amongst sympathetic academics and pro-pedophile activist organizations like Prostasia. Celusta wrote: "A society that shrinks back in terror and shame from the topic of child sexuality actually makes children at more risk of abuse."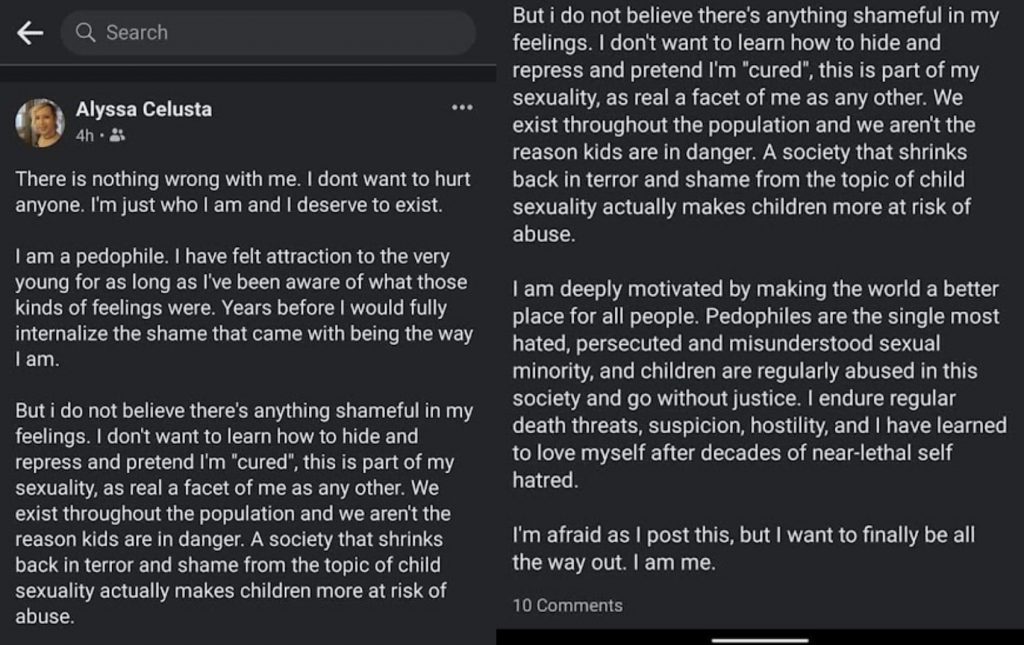 He continued on to state that "pedophiles are the single most hated, persecuted, and misunderstood sexual minority."
In a separate post, Celusta asserted that, "Criminalizing the existence of pedophiles idealizes dependency and vulnerability in kids," and that the "present strategy" for safeguarding children wasn't effective.
"If pedophiles are able to come out," he said, "then we start in a much better way for making everyone less prone to abuse overall."
Celusta gained access to the alleged victim while living with the girl's mother, who identifies as non-binary and is a member of a polyamorous family unit.
A Facebook post written by the father of the victim, Brandon Waite, explains how Celusta's brother was involved in a relationship with the girl's brother.
The brother, in an attempt to help his relative, offered Celusta a place to stay. Shortly after he began living with the family, Celusta confessed he was attracted to their daughter. He was found to be in possession of a book titled, "The Incest Diaries", which Waite describes as "sympathetic towards incestuous pedophiles" and "details how to groom and prey upon children for access."
According to Waite, his daughter expressed to her mother that Celusta had confessed to having a "crush" on her and had been touching her in a sexual manner. Along with the girl's mother, Waite then filed a police report. Mr. Waite's post was removed by Facebook on the grounds of bullying and harassment.
On Reddit, a user claiming to be the victim's mother came out and detailed some of the abuse, noting that Celusta had "put [his] hands between my girls thighs and had a boner while she sat on her lap." The mother went on to state that her daughter would be testifying against Celusta. In all cases, the victim's family was careful to use Celusta's preferred pronouns, and called Celusta the victim's "aunt."
Celusta was released from detention on February 2, though the details of why are not presently known.
When a Reduxx writer reached out to a friend of Celusta's via Facebook for information on the case, she was immediately condemned for misgendering him, the contact stating "I hope we can agree that even a pedophile's preferred pronouns are important."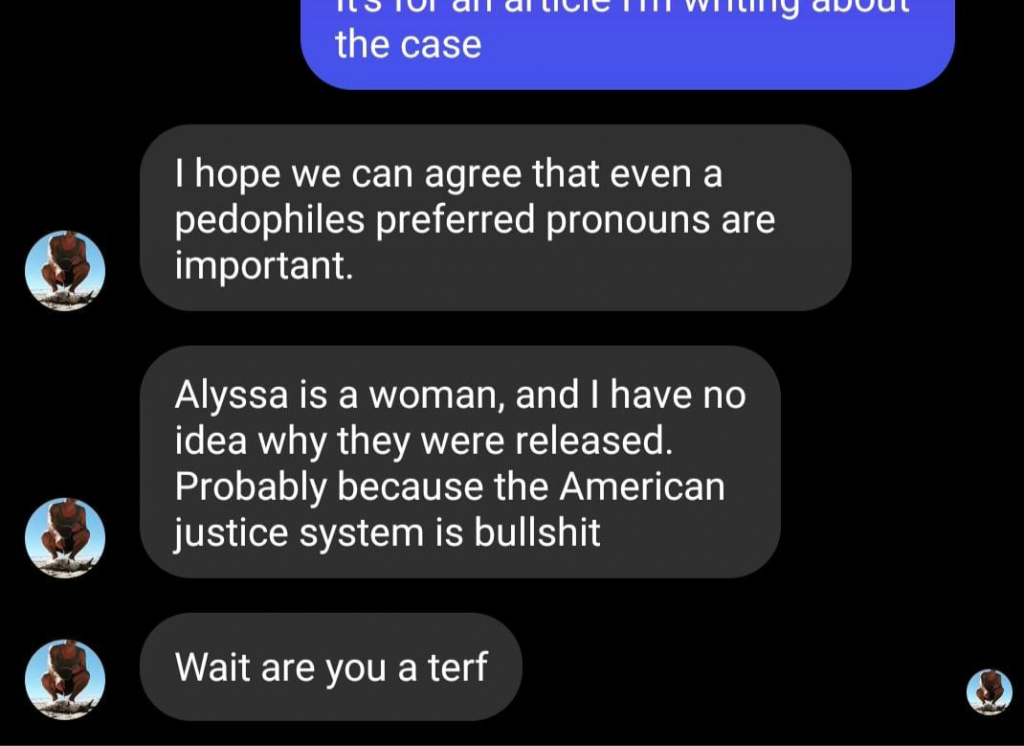 Reduxx has filed a public information request with the Ada County Sheriff's Department seeking additional information on the circumstances of Celusta's release, and will provide an update once those details have been confirmed.
UPDATE 3/2/2022: Reduxx has received documents from the Ada County Sheriff's Office indicating Celusta was released on his own recognizance into the community pending trial without bail or any apparent conditions. His first trial by jury for his felony charges is scheduled for March 22, 2022.
---
Reduxx is a newly-launched, independent source of pro-woman, pro-child safeguarding news and commentary. We're able to continue our work exposing predators and reporting the truth thanks to the generous support of our readers.