A TikTok of a child being taught how to pole dance at a pride festival in Pennsylvania is going viral, with netizens expressing outrage at the latest in what has been a long year for child safeguarding violations.
The video, which has now been deleted by its original uploader on TikTok, was brought to attention by @libsoftiktok on Twitter on August 4. It features a young boy in a rainbow tulle skirt and bandana being taught by a shirtless adult man how to use a free-standing stripper pole that was set up near the Harrisburg Capitol building.
The video appears to have originally been posted to TikTok by the child's parent, as the caption reads: "Central PA Pride has a pole set up with an amazing instructor to assist. My kiddo is a natural!"
In a statement given to Reduxx, Jaimee Mitchell expressed outrage at the viral scene, calling modern Pride activities "oversexualized" and inappropriate for kids.
Mitchell is the founder of Gays Against Groomers, a grassroots coalition which describes itself as fighting against the sexualization and indoctrination of children.
"Is it really any wonder why acceptance of gays has declined drastically over the past few years?" Mitchell asks, referencing a 2019 study that showed LGBTQ acceptance amongst young people was taking a sharp downturn. "If gay rights ever do get rolled back, it will be because of people like this. It must stop. For the kids' sake and ours."
Mitchell acknowledges that Pride events have become less kid friendly in recent years, and encourages parents to be cautious about touting young ones to the events.
"We believe the way pride is now, overly sexualized and full of kink, is not an appropriate place for children and parents should not bring them there."
On Twitter, the original @libsoftiktok upload prompted over 3,500 primarily furious replies from people expressing disbelief at the lack of safeguarding.
"Not sure who is more grotesque: the adults actively enabling and participating, or the parents who happily encourage their kids to not only attend these vulgar Pride carnivals, but debase themselves during the attendance," user Brad R. Torgersen wrote in response to @libsoftiktok's upload.
"This will be the next thing on the school curriculum, disused as 'exercise' and any concerned parents objecting to their kids being sexualized will be denounced as hateful bigots," the Family Education Trust tweeted.
This will be the next thing on the school curriculum, disguised as "exercise" and any concerned parents objecting to their kids being sexualised will be denounced as hateful bigots

— Family Education Trust (@FamEdTrust) August 4, 2022
While the Trust's comment was likely intended to be tongue-in-cheek, just last year a business in Indiana came under widespread scrutiny after it began advertising actual pole dancing classes for children.
On October 1, 2021, a graphic began to circulate across Twitter from an Indiana-based business promoting pole dancing classes for children.
Tiff's Pole Fitness, located in Jasper, Indiana, is a fitness company offering "pole fitness" classes. According to a class schedule, some of the offerings have distinctly sexualized themes, including one titled "flirty flow." But the small business' troubles arose when netizens noticed some classes were being targeted specifically at minors.
Tiff's had posted a graphic to it's company Facebook which advertised pole fitness classes for children aged 7-12. The graphic featured artwork of a Disney Princess from the popular kid's movie Tangled hanging off of a vertical pole.
After the advertisement began to circulate and many expressed outrage, the business, owned by Tiffany Huebner, quickly deleted the Facebook advertisement, and instead tried to offer some justification for the classes, insisting pole dancing was not inappropriate for minors.
"I know it's going to take time for everyone to drop the stigma of 'it's a stripper pole'… " she wrote, directing users to a video from Eastern Europe of an 11-year-old girl performing in a "sports pole" competition.
The attempt at damage control was not well received, and Tiffany deleted the entirety of her business' Facebook page for a period of time.
But on October 8, details emerged adding a decidedly different element to the already bizarre story, with a criminal record check revealing Tiffany's husband had a 2009 conviction for child sex offenses.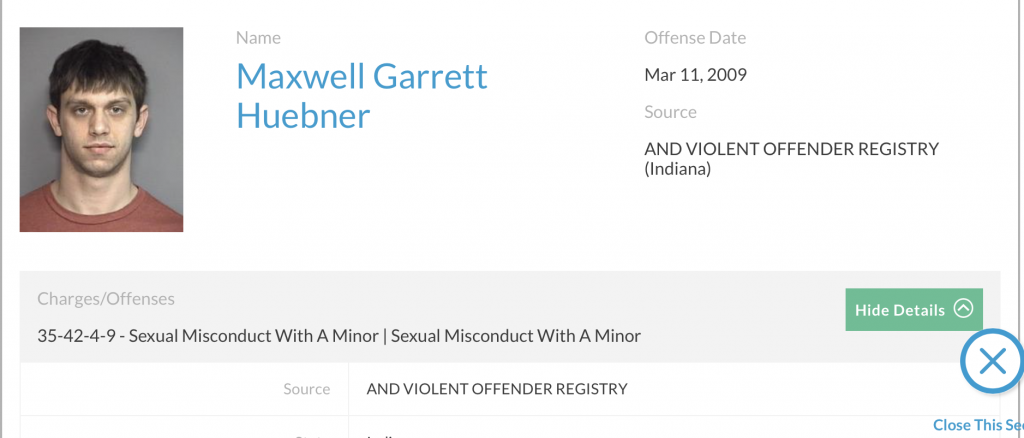 According to TruthFinder, Maxwell Garrett Huebner was charged on March 11, 2009 of sexual misconduct with a minor. According to the report, Huebner was convicted of an offense under Indiana Code 35-42-4-9 – a sexual offense against a minor less than 16 years of age. Huebner would have been approximately 21 years old when the offense was committed.
Maxwell and Tiffany were married in September 2019, according to a Dubois County Marriage License registry, just months after Maxwell's 10-year term on the Indiana Sex And Violent Offender Registry would have ended. It is unknown if she was aware of his criminal history, or if he had any close involvement with the children's classes.
In the last few years, pole dancing as a form of "fitness" aimed at children has become increasingly popular, with multiple businesses offering classes aimed specifically at minors.
While Tiff's appears to have scrapped their kids classes since the fallout, a recent article by Dance Bibles recommended pole dancing for children as a type of exercise to improve "strength, flexibility, and technique."
The article writes: "Providing your child with the opportunity to learn pole dancing can be a fun way to help them build their self-esteem," with photos supplied showing extremely young girls engaged in various pole dancing poses.
---
Reduxx is your independent source of pro-woman, pro-child safeguarding news and commentary. We're 100% reader-funded! Support our mission by joining our Patreon, or consider making a one-time donation.