The President of a registered pro-pedophile activist charity called the Pedophile Associates of America has been sentenced on charges of possessing images of child sexual abuse for the second time.
Ian Andrew Zearley was first arrested in 2010 and was convicted of two counts of child pornography possession. At the time, the FBI had reported that Zearley's hard drive contained over 600 child sex exploitation pictures and videos, including one over 19-minutes long of two men tying up and raping a 10-year-old boy.
Zearley was released approximately 6 years later, but was arrested again in 2019 on similar charges and pleaded guilty in 2021. On January 20, 2022, he was sentence to 15 years in prison followed by a lifetime of supervised release.
The serial pedophile was arrested after law enforcement officials monitoring his internet access discovered Zearley had searched terms consistent with attempting to access child sexual abuse materials in breach of his release conditions.
According to the Department of Justice, Zearley had been searching for terms such as "real hardcore child porn" and "boys severely whipped and bleeding." Zearley also authored two stories that described, in graphic detail, the rape and abuse of young boys.
Police then searched Zearley's home and found electric shock equipment, pepper spray, a ski mask and pellet gun. Officers also found a list of children's names, their ages and how Zearley knew each child. Children's items, such as diapers, bottles and toys were also found, and Zearley's computer contained eight CGI images depicting child sexual abuse.
Law enforcement also found a stack of business cards in Zearley's basement naming him the president of the Pedophile Associates of America.
According to the IRS, the organization had been granted full IRS tax-exempt status in 2018, and was registered as an advocacy and educational entity.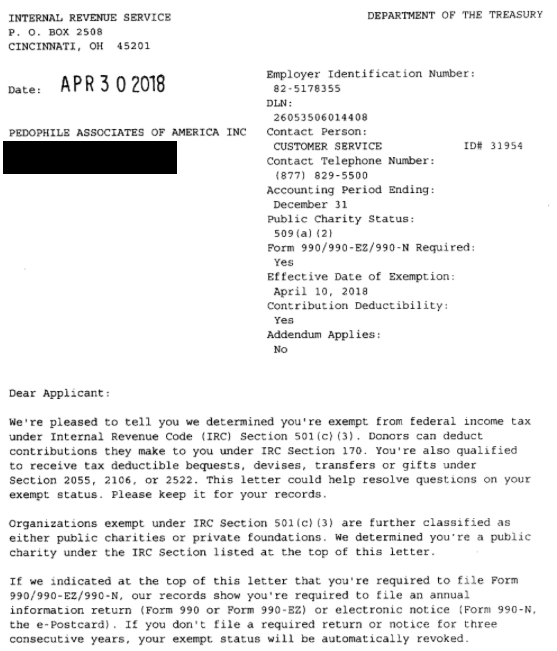 The organization's status with the IRS wasn't revoked until May of 2021, and it was likely due to Zearley already being in police custody and not having filed the proper forms to maintain the exemption on time.
Reduxx can confirm that the IRS was aware of Zearley and had been alerted to his organization having registration with them in September of 2019.
At the time, a writer now with Reduxx contacted the IRS to clarify their policies on tax exemption for entities participating in the advancement or advocacy of the rights of pedophiles, and also provided information about Zearley and the Pedophile Associates of America, but a spokesperson for the IRS claimed it could not comment on specific taxpayers or cases.
---
Reduxx is a newly-launched, independent source of pro-woman, pro-child safeguarding news and commentary. We're able to continue our work exposing predators, standing up for women, and reporting the truth thanks to the generous support of our readers.