A prominent trans activist whose harrowing story of gender identity discrimination was featured in The New York Times is facing 16 felony charges related to the sexual abuse and extortion of a teen boy.
Carlos Arturo Aparicio Hernandez, 36, was charged last week with aggravated sexual extortion and six counts of forcible sodomy as first-degree felonies, and three counts of forcible sexual abuse, enticing a minor, and five counts of sexual exploitation of a minor as second-degree felonies ⁠— all concerning the 2021 abuse of a teenage boy.
In January of last year, the 15-year-old victim accepted a friend request on Facebook from someone he was led to believe was a girl of his own age. Hernandez communicated with the boy for several months and built trust, eventually requesting nude pictures from him.
After receiving the photos, Hernandez requested to meet the victim, inviting him to a home in Taylorsville, Utah.
Hernandez then blackmailed the boy with the photos he'd sent while they had been communicating before sexually assaulting him. According to court documents, Hernandez also recorded the sexual assault.
The victim told police Hernandez had also showed him sexually exploitative images of "very young" girls and told him that he had sexually abused them as well.
Upon arrest, Hernandez waived his Miranda rights and told police that he had been attracted to minors since he was young. He also said his purpose for meeting with the boy was to sexually abuse him.
According to the Salt Lake County Sheriff's Department, Hernandez was booked as a female under his legal name, but provided an alias of Raiza Daniela Aparicio Hernandez. He was also recorded as being a citizen of El Salvador.
On Sunday, May 8, a Reduxx staffer visited Hernandez at Salt Lake City Metro jail in order to confirm his identity as a prominent trans activist who was once featured in The New York Times, and even spoke at the Canon House Office Building in Washington, D.C. on LGBTQ migrants.
In his home country of El Salvador, Hernandez was active in the trans activist community and served on the Board of Directors of the Asociacion Aspidh Acoiris Trans (AAAT), a political organization which advocates for trans-identified males.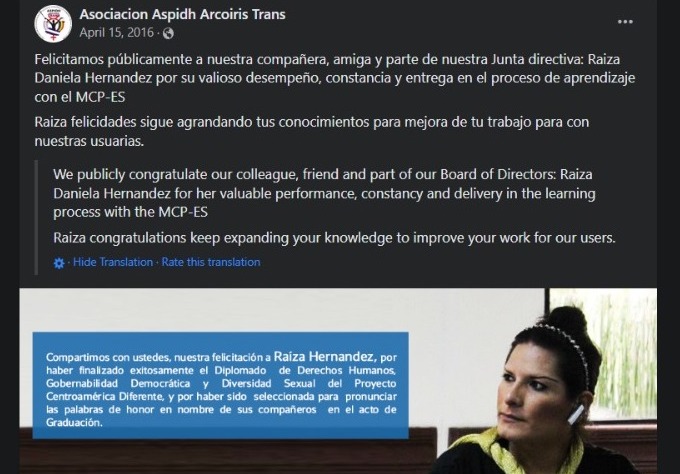 Hernandez's top-level role with AAAT saw him representing the LBTQ community at various events, marches, political meetings, and even the Inter-American Court of Human Rights in Costa Rica, where Hernandez lobbied for self-identification laws.
The IACHR has jurisdiction over 25 of the 35 member nations of the Organization of American States (OAS). Hernandez visited the Court in 2016 to promote making self-identification laws more widespread. In 2018, the IACHR declared that "the change of name and the rectification of public records and identity documents to conform to a person's gender identity" are protected rights. Just last year, the IACHR ordered the government of Honduras to implement policies that would facilitate gender self-identification and the falsification of biological sex on official documents.
In February 2017, Hernandez was seen with Hugo Martinez, who was El Salvador's Minister of Foreign Affairs at the time. Hernandez had lobbied Martinez for support on self-identification laws.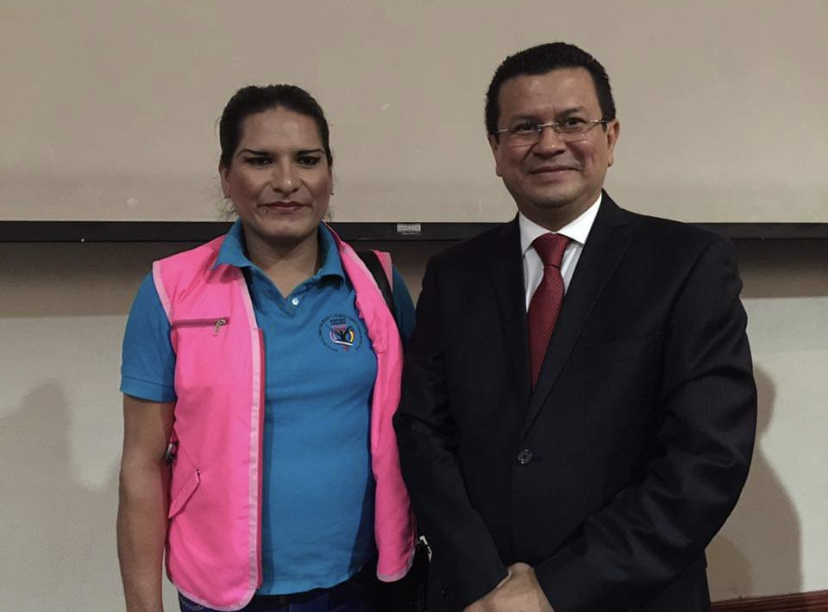 In 2018, The New York Times profiled Hernandez in an article on the obstacles faced by LGBTQ migrants.
In the piece, Hernandez was described as a "transgender human rights activist" who had left El Salvador in June of 2017 after facing harassment and physical assault by police. Hernandez would be granted asylum in the United States that same year, and settle in Los Angeles.
Hernandez' case was go on to gain notoriety amongst activists, with him being invited to give a speech at an event held by the Council for Global Equality at the Cannon House Office Building in Washington, D.C. During the event, Hernandez claimed to have experienced discrimination on the basis of his sexuality and gender identity by Immigration and Customs Enforcement staff.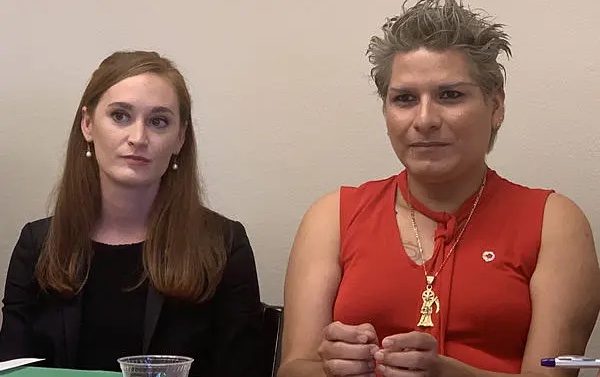 In March 2020, Hernandez spoke at the University of Southern California (USC) school of law on the topic of "Asylum, Disability and Mental Health."
While meeting with Hernandez, Reduxx was able to confirm he is being held in the female section of the Salt Lake City Metro Jail. Hernandez said he had family in Utah, though his permanent address is still listed as being in Los Angeles, California, where he resided after being granted asylum.
Hernandez is currently awaiting trial on his charges, but did reportedly admit to police that he committed the assaults against the teen boy.
---
Reduxx is a newly-launched independent source of pro-woman, pro-child safeguarding news and commentary. We're 100% reader-funded! Support our mission by joining our Patreon, or consider making a one-time donation.