A UK-based drag queen well known for his performances to children is fundraising for the funeral costs of a convicted child sex offender he calls his "friend."
On January 23, drag queen Aida H. Dee, the stage name of performer Sab Samuel, announced on Facebook that he was fundraising for the funeral costs of Darren Moore, a fellow drag queen.
"Taken unjustly!" Samuel wrote in his post. "I'd like to help give my friend the send off he deserves," he wrote, providing the link to a GoFundMe campaign for Moore and affixing to the post a photo of Moore and his husband.
But what Samuel neglected to mention was that Moore is a convicted child sex offender.
Moore, 39, was found dead in full drag costume on the streets of Cardiff City Centre on the morning of 22 January. Previously known as Darren Sewell, Moore was convicted of four counts of rape on a boy under the age of 14 while living in South Wales. As a result, he spent 3 years in a Young Offenders' Institution.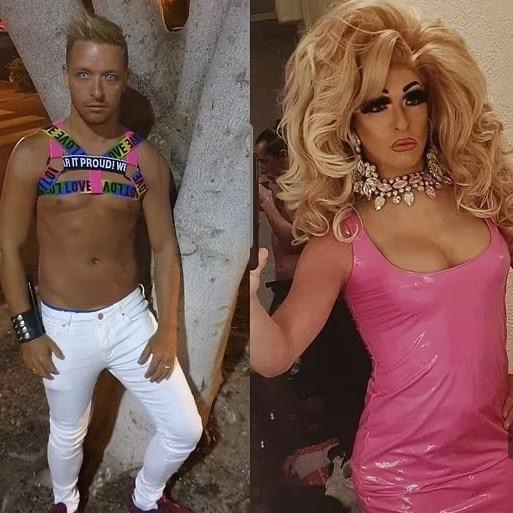 Following his offense, Moore was also banned from having contact with children. But in 2011, he was caught working with youth as a gymnastics and dance tutor and was convicted of breaching the lifetime order. He was sentenced to a three-year sex offender's treatment program, a 24-month supervision order, 300 hours of community service, and a six-month curfew with an electronic tag.
Moore changed his name after he married his husband, who is also named Darren.
At the time of his death, Moore had worked as a jeweler and performed drag under the names Crystal Couture, CC Quinn and Dolly. Moore had exhibited his jewellery at RuPaul's annual Dragcon event in London in 2020.
As a drag queen, Moore once represented British Airways at a Pride Festival in Brighton in 2018. When his previous convictions came to light, British Airways released a statement saying he did not work for the airline but was brought in by a "third party entertainment agency who supplied a number of people for the event." They also said they were unaware of his convictions under his previous name.
Also in 2018, audience members walked out of a "Pride Without Prejudice" performance of Moore's after he made light-hearted comments about child abuser Jimmy Saville.
Investigations are still on-going into Moore's cause of death, but police have cautioned the public against speculation. Despite this, some members and supporters of the drag queen community have already begun to claim Moore's death was the result of a "hate crime."
Upon announcements of his death, the drag queen community, particularly in Cardiff, began mourning the loss of Moore on social media.
Sab Samuel, known as "the story time drag queen" Aida H. Dee, posted on his Facebook page that Moore was "an exuberant human being, taken from the world too early," adding: "Rest In Power!"
He also shared that he wore jewelry that Moore made for him, and provided a link to a fundraiser to raise money for his funeral costs. Samuel has been seen wearing the ADHD necklace he references in the post at story time events with children and in official Drag Queen Story Hour UK photos.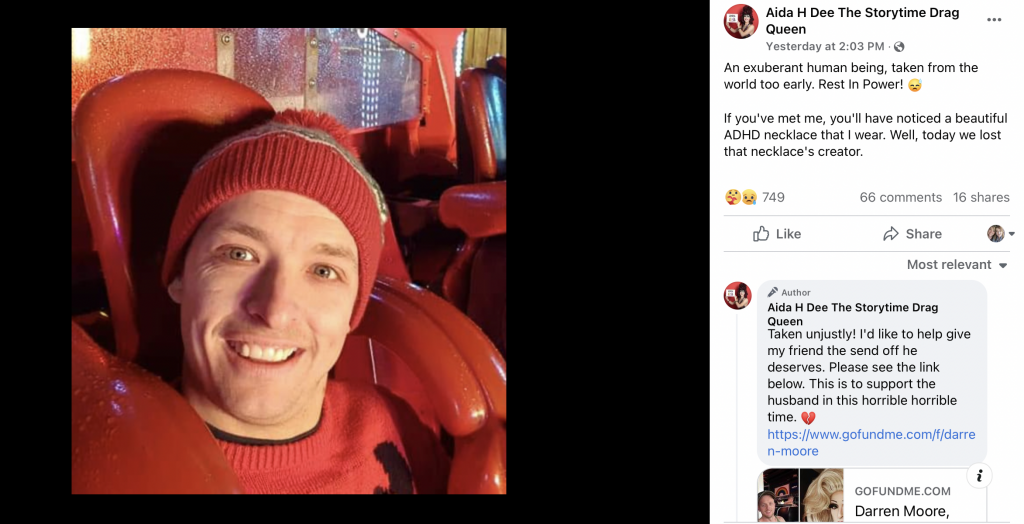 Just over two hours later, Samuel posted again in memory of the child sex offender, writing: "Taken unjustly! I'd like to help give my friend the send off he deserves. Please see the link below. This is to support the husband in this horrible horrible time."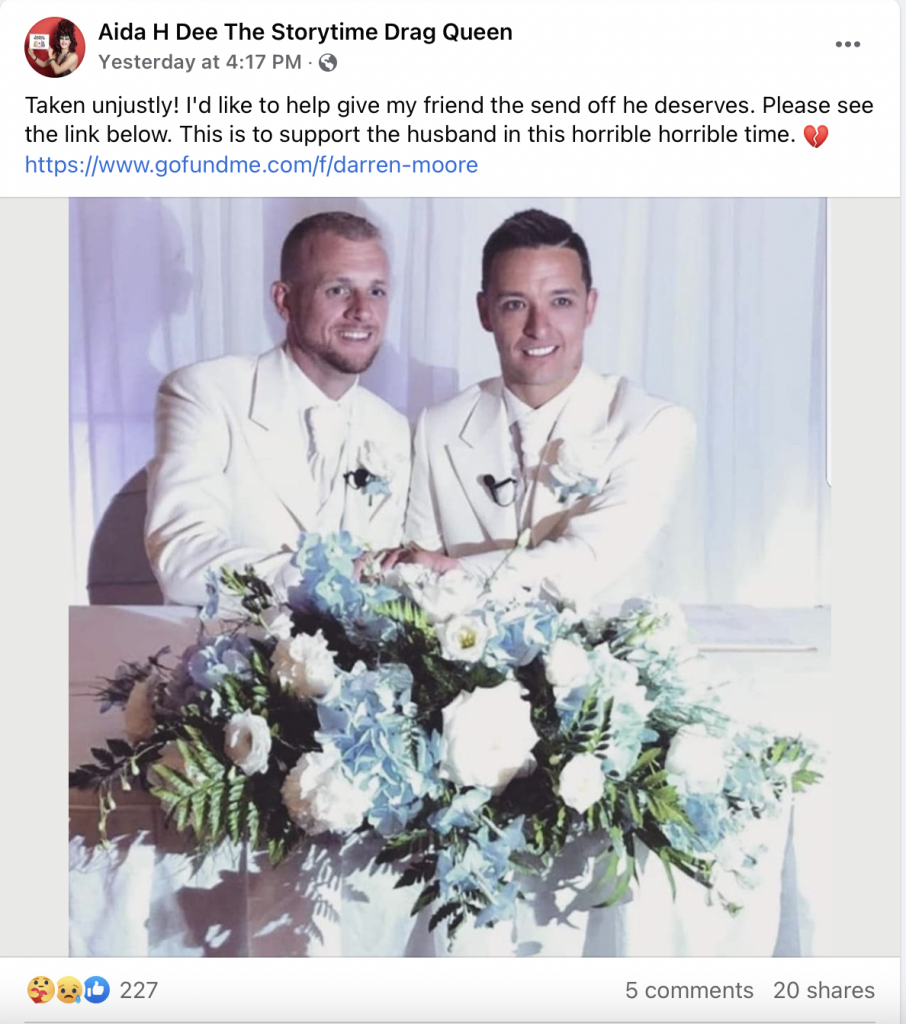 The top comment on the post raised awareness of Moore's previous convictions saying "Lots of media now reporting on this death but referring to him as a convicted pedophile." Comments have since been disabled on the page.
Samuel shared the link to a Gofundme for Moore a third time today, which reads:
"Anyone who knew Darren would know how he was never understated in his appearance and costume. His larger than life character and charisma was something that you'll never forget. We'd like to support Darren and the family and give Darren the biggest send off. If you're able to and can afford a few quid, please donate what you can to ensure we do him proud."
The fundraiser has already surpassed the £3,000 (approx. $3,700 USD) target and has raised £4,875 (approx. $6,000 USD) at the time of this writing. One donator left a message on the page reading, "Had the pleasure of meeting Darren last year in Gran Canaria, although very briefly, you could just tell what a beautiful soul he truly had."
Another donor wrote: "Darren was and will always be a very special person to have known and been a friend with, his out there personality was contagious and he was someone who you couldn't but love."
Samuel has raised concerns on social media in the past for his conduct around children, with some calling his drag costume inappropriate due to its sometimes prominent genital "bulge."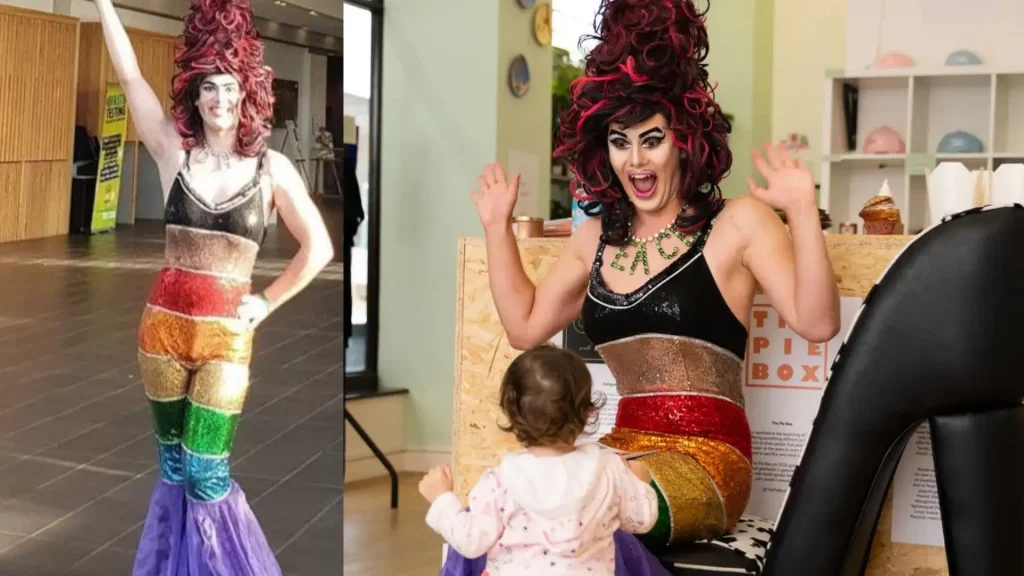 Despite tremendous backlash, he continues to be routinely booked for "story hour" gigs in libraries and public venues across the United Kingdom.
Just weeks prior to posting in support of Moore, Samuel, who is the founder of Drag Queen Story Hour UK, announced he was set to perform for children at The Tate Gallery in London.
Concerned parents in the nation opposed to Drag Queen Story Hour have established a group called "Art Not Propaganda" and recently stated they have formally complained to The Tate regarding their decision to host the story hour event.
The parents have established a petition which currently has 3,400 signatures, and lists historical posts made by Samuel the group says raises safeguarding concerns.
"Sab Samuel has shared multiple images and comments on social media which raise serious safeguarding red flags. A teacher would be dismissed for the same," they wrote in the petition. Amongst the infractions are a Twitter post from July of 2020 which Samuels captions "love has no age." The parents point out that the phrase was popularized by a group which once campaigned to lower the age of sexual consent.
Do you know what made it really easy to attack @nathansparkling ?

The fact that @DragStoryHourUK intentionally choose to advertise their services for children's library readings with the line "Love has no age".

Safeguarding anyone? pic.twitter.com/DH4C5AZjdI

— 💚🤍💜Hoardosaurus 💚🤍💜 (@coccinellanovem) March 16, 2021
Other groups, such as Safe Schools Alliance UK and the Family Education Trust, have similarly raised concerns about Samuel's past conduct. On January 13, Samuel responded to the backlash in an interview with Pink News where he blamed the conservative government for enabling "queer hate."
Just last year, Pink News named Samuel "Leader of the Year" at their annual awards show for his "work with children, helping them fall in love with literature."
Samuel first rose to infamy after he began touring libraries across the UK to read in his drag persona. He founded the UK branch of Drag Queen Story Hour in 2019, and his enterprise proudly boasts it has been featured by the National Health Service, Greenpeace, Forbes, and more.
In November of 2022, Samuel uploaded a video to Facebook in which he was almost on the verge of tears while recounting his experience hiding his sexuality from a family member's children.
"I did not want to tell my family member or their children about me being gay because I could have been a danger — I don't know, it was weird … I think back to that moment, I felt like a disgusting human being. I'd grown up with the idea that being gay was disgusting," Samuel says. "People wonder why I do drag queen story hours, it's because of those reasons there. Because I grew up hating who I was. Now, any kids who are queer are not going to grow up with that in their life. I want kids to grow up to love themselves, but to be surrounded by those who love them too."
As backlash continues to mount against "drag queen story hours" around the world, Samuel's events have been met with protests.
During one demonstration at Reading Library last year, two protesters managed to interrupt the session while about 25 others continued outside the venue. They were escorted out by staff and the event continued.
There have been similar demonstrations against such events in North America. As a result, antifa militants wielding guns have been seen standing "guard" in front of some venues hosting drag shows for children.
---
Reduxx is your source of pro-woman, pro-child safeguarding news and commentary. We're 100% independent! Support our mission by joining our Patreon, or consider making a one-time donation.