Reduxx has been provided information on the identity of the trans activist who is alleged to have issued chilling threats to murder women critical of gender ideology. Glenn Mullan, a Scottish design specialist, appears to be behind the violent posts.
On January 19, disturbing tweets from a now-deactivated Twitter account began to circulate amongst women's rights activists. The posts fantasized about the brutal murder of Posie Parker and her colleagues at an upcoming women's rights demonstration in Glasgow.
Parker, the moniker of Standing for Women campaigner Kellie-Jay Keen, recently announced she would be gathering at Glasgow Green on February 5 in protest of the Scottish Government's recent attempt to make it easier for individuals to change their names and sex markers on official documents. The move has been met with backlash from women's rights activists, who are concerned about its impact on women and girls, especially those who are victims of rape or domestic violence.
Parker's events, which focus on giving women the platform to speak out against detrimental gender ideology policies, have often been met with threats or violence. Earlier this week, a trans activist was arrested at a Standing for Women event in Newcastle after assaulting a female attendee.
But the most recent threats have come from a Twitter user who appeared to be fantasizing about Parker and her supporters being run over with a car.
Censoring Parker's name, user @sky_traffic posted two graphic tweets imagining Parker and her supporters "exploding like bin bags full of baked beans" all over a car's windshield.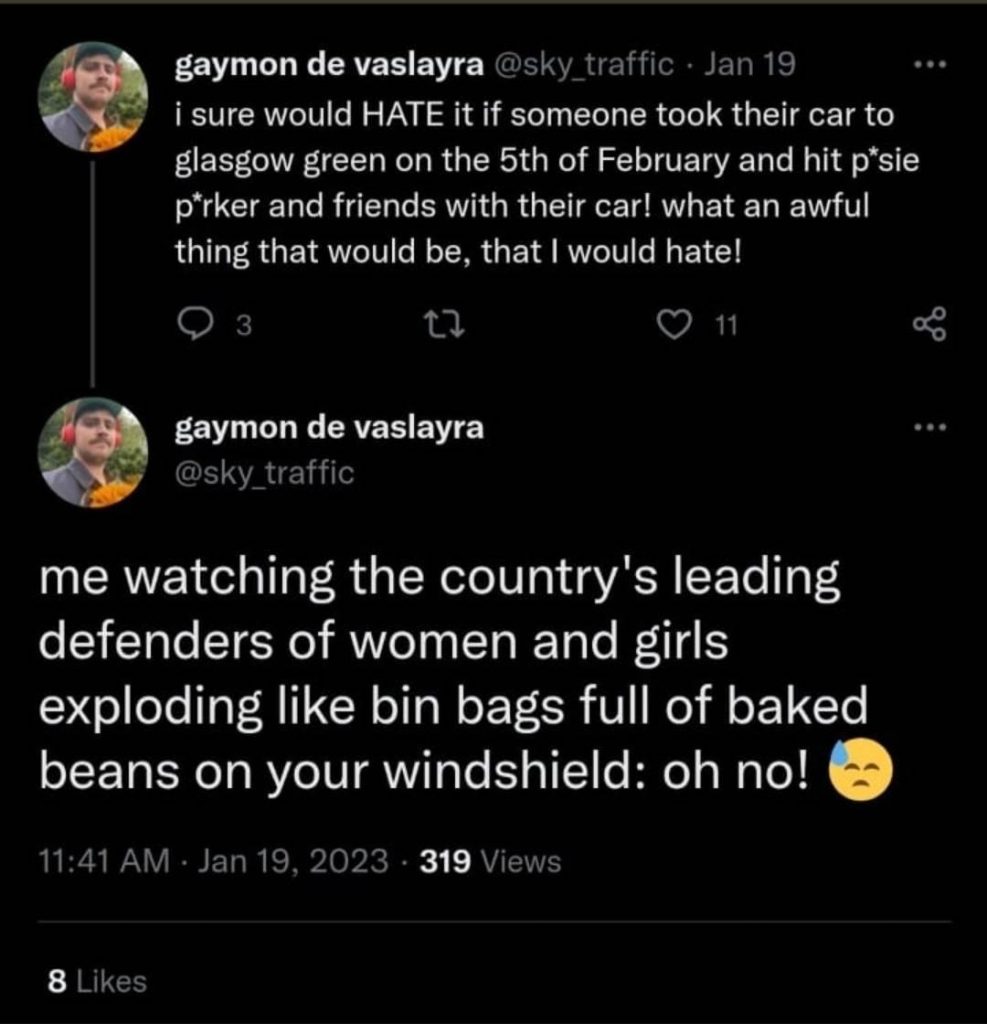 But the account did not stop there.
Shortly after, the user, calling himself Gaymon De Vaslayra, posted two audio clips to Twitter in which he targets Labour Member of Parliament Rosie Duffield and Harry Potter author JK Rowling.
Speaking in Gaelic, the user threatens to murder Duffield with a gun at a bar, and Rowling with a hammer. While both audio clips have now been deleted along with the account, some users managed to preserve the audio clips and provide rough translations.
Reduxx has received information identifying the user as Glenn Mullan, a Scottish graphic designer working for a Altrincham-based travel and vacation company.
According to his LinkedIn, Mullan is currently employed for Travel Seen as a graphic and web designer, but has a history of working with different brands and firms across the United Kingdom.
While the @sky_traffic account was pseudonymous and did not reveal direct details about Mullan's identity, Mullan did use a photo of himself as the profile picture on the account.
In archives of the @sky_traffic account, Mullan is seen wearing the same blue blazer as he is on his Facebook profile, and lists his name as "Glenn."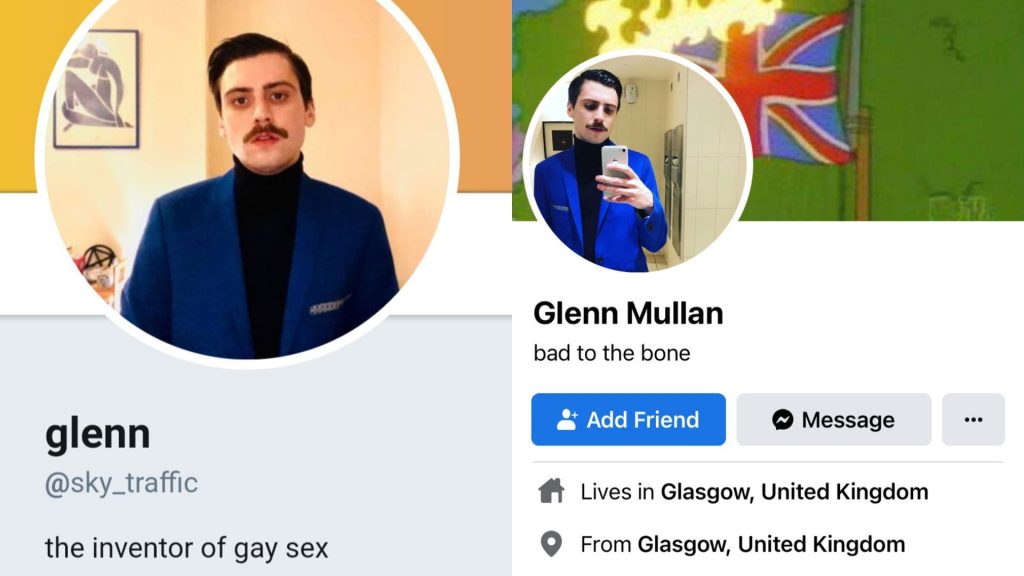 Reduxx found that on his Facebook, Mullan lists the name of a woman he calls his "wife," whose personal Twitter account had multiple interactions with @sky_traffic. Despite the name belonging to a woman, Mullan claimed he was homosexual in archived snapshots of his deactivated account.
Mullan also has a professional Twitter account under his actual name that appears to have been used for work purposes and abandoned in 2021. It is still active on the platform.
Mullan's @sky_traffic account was voluntarily deactivated after the mass-circulation of the disturbing posts he made against Posie Parker, JK Rowling and MP Rosie Duffield. But prior to its deactivation, Mullan regularly posted about trans-related issues, and made reference to multiple prominent "gender critical" women, including Maya Forstater.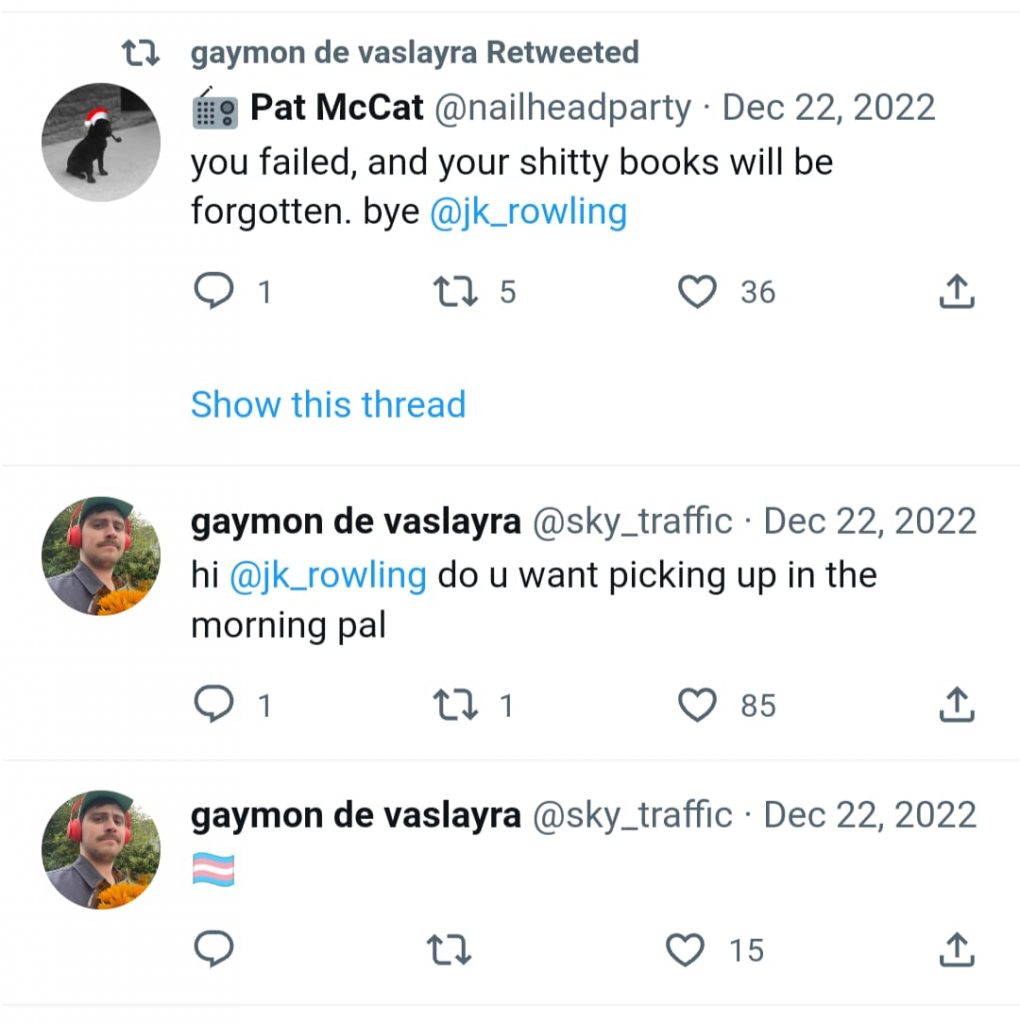 Reduxx has reached out to Police Scotland to inquire whether they are yet investigating the case, and offered the details of the threats as well as Mullan's name and location.
The service did not respond in time for publication, but Reduxx will cooperate with the service in the event more information is needed.
---
Reduxx is your independent source of pro-woman, pro-child safeguarding news and commentary. We're 100% reader-funded! Support our mission by joining our Patreon, or consider making a one-time donation.