A California-based trans activist offering cross-sex hormones to youth through the internet has a long history of sexual assault allegations, with accusations from multiple victims, including those who were minors at the time, who reported he abused them.
Eli Erlick, 27, is under fire after posting his plan to ship cross-sex hormones to young people through the internet without any medical oversight or prescription.
"If you need hormones, I work with a network of distributors to give you access. Everything is free, no questions asked," Erlick wrote on May 23 in an Instagram post. "We have hundreds of doses of Testosterone, Estradiol and Spironolactone available right now. All are prescribed by doctors and unused."
Erlick deleted the post shortly after it was shared by high-follower Twitter account @libsoftiktik and political commentator Matt Walsh, but archived copies of the declaration remain. Erlick also stated the move was in direct defiance to an increase in proposed legislation that would prevent minors from accessing medical 'gender affirming' hormones. The legislation has largely come in response to increasing evidence calling into question their risk for long-term negative side effects.
Before deleting, Erlick thanked Walsh for the "free advertising" on his Instagram story.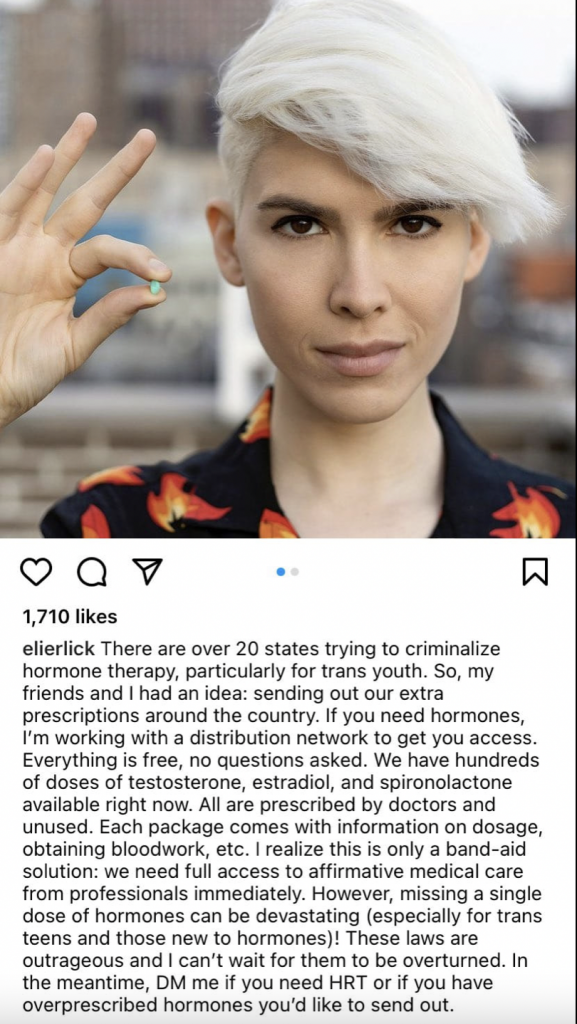 "This may be the first time someone has tried to dunk on me by publicly confessing to a federal crime," Walsh said regarding the situation.
He added, "Here is Eli once again publicly admitting to federal crimes. As a member of a protected and privileged class, Eli believes this is all a joke. But I will make it my personal mission to ensure that this confessed drug smuggler faces the appropriate legal consequences."
Walsh is now urging his followers to report Erlick to the United States Drug Enforcement Administration. Testosterone is a Schedule III controlled substance, meaning that it is more strictly regulated than other prescription drugs, even other synthetic hormones.
Yet this is not the first time Erlick has admitted to giving away hormones to those who lack a prescription or legitimate access. In March of 2021, he uploaded a video to YouTube boasting about getting surplus hormones in order to give away his own excess pills for free.
"Every month, for the past several years, I ordered a double dose of hormones and testosterone blockers. I save all the extra pills for my best friends, my closest lovers… I just hope these little pills can bring some joy into their lives."
Erlick goes on to state that he had previously posted to Instagram asking for testosterone for a friend, only to have the request removed by the platform within hours. "I know it's illegal," Erlick said flippantly, but compared giving out cross-sex hormones to illegally jaywalking.
Erlick gained popularity due to being the youngest openly trans person in California. He became the first person under 18 years old in his home state to be approved by his insurance company for sex reassignment surgery (SRS).
Two years after his surgery, Erlick wrote on his Tumblr blog, "I feel as though getting surgery was not my own choice, but rather coercion … I still bought into the stigma that I wouldn't have 'truly' been a trans woman had I not sought out the 'correct' medicine."
At the age of 16, Erlick established TSER (Trans Student Educational Resources) in 2011 alongside another trans identified teenager, Alex Sennello. Erlick's activism gave him access to trans-identified teenage girls, and several have since come forward with allegations that Erlick raped them.
One such victim described in a lengthy Tumblr post how she allegedly entered an "emotionally and sexually abusive relationship with Trans Student Educational Resources​ co-founder and Executive Director Eli Erlick​" when she began volunteering for the organization.
In the post she stated that she was preyed upon by Erlick beginning from the start of the 2013 school year, and that Erlick used "social capital and authority" to his advantage. As a "vulnerable new member of the trans community," she felt pressured to give in to Erlick's "relentless" sexual harassment, which she said caused her to have regular panic attacks.
"I felt like the only way to make it stop was to give in," the alleged victim wrote. "Coercing someone to have sex with you and making them feel like they cannot safely say no is rape. Eli Erlick raped me and continued to emotionally manipulate me into an abusive polyamorous relationship."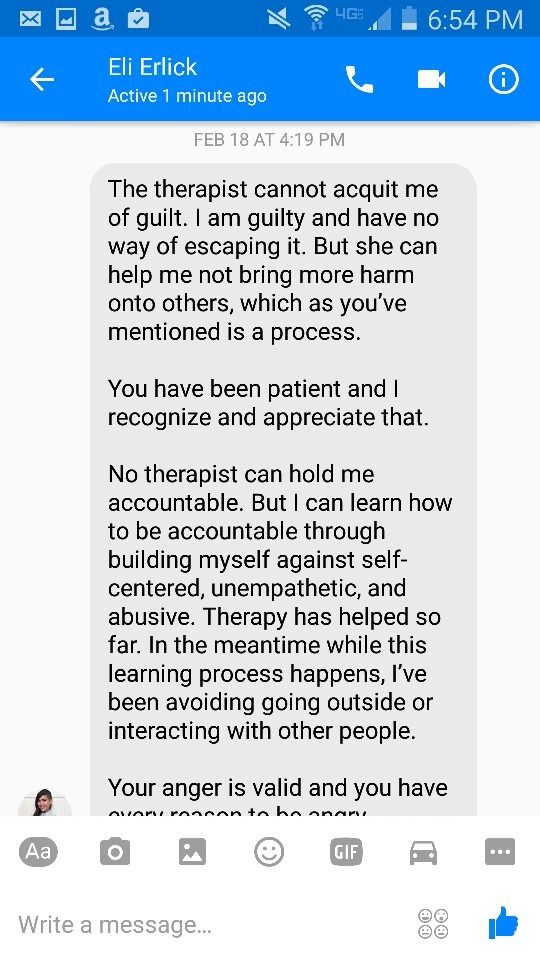 She added that she believed the relationship was exploitative and that Erlick used her status as a "trans person of color" to benefit his own career.
The alleged victim wrote a detailed 17-page account of the alleged abuse Erlick subjected her to. Erlick responded by removing her as an admin on TSER's Facebook page and reporting her to Facebook. She published her testimony on Medium and Tumblr. This was shared to TSER's Facebook page by Sennollo, TSER's co-founder.
In addition to the written testimony, the alleged victim shared screenshots of her Facebook Messenger conversations with Erlick. She called Erlick her "rapist" and "abuser," something that he did not deny. Erlick apologized and said he would seek therapy but the victim said "no amount of therapy will make you any less inclined to abuse even a shred of power if you have it" and speculated that Erlick was paying a therapist to absolve him of his guilt.
In 2018, Erlick wrote an article accusing singer Ariana Grande of being anti-queer and racist. The article was not well received and many contacted the publication, INTO, to inform them Erlick had been accused of rape. They responded by removing his name from the article and cutting ties with him. Around this time, more allegations began to come forward.
In response to the article, one woman said that Erlick had her removed from a nightclub after she "called him out" for harassing her. She added that Erlick had a reputation in the San Francisco Bay area's 'queer' community for having admitted to being a rapist and violently sexually abusing women.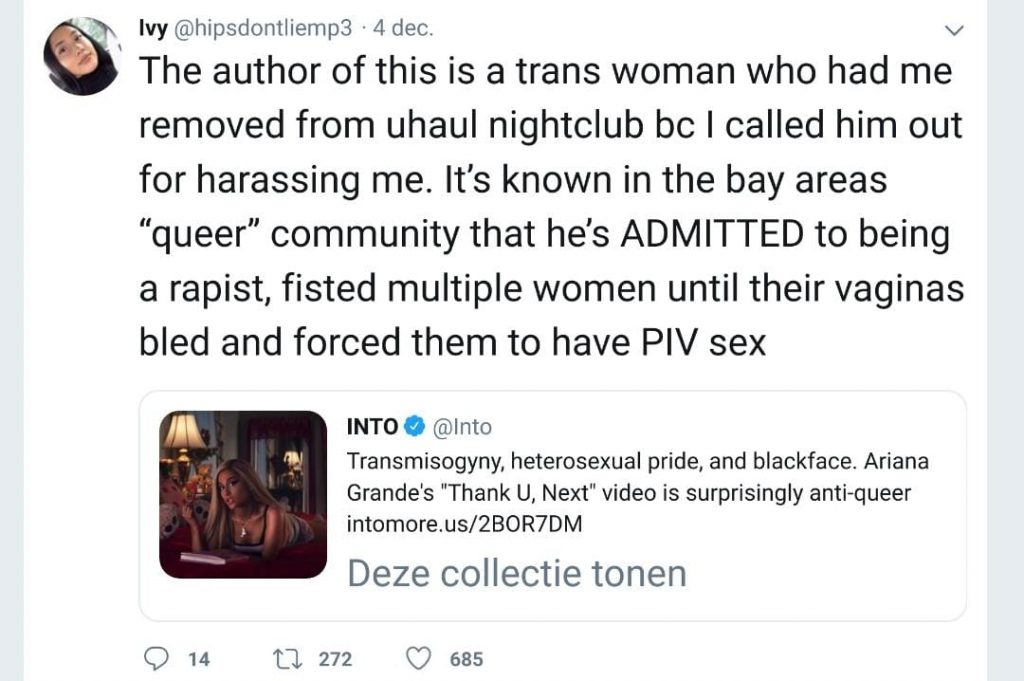 The woman who made the claim received an outpouring of online abuse, causing her to double down on her statements. Transactivists called her a "white supremacist," despite the fact that she had made it clear on social media that she was a Black woman. Her account was mass-reported by transactivists who argued that she had misgendered Erlick by referring to him with male pronouns. Shortly after, her account was permanently suspended.
Other still more disturbing allegations of sexual violence levied against Erlick have been made. Two posts made in September and November of 2016 by a young Black woman describe how Erlick allegedly kept "conquest lists" of which the majority of names were women of color. She explained that she hadn't reported the sexual abuse Erlick perpetrated against her because she had looked up to him as a role model and consented to intimate activity – though she did not consent to being fisted. As a result of Erlick's assault, she "bled all over the bed and felt sick and humiliated."
Chillingly, the woman said, "I wasn't the first person [he] did this to, and… I don't think I'll be [his] last."
Another young woman, Danie Yun Diamond, wrote of how Erlick sexually abused her and attempted to silence her through a smear campaign, including labeling her a "TERF."
"I recently found the courage within myself to speak publicly about my emotionally and sexually abusive relationship with Trans Student Educational Resources​ co-founder and Executive Director Eli Erlick​," Yun, who is of Korean descent, wrote in December 2016.
"Eli has exhibited the classic mentality of a rapist and abuser," Yun continued. "Survivors come forth with their testimony against their abusers and abusers will try to silence them. Eli reported my post to Facebook to protect [his] own reputation."

Yun, in an attempt to have her side of the story heard, publicly shared screenshots of conversations she'd had with Erlick.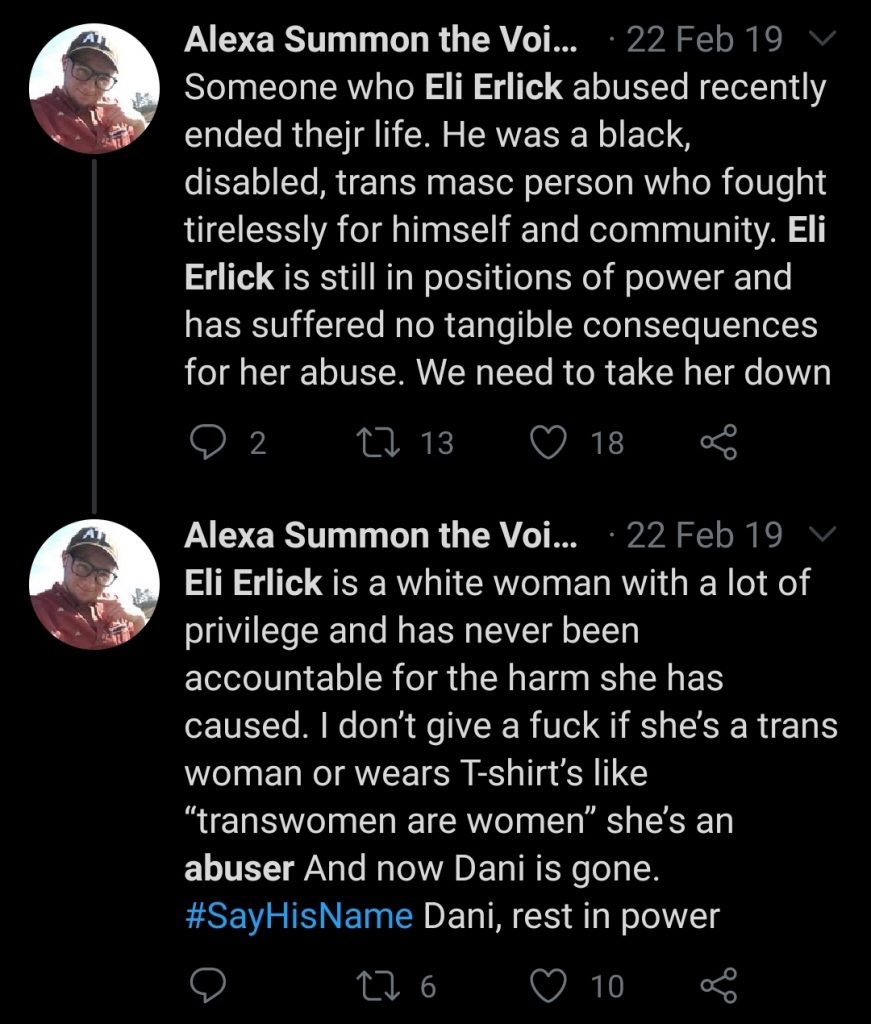 After telling Erlick she had felt abused by his actions and behavior, Yun said she had been getting "flashbacks" to prior events, including "conquering QTPOC [queer trans people of color] spaces, fisting someone and making them bleed without their consent, [and] trying to make jokes about… having sex with a minor."
Erlick responded by apologizing and telling Yun he had booked a therapy appointment. Unconvinced, Yun pleaded with Erlick to "drop out of activism," and said, "Every day I am learning new horrors of how your abuse affected me… And I know that every day you are doing more abusive things. People have caught on. People know that you're an abuser without having to be informed about it."
Yun reportedly committed suicide at the beginning of 2019, less than three years after going public with the allegations of abuse against Erlick.
One of the final posts on her Tumblr read that she felt "completely isolated" and had had her "entire social space completely taken away." She also described experiencing persistent PTSD related to her experience with Eli.
---
Reduxx is a newly-launched independent source of pro-woman, pro-child safeguarding news and commentary. We're 100% reader-funded! Support our mission by joining our Patreon, or consider making a one-time donation.