A trans-identified male cartoon artist who came under fire last year for creating diaper fetish art based on real babies has been speaking at Canadian elementary schools as part of a North American book tour.
On April 18, Sophie Labelle, a Canadian transgender artist based in Finland, posted to his Facebook that he was set to speak at a number of schools and libraries in Canada and the United States as part of a North American Book tour. Labelle is most notable for being the artist behind Assigned Male, a comic which he has been illustrating since 2014. The comic mainly focuses on the life and adventures of a prepubescent transgender child named 'Stephie,' with heavy ideological themes worked into the storylines.
On Facebook, Labelle stated his plans to travel to North America for a series of school visits.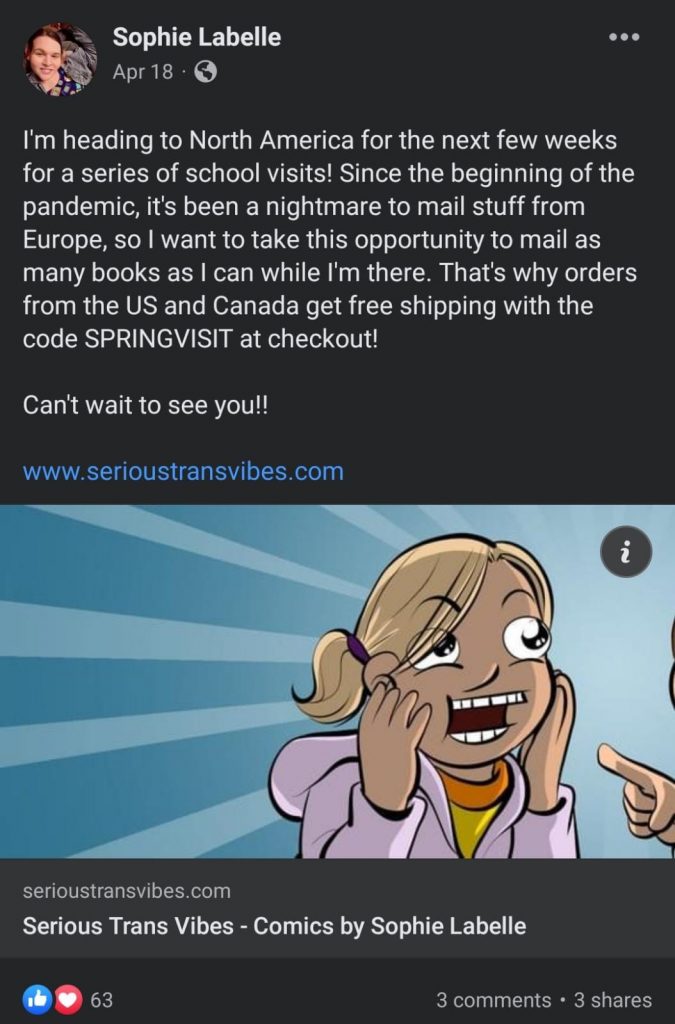 Since then, Labelle has posted photos from inside school classrooms and libraries where his events have already taken place, all of which seem to primarily involve an audience of young children.
While the names of the institutions Labelle has already spoken at have not yet been confirmed by Reduxx, a post by Labelle on the French-language Facebook account for Assigned Male states the schools were in Gaspésie, or the Gaspé region of Quebec.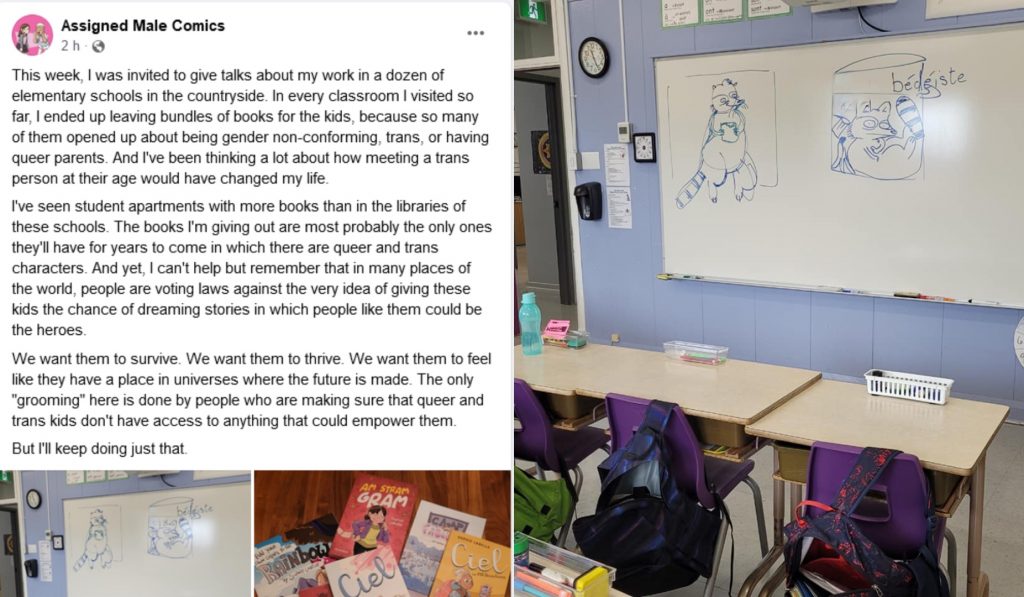 In addition to his elementary school tour, Labelle announced that on April 30, he was set to speak at Librairie L'Alphabet bookstore in Rimouski, Quebec. He has also announced a book launch for his latest young adult novel at Glad Day Bookshop in Toronto, Ontario on May 3, a self-described "LGBTQ bookstore."
Labelle's comic franchise Assigned Male has previously come under scrutiny from readers for its poor art style, complex ideological dialogue parroted by the child characters, and some of the stranger content focusing on the genitals and sex life of the 11-year-old main character.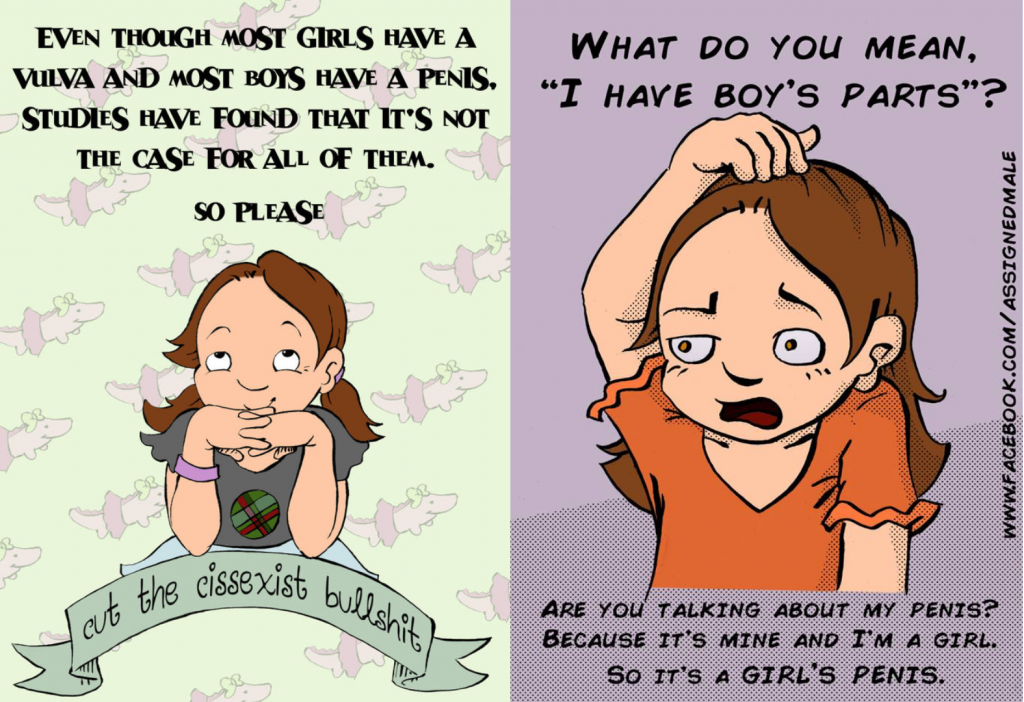 But in February of 2021, Labelle came under widespread scrutiny after it was discovered that he had quietly been producing and posting diaper fetish art on stealth social media accounts, including "furry art" site FurAffinity.
WafflesArt, Labelle's now-deleted alternate online persona was an "adult baby/diaper lifestyle" and "diaper fur" art account which published Labelle's drawings of anthropomorphic baby animal characters modeling in diapers, onesies, and behaving like toddlers. The art is part of a fetish subculture known as paraphilic infantilism in which adults become sexually aroused by acting and dressing like babies.
Internet sleuths from KiwiFarms were the first to connect Labelle to the accounts using post history and art style. Facing the beginnings of a scandal, Labelle attempted to "come out" as a 'little' on Facebook — a person who role-plays as a child during sexual encounters.
"Littleness and littlespace are mindsets in which adults regress to carefree and responsibility-free safety," Labelle wrote in the post continuing, "In the past, many trans people's lives, especially trans women's, have been broken after being outed as littles, which is why I chose early on to avoid mentioning it." He also stated the purpose of roleplaying as a baby served the purpose of "connecting" with an "inner-child" for transgender people.
As backlash on social media increased, Labelle then admitted to creating the "diaperfur" art, but stated he "refused to be shamed for it," and accused his critics of transphobia despite the fact many were transgender themselves.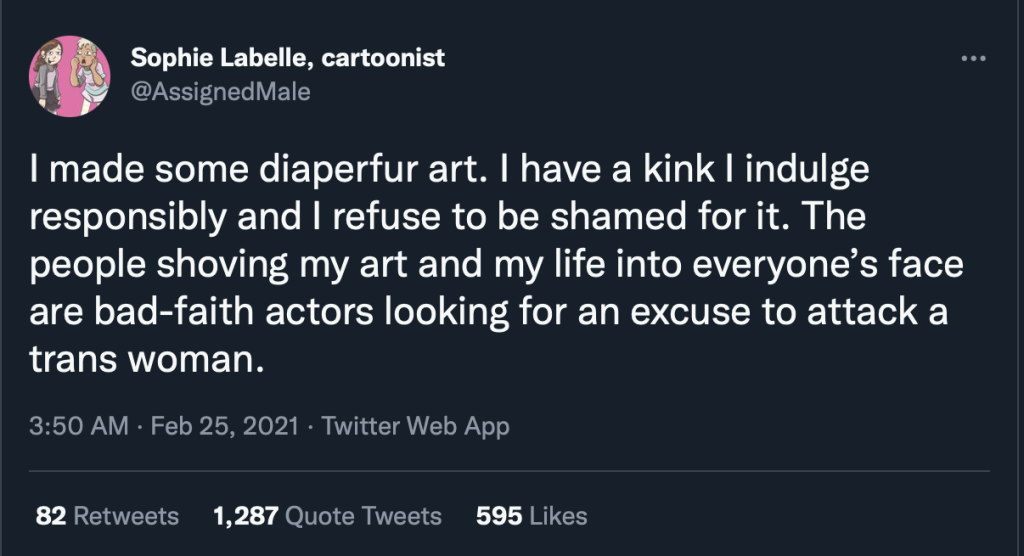 Labelle's attempt to quell the outrage didn't sit well with many social media users, a few of whom uncovered that a portion of Labelle's art had used photos of real babies for reference, with Labelle seemingly tracing directly over the picture of actual children to create his fetish art. Labelle would later admit to doing so.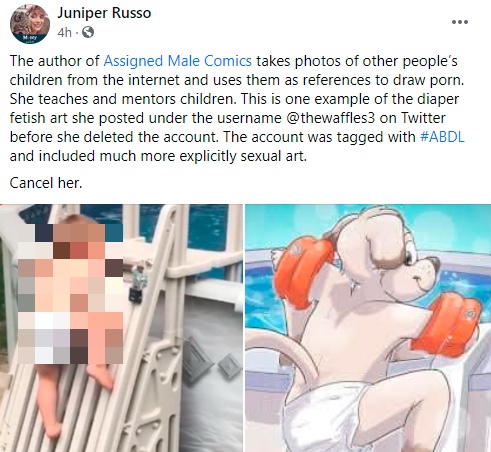 While Labelle then attempted to insist the art was not sexual in nature, social media users interrogating the images noted that many appeared to have overtly sexual connotations, including one which showed a character in an open diaper lying with its legs spread on a changing table, and another which appeared to outline the vulva of the character through its diaper.
On his FurAffinity account, Labelle's only 'favorited' drawing by another artist is one of a toddler-like furry in a backless onesie. On Twitter, Labelle followed dozens of accounts which almost exclusively posted pornographic content, with men roleplaying as children for the purposes of sexual arousal. One such follow was of a model who calls himself "Little Boy" and posts sexually suggestive photos and videos of himself in diapers and surrounded by children's toys like stuffed animals.
One Twitter user even went so far as to respond to a Facebook post from Labelle with an egregious, satirical comment confirming the sexual nature of the 'little' fetish, writing "it's a healthy expression to [role] play as a child and an adult in relationships. Thanks for advocating for this. Kink shamers should be blocked," and tweeted out screenshots showing Labelle had 'loved' the reply.
While Labelle briefly deactivated his social media accounts due to the backlash, he quickly returned and continued to promote his art and trans activist causes.
In April of 2021, Labelle began working with Veronica Ivy, a trans-identified male athlete who competes in women's cycling, on a campaign to create posters in support of "trans kids" in sport. Just weeks before the partnership was announced, and shortly after Labelle's diaper fetish became known, a man reportedly identified as Ivy's 'platonic partner' and housemate was arrested on charges of attempting to solicit a minor into sexual activity.
Reduxx reached out to Librarie L'Alphabet with regards to the April 30 event featuring Labelle and was able to confirm the event was geared towards young children, but a store supervisor stated "no comment" when presented with the potential safeguarding issue.
Reduxx also reached out to the Eastern Shores School Board and the Commission Scolaire des Chic-Chocs, two administrative bodies responsible for primary schools in the Gaspé region. This article may be updated in the event either can confirm Labelle's appearances at any of their facilities.
---
Reduxx is a newly-launched independent source of pro-woman, pro-child safeguarding news and commentary. We're 100% reader-funded! Support our mission by joining our Patreon, or consider making a one-time donation.