A male who identifies as a "transgender woman" has been sentenced to five years probation following a conviction for brutally abusing his physically and mentally disabled girlfriend.
Serenity Alana Mann, 34, appeared in a Montana court last week for a sentencing decision related to a case of domestic violence against his former partner. Mann had repeatedly strangled the woman, who was particularly vulnerable due to having an existing physical disability and traumatic brain injury, and threatened to harm her if she went to law enforcement.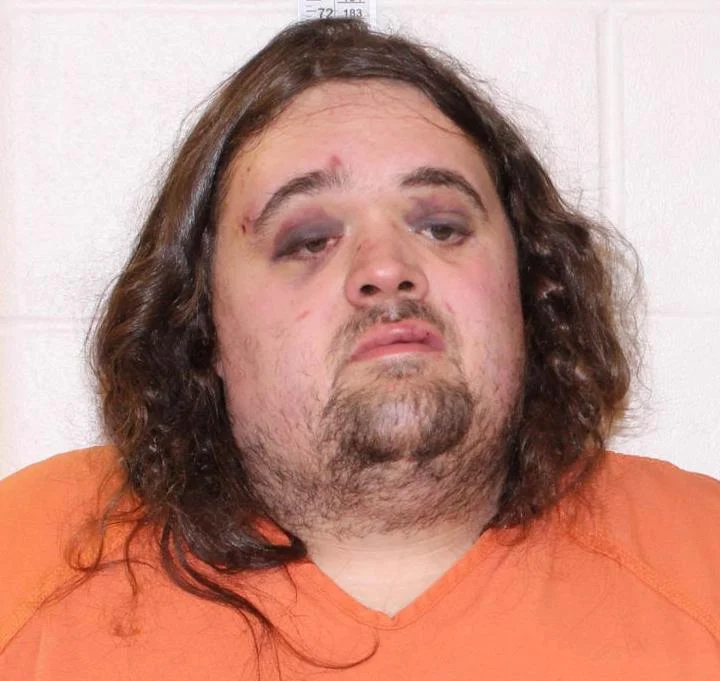 At the sentencing hearing, the victim read a statement pleading with the court to not allow Mann to harm her.
Referring to Mann with "she/her" pronouns, the victim said: "All that I ask is please protect me and don't let Serenity keep her word by hurting me or even killing me."
The victim reportedly began a relationship with Mann prior to his gender transition.
Police first became aware of Mann's abusive behavior towards his significant other in November of 2021. Officers were called to the property for an unrelated assault, and learned of a long-standing abusive relationship between Mann and the victim. The police spoke to the victim the next day, who reported Mann had knocked her down and placed her in a choke-hold which almost caused her to black out.
During the trial, the prosecution noted that Mann expressed a lack of remorse for his actions. Local media report that his primary defense appeared to be that he strangled the victim on a different date than was claimed.
While the prosecution argued for Mann to receive a term in state prison, noting that strangulation was "practice for homicide," Mann was ultimately handed a suspended sentence. Over the course of five years, Mann will only spend one consecutive week in jail every year, equaling 35 days total. Mann will also serve a 200 hours of community service over the term.
According to the Independent Record, Mann will be placed on the violent offender registry and have to alert his probation officer to any future romantic partners, as well as alert the future partners of his status on probation. He has been barred from having any direct or indirect contact with his victim.
Mann, who is 6 feet tall and 330lbs, is currently listed as a "female" in the Montana Department of Corrections directory.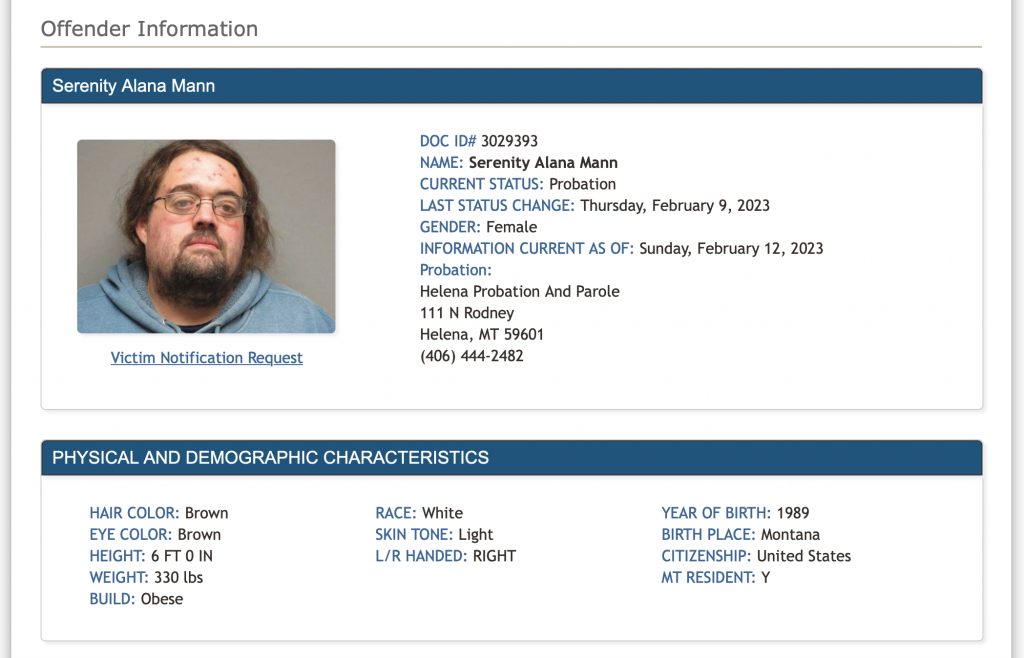 It is currently unclear if the 35 days of prison time he will serve over the course of five years will be in a women's facility or a men's facility. Reduxx has reached out to the Montana Department of Corrections for more details, but did not receive a reply in time for publication.
This is not Mann's first time in custody after committing an act of violence against a woman.
In 2020, Mann was charged with felony assault with a weapon after a fit of road rage in which he brandished a crowbar to a female driver during a traffic altercation.
The incident, which took place in April, was reportedly caused by the other driver cutting Mann off while the two were turning out of a parking lot. The two vehicles came to a stop to engage with each other on what had happened, but culminated in Mann retrieving a crowbar from his car and screaming threats to murder the driver in the other vehicle.
At the time, Mann told officers he had a problem with his "anger" and otherwise controlling his violent impulses.
For the 2020 incident, Mann was handed a two-year deferred sentence for criminal endangerment. The sentence ended in September of 2021, just two months before Mann would be charged with strangling his partner.
In the media coverage of Mann's past and recent run-ins with the law, he was referred to as a "woman."
---
Reduxx is your source of pro-woman, pro-child safeguarding news and commentary. We're 100% independent! Support our mission by joining our Patreon, or consider making a one-time donation.