A man who identifies as transgender and has a disturbing criminal record is suing a New York yoga studio for $5 million in compensation after he alleges employees asked to use the men's restroom instead of the women's. Dylan Miles, who uses the name Ali Miles, filed the discrimination suit against Chelsea Traditional Hot Yoga on May 15.
Using a mixture of masculine and feminine pronouns to refer to himself, Miles alleges that the personnel at Chelsea Yoga "deprived [him] of his civil rights because he is gay, undergoing a gender transition, and because Miles does not conform to … gender-based preferences, expectations, or stereotypes about how a man/woman should dress and conduct himself/herself."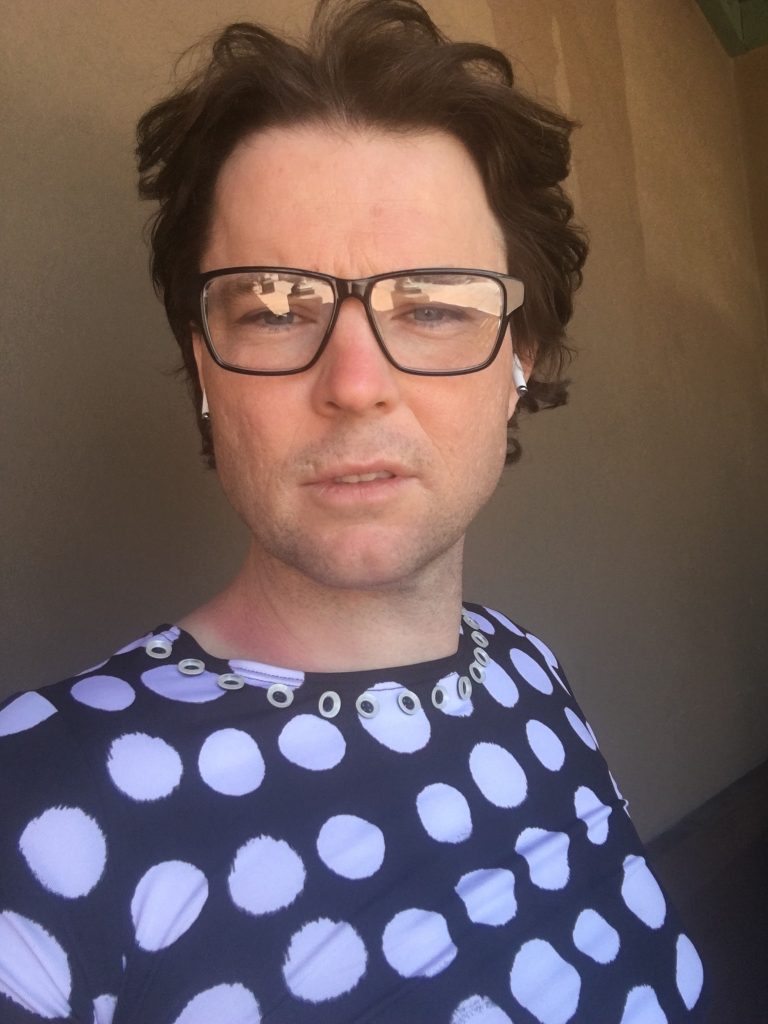 The incident is said to have occurred on May 4, when, at approximately 4:00 in the afternoon, Miles appeared at the studio to participate in a yoga class scheduled for the following hour.
According to the suit, Miles proceeded to tell the manger and owner of the studio about his "gender status", and stated that he "most closely aligned with female gender identity," and that he would like to use the women's restroom and locker room on the premises.
Management informed Miles that he would not be permitted to use the women's facilities. However, after attending the yoga class, Miles proceeded to enter first the restroom, and then the women's locker room. At this point, the suit states, "female patrons complained and yelled at Miles about Miles' presence and use of the single-sex locker room and bathroom labelled Women, and they demanded Miles leave and cease using the facilities."
He then alleges that while "feeling shame, humiliation, and frustration," he was escorted to the facilities designated for men, and was therefore "forced to use a locker room and bathroom that was not most closely aligned with Miles' gender."
Miles believes he is entitled to financial compensation "in an amount to be determined at trial … not expected to be less than $5,000,000 … based upon their willful, extreme, wrongful, and outrageous conduct," the court filing reads.
Liberal outlet The Daily Beast was first to bring details of the suit to public attention in a short article categorized as "discrimination" which used "she/her" pronouns for Miles, and declined to use a photo of him.
Yet despite his claim of victimhood, Reduxx can reveal that Miles has a history of stalking and harassment charges lodged against him in Yavapai County, Arizona, before he relocated to New York State.
Dylan Miles, who calls himself Ali and identifies as a Muslim woman, was previously listed in court records as Dylan Peter Busa Miles, a name and past which can be corroborated with hand-drawn sketches he uploaded to his Facebook account.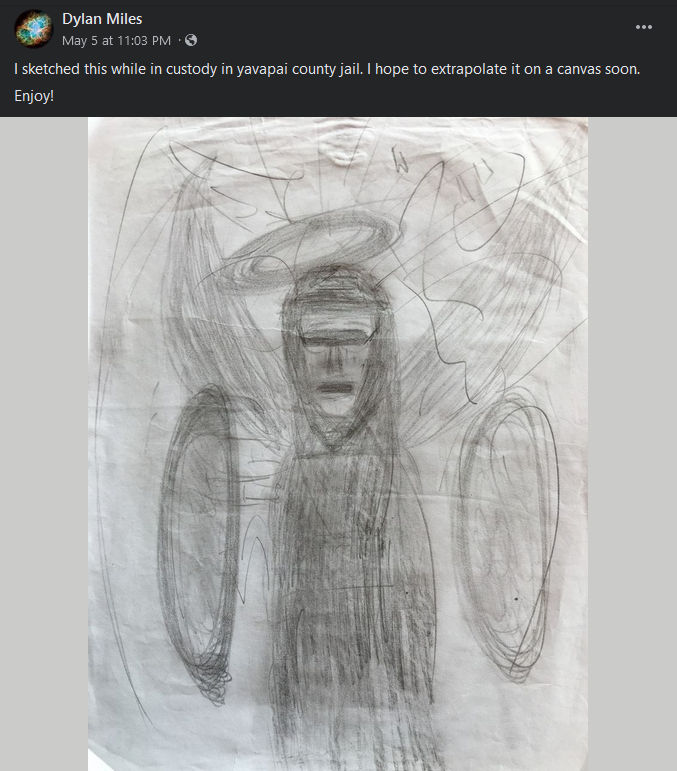 One post from May 5, just one day after the incident Miles alleges took place at the yoga studio, depicts a frantic pencil sketch of a faceless figure and is captioned, "I sketched this while in custody in Yavapai County Jail. I hope to extrapolate it on a canvas soon."
On October 26, 2022, Miles was found guilty of two counts of aggravated harassment per domestic violence, a class five felony, for instances dated in November 2021 and February 2022.
He was also found guilty of disorderly conduct, harassment, threatening or intimidating, and false reporting to a law enforcement agency, which are all class one misdemeanors.
He was placed on supervised probation for a period of three years and sentenced to 312 days in Yavapai County Jail, with credit added for the 132 days he had already been held there. Miles was also subject to a domestic violence assessment. Three counts of stalking with the fear of death against family or pets were dismissed by the court, as were three counts of threatening and intimidation with injury or damage to property.
The lawsuit against the Yoga studio is also not the first time Miles has launched a lawsuit complaining of "discrimination."
Reduxx has located four other suits filed Miles alleging discrimination on the basis of sexual orientation or gender identity, all of which were filed in rapid succession during a two-month span last year.
In February of 2022, Miles filed a civil action for $75,000 in compensation against Sedona Soul Adventures, an Arizona-based business he had previously worked for. Miles alleged that the tourism company had wrongfully terminated his employment shortly after he was hired after subjecting him to "gender identity-based harassment and discrimination." The suit was dismissed after an out-of-court agreement was reached between Miles and Sedona Soul Adventures.
On March 7 of 2022, Miles filed two separate civil actions — one against Planet Fitness and one against Bagel Point, both, again, on the basis of "gender identity-based harassment and discrimination." In both, Miles represented himself, and failed to use consistent pronouns, often calling himself "Mr. Miles."
In his poorly-written civil action, Miles alleged that staff at a Planet Fitness threatened to sound the "lunk alarm" on him for entering the women's facilities, and used a slur when referring to him. The "lunk alarm" is a large fixture seen at most Planet Fitness gyms intended to provide a humorous "warning" to those being too loud or obnoxious in the gym.
Miles also alleges that a member of the Planet Fitness staff named "Diamond" had tried to "coerce" him into going "straight sexually."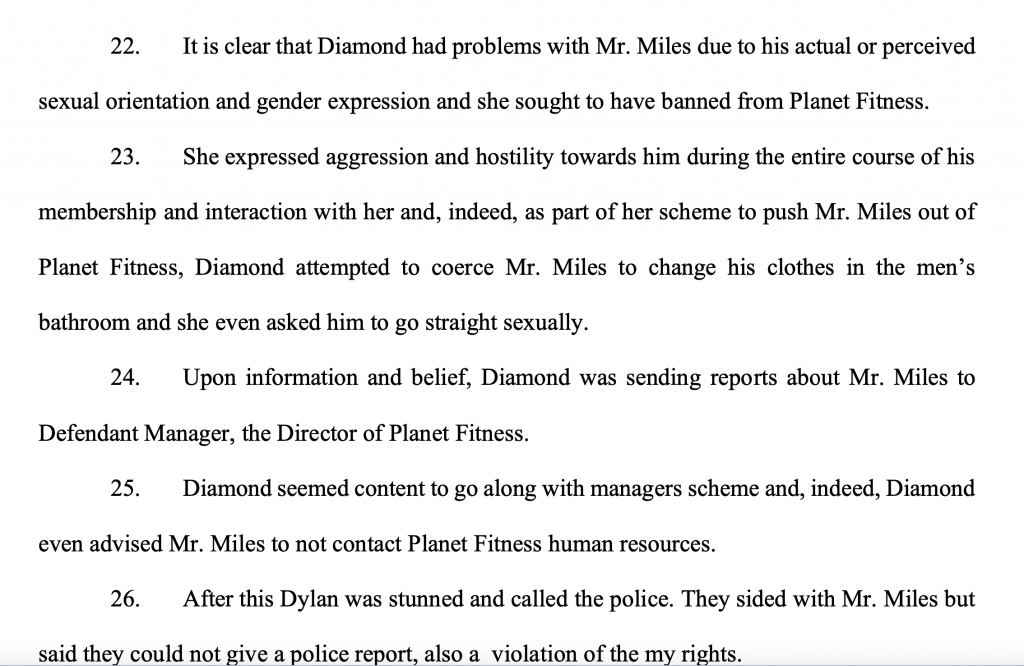 Miles demanded compensation of $10,000,000 from Planet Fitness, but the suit was ultimately dismissed after he failed to file the appropriate paperwork and pay $402 in filing fees as requested by the court.
In his action against Bagel Point, a cafe in Brooklyn, Miles sought $75,000 in damages alleging he had been wrongfully terminated and subjected to verbal abuse on the basis of his gender identity.
Miles had been an employee of Bagel Point for a short period of time, during which he claimed the owner, a Muslim woman, had referred to him using slurs and mocked his gender identity, as well as had crafted "unsubstantiated" complaints about his performance. The action, which was poorly written and rife with spelling errors, was dismissed by the court once again after Miles failed to file the appropriate paperwork and pay $402 in filing fees.
In his final action of 2022, Miles filed a lawsuit against the New York Presbyterian Hospital, once again claiming to have faced discrimination on the basis of his gender identity.
Reduxx reviewed the bizarre court records from the suit, during which Miles represented himself. Miles claimed that, while undergoing pain management treatment at the Hospital, specialists routinely verbally abused him and denied him proper care on the basis of his gender identity.
In one claim, Miles alleges that a pain management doctor at the hospital called him a "[sic] fagot" every time he injected him with trigger point pain medication.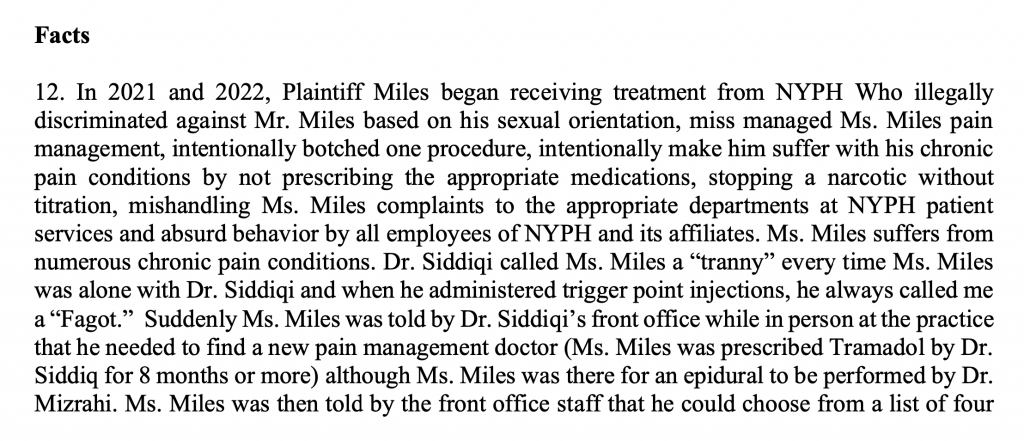 In another, Miles alleged a separate anesthesiologist called him a "tranny faggot" while administering an epidural.
Miles also asserted that doctors at the hospital had taken issue with his identity as a Muslim transgender woman, and that the hospital had a "scheme" to make him "suffer" with chronic pain.

Miles' suit against New York Presbyterian Hospital was dismissed and an appeal was not filed.
Miles' lengthy track record of filing baseless discrimination suits recalls a similar saga involving a Canadian trans-identified male who rose to international infamy after attempting to force local estheticians to provide waxing services to his male genitalia.
Jessica Yaniv, also known as Jessica Simpson, is a trans-identified male from British Columbia who filed civil actions and human rights claims against dozens of people and businesses between 2018 and 2021 claiming discrimination on the basis of his gender identity. Amongst those Yaniv pursued for damages were multiple local salons owned by primarily immigrant women of Muslim or Sikh faith. It was later speculated that Yaniv had strategically pursued those salons in an effort to target women who would have had a religious objection to handling his male genitals or being alone in a room with him.
Yaniv was later classified as a "frequent litigant" by the British Columbia Human Rights Tribunal, which noted that Yaniv had a pattern of filing a large number of complaints and then withdrawing them when the respondent mounted a defense.
---
Reduxx is your source of pro-woman, pro-child safeguarding news and commentary. We're 100% independent! Support our mission by joining our Patreon, or consider making a one-time donation.