A German trans-identified male was sympathetically profiled in local news after he accused a women's domestic violence shelter of "transphobia" for not having the space to accommodate him.
Joyce van den Brink-Böhm, a white male who identifies as a Muslim woman, was featured in Ruhr Nachrichten on September 28 after he accused a women's crisis shelter in Dortmund of "transphobia."
In the article, Brink-Böhm, 55, says he was using the Women's Information Network Against Violence website to locate a shelter which had capacity. The site provides data on women's crisis centers across Germany, and has an easy-to-use guide in which shelters can signal their capacity by marking their location with a "green light" or a "red light."
Brink-Böhm told Ruhr Nachrichten that he had been staying at a hotel with his 16-year-old daughter, fleeing an alleged situation of domestic violence. He frequently visited the Information Network to find crisis shelters with availability, and found a Dortmund-based women's center with a "green light," signaling capacity. He e-mailed the shelter, which responded that no space was available, but recommended he contact a counseling center or job board.
Brink-Böhm says he noticed the Information Center continued to indicate capacity at that shelter, leading him to believe he was only rejected due to transphobia. He explains that after he wrote the shelter an angry email accusing them of bigotry, the Information Center suddenly began to signal that the shelter had no more capacity.
The Dortmund shelter gave comment to Ruhr Nachrichten, and explained that there had been a delay in the update of their capacity status on the Information Network due to how busy they were, and that the rejection was not due to Brink-Böhm's gender identity.
After the article was published to Ruhr Nachrichten's Twitter, some German women began condemning the platform given to Brink-Böhm, stating he had no place seeking accommodations in women's crisis facilities.
"Men, regardless of their gender identity, do not belong in a women's shelter. We should have special places for trans people, but such a person does not belong with traumatized women," @NoRussianBottt replied.
Männer, egal welcher gender Identität, gehören nicht in ein Frauenhaus. Wir sollten spezielle Angebote für Transidente haben, aber zu traumatisierten Frauen gehört so eine Person nicht.

— NotARrussianBot 💚🤍💜 KPSS (@NoRussianBottt) September 30, 2022
"Biological men don't belong in women's shelters. These shelters house women and children who have survived rape and other violence. As a victim of male violence, you don't want to sleep with a man next door, no matter how he 'feels,'" Selena Broens responded to Ruhr Nachrichten's Twitter post.
The outlet rapidly began "hiding" replies which pointed out that Brink-Böhm was a male, and later published a statement on "netiquette" in which it encouraged readers to be respectful.
But one user pointed out something far more disturbing about Brink-Böhm that was omitted in the Ruhr Nachrichten profile.
"Joyce van den Brink is a fetishist who openly fetishizes women/Muslims and the veil. All things considered, it is shocking that you are helping him put pressure on women's shelters," user @MinaOartist wrote in response to Ruhr Nachrichten's Twitter post.
Joyce van de Brink ist ein Fetischist, der offen Frauen/Muslima und die Verschleierung fetischisiert. Es ist unglaublich, dass ihr vor diesem Hintergrund Druck auf Frauenhäuser macht. https://t.co/X1QPxwuvCm pic.twitter.com/osEytOFxVx

— Tina Torpedo (@MinaOartist) September 29, 2022
The user posted screenshots from a Pinterest account purportedly belonging to Brink-Böhm. It showed that the account curated images of Muslim women observing hijab, along with photos of men in lingerie, fetish gear, and males donning full niqabs. She also included a link to the account where she found the images.
Ruhr Nachrichten replied to her, claiming the link was non-functional and that it was otherwise impossible to verify that the account truly belonged to Brink-Böhm.
Reduxx found the Pinterest profile had still been caught in the Google cache, showing a clear photo of Brink-Böhm wearing a hijab and lipstick. Brink-Böhm is easily identifiable when compared to the photo used by Rur Nachrichten in their article on his experience attempting to access a domestic violence shelter.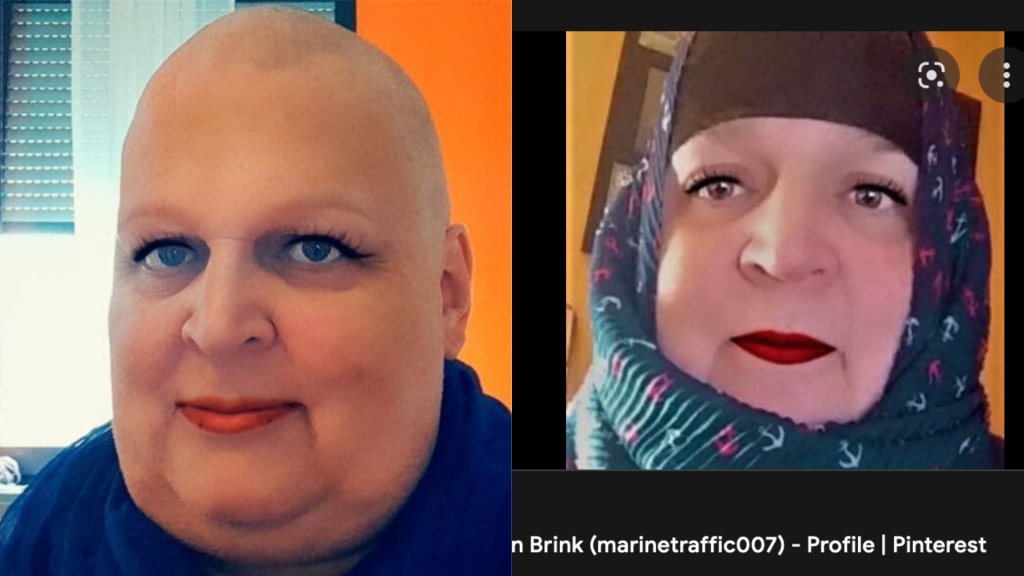 Brink-Böhm also has another Pinterest account using both his male and female names which curates similar content featuring photos of Muslim women, as well as medical drawings of genitalia.
On Twitter, Brink-Böhm has a largely-defunct account in which he appears in the same hijab as the one he is seen in on his Pinterest profile photo. In his bio, he calls himself "Trans*Muslima." He appears to be following dozens of accounts focused on BDSM and race-play fetishism.
In one of his only tweets, Brink-Böhm posted a photo of high heels, captioning it: "my selection of clothing continues to grow."
While some German women on Twitter continue to voice their concerns on Brink-Böhm to Ruhr Nachrichten on the sympathetic profile of an apparent fetishist, others are outraged that he is reportedly still seeking to access already-overburdened domestic violence resources.
There was a noted increase in domestic violence in Germany during the COVID-19 lockdowns, and violence against women by intimate partners is considered a widespread problem.
On average, there is one reported attempted homicide of a woman every single day in the nation, and one woman is murdered every 2.5 days by a partner or former partner.
The situation is particularly dire within the Muslim community, with statistics showing that 50% of German Muslim women have been the victims of domestic abuse.
---
Reduxx is a newly-launched independent source of pro-woman, pro-child safeguarding news and commentary. We're 100% reader-funded! Support our mission by joining our Patreon, or consider making a one-time donation.