Newly-released court documents have revealed that the California man behind an assassination attempt on Supreme Court Justice Brett Kavanaugh identified as transgender and used the name "Sophie" on social media. Nicholas John Roske, 26, was indicted on charges of attempted assassination on June 15.
Roske traveled from Simi Valley to Chevy Chase, Maryland on June 8 with the intention of murdering Justice Brett Kavanaugh at his home. At approximately 1 a.m., Roske pulled up to Kavanaugh's home with a black suitcase that included a legally purchased Glock 17 pistol and ammunition, tactical gear, pepper spray, a thermal monocular, a laser, and burglary tools.
Kavanaugh's home had been under secure monitoring by U.S Marshals in wake of the Roe v. Wade leak. After exchanging a glance with one of the Marshals, Roske phoned the Montgomery County Emergency Communications Center and told the call taker that he was having suicidal thoughts and was carrying a firearm in his suitcase. Roske also told the emergency center employee that he had come from California with the intention of killing a Supreme Court Justice.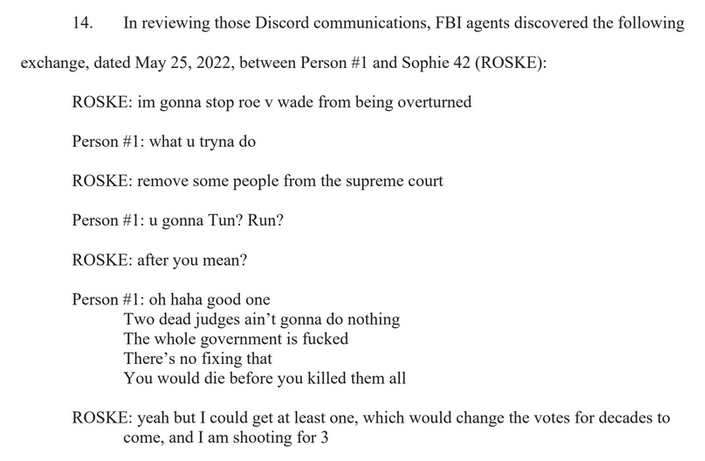 Montgomery County police officers were dispatched to the location and arrested Roske, who then told a detective that he was upset about the leaked Supreme Court draft decision on the overturning of Roe v. Wade, which had secured abortion as a constitutional right.
In the weeks leading up to the failed assassination attempt, Roske was soliciting information on how to commit murder from forum members on Reddit and within Discord servers.
FBI agents discovered a conversation that took place over Discord dated May 25, 2022, between Roske and another user. Roske, who was using the screen name "Sophie42," revealed that he was plotting to carry out a triple homicide.
"I could get a least one, which would change the votes for decades to come, and I am shooting for 3," he wrote.
The court documents, filed at the US District Court in Maryland, revealed the would-be assassin was active in multiple Reddit communities and claimed to identify as transgender in multiple posts. On an unspecified date in April, Roske posed a question to users on women's subreddit r/TwoXChromosomes, asking: "Would Kavanaugh being removed from the SC [Supreme Court] help women long term?"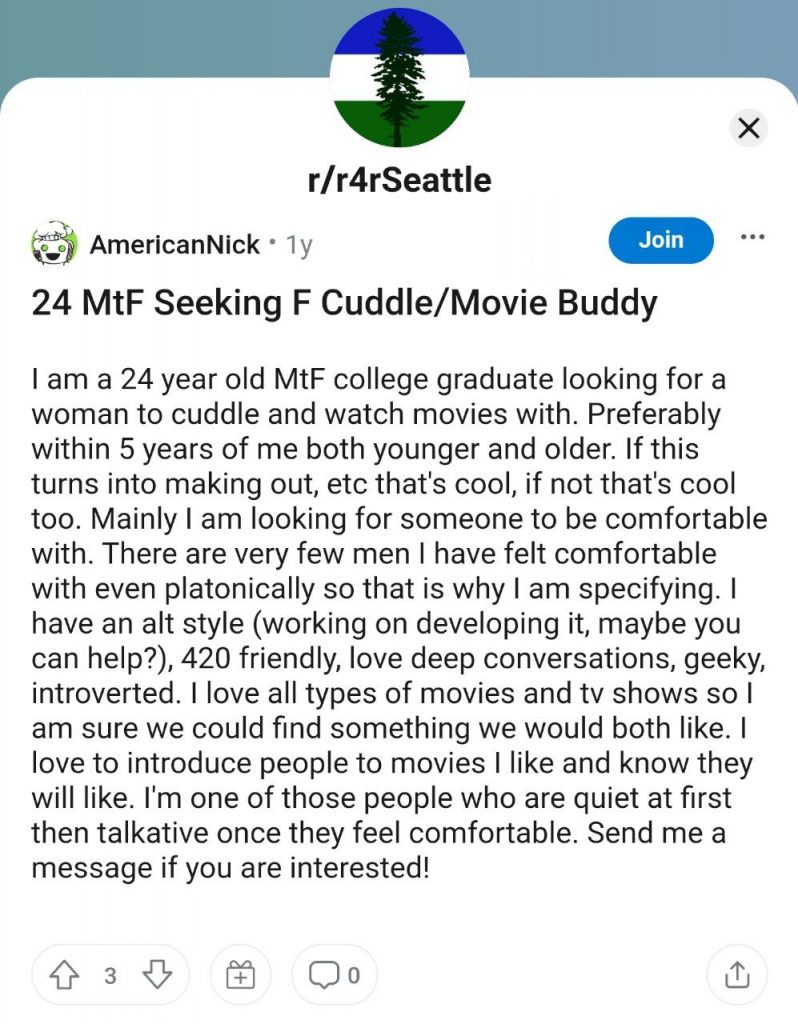 Under the username u/AmericanNick, Roske posted personal ads requesting the company of women and claiming to be a trans-identified male.
"I am a 24 year old [sic] MtF college graduate looking for a woman to cuddle and watch movies with… If this turns into making out, etc that's cool," Roske wrote in a subreddit for singles in the Seattle area.
In r/GamerPals, Roske advertised for "girls only," and wrote a personals ad titled: "F4F [female for female] 25 PST Trans Gamer Girl Seeking Friend." Roske would also get into a debate on a post made on the a masturbation abstinence subreddit r/NoFap to defend pornography from users who were critiquing its harmful effects.
Writing in the forum r/SerialKillers, Roske asked members "which serial killer was the most careful?" before going on to explain: "by most careful I mean planned things out, very conscious of leaving evidence, purposefully trying to avoid having a pattern."
He would also ask questions on how a serial killer might commit crimes without leaving evidence, claiming the question was for a book he was writing.
While Roske would claim his motive for seeking to assassinate Supreme Court justices was based in concern for women's reproductive rights, his Reddit history shows he has been fascinated with the concept of murdering people long before the Roe v. Wade leak.
In December of 2021, Roske posed a question to the r/AskReddit community, asking what the implications of "7 million random people" dying might be.
The search history on Roske's phone for the period of May 5 to June 8 included the following terms and phrases: "quietest semi auto rifle," how to be stealthy," "assassin skills" and "most effective place to stab someone."
Additionally, he told another person he planned to "remove some people from the Supreme Court" in order to "stop roe v wade [sic] from being overturned" in a disturbing forum conversation revealed by the search warrant.
Reddit moderators have begun deleting incriminating posts made by Roske, but the activity can be seen in archived logs.
---
Reduxx is a newly-launched independent source of pro-woman, pro-child safeguarding news and commentary. We're 100% reader-funded! Support our mission by joining our Patreon, or consider making a one-time donation.