A pedophile is back behind bars after being found with child sexual abuse material for the second time in one year.
Canaan Jacob Kelley, also known as Kimiko Kimi Valentine, was arrested on May 31 in Tarrant County, Texas. According to staff at the Tarrant County Correctional Center, Kelley was picked up on a parole violation and had been found with child sexual abuse material. He is currently being held on a $20,000 bond.
At the time of his arrest, Kelley had been on probation for a separate charge of child sexual abuse material possession dating back to October of 2021. He was sentenced to community supervision in January.
Last year, Kelley was the subject of an in-depth investigation now hosted at Reduxx after a user on pro-pedophile forum BoyChat sought to bring attention to a fundraiser that had been launched to raise a $10,000 bail for him.
BoyChat, founded in 1995, is the oldest pro-pederast website on the surface web, and operates as a message board that sees 200-300 posts per day. Users are required to keep posts within a strict channel of legality, which enables the site to operate in plain sight.

In the BoyChat post, Kelley was identified by the name "Lyric" and "June," both feminine names he utilized on social media. The user appealing for bail funds on BoyChat was another pedophile responsible for curating a 'YouthLove Reading List.' Halos, who goes by the same pseudonym on Twitter, calls himself a 'child liberationist' and advocates for the elimination of laws penalizing adults for sexually abusing children.
The GoFundMe, however, was established by Clover Kvalheim, also known as Casey Deschenes. Deschenes and Kelley lived at the same address in Blue Mound, Texas at the time of his October arrest, and Deschenes, who is also transgender, called for donations to be made to the GoFundMe on his Twitter, which went by the handle @nekocapitalism and used a profile photo of an animated little girl.
Kelley also had a Twitter where, prior to his arrest, he regularly posted animated child sexual abuse media. He went by the handle @FEMBOYHOMICIDE and called himself a "trans supremacist."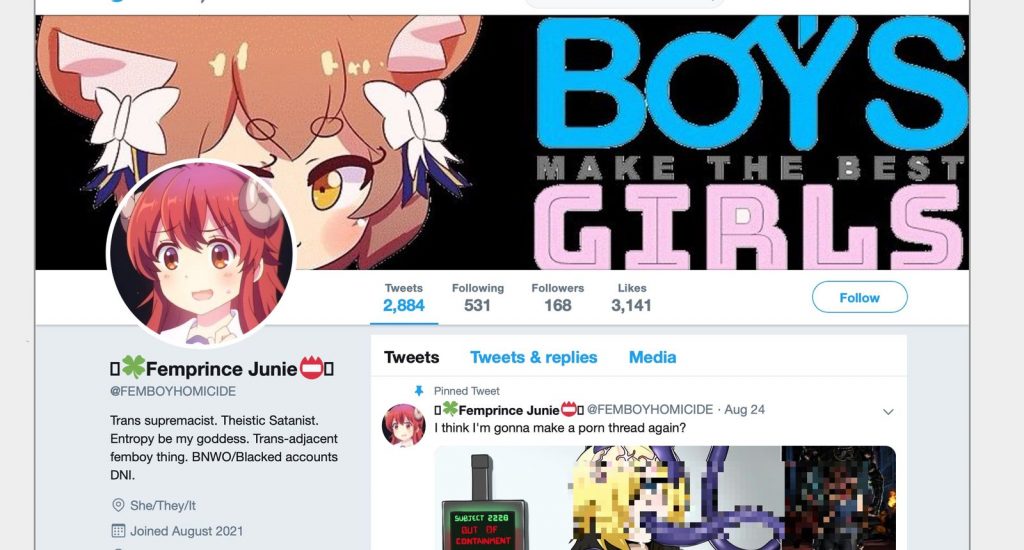 In addition to the pornography and trans activism, Kelley regularly re-tweeted posts from Prostasia, a notorious registered charity that has been described by some as being 'pro-pedophile.'
Staff at the Tarrant County Correctional Center told Reduxx they are awaiting additional information from the Division of Parole Supervision in Amarillo, Texas to determine whether Kelley will be sent there or continue to be detained in Tarrant County.
---
Reduxx is a newly-launched independent source of pro-woman, pro-child safeguarding news and commentary. We're 100% reader-funded! Support our mission by joining our Patreon, or consider making a one-time donation.