A trans-identified male high school teacher in Anne Arundel County, Maryland has been placed on indefinite leave after troubling information surfaced regarding his conduct with students.
Willa Hoard, also known as "Billie" was a social studies teacher at Chesapeake High School and ran the school's GSA (Gay-Straight Alliance) Organization. On October 3, he was placed on indefinite leave by the school, with few details provided to parents at the time.
But on November 2, disturbing video footage began circulating on Twitter from inside Hoard's classroom. The videos originated on Facebook, first posted by a concerned mother.
In one video, two students are seen laying on the ground together, with one grinding on or humping the other in the middle of a class lecture. Another clip shows one student sucking at the stomach of another student. Both clips took place while Hoard was present in the room, apparently unconcerned by the behavior.
Hoard's classroom was labelled a "safe space" for "LGBTQ+ students" by the school at the direction of the GSA. So whether a student was in class or not, if they reported to a teacher that they needed a "safe space," they could go to Hoard's classroom.
But the sexual behavior Hoard allowed in his class was just one of many disturbing components of the story. Hoard had apparently been communicating with students through unmonitored channels, in flagrant violation of safeguarding ethics. In some screenshots, students are seen referring to Hoard as "mom" or "mother."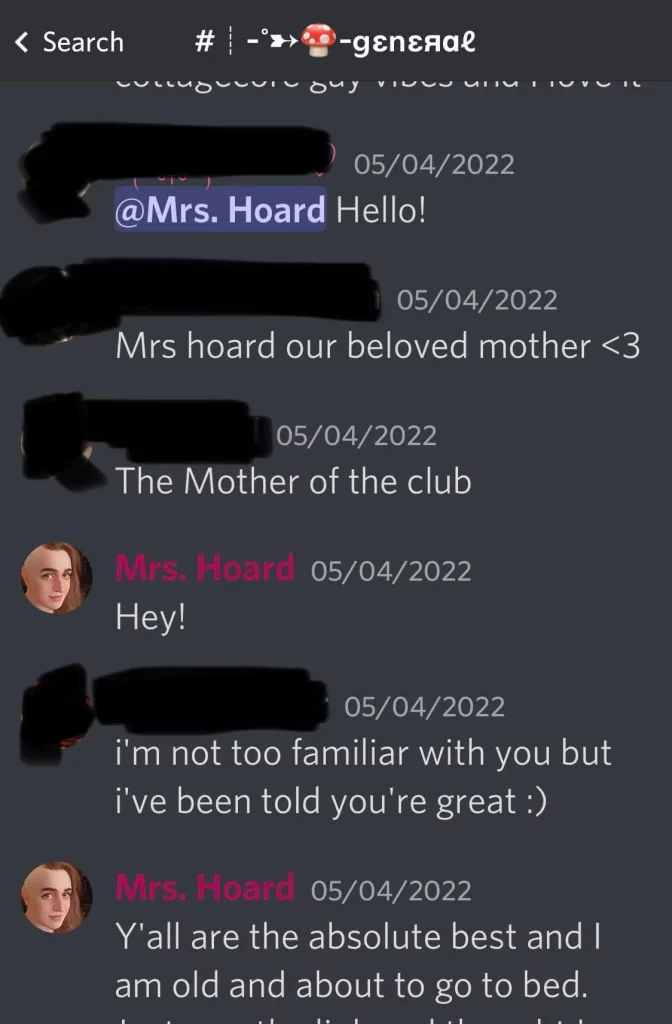 At least one concerned parent had taken snaps of Discord and Instagram conversations she found of Hoard having with students to school Principal J. Yore earlier this year, but nothing was reportedly done until the disturbing videos first began to circulate on Facebook.
On October 3, parents and guardians received a letter from Principal Yore who announced that Hoard would be "away from [the] building indefinitely."
The letter failed to address the videos showing what had occurred during Hoard's GSA meeting. While it stated a substitute who will provide "high-quality instruction and support" will be introduced, the letter did not contain any plan to guarantee student safeguarding, nor did it provide any indication of wrongdoing.
The news of Hoard's extracurricular communication with students, as well as his leave, was first reported on by independent Maryland journalist Brian Griffiths on October 3.
According to Griffiths, Hoard had only begun transitioning earlier this year, and had previously gone under the name William Edward Hoard.
In a February Medium Post, Hoard wrote: "So it turns out I'm a woman. Surprise! I guess, to be more specific, I am a woman of the transgender variety. Which is to say that I am a woman who was mistaken for a little boy at birth, whose family and society ran with that since my body matched the expectations they had, first for a boy and later for a man, who only fully realized my own womanhood a few years ago and who is just now telling the world that-well intentioned as I am sure it was-we were all wrong about my gender."
Griffiths also reported that a mother at the school who had clashed with Hoard over safeguarding concerns had been subjected to an attempted peace order as a result of her critiques.
Kristy Rush began publicly criticizing the school's GSA after seeing posts threatening disciplinary repercussions for "deadnaming" and "misgendering" students or staff. According to Rush, the school had deemed "dead naming" a form of "sexual harassment," and parents who confronted administration about the policy were told that disciplinary action for the listed offenses was discussed with the GSA and determined on a "case-by-case" basis.
As her daughter was a GSA member, Rush then went through her phone and computer out of concern.
She then found that Hoard had been communicating with his students on unofficial apps like Discord, Instagram, and Facebook. Rush withdrew her daughter from the school, reporting that after she joined the club "her behavior began to change." Rush has also posted several statements regarding Hoard and the GSA on her Facebook, including videos of activity which allegedly occurred in Hoard's classroom.
In one video Rush posed to her Facebook, a student wearing a banana costume and fishnets is seen dancing. The student's underwear are clearly visible when she turns around. Rush also posted a video of students "humping" in a classroom during a GSA meeting. Both are the videos now circulating on Twitter.
It was after her vocal criticisms that Hoard then reportedly filed the peace order against Rush. The order was recently dismissed, but Rush has said that local LGBT activists labelled her and other parents who were concerned about Hoard "transphobic" at school board meetings.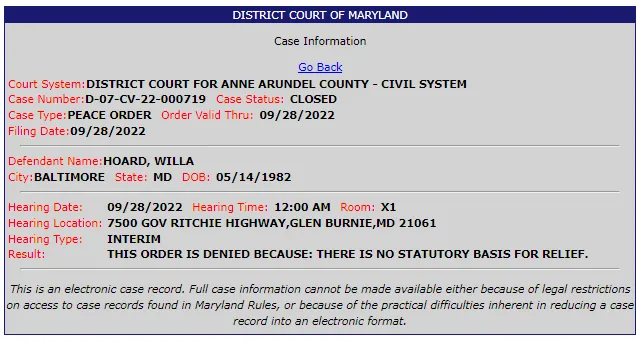 According to Libs of TikTok, prior to being put on indefinite leave, Hoard had also encouraged student members of the GSA to call the police to conduct wellness checks on Rush's daughter, Lulu.
Police reported to Rush's homes on two separate instances as they had received calls that Lulu was suicidal and attempted to harm herself when she was merely sleeping.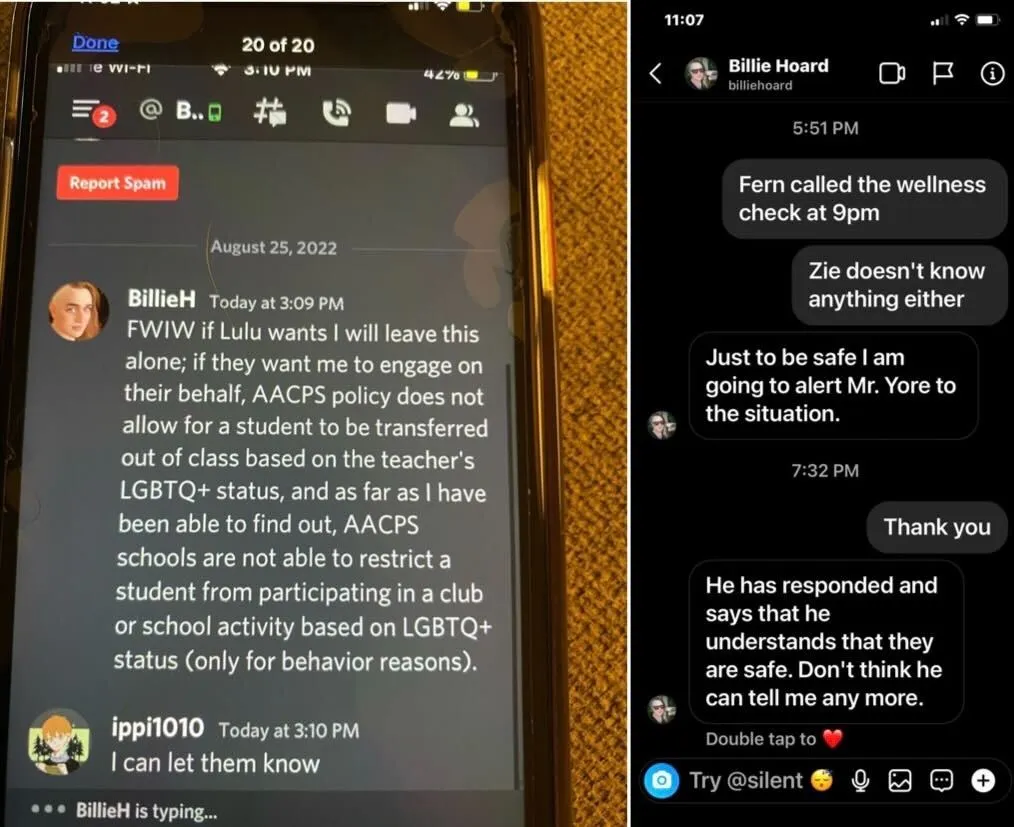 Although Hoard is not allowed on school grounds, there has been speculation that students have maintained contact with him through private channels.
He remains active on TikTok and has apparently encouraged graduating students to message him directly on Instagram.
---
Reduxx is a newly-launched independent source of pro-woman, pro-child safeguarding news and commentary. We're 100% reader-funded! Support our mission by joining our Patreon, or consider making a one-time donation.