A mother in Leeds, UK, has revealed that her 16-year-old autistic daughter was arrested by West Yorkshire police after one of the officers accused her of "homophobia." The incident occurred after police had been called to provide a safe escort home for the vulnerable girl.
The woman, who goes by the name Nikita Snow on social media, explained to Reduxx that on the evening of August 6 her eldest daughter, who is 18, had been out with friends when her youngest, who is 16, tagged along.
Snow says she had believed her younger daughter, Amanda*, was at a sleepover. But because the girl did not have a routine at her friend's house similar to one at home, she instead wandered outside to find her older sister. After the two met up, Amanda's sister began to experience concerns about her younger sibling acting in "unsafe ways," and attempted to contact her mother but was unable to reach her.
Without another mode of communication, the older girl called their local West Yorkshire Police dispatch for help, explaining to them that her sister was autistic and needed a safe escort back home.
"They said they would come assist in getting her home as she is vulnerable, with her being diagnosed with autism," Snow says. "When they arrived where my two daughters were, Amanda refused to travel alone with them and wanted her sister to come with her, so she agreed."
Snow says she was woken up at 1 a.m. by the sound of knocking at her door, and found West Yorkshire Police at her step with her two daughters.
"They said they were just bringing her home safely… [But] one of the officers had hold of Amanda and was squeezing her arm very tightly. She asked me to get [the officer] off her arm as it was hurting so I guided my daughter inside."
But just as she brought her daughter in, the girl made a would-be innocent remark about the female officer who had been amongst the West Yorkshire police escorting her.
"She said 'I think she's a lesbian like nanna Julie,'" Snow recounts, noting that the female officer had short blonde hair. "I just felt a jolt on my back… the officer had launcher herself in my home at me and Amanda. She was grabbing her."
Snow says her daughter scampered into a cupboard under the stairs and began crying and apologizing, unsure of what was going on. Amanda also began self-harming out of stress.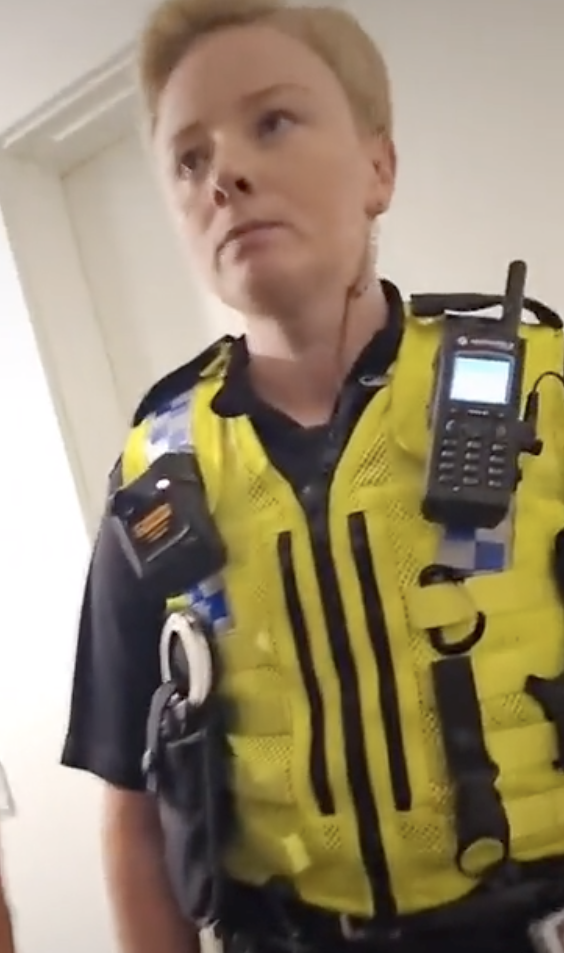 "She was crying and saying sorry to the police woman. That's when I grabbed my phone and started recording."
In terrifying footage twice-removed by TikTok, Amanda is heard screaming and crying as multiple West Yorkshire Police officers surround the cupboard she had backed herself into for safety.
"She's getting arrested," the female officer says firmly. "Another unit's coming, don't worry … I'm telling you another unit is coming, she is going to get arrested tonight."
In the clip, Snow is heard pleading with the female officer to be more understanding of her daughter's autism.
"She's got autism, can you just stand there please? She's in a cupboard, she can't go anywhere," Snow is saying, voice strained. "You're going to remove her for what? Because she said the word lesbian? Her nana is a lesbian, she's married to a woman. She's not homophobic!"
Snow then points out that the female officer's hands keep clenching.
"Look at you, clenching your fists. Please go away from my teenage daughter! There's something wrong with you, mate."
The clip ends with Amanda being led out of the house in tears by a group of six police officers. As she is walked outside, she appears to fall to the ground, at which point the officers begin twisting her arms behind her back in an effort to force her to stand.
Snow attempted to explain that her daughter has severe scoliosis and that her joints should not be manipulated in such a way. In the video, the girl is seen trying to grab at her shoulder with her free hand and screaming in what appears to be obvious pain.
As the girl is being ruthlessly manhandled by the crowd of police, the female officer who prompted the response is standing off to the side watching.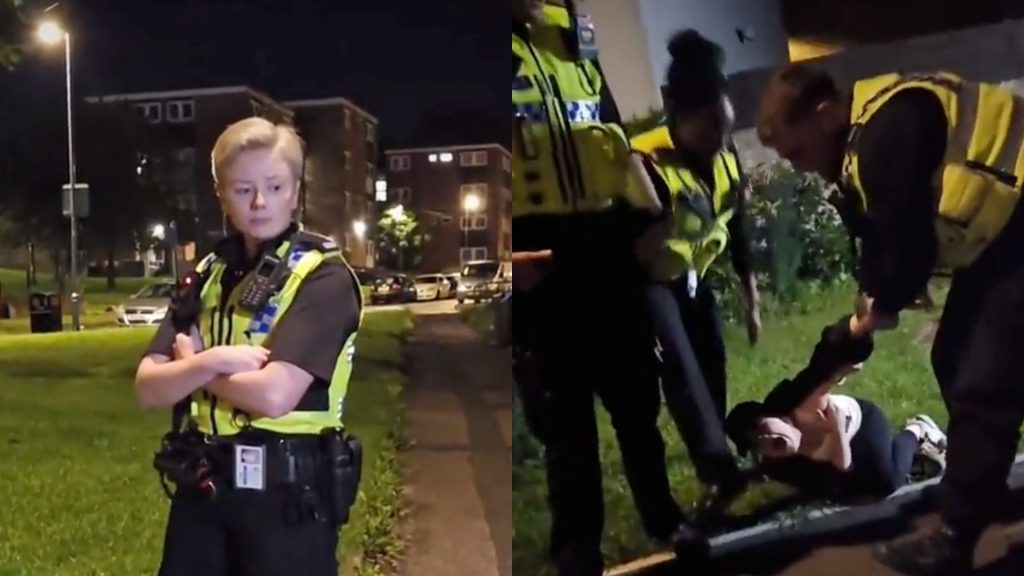 "Amanda was never read her rights, was not cautioned, and the police woman did not have a warrant and was not invited inside [my home]," Snow says.
Amanda was ultimately in police custody for 20 hours, according to her mother, and was released on "unconditional bail" despite not having any formal documentation of any charges that were filed against her.
"Amanda has not been charged but spent 20 hours under arrest," Snow says. "She has been placed on unconditional bail. Police told us she was on bail … I'm not really savvy when it comes to police and arrests."
Snow explained to Reduxx that she wasn't even sure of what "unconditional bail" meant as no one had defined it for her. She has since been in touch with a solicitor for assistance.
"I have put a full complaint in to the Sergeant and they have obtained her body cam footage for viewing," Snow says. "Amanda was never read her rights, was not cautioned, and the police woman did not have a warrant and was not invited inside [my home]. She also assaulted me, and if she didn't caution Amanda that's also assault in the eyes of the law. It's also unlawful arrest as policies weren't followed properly," she claims.
West Yorkshire Police have since issued a statement on the incident, claiming the video Snow initially uploaded to TikTok showed an "limited snapshot" of what happened.
Police claim Amanda was intoxicated, and that she made comments "which resulted in the girl being arrested on suspicion of a homophobic public order offense."
The statement continues: "We are fully reviewing the circumstances of this incident and ask that people avoid reaching any conclusions about it solely on the basis of the social media video."
*The name of the minor involved has been changed by Reduxx to protect her privacy.
---
Reduxx is your source of pro-woman, pro-child safeguarding news and commentary. We're 100% independent! Support our mission by joining our Patreon, or consider making a one-time donation.