A woman has been sentenced on charges of sending an "offensive and obscene message" after getting into a row with a trans-identified male on social media who subsequently reported her to police.
Chinzia Ogilvie, 43, was sentenced at Portsmouth Magistrates' Court on June 10 to community service and rehabilitation on hate-motivated charges related to a Twitter disagreement. Ogilvie was called in for questioning by police in January after engaging in an online debate with trans-identified male "Ivy" Burrows in October of 2021. Burrows had become offended and filed a police report.
According to Yahoo News, Judge David Robinson told Ogilvie her views on gender ideology were not criminal but her "behavior became criminal," with the offensive messages "demonstrating hostility" to a transgender person.
Speaking with Reduxx on the incident, Ogilvie explains Burrows was the first to initiate the interaction during the incident that would later be reported to police.
"Ivy started [the argument] by tweeting a picture of the suffragettes with the trans colours through them and [he said] we had appropriated the suffragettes to create hate." Burrows had tagged Ogilvie in the post, an apparent attempt to bait her into an argument.
Ogilvie, a mother of two, says she responded to Burrows' tweet by defending girls' right to privacy and ability to access female-exclusive environments for their safety, "I explained that he will frighten our little girls by insisting he has a right to use female facilities."
Burrows then tweeted out a photo of Ogilvie with her hair edited to show the trans pride flag colors, and called her out by her full name while claiming she was putting him in danger with her defense of single-sex spaces. At the time, Burrows was using an account not affiliated with her identity.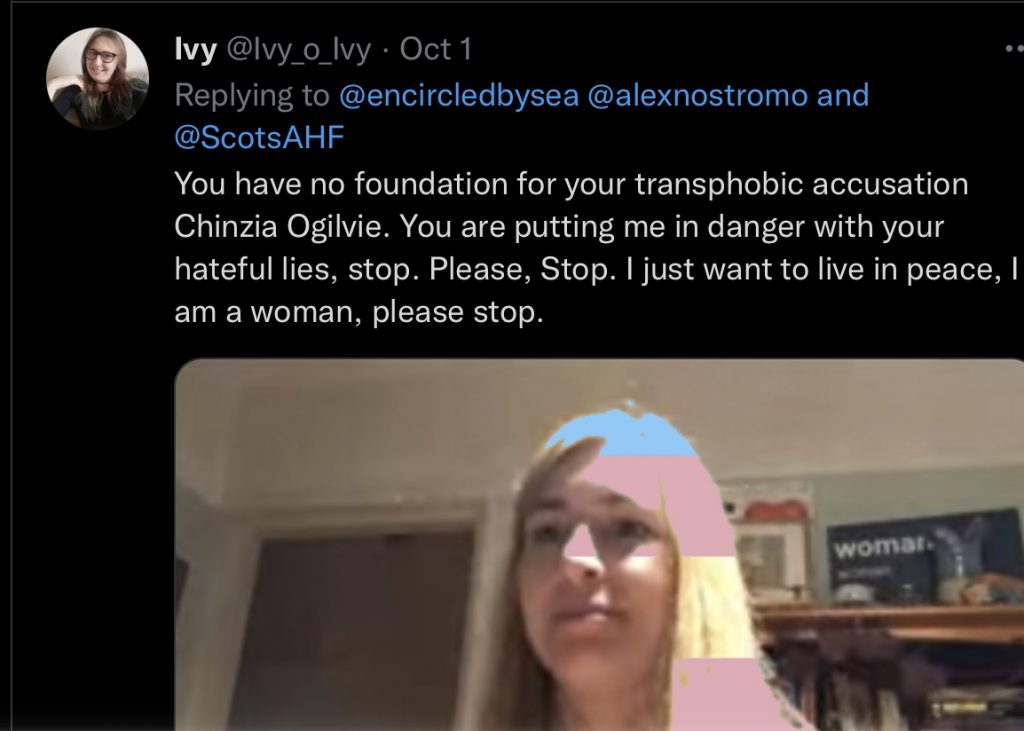 The feminist explains Burrows was the first to call her derogatory language, labeling her a "pedophile," something that was later brought up in court by Ogilvie's legal representative.
Ogilvie responded to the bizarre claim by matching Burrows' accusation, telling him it was pedophilic for an intact man to seek to use female-only spaces with young girls present. She also told Burrows to keep his male genitalia out of women's single sex spaces.
Shortly after, Burrows reported Ogilvie to the police. He stated in court that the conversation, as well as repeated misgendering, had left him feeling "scared" and "distressed."
In court, Ogilvie's legal representative, Tim Sparkes, argued that Burrows was not 'a vulnerable victim' but a 'political activist.' Burrow's had previously spoke on politics related podcasts where he was described as a "local activist."
Ogilvie told Reduxx that this exchange was not her first encounter with Burrows over social media. She had previously engaged with Burrows several times on a Facebook page called "Portsmouth politics" where Burrows was an active member. It was from there that Burrows knew Ogilvie's identity and began to advertise it on his Twitter.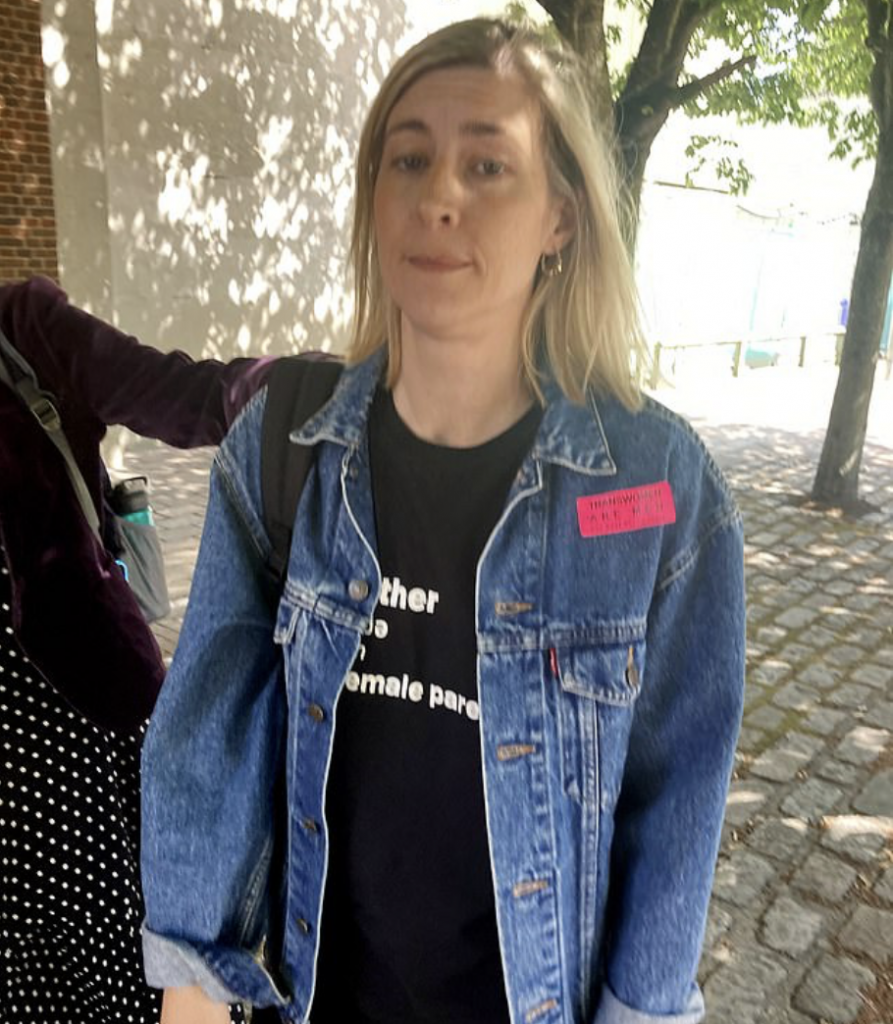 Ogilvie had her first hearing in May during which she explained to the court that she was unclear with regards to the administrative processes, and even had confusion on what she was being charged with.
She repeatedly insisted, "I don't know what I'm pleading to" and "I do not understand some of the points," but later pled guilty to the charges despite her uncertainty, only discovering later that it was a hate crime-related offense.
Speaking with Reduxx, Ogilvie said she pleaded guilty to "get it over with" and to avoid extending the court case which would cause distress to her family.
Ogilvie was ultimately given a one-year community order with 120 hours of unpaid work and 15 rehabilitation days. She was also ordered to pay £300 compensation, a surcharge of £95 and costs of £85 and handed a restraining order not to contact the victim for 12 months.
As an act of defiance, she wore a "trans women are men" sticker to court and a t-shirt that stated the definition of mother (a female parent). When asked why she did this, Ogilvie explained that she supports the work of Standing for Women, a UK based campaign group.
During the trial, the prosecution brought up a previous incident involving Ogilvie at a feminist demonstration.
In March 2021, Ogilvie and a friend attended a Reclaim These Streets/Violence against Women protest in Portsmouth. They carried a flag displaying the definition of 'woman' as an adult human female when four men and three women reported to be Anti-Fascists ran at them and grabbed the flag. Two men then pushed Ogilvie.
The probation service told the judge in the pre-sentence report that the flag which Ogilvie displayed during that event was "transphobic."
After receiving her sentence, Ogilvie exited the court house and, when asked by a reporter what she thought of the sentence, said "it's a load of shit."
Ogilvie isn't the first woman in the United Kingdom to face legal consequences for feminist speech on social media.
In 2019, a mother was arrested in front of her children and held in police detention for 7 hours after being reported for 'dead-naming' a trans-identified male online. In addition to her arrest, Kate Scottow had her electronic devices seized and held by police for months after being released from custody.
---
Reduxx is a newly-launched independent source of pro-woman, pro-child safeguarding news and commentary. We're 100% reader-funded! Support our mission by joining our Patreon, or consider making a one-time donation.