Trans activists in London staged a urine-filled protest outside of the Equality and Human Rights Commission (EHRC) on Monday in response to proposed alterations to the Equality Act which would strengthen women's sex-based rights.
Members of the organization Pissed Off Trannies (POT) gathered outside of the EHRC on May 22 to leave 90 liters of human urine around the perimeter of the building. The protest was in response to a recent statement by chief executive of the EHRC, Melanie Field, in which she affirmed the definition of "sex."
The statements by Field were made during an interview with Transactual, a trans activist organization headed by trans-identified male Helen Belcher. Belcher pressed Field on the definition of "biological sex," to which Field responded it was the "sex recorded at birth."
Field's comment reflects a slow-moving trend at the EHRC to implement stronger protections for biological sex as a protected characteristic, as well as recent plans to prevent trans-identified males from accessing women's facilities unless they have a Gender Recognition Certificate (GRC).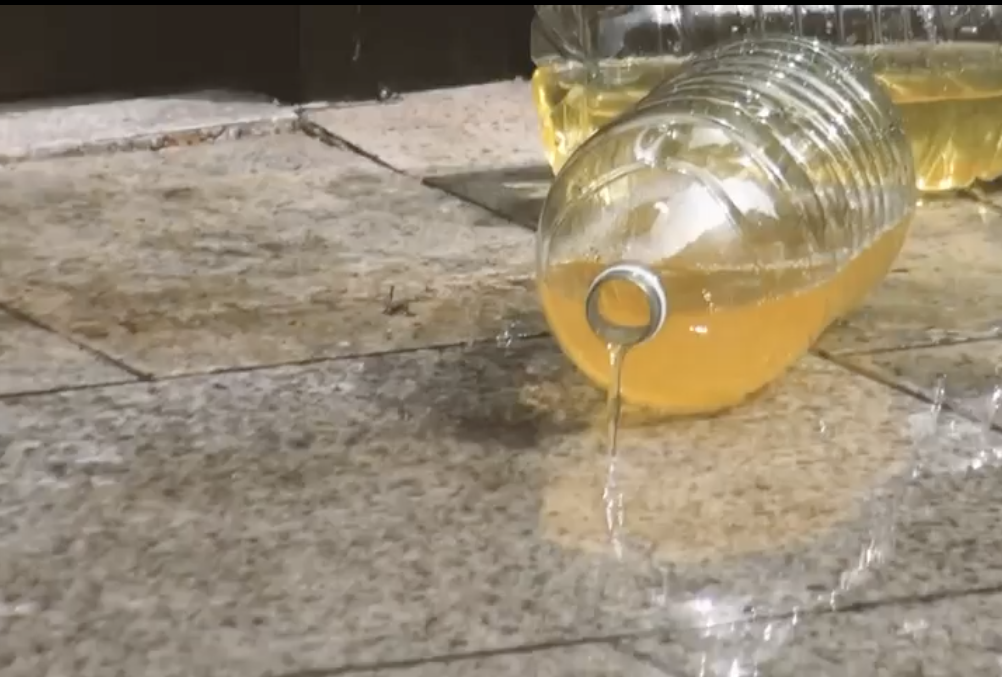 GRCs are documents which legally recognize a person's transgender identity in the United Kingdom. The bar for acquiring one is not particularly high, having two primary requirements of a gender dysphoria diagnosis, and the individual having "lived" as their "preferred gender" for at 2 years. The fee is nominal at £5, but it can be waived entirely for low-income people.
The proposals have been met with extreme backlash by trans activists, who have branded the EHRC's attempts to consider further protections for women as "anti-trans bias."
This Monday, masked POT trans activists gathered outside of the EHRC office to leave bottles of human urine in protest of the considerations. The activists also poured the bottles of piss on the sidewalks.
POT posted an artistic video of the demonstration to their Instagram, featuring close-up shots of the bottles of urine with audio and transcription of Field's interview with Transactual superimposed over the scenes.
"We placed 90 liters of trans piss outside the building and in their revolving doors, rendering the EHRC more explicitly what it already was: an inaccessible mess," Pot wrote in the description of the video.
"Pouring piss is an anarchist act of resistance that stakes an urgent and lingering claim on our basic human rights … If you take away our toilets we will make one on your doorstep."
This is not the first time POT has staged a piss-filled protest outside of the EHRC in London.
In September of 2022, POT activists similarly left jugs of human urine around the office's doorstep, with one masked activist pouring one bottle on himself.
While the initial exclusive coverage by VICE did not publish the names of the activists involved, allowing them to remain anonymous, it was later revealed that the primary organizer for POT is an artist who has contributed to VICE in the past.
Jamie Cottle is a trans-identified male from Reading, England, who studied English at University College London. Cottle uses the moniker "Biogal" on social media. After staging his first protest outside of the EHRC last year, Cottle boasted about his actions on Instagram.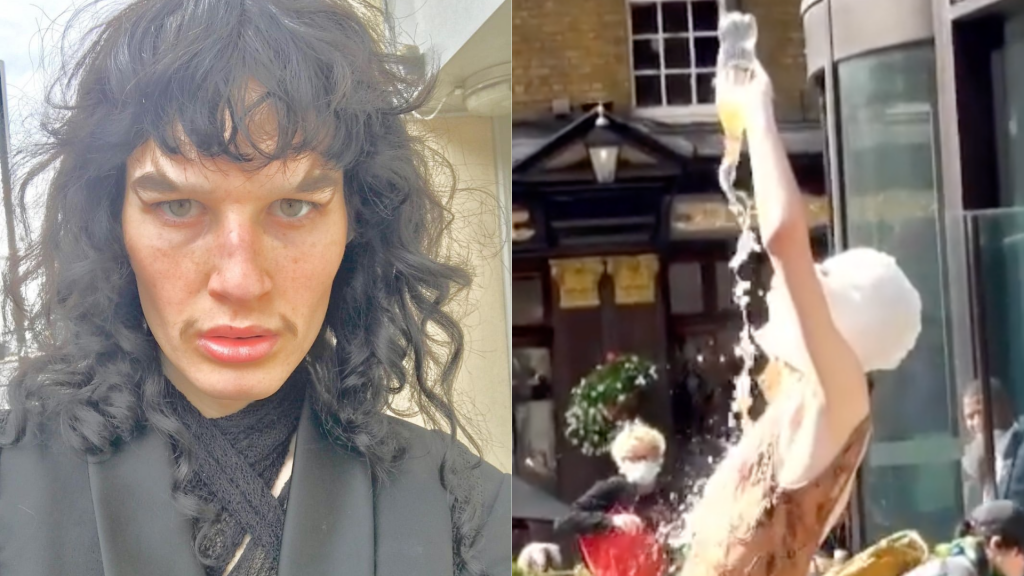 Cottle regularly hosts disturbing "performances" he claims are demonstrations of trans activism.
In one performance from 2022, simply titled "FISH," Cottle strips while slapping himself with a dead fish. In another from that same year, titled "Prayer for the Pearl Oyster," Cottle is seen wearing women's underwear, transparent platform heels, and a pearl necklace. He rips fabric, tosses about oysters, and screams while stomping on the shells. Cottle then begins writhing, strips naked, and removes a sex toy from his anus.
In addition to providing words in a VICE article on "trans joy," last year Cottle contributed to a piece published in the Italian edition of Vogue magazine.
Titled "The Hairy Boundaries of My Womanhood," the article asserts that "trans women and non-binary femmes" should find "new ways to express their genders through facial hair," while drawing a parallel between "dyke movements and women with PCOS" to biological males who claim a female identity.
"When covering my moustache, I experience security from the notion of passing but deal with the dangers of catcalling," Cottle told Vogue. "When I choose not to cover up, I signal to the world my radical position on gender and resistance to the male gaze."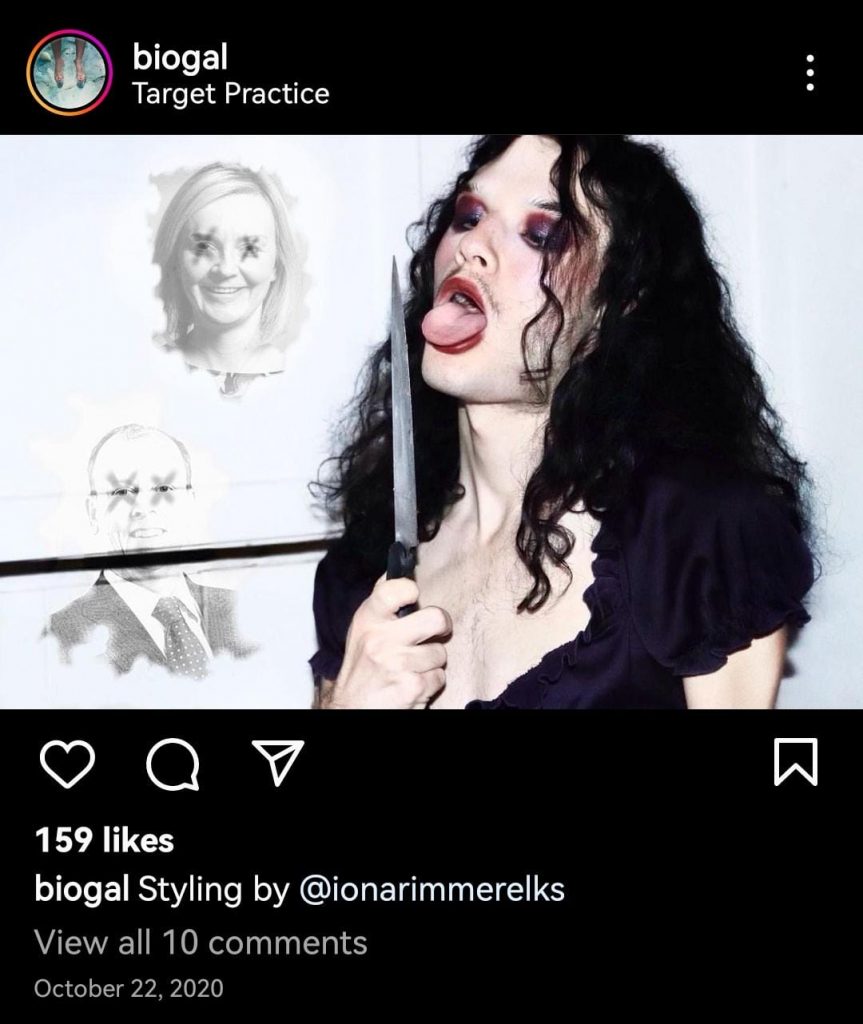 In a photo posted to his Instagram account in October 2020, Cottle can be seen licking a knife in a threatening fashion. Behind him were images of Member of Parliament Liz Truss, and a man who appears to resemble former First Secretary of State Dominic Raab. The image is titled "Target Practice."
In a similarly menacing image, Cottle was photographed in a skin-tight dress holding a sign that reads, "The streets will flow with tranny piss and Tory blood."
In an interview with Era Journal, the University College of London's Arts and Culture publication, Cottle acknowledges his admiration for a US-based trans-identified male called Río Sofia, who has made bondage and forced feminization pornography of himself as part of his academic studies at Cooper Union College. In 2020, Sofia presented his self-made pornography during a lecture for Princeton University.
One of Cottle's performances appears to have been influenced by Sofia, who, during his presentation for Princeton, boasted of stripping down to nothing but "lucite-looking heels" and exposing himself to the then-president of Cooper Union, in an attempt to spark provocation.
Cottle also recently assisted with a fundraiser for his girlfriend's double mastectomy. Jasmine, 22, a female who identifies as a man, stated on her GoFundMe page that she was "on the GenderCare pathway" due to being "exhausted [with] having to endure my body being sexualized in a way that feels so foreign to me."
In 2021, Cottle was a member of the Queer Heritage and Collections Network Steering Group and a listed speaker at their taxpayer-funded symposium. The symposium featured prominent UK artists sharing "knowledge, skills, expertise and best practice regarding national and regional heritage sites and collections working with LGBTQ+ histories," and was held in partnership with the national Art Fund.
Cottle was presented as being associated with English Heritage, a major charity that manages over 400 historic monuments, buildings and places in the United Kingdom.
While Cottle has put his Instagram on private, his biography does claim he will be appearing at the Tate Britain, a historic art gallery in central London, on June 10.
---
Reduxx is a newly-launched independent source of pro-woman, pro-child safeguarding news and commentary. We're 100% independent! Support our mission by joining our Patreon, or consider making a one-time donation.