A project which involves nude camp retreats and BDSM workshops is led by a consultant for an organization that provides presentations to school children on "gender identity." TransBareAll is led by a senior employee at one of England's largest transgender charities, Gendered Intelligence, which has received substantial government funding.
TransBareAll (TBA), a project set up in 2009 by trans activists Lee Gale and Jay McNeil, hosts events which include "naked space" for young women who identify as transgender. The events are residential weekends, organized several times annually, and offer workshops on topics such as "sex, gender outside the binary, BDSM, body confidence," according to its website.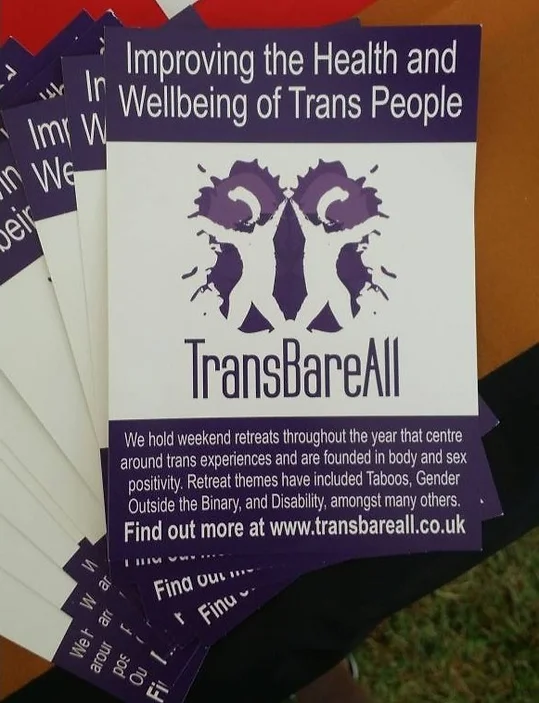 "One of the founding principles of TBA is around supporting body confidence. Our events include naked space in which everyone present is welcome to wear as little or as much clothing as they feel comfortable in," the TransBareAll website reads.
Lee is quoted as saying, "We found that when people took their clothes off, the conversations changed. Because they had already bared their physical self, they were more open to baring other stuff as well."
TBA also states it hosts residential weekends involving a "show and tell session" wherein attendees "can show any part of their body and talk about the significance of that."
Recently, the group has been reportedly targeting young women with eating disorders.
A residential weekend event set to be held in November, "Nutritional Relationships," is described as an opportunity for participants to "take a tender and sensitive look at our relationships with food and eating." The program costs as much as £140 (approx. $176 USD) to attend.
TransBareAll founders Gale and McNeil both have ties to Gendered Intelligence, a charity set up in 2008 to provide services such as "gender diversity" employee training and workshops aimed at schoolchildren from "primary age to the graduate level." McNeil is a researcher at Lancaster University's Division of Health specializing in gender studies and has given presentations at Gendered Intelligence conferences. Gale works as a Senior Trainer Consultant at Gendered Intelligence.
Gendered Intelligence (GI) has been criticized for running workshops within schools on the topic of gender identity for children as young as seven, and for having provided dedicated "mentors" to adolescents. The group also offers employee "gender diversity" training and hosts transgender-focused camping trips, which their website states is "open to young trans people from the age of 11 – 25 years."
A resource for "young trans people" on GI's website titled Knowledge is Power offers tips on "medical transition" and recommends the drugs euphemistically referred to as "puberty blockers." The packet also gives suggestions on breast binding for young women and girls, and links to online shops which sell prosthetic penises for females known as "packers."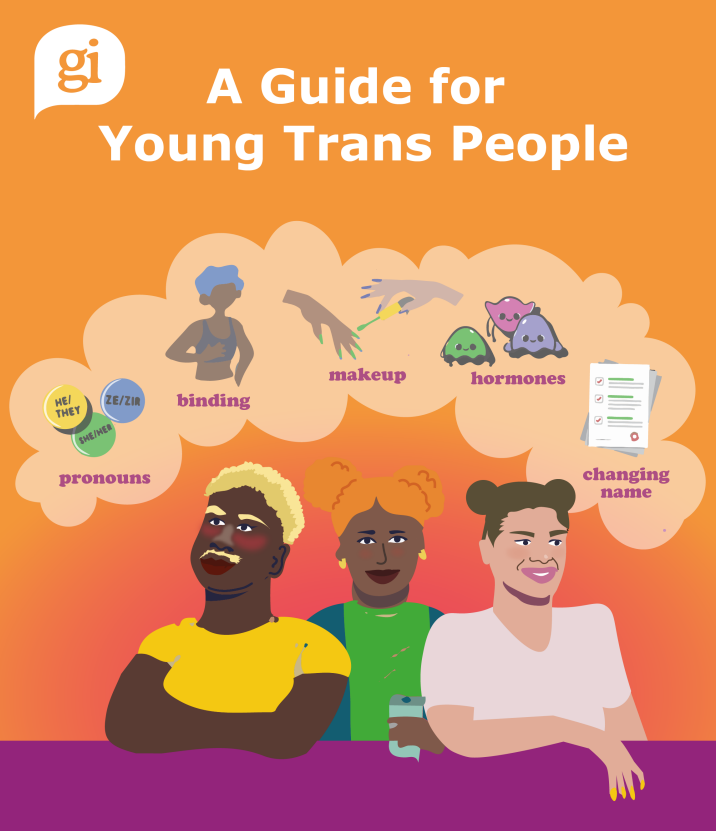 The charity has received significant subsidization from taxpayers. UK-based news outlet The Sun recently revealed that Gendered Intelligence was given nearly £100,000 (approx. $125,000 USD) of taxpayers' money by London mayor Sadiq Khan of the Labour party. In the past, the trans activist charity has received contributions totaling £38,750 (approx. $47,800 USD) from The National Lottery Community Fund.
In 2019, one woman who had attended an event hosted by Gendered Intelligence came forward under the condition of anonymity to raise concerns about sexual elements being mixed in with the training session.
The event she had attended, titled "Kiss My Genders," was a combination of an art exhibition and a gender diversity workshop aimed exclusively at primary and secondary school teachers and higher education lecturers.
The training session and art exhibition was led in part by a representative from Gendered Intelligence, and teachers were instructed to withhold information from parents regarding their children's gender identity. Participants were also notified in advance that the exhibition would contain "nudity and some sexual content."
While speaking with Transgender Trend – a website focused on child safeguarding run by author and educator Stephanie Davies-Arai – the woman recounts how she and other participants were shown photos from the opening night event which depicted one of the artists in "S&M gear."
"There were several more photos which were really depicting various BDSM practices, and incredibly a very close up photo of an erect penis. This is when I really began to think there must be an age restriction on this show of at least 15, and if so what was the point of bringing a bunch of schoolteachers to look at this. What age of kids are they thinking about?" the attendee remarked.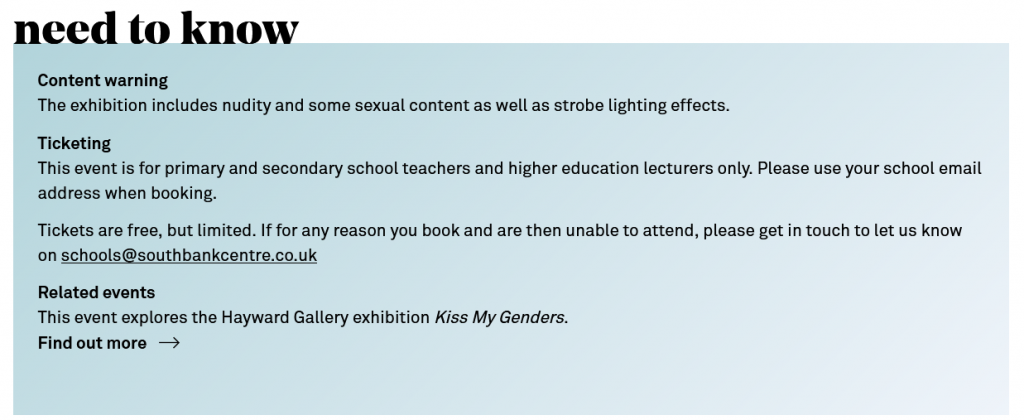 "So I approached the school program manager and asked her, was it age-restricted? She said 'no' it wasn't but that parents were given an advisory warning. I explained to her that that some of the exhibition material was actually pornographic in nature, and that in particular rubber fetish was a theme. She said that 'parents know their kids best,'" the primary school teacher said.
One representative who spoke to the teachers, identified only as "Dex," stated that sex was "assigned at birth" as part of a "diagnosis" by doctors. Dex also claimed it was a form of violence to prohibit a person from using facilities such as restrooms designed for the opposite sex.
Dex, described by the source as a male who identifies as non-binary, revealed that he was currently mentoring a 9-year-old child in a school through Gendered Intelligence.
Maya Forstater, a well-known women's rights campaigner in England and founder of advocacy group Sex Matters, told Reduxx that the connections between TransBareAll and Gendered Intelligence were "extremely concerning."
"Gendered Intelligence is a charity that is funded by the London Mayor's office and the National Lottery. It is seen as respectable and trusted, and invited into schools and to advise parents and train professionals," Forstater said.
"It is extremely concerning that such an organization seems to have a close working relationship with an informal offshoot group where vulnerable young women are invited to weekends away in remote locations to undress and bare their souls."
Forstater explained that the youth involved in the program were particularly vulnerable, and expressed ample concern about what they were being exposed to during their weekends away from family.
"Vulnerable young people, who may never have stayed away from their family before, outside of school trips or organized youth groups, are being invited to graduate on from Gendered Intelligence weekends to 'sex positive' weekends away where they undress in an apparently therapeutic setting, and share bedrooms with strangers. It is not hard to see how vulnerable young people can get in over their heads in this situation," she said, going on to describe the situation as potentially dangerous.
"Holding retreats involving nudity and sexual contact where people are likely to be extremely vulnerable is dangerous. Grooming is when a person builds a relationship with a child, young person or an adult who's at risk so they can abuse them and manipulate them into doing things. Gendered Intelligence builds relationships with vulnerable young people and rather than warning them and their parents to see the red flags in this situation encourages them into it."
She added: "At the same time it encourages them to view anyone who questions their teachings as transphobic. This is cult-like behavior."
Both TransBareAll and Gendered Intelligence served as consultants on a controversial academic study funded by the The Economic and Social Research Council (ESRC), which resulted in a paper calling for pregnant women who identify as transgender to disregard the health of the developing child and to continue on a regimen of exogenous testosterone.
The paper, "Medical uncertainty and reproduction of the 'normal' – Decision-making around testosterone therapy in transgender pregnancy," claims that concerns over potential adverse health impacts on a growing fetus are a result of pregnancy being seen as "highly-gendered."
"We argue that health care providers' precaution-focused labor in this highly-gendered context of pregnancy care seems driven largely by their concerns about producing normative offspring rather than non-normative gestating patients themselves," the paper's authors state.
The study was slammed by its critics for "violating the principle of 'do no harm'" and of allowing ideology to interfere with evidence-based research.
---
Reduxx is your source of pro-woman, pro-child safeguarding news and commentary. We're 100% independent! Support our mission by joining our Patreon, or consider making a one-time donation.