Content Warning: This article contains graphic details of crimes committed against children, and a person with a disability. Reader discretion is appreciated.
A trans-identified male who raped two 9-year-old girls before torturing and murdering his developmentally disabled cellmate has been "offering" his "expertise" to policymakers on the issue of transgender inmate rights.
On June 3, Patricia Elaine Trimble, penned an article for the Prison Journalism Project (PJP), a non-profit organization that claims its aim is to empower "incarcerated journalists" by providing them a platform. Trimble, a regular contributor for PJP, wrote about preparing a presentation for a class at a Missouri University after having been contacted by a Professor of Criminology there.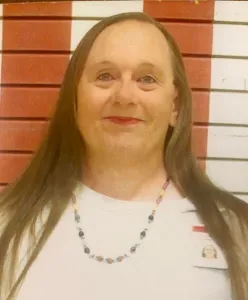 "It is not unusual for me to be asked to write an article or story about things in my wheelhouse. I am, after all, a transgender woman, feminist, activist and advocate for the incarcerated LGBTQ+ community," wrote Trimble, adding that one of his papers on discrimination against Queer inmates was published by the LGBTQ Policy Journal at Harvard University in 2019. That same year, Trimble was sympathetically profiled by Vice in an article on being incarcerated while transgender.
While Trimble has been featured in multiple recent news articles, and has written plenty of his own work, there is often no mention of why he is in prison to begin with.
Born Patrick, Trimble was convicted in 1978 of the brutal rape of two 9-year-old girls in the city of St. Charles, Missouri. Trimble came upon the two girls playing near a marshy area, and earned their trust by helping them retrieve a rope they had been trying to grab out of a tree to play with. Initially acting friendly towards the girls, he then showed them some "tricks" with the rope, ultimately using his control of the cord to tie it around each girl's wrist under the pretense of showing them a knot, and using the leverage to drag them to his car. The girls were then taken to a remote, wooded area where Trimble proceeded to orally and vaginally rape them.
A 1983 digitized Court of Appeals decision provides disturbing testimony from the investigation, in which both victims describe their ordeals in graphic detail.
But while in prison awaiting the final verdict on his case, Trimble would commit another heinous crime, making what the court would later describe as a "slave" out of his developmentally disabled cellmate before murdering him.
Jerry James Everett was in jail awaiting trial for stealing a van. After being placed with Trimble, Everett was subjected to routine "physical and sexual humiliation" and torture.
According to a court document, Trimble "… forced the victim to have both oral and anal intercourse with him, compelled him to wear a "bra" around the jail for the entertainment of the other inmates, and forced him at one point to display to the other inmates a rag that had been stuffed into his anus." Trimble prostituted Everett to other inmates, and even offered to sell him to a member of the prison staff for a carton of cigarettes. Trimble also tortured Everett, making deep gashes in his flesh using burnt shampoo bottles.
The court noted that Everett was significantly smaller than Trimble, standing 5'10 and weighing 145lbs, while Trimble was 6'1 and weighed 210lbs.
A few weeks after beginning the sadistic abuse, Trimble advised other inmates he was planning on murdering Everett to prevent him from ever informing anyone outside of the prison of what had happened. He also stated that he was worried about being sent to prison if convicted solely of raping the two young girls, and wanted to "catch something much bigger" by committing a murder.
On November 12, Trimble forced Everett to pen a suicide note, and strangled him to death using towels. At one point, Trimble twisted the fabric so hard that he "fractured" Everett's neck. After murdering him, Trimble hung his corpse using the towels so as to stage that he had killed himself.
The court document states that Everett was "slow, and may never have fully comprehended what was happening to him."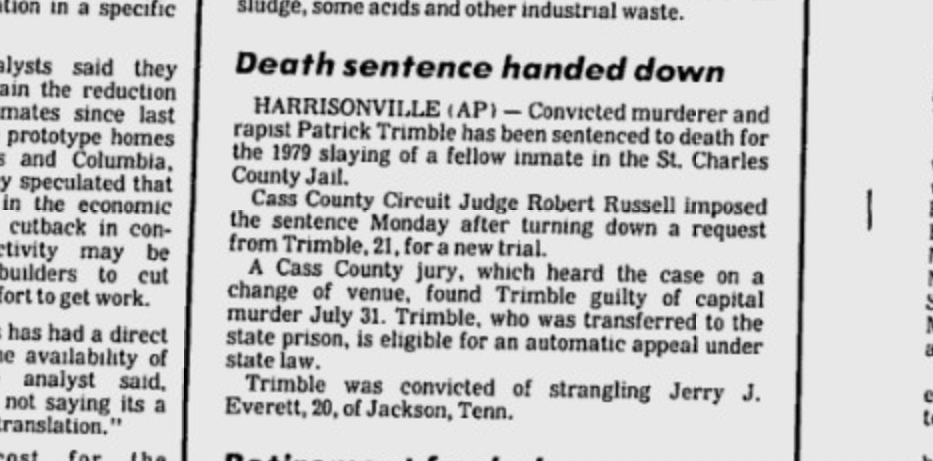 In 1980, Trimble was sentenced to death for his crimes — but, in 1985, the decision was commuted to a life sentence without the possibility of parole for 50 years. He is currently incarcerated in a men's maximum security prison in Missouri, which does not currently have prison self-identification housing policies.
According to the 2019 profile by Vice, Trimble began hormone replacement therapy in 2018 after being diagnosed with gender dysphoria. Trimble learned about the condition in 2015 after reaching out to an LGBTQ organization for support services following an alleged assault he experienced by a fellow inmate.
"I'm reading that, and I'm like 'my God… that explains my life,'" Trimble told Vice of the pamphlet. In the same article, Trimble credits another trans-identified male inmate at his institution with helping him get access to 'gender affirming' items.
Less than one year after beginning hormones, Trimble began appearing as a contributor to various LGBTQ and trans-centered publications. In none of his contributions to various publications does Trimble mention what he is in prison for, but rather maintains the focus on his apparent struggle against what he frames as an oppressive, transphobic system.
In 2021, Razvan Sibii, a senior lecturer in journalism at the University of Massachusetts, Amherst, praised Trimble for his "advocacy for, and mentoring of, LGBTQ people in prison." That mentoring, which includes helping other trans-identified males gain access to benefits after declaring a transgender identity, had allegedly earned Trimble the nickname "Mother."
Trimble recently published a book titled Finding Purpose: One Transgender Woman's Journey, which is currently available on Amazon. Trimble's Amazon profile states he is a "feminist, activist, and advocate for the incarcerated LGBTQ+ community." The profile also suggests he was wrongly incarcerated for the rape of the two 9-year-old girls in 1978.
Disturbingly, Trimble is hardly the first dangerous male offender who became a lauded activist after adopting a transgender identity.
In February, Reduxx revealed toddler rapist Jeffrey Willsea was operating a highly-regarded, award-winning trans activist under the name Xena Grandichelli.
In 1994, Grandichelli pleaded guilty to 11 counts of sexual abuse involving a 3 year-old girl and was designated a sexually violent offender. His sex offender registration categorizes him as a risk level 3, which denotes the highest recidivist risk and a threat to public safety. New York State law restricts level 3 sex offenders from being within 1,000 feet of a school.
Yet despite his disturbing criminal past, in 2017, Grandichelli was a panelist representing "women's experiences of incarceration" at Columbia University. The year prior, he had spoken at New York University on the topic of incarceration and trauma, and led a workshop on trans issues for the National Lesbian, Gay, Bisexual, and Transgender People of Color Health Conference.
Notably, he has also partnered with the Sylvia Rivera Law Project (SRLP) and was designated as a Movement Building Team member.
---
Reduxx is a newly-launched independent source of pro-woman, pro-child safeguarding news and commentary. We're 100% reader-funded! Support our mission by joining our Patreon, or consider making a one-time donation.