This is an exclusive joint report brought to you by Reduxx and The Publica.
---
A UK woman has been summoned for an interview by Derbyshire Police over alleged "transphobic" behavior during her hospital stay at Chesterfield Royal Hospital.
Toni Smith* says she received the notice just after being released from the hospital's mental health unit where she had been seeking treatment following a traumatic episode related to her past abuse by a trans-identified male.
Speaking to Reduxx and The Publica for an exclusive joint report, Smith explained that she was voluntarily admitted to Chesterfield's Herrington Unit in January after contacting emergency services herself and explaining that she had self-harmed.
Smith is a survivor of repeat sexual and physical abuse — abuse she says she suffered at the hands of her transgender ex-boyfriend.
"When we met, he was a bodybuilder. His biceps were bigger than my head. I'd never met anyone as big as him." Smith says, explaining that the two became an item in 2017.
Just over one year into the relationship, Smith says she discovered that her partner had a proclivity for wearing women's clothing and expressed a desire to transition.
"It completely blindsided me. I had thought for a while that he had [body] issues… at first, a lot of the habits he had were similar to the issues my body dysmorphia caused me. So I thought it was similar."
Smith notes that while she was not hostile to her boyfriend's decision, she was not interested in affirming his declaration.
Given the gender ideology debate was still far-removed from mainstream popularity at the time, Smith says she had never given too much thought to the politics surrounding transgenderism
However, her feelings about her partner's "transition" were mixed.
"I knew straight away that I would not stay in the relationship. But I felt sorry for him, I wanted to help him feel comfortable with whatever life he was living, and I thought we could part as friends after that."
But it wasn't long after that Smith says her partner became physically abusive towards her and their disagreements would often turn violent.
"He abused me horrifically," Smith alleges. "One time, he sat on my chest and strangled me until I passed out."
The violent altercation resulted in police intervention. At first, Smith's boyfriend claimed she had been abusive towards him. But later, Smith says he tried to blame it on his gender identity issues.
"He told me that the reason he'd strangled me and was so horrible was because he was jealous of me," she explained.
Smith says the abuse continued to escalate, with her boyfriend's gender identity becoming a catalyst for the continued deterioration of the relationship and her mental health.
"He would take my make-up and accuse me of cheating. He controlled the money but would message his family claiming I was spending it on myself or drugs. He also began coercing me into having sex with other men for money," Smith says, explaining that "at first" he didn't force her, but would instead invite men over and put her on the spot.
"One of them, near the end, injured me quite badly. [My partner] knew it was too much because it was the last time he made me do it. I think with others he told himself he wasn't abusing me because I eventually gave in. He thinks that's consent," Smith says. "There was a lot of blood. I started getting pains after that low down in my stomach. After I left him one day I collapsed and started convulsing and the hospital found my birth control coil had been dislodged and was basically stabbing into my cervix and embedding in the inside of it."
Smith provided Reduxx and The Publica a number of covert videos she had recorded while in the relationship. In one, he admitted to spraying a household cleaning disinfectant down her throat because she accidentally got facial toner on him while she was spritzing it on her face.
In another video from April of 2020, Smith captured an interaction with her partner, who is seen wearing long red-dyed hair and pink pajama pants, becoming angry at her for singing in the bedroom — something Smith says she was doing to block out the verbal abuse he had been directing at her.
The interaction ends with him storming out to shut the house's electricity off, leaving Smith in pitch-black darkness while he calls her "abusive."
Smith alleges that after she stopped recording to go turn the electricity back on, he kicked her into a wall.
Disturbingly, Smith says her partner then reported her for a "hate crime" for not sufficiently affirming his gender identity — something she says had happened multiple times before in their relationship.
Police attended the residence, but classified it as a simple domestic dispute with no intervention needed.
The next day, Smith decided to end the relationship.
"The day I left, I was begging him to get help. He told me he wouldn't … so my friend called me a taxi and I left. I went up to the north of England, at which point I suppose he realized I was not actually going to come back to him. He started threatening to kill himself unless I did, but I refused."
Over the coming week, police contacted Smith with questions about the relationship, clearly concerned about the distressing number of calls that had come out of the residence over time.
Smith finally opened up to officers about the abuse after the relationship ended. Merseyside Police arranged for her to record a video statement, and Derbyshire Police took over the case.
In June of 2020, two months after Smith left, her ex was arrested while police investigated Smith's claims of having been sex trafficked by him.
"The reason it took them so long between my statement and arresting him was because they went through every report he'd made against me. He'd been reporting me without my knowledge and there were so many reports it took them a couple of weeks to make sure they'd closed all of his, which they said they now regarded as malicious and false," Smith explained.
Reduxx and The Publica reviewed communications exchanged between Smith and a constable with the Derbyshire Police, in which "she/her" pronouns were used for her abuser.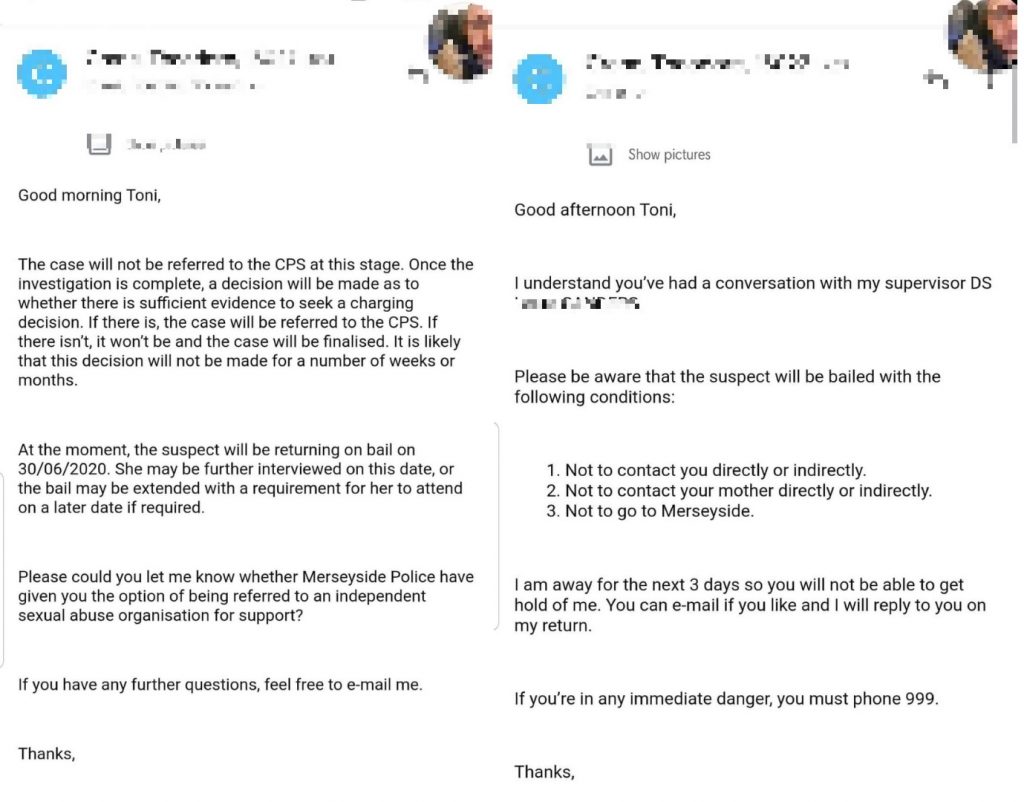 No charges were ultimately pursued and minimal details were provided to Smith on why that decision had been reached.
"[The constable] came and said that his superior felt there wasn't enough evidence and refused to even ask the crown prosecution service for a decision. He just closed it with no further action."
Though Smith expresses her relief that the relationship had ended, she continued to struggle with her mental health even after the break-up.
She experienced depressive episodes, self-harm, and severe anxiety. At times, Smith says she was scared to leave the house out of fear she would see one of the men who had been apart of the sexual abuse she endured while with her ex.
In January of 2023, Smith says she had a severe self-harming episode, and contacted her local hospital for help.
She was directed to the emergency room at Chesterfield Hospital due to a lack of space, and was ultimately admitted to the Hartington Unit, the hospital's psychiatric facility. Smith was placed in the female section for treatment, where she would spend the next few weeks rehabilitating.
While there, Smith befriended a few other female patients in the unit — one of which, unbeknownst to Smith, identified as non-binary.
"There was no mention of her being non-binary. I didn't know. I had heard her make a comment about another patient, saying that she was 'transphobic and no mental illness causes that,' which I thought was strange," Smith says, continuing: "But there was no mention of her identity specifically. She seemed to be on a low-end of having a mental illness and was very functional."
While the two had an amicable relationship at first, things went downhill after the non-binary individual overheard Smith discussing her ex-partner with another patient.
"She heard me talking to this other lady in the common area … I was opening about my ex and mentioned he was transgender," Smith explained. She says that after she came in from an evening cigarette break, the non-binary patient was "screaming at the top of her lungs" about trans rights.
"She was standing in the communal area, shouting 'trans women are women,'" Smith says. "She was shouting it. This wasn't a private conversation."
Smith explains she immediately perceived the outburst as being directed at her, and approached the young woman to relay her own experience.
"I told her, 'go and get raped by one and tell me how much of a woman they are,'" Smith says. "I didn't shout at her, and then I walked off and went to bed."
It was the next day that the incident occurred which was ultimately reported to police.
"I got into an argument with a nurse who kept insisting the shouting patient was non-binary, not female. That gaslighting affects me in a strange way, because of my experience. [The nurse] told me, 'they're not a woman,' and I said, 'yes she is, she's on a women's ward, for a start.'"
Smith says she got very upset, and the non-binary patient overheard the conversation and began shouting from another area, recognizing the conversation had been about her.
Smith's new partner would later call the hospital to complain about the nurse's conduct, concerned that they had caused her emotional distress.
"We could not work out how this hospital was, on one hand, supposed to treat me for my trauma which they understood was caused by a transgender male, and on the other, argue with me that a woman was not a woman."
Smith says the incident made her want to leave the hospital because she felt increasingly distrustful of the staff.
She was discharged at the end of February, and, approximately one month later, was issued a notice from Derbyshire Police informing her she was required to attend the station for a formal interview.
In the letter, police explain Smith was alleged to have "performed a public order offense" in which she "directed words deemed offensive towards another individual on the ward."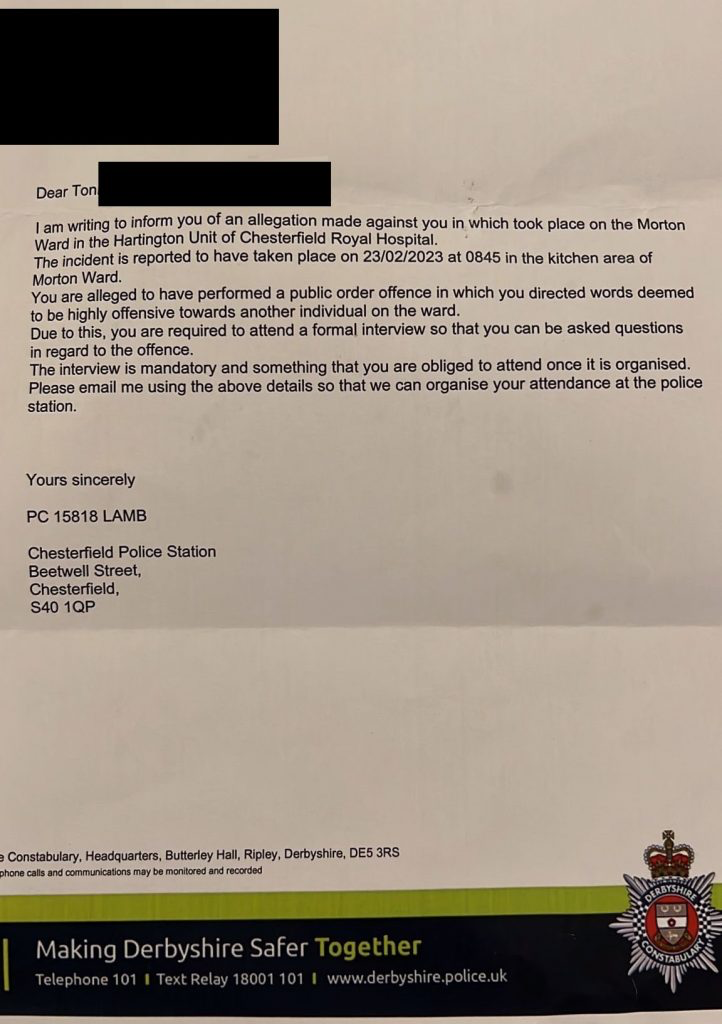 The date on the letter corresponds with the conversation Smith had with the nurse in the kitchen about the non-binary patient.
Smith explained that she was incredulous about the letter, taking particular issue with the fact police issued it despite knowing she had been a patient on a psychiatric ward receiving treatment for her mental health.
"This specific thing does not frighten me. I know they won't be able to prosecute me. I know the law well enough… but the fact that the police are able to harass women because of their speech is frightening," Smith says. "There's nothing I said that is criminal. But it does worry me that they are doing this to women."
Reduxx and The Publica reached out to Derbyshire Police for comment but did not receive a response to the inquiry.
In the interim, Smith says she has no intention of contacting police, noting that they have her contact information but have yet to reach out to establish a date for her station interview.
"If they want me to come down, they know where I am. This whole asking me to be proactive to arrange for my own police interview… I'm not going to do that. I shouldn't have to."
Smith only recently became more involved in discussions surrounding gender identity through online communities, seeking support for her past experience having been abused by a trans-identified male.
"This whole movement… it's a misogynistic men's movement, I feel. It has nothing to do with 'trans rights.' They're going after vulnerable women, and demanding we change the way we see the world."
Disturbingly, Smith is not the first woman in the United Kingdom to face police intervention after "offending" a transgender individual.
In January of this year, a disabled woman in South Wales had her home searched and was subjected to police detention after being reported for committing a "transphobic hate crime" for putting up stickers raising awareness about domestic violence.
The next month, Caroline Farrow, a mother of five who has been outspoken against gender ideology, had her house forced into by Surrey Police after her social media activity was reported as criminal. Farrow had previously been investigated by police in 2019 for misgendering a trans-identified male on Twitter.
*Smith's surname has been changed to protect her identity.
---
Reduxx is your source of pro-woman, pro-child safeguarding news and commentary. We're 100% independent! Support our mission by joining our Patreon, or consider making a one-time donation.