On of the largest women's rights activist organizations in the United States has come under fire for a series of social media posts attacking feminists who advocate for single sex spaces. But as the backlash has continued to swell, many are pointing to the group's history of platforming dangerous males.
On July 20, the official Women's March Twitter account sparked widespread discussion after posting a series of tweets attacking "TERFs" and asserting that males could become women.
Women's March rose from an international protest held on January 21, 2017 – the day after U.S. former president Donald Trump was elected. It was the largest single-day protest in U.S. history, and prompted demonstrations of support all over the world.
Responding to the statement made by the Women's March, many commenters expressed disappointment, which they saw as belittling those who disagree with the view that males can identify into womanhood.
But the organization doubled down on the taunts, referring to their critics as 'transphobes' and demanding that discussions surrounding reproductive rights omit the word 'woman' and instead utilize the phrase 'people who can give birth.'
But while many are only just becoming aware of the organization's positions which appear to place males ahead of the needs of women, Women's March has a lengthy history of doing so.
On January 22, 2017, Women's March invited Cherno Biko, co-founder of the organization Black Trans Lives Matter, to be a keynote speaker for their main march. Just one year prior in July of 2016, Biko had penned a lurid admission to having sexually assaulted a transgender female. Biko quickly deleted the post, but the Medium post was archived by concerned readers.
In the post, Biko wrote that the purpose of the assault had been to impregnate the woman with "non-binary babies" in an attempt to create a "holy trinity" family.
"I found the second piece to the holy trinity I wanted to create, complete with a black trans man and our black non-binary baby… The first time we had sex I can barely remember, as it followed a night of drinking and smoking but I know that we broke two of the most important rules… consent and safe sex. When [she] told me that [she] felt used and violated, I immediately apologized."
Throughout the admission, Biko attempted to garner sympathy from the readers: "The next morning I called my mother in tears and asked, 'What happens when the victim turns into the abuser?'"
Just months before the admission, Biko had given a speech at the White House for Trans Day Of Visibility, and attended The United State of Women, hosted by President Obama, and First Lady Michelle Obama.
Disturbingly, Biko is not the only case of Women's March platforming a reportedly dangerous male.
In 2018, the official Women's March Twitter account shared an article written by Andi Dier, a trans-identified male, after he heckled actress Rose McGowan during a book launch event in New York. McGowan, a leading Me Too campaigner, was promoting her memoir Brave, in which she details having been raped by now-disgraced movie mogul Harvey Weinstein.
As Rose was sharing a story with the audience regarding her grief and recovery from assault, Dier began screaming at her from the crowd, shouting: "We get raped more often. We go through domestic violence more often. Trans women are in men's prisons, and what have you done for them?"
Despite derailing the testimony of a female survivor of sexual assault, Dier was provided widespread sympathetic media coverage after McGowan was deemed "transphobic" for having asserted that females experienced a unique oppression on the basis of their sex.
As Dier received lauding media attention, disturbing allegations that he had raped young girls began to surface.
Tweets dating back to 2013 accused Dier of preying on girls as young as 11 years old. Multiple women came forward stating they had been sexually abused by him as children, while some pointed out that he had been sharing animated child sexual abuse materials (CSAM) on his social media accounts.
"Andi Dier personally sexually assaulted me and two of my friends when we were 13 years old," read one of the claims. A tweet from 2013 asked, "Does Andi Dier still go to the mall every weekend to hang out with 13 year-old girls?"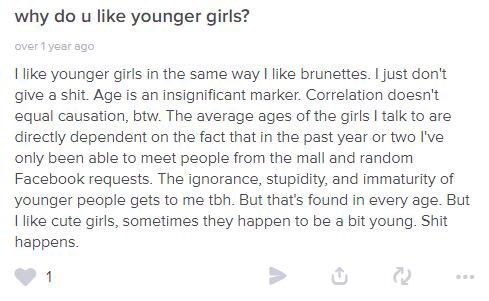 Screenshots began to circulate of Dier's AskFM blog, which he promptly deleted, showing instances of Dier admitting to having a pedophilic interest in young girls.
"I like younger girls in the same way I like brunettes… Age is an insignificant marker. I like cute girls, sometimes they happen to be a bit young," Dier wrote.
"It's f-cked up for someone to tell me I don't deserve my freedoms because they feel uncomfortable," Dier wrote in another blog post. "You don't mystically wake up one day with the ability to consent. You have it before you're 18."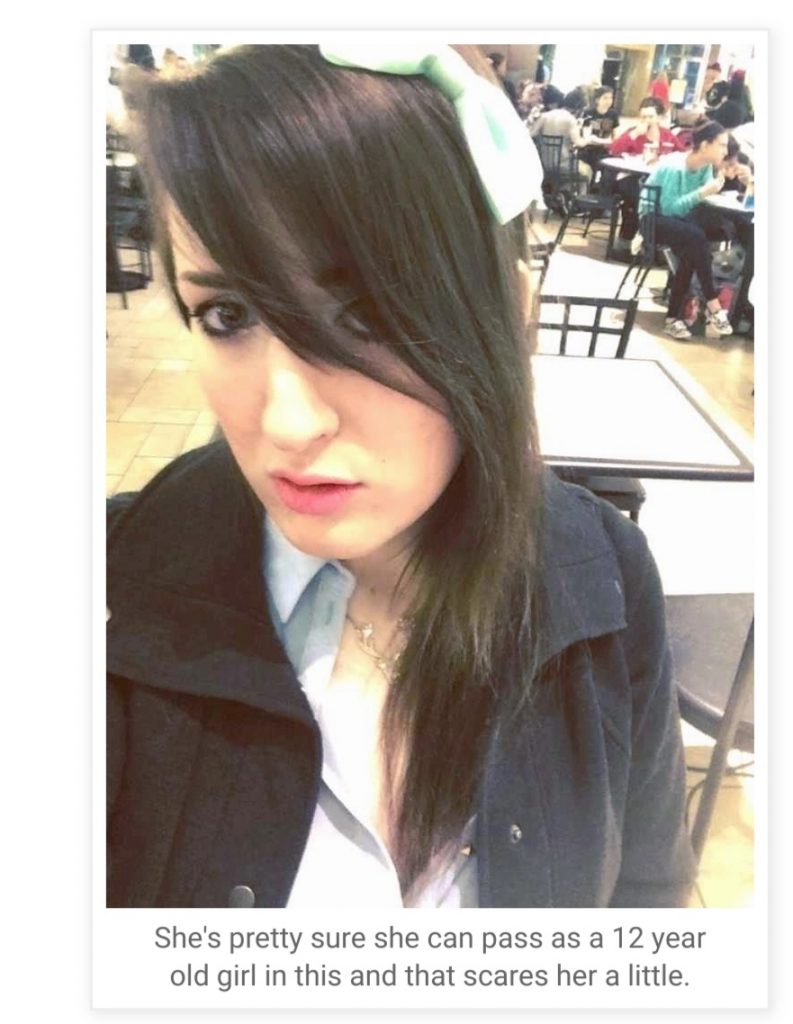 In a fawning interview with Dier posted to a personal blog, a photo of him wearing a ribbon in his hair is captioned: "She's pretty sure she can pass as a 12 year-old girl and that scares her a little."
It was discovered Dier was also active in Reddit forums dedicated to sharing rape-themed pornography, while simultaneously posting in subreddits for rape survivors.
In r/rapefantasies, Dier posted a photo of himself with the caption, "trans lesbian r*pemeat needs to be f*cked straight." In the community intended to support victims of sexual abuse, Dier was shaming women who shared stories of survival.
"If a girl was obeying me after I said 'get on your knees', I'd think she was consenting." He told one victim. In another case, Dier told a survivor: "you can't compare [rape] to not wanting to do something and going along with it." Dier also shared his sexual assault fantasies to the survival subreddit.
Among accounts that were retweeted by Dier included "leggyteenfilms" and "teenobsessed". Dier was 'liking' photos of underage girls and following several accounts that either claimed to be minors or self-described as "MAPs" – an acronym for "minor-attracted person."
Despite Biko and Dier's disturbing histories, Women's March has never issued an apology or retraction.
---
Reduxx is a newly-launched independent source of pro-woman, pro-child safeguarding news and commentary. We're 100% reader-funded! Support our mission by joining our Patreon, or consider making a one-time donation.