Feminists are expressing outrage after two biological males seized the top spots in the UK's largest fixed gear cycling race today.
Emily Bridges and Lilly Chant, both trans-identified males, took the first and second place spots, respectively, at today's ThunderCrit race at the Herne Hill Velodrome in London. Jo Smith was the only female to take the winner's podium, and was seen standing at third place with her child in a photo that began to circulate on social media after the race had finished.
Both Bridges and Chant competed in the "Lightening" division of the event, one intended to be for "cis women" but also includes allowances for "non-binary people whose physical performance aligns with cis women" and "trans men and women whose physical performance aligns most closely with cis women."
ThunderCrit advertises itself as the UK's largest and longest-running fixed gear cycling competition. On its home page, it states: "We are proud to be an inclusive team and event organizer, and we're committed to creating a welcoming and fun racing environment for all, regardless of ethnicity, sexuality or gender."
In describing the categories for the racing event, ThunderCrit asserts that they do not gender their divisions, but also says that "cis" males and "cis" females cannot choose their category and must race in the designated category.
For those who do not identify as "cis," ThunderCrit notes that they "trust competitors to select the category most appropriate for their performance," and does not require any proof of a competitor being in the process of a medical transition.
On Twitter, grassroots women's rights advocacy group @WomensRightsNet posted the breaking news. The announcement rapidly drew outrage from feminists who slammed Bridges and Chant's victories, with many noting that the males had left the female competitors working for third place.
So in a race that was women plus 2 men racing,the 2 men got first and second and the women were left to race for third?And if there had been a 3rd man in that race, then men would have got all 3 medals, plus the 3 medals in the actual men's race?Are people not seeing the problem?

— EmilyE (@7colourrainbow1) June 3, 2022
"One word for it. Boycott." User Annette Neary wrote, with many chiming in with similar comments in the replies to @WomensRightsNet's post.
"Women should stop competing in these events until the two men get fed up racing against each other every other week," another user said.
In an October 2021 post on his seldom-used Instagram, Lilly Chant stated he would have to wait 11 months before he'd have testosterone levels low enough to be able to "line up on the start line against women," yet he appears to have begun competing against females far sooner than that.
According to an article by Snowdon Sports, Chant was competing in women's cycling as early as April of 2022 representing Southampton University Road Cycling Club as a female.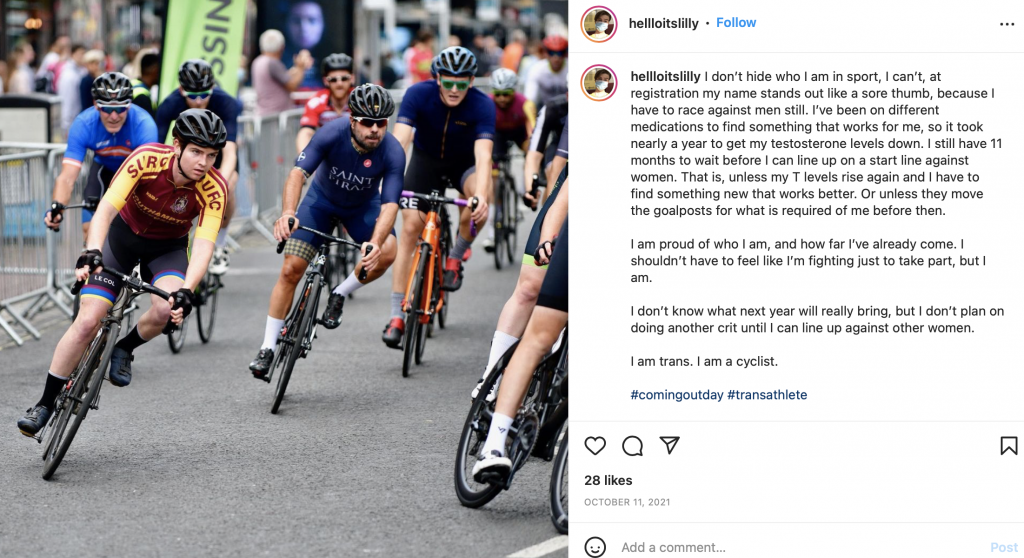 ThunderCrit's first-place holder, Emily Bridges, made headlines earlier this year after being barred from competing in women's championship cycling in the UK as he did not meet qualifying standards. After a review of his credentials, it was found that Bridges was registered with the UCI – the sports international governing body – as a male.
Bridges had previously won multiple national-level championships in the men's division, and had placed highly in the male category as recently as February of 2022, just weeks before attempting to enter the national Omnium Championship as a 'woman.'
In May, DIVA magazine – an entertainment and lifestyle outlet intended to be for lesbians – announced it was featuring Bridges as the cover star on its June Pride Month edition.
In recent months, an increasing number of female athletes have been coming forward to protest the inclusion of males in women's competitions.
A number of female swimmers have anonymously spoken to OutKick Sports News to condemn the behavior of Lia Thomas, a biological male who began competing in women's swim events last year after a long and successful tenure in men's swimming. After Thomas took home a title in the NCAA Women's Swimming Championship in March, Hungarian swimmer Reka Gyorgy penned an open letter to the NCAA criticizing them for not protecting female athletes.
On May 17, Taylor May Silverman, a professional skateboarder, posted a statement to her Instagram in which she called out the last Redbull Cornerstone skate event she took part in for allowing a biological male athlete to compete against women and take the top spot.
Despite protests from trans activists, studies have consistently affirmed that trans-identified male athletes retain a significant edge over their female counterparts, even after starting hormone therapy.
In 2020, a study released in the British Journal of Sport Medicine noted that trans-identified males were able to complete 31% more push-ups and 15% more sit-ups in one minute on average than a female Air Force service member. They also ran 1.5 miles 21% faster.
But even after two years on testosterone suppression treatment, the males were still 12% faster on average than biological females.
---
Reduxx is a newly-launched independent source of pro-woman, pro-child safeguarding news and commentary. We're 100% reader-funded! Support our mission by joining our Patreon, or consider making a one-time donation.