A Drag Queen who performed in front of children has been charged with 25 counts of child sexual abuse media possession after a lengthy investigation by law enforcement officials connected him to a disturbing Dropbox account.
Brice Patric Ryschon Williams is currently being held at Franklin County Jail in Chambersburg, Pennsylvania on a $100,000 bail he was unable to post. He has been charged with 25 counts of felony Class 2 child pornography, and 18 counts of criminal use of a communications facility.
According to the Tri-State Alert, Williams was nabbed after a lengthy investigation by law enforcement officials after the National Center for Missing and Exploited Children (NCMEC) submitted a tip to the Pennsylvania Office of Attorney General's Child Predator Section in May of 2020.
The tip noted that over 70 pieces of child sexual exploitation media had been uploaded to Dropbox, and the email associated with the account belonged to an account named 'Ana D.' A subsequent search of the IP address associated with the uploads led officials to subpoena Comcast for the location of the user's login.
Two months later, NCMEC submitted another tip to the Attorney General's office stating that 10 more sexually explicit child exploitation files were uploaded by the same user. Inspection of those files confirmed that at least 9 of the 10 files depicted child sexual abuse.
In September of 2020, a search warrant was issued to Dropbox on the account. Additional child sexual exploitation materials were uploaded during this time.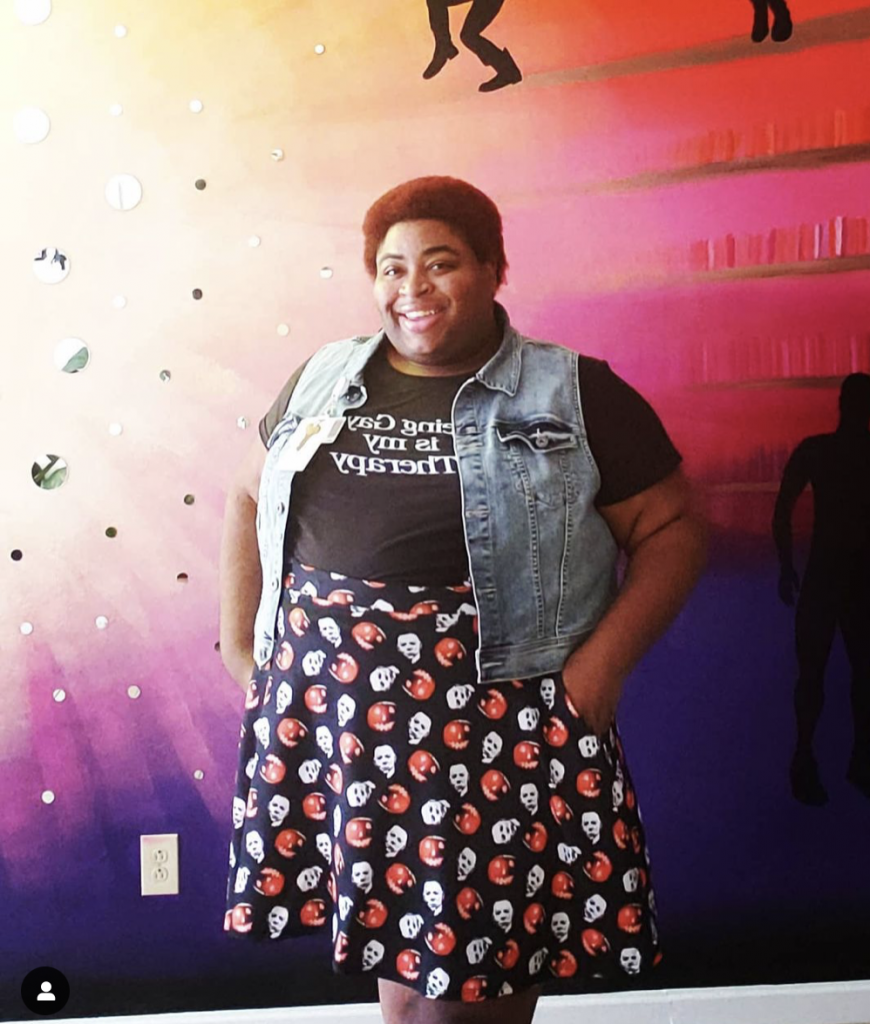 On October 23, 2020, the search warrant for the Dropbox account uncovered 135 files, including those previously tipped to the Attorney General's office by NCMEC. Months later, additional child sexual abuse materials were uploaded to the Dropbox as investigators continued to attempt to validate the files.
This month, investigators were finally able to obtain a search warrant for the Chambersburg-area home that had been suspected of being the origin of upload for the child sexual abuse material found on Dropbox. Williams was a resident of the home, and would later admit to being the sole user of the electronic devices in the residence. Investigators would find that 'Ana D,' the name associated with the Dropbox account, was a shortened version of Anastasia Diamond, Williams' Drag stage name.
While initially denying any wrongdoing, Williams would admit to searching for, possessing, and uploading child sexual abuse materials after investigators found exploitative videos on his phones. He also told police that he first saw child abuse media in 2014 on a messaging app, and that he eventually started uploading the files to cloud storage websites to trade files with other pedophiles.
Williams performed as a Drag Queen under the stage name Anastasia Diamond. Since his charges were announced, internet sleuths have uncovered videos and pictures of Williams performing for children.
In a video uploaded to his Instagram from 2017, Williams is seen dancing and strutting in front of a crowd of youth at the Pride Festival of Central Pennsylvania.
One of Williams' most recent posts on his Instagram is from February, in which he promotes the 2022 LGBTQ Pennsylvania Health Needs Assessment apparently in collaboration with the Bradbury-Sullivan LGBT Community Center.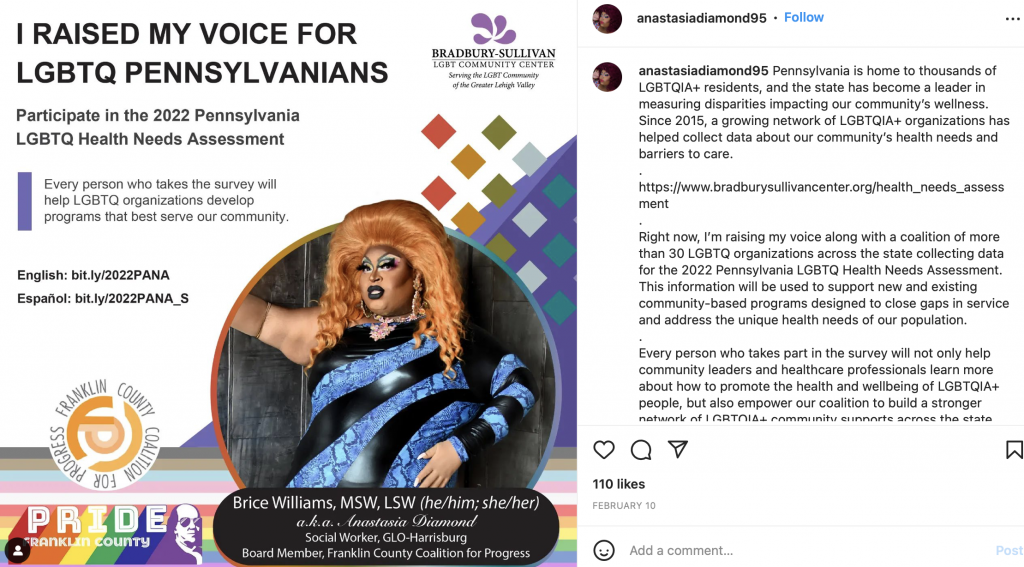 Williams appears to have been a very active member of the Pennsylvania LGBTQ and Drag Queen communities, with frequent posts to his social media pages showing he was a regular guest on podcasts and participated in many Drag events in his area. Last year, he was a featured speaker at GLO Harrisburg, which bills itself as a "safe space" for LGBTQ youth.
Williams next appearance in a large Drag show was scheduled for July 4.
Drag shows and their appropriateness for youth have become hot topics over the last few years, especially since the controversial spread of Drag Queen Story Hours across North America and Europe. In 2019, it was discovered that a registered sex offender had been performing at a Texas library for children as a Drag Queen.
Brice Williams is thought to be at least the seventh drag queen who has performed in front of children to have been arrested for child sexual abuse offences of late pic.twitter.com/PoRosQthPt

— ripx4nutmeg (@ripx4nutmeg) June 24, 2022
In May, footage from the DragCon LA convention sparked backlash after it was discovered that children had performed on stage with the drag queens, collecting cash 'tips' from the audience as they danced.
Earlier this month, a video of 'drag queens' performing provocatively for an audience of children at a gay bar in Texas went viral on Twitter, prompting massive backlash and raising concerns about child safeguarding.
The event had been subject to protests by right-wing advocacy group Protect Kids Texas, which stated on Twitter that they had 80 people outside of the venue voicing their concerns. The group also posted a video showing police showing up to the bar and escorting children from the venue.
---
Reduxx is your independent source of pro-woman, pro-child safeguarding news and commentary. We're 100% reader-funded! Support our mission by joining our Patreon, or consider making a one-time donation.