A Dutch national who campaigned for "pedophile rights" has been detained in Mexico after allegedly attempting to arrange for the purchase of a child.
Nelson Maatman was arrested in Mexico City on June 5, after an anonymous tip was handed to the Mexican prosecutor's office indicating that he intended to purchase an adolescent and sell child sexual exploitation material.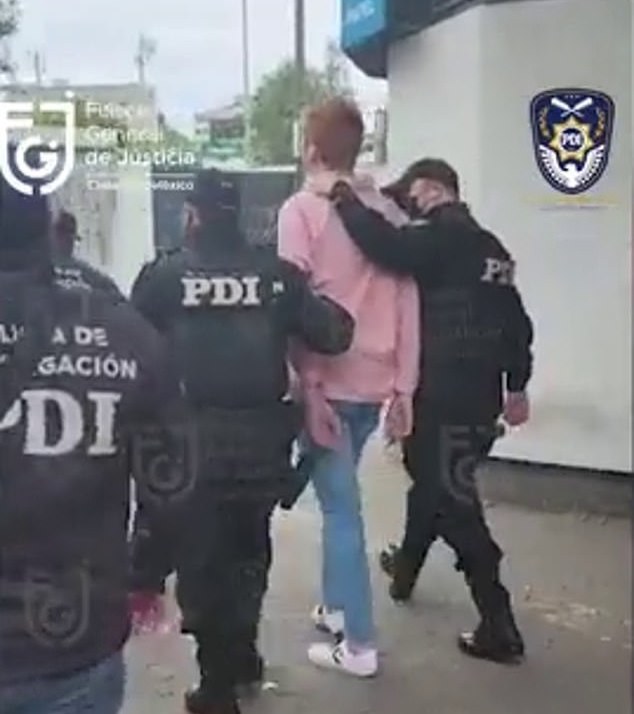 Upon arrest, police found Maatman in possession of 4 terabytes (4000GB) of child sexual abuse material across a number of external storage devices. Maatman also had photos of children in his clothing pocket, a weapon, and drugs.
After his arrest, Mexico City Attorney General Ernestina Godoy told press that Maatman had been identified as the leader of an international pedophile and child pornography network.
Maatman, 27, had fled the Netherlands in February while facing charges related to the possession of over 10,000 pieces of child sexual exploitation material found during an investigation at his home two years prior. He was released into the community pending trial under the condition that he not leave the country. Maatman was allegedly seeking political refugee status in Mexico.
Between 2014 and 2021, Maatman allegedly managed a website that pushed for the legalization of sex with children, claiming that they are capable of consenting to sexual relations.
In 2020, the same year that his home was raided, Maatman attempted to re-establish the banned pedophile association Vereniging MARTIJN, a pro-pedophile activist organization similar to NAMBLA which advocated for the normalization of pedophilic sexual abuse.
MARTIJN was banned and dissolved by the Supreme Court of the Netherlands in 2014 because its members promoted the sexual abuse of children. Two other former members, Marthijn Uittenbogaard and Norbert de Jonge, were sentenced in March to prison terms of four and six months for continuing the association. Uittenbogaard also founded The Party for Neighborly Love, Freedom, and Diversity (PNVD) in 2006, which advocates for legalizing child sexual abuse materials (CSAM) and lowering the age of consent to 12 years old.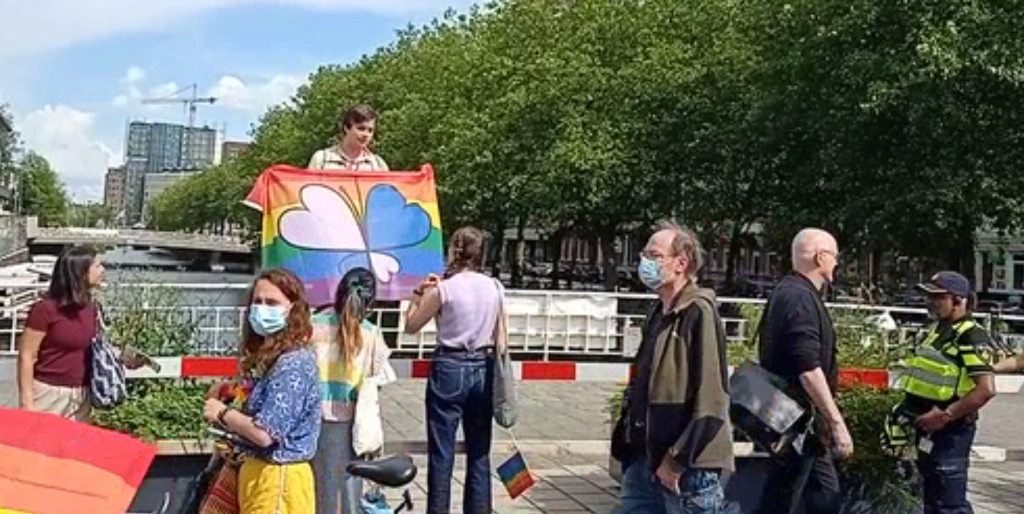 For years, Maatman has attended Pride events in Amsterdam. In 2021, he was photographed carrying a rainbow flag that he had fashioned to add a baby pink and blue pro-pedophile symbol. As the founder of 'Kinderbevrijdingsfront' (Children's Liberation Front) Maatman was spreading flyers which called for legalizing sexual intercourse with children.
In 2019, at another Amsterdam Pride event, Maatman was detained by police for promoting pedophilia. At the Pride walk, he was promoting "Pedo Pride" and handing out leaflets which read, "Fight for an inclusive pride! All sexual minorities should be welcome at pride. The community should be inclusive and give space to children, youth, and the people who love them, nepiophiles, pedophiles, hebephiles and ephebephiles (NPHE). Love knows no age and should be celebrated. It's time to once again support instead of exclude (sic) one another. It's been 25 years since NPHEs were officially part of the community. We need to be whole again. Support love!"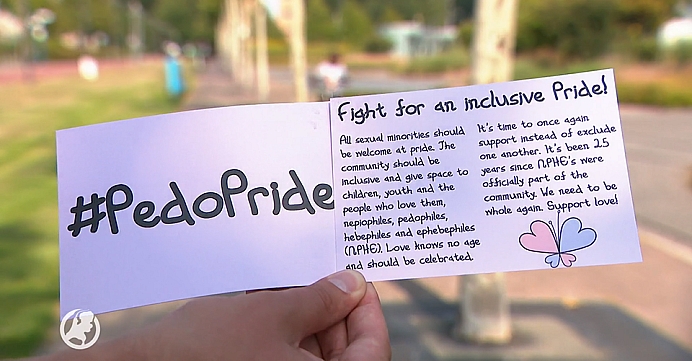 In February of 2020, Maatman gave a talk at the University of Amsterdam arguing in defense of pedophilia. The University of Amsterdam later issued an apology for inviting Maatman as a guest lecturer.
During his speech he spoke highly of professor Gert Hekma, a Dutch sociologist and former University of Amsterdam professor in the fields of gender and sexuality who has written extensively in support of pedophilia as a "sexual variation."
"Dutch universities are one of the last places I can speak frank (sic)," said Maatman. "Until 1994 pedophiles were part of the International Lesbian and Gay Alliance which just so happened to be 25 years ago. Not only that, but up until 2001 pedophiles were a common partaker in Pride Events in the Netherlands, and not just here," he stated during his presentation.
The International Lesbian and Gay Alliance is now known as the International Lesbian, Gay, Bisexual, Trans, and Intersex Association, but has retained its acronym of ILGA. In 1994, the ILGA was expelled from its consultative status with a United Nations body for having ties to multiple pro-pedophila organizations including MARTIJN and the North American Man-Boy Love Association (NAMBLA).
Reminiscing about the past movement to lower the age of consent while lecturing at the University of Amsterdam, Maatman spoke positively of how "political parties from left to right were talking in favor of children and youth rights over their sexuality, about lowering or abolishing the age of consent, child pornography and erotica was openly sold at every newsstand in the Netherlands."
Maatman continued: "There were pedo advocacy groups out in the open, pedo outings and movie nights, the Dutch Association for Sexual Revorm (NVSH) even had a group of over a thousand children, mobilized in a group called kindervuistje (childfist), the fist being the sign of resistance, of revolution, of emancipation, fighting for their rights to possess over their own bodies," Maatman said.
The Netherlands, the first country to initiate the medical practice of halting children's puberty by means of drugs referred to as "puberty blockers" in 1996, is a global hub for child sexual abuse material (CSAM).
According to the Internet Watch Foundation (IWF)'s annual report published on April 26, 62% of all CSAM globally is hosted by European Union nations. Out of the 156,300 URLs which included CSAM hosted on servers in EU member states, 66% were from the Netherlands. The country also accounts for 41% of the global hosting.
Maatman isn't the first "pedophile rights" activist to be detained on charges of participating in the sexual abuse of a child.
As previously reported by Reduxx in February, Ian Andrew Zearley was sentenced to 15 years in prison after being found in possession of child sexual abuse material.
The serial pedophile was arrested after law enforcement officials monitoring his internet access discovered Zearley had searched terms consistent with attempting to access child sexual abuse materials in breach of his release conditions.
According to the Department of Justice, Zearley had been searching for terms such as "real hardcore child porn" and "boys severely whipped and bleeding." Zearley also authored two stories that described, in graphic detail, the rape and abuse of young boys.
Zearley was the President of the Pedophile Associates of America — which had been granted full IRS tax-exempt status in 2018, and was registered as an advocacy and educational entity. The organization's status with the IRS wasn't revoked until May of 2021, and it was likely due to Zearley already being in police custody and not having filed the proper forms to maintain the exemption on time.
---
Reduxx is a newly-launched independent source of pro-woman, pro-child safeguarding news and commentary. We're 100% reader-funded! Support our mission by joining our Patreon, or consider making a one-time donation.