A Finnish serial killer who targeted young girls and women has been categorized as a "female" criminal by Wikipedia, prompting criticism on social media. Michael Maria Penttilä, 57, has been described by national media as the "only Finn to meet the Federal Bureau of Investigation's (FBI) definition of a serial killer," having sexually abused and strangled multiple female victims to death, including children. Penttilä was born Jukka Torsten Lindholm, but is also known as Michael Pentholm.
Penttilä has a lengthy criminal record, which was recently highlighted in response to the revelation that he is classified as a "female" by Wikipedia. Many women expressed their outrage using the hashtag "notourcrimes," which indicates opposition to male violence being recorded in statistics as having been committed by a woman.
Even as an adolescent, Penttilä committed sexually motivated and violent crimes. In 1981, at the age of 16, he abducted a teen girl, locked her in a basement, and beat her. Penttilä choked the girl with scarves and threatened to rape her, but she was able to flee. As punishment for the sadistic offense and a series of petty thefts, Penttilä was held at the Kerava Youth Facility in 1984 for one year.
Penttilä's first known murder victim was of his own mother, Laina Lahja Orvokki Lindholm, whom he strangled on August 26, 1985, just after his release from the youth detention center. However, the crime was initially considered accidental by authorities, and the verdict in Penttilä's case was ultimately decided to be wrongful death.
The next year, Penttilä met two 12 year-old girls and convinced them to accompany him to his apartment by promising to give them money to buy alcohol. He then locked one of the victims in the bathroom before using a belt to fatally strangle the other girl. Penttilä proceeded to rape the surviving girl, who was eventually able to escape after neighbors overheard her screams for help and contacted law enforcement.
It was only upon his arrest for the rape and murder of the young girls that the truth about Laina Lindholm's death was revealed. During interrogations, Penttilä described to police how he had waited for his mother to fall asleep before donning her blue leather gloves and one of her scarves and choking her to death. He told authorities he killed his mother because she had begun dating another man since divorcing his father, and because he blamed her for not attempting to secure an early release for him from the youth facility.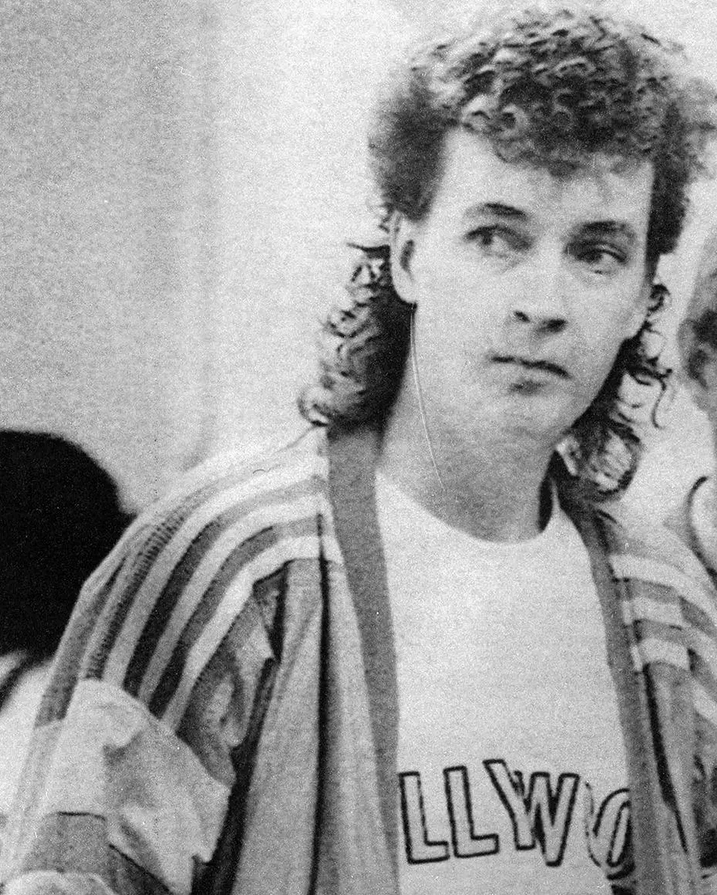 In March of 1987, the Oulu District Court ruled that Penttilä was guilty of the murders of his mother and the child, and sentenced him to 9 years and seven months' imprisonment. Despite this, the Rovaniemi Appellate Court intervened and held that Laina Lindholm's death was not a murder, but instead a lesser crime of negligent homicide, and reduced his sentence to seven years.
Disturbingly, Penttilä confessed that he visited his mother's grave after the killing.
Just one year after Penttilä was granted parole in May of 1992, he again choked a woman to death in his apartment in Kempele. The victim was a 42 year-old woman identified in press as Arja, and Penttilä admitted to causing her death, but claimed the murder was accidental and a result of engaging in the sadomasochistic sexual practice of erotic asphyxiation.
Months later and while in prison, Penttilä told law enforcement his chilling motive behind the slaying. He said that he had confessed to having a "sexual abnormality" to Arja. Before her death, he told Arja that he was only capable of sadomasochistic sex, which included bondage, whipping and strangulation.
The Oulu District Court sentenced Penttilä to 9 and a half years, and a psychiatric evaluation was conducted. The examination concluded that Lindholm was sane and aware of his actions, and was therefore guilty. Finnish media reported that "[Penttilä's] sexual inclination towards S/M sex and desire for strangulation did not show up in the examination because he focused on being as normal as possible."
Finland's Center for Legal Protection of Health Care also stated that Penttilä should be classified as an extreme danger to others, and the Appellate Court intervened and extended his prison term by one additional year.
In 2000, while incarcerated in Hämeenlinna Central Prison which houses both male and female inmates in separate wards, Penttilä began to wear make-up and dress in women's clothes. According to psychiatric reports, Penttilä had a preoccupation with a hyper-masculine and violent male ideal, despite his fetishistic crossdressing tendencies.
However, the prison's director soon forbade him from wearing make-up and dresses, citing concerns about security. Penttilä then filed a formal complaint to Parliament's ombudsman and attempted to argue that he was being discriminated against because female inmates were permitted to wear "men's clothes."
While in Hämeenlinna, Penttilä was granted permission to marry a woman named Hannele Pentholm, who was convicted of killing her husband and serving a life sentence. The two were married a short time, only two years, and after their divorce Penttilä adopted the name Michael Maria Penttilä and began claiming to be a lesbian woman.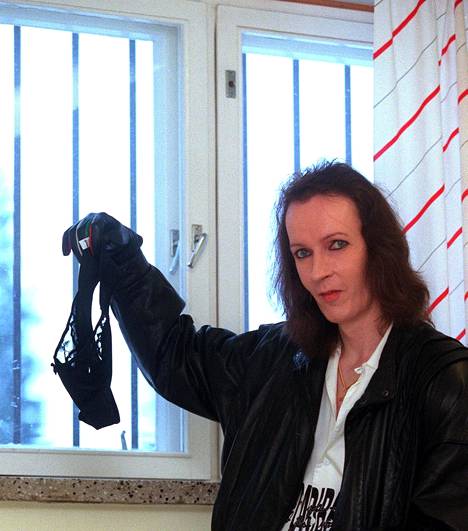 After he was released on parole in November 2008, Penttilä again attacked three more women on separate occasions. In May of 2009, he attempted to strangle a healthcare worker who he had called to his home to perform chiropractic services. The woman was eventually able to escape after calming Penttilä down and convincing him to release her.
He continued his violent pattern twice more: first strangling a female housecleaner he had hired to tidy his apartment, and the second just three weeks afterwards.
On June 11 of 2010, the Oulu District Court sentenced Penttilä to six years for three aggravated assaults and attempted aggravated assault, as well as aggravated rape and deprivation of liberty. The next year, the Rovaniemi Appellate Court once again interfered with the ruling and reduced Penttilä's sentence to just four years and five months. The final verdict was upheld in October of 2012.
Penttilä was released in December of 2016, and just two years later, he murdered a prostituted woman by strangling her with stockings in his Helsinki apartment. Additionally, he had been found to have planned to murder a 17 year-old girl in 2017.
He is now serving a life sentence for the brutal slaying.
During deliberations to determine whether Penttilä should be charged with homicide or the lesser crime of manslaughter, the court heard how he had spent hours of each day viewing pornography depicting asphyxiation leading up to the murders he had committed.
Psychologist Jan-Henry Stenberg told the Helsinki Court of Appeal that Penttilä's pornography consumption illustrated the premeditated nature of his crime and highlighted the tendency for pornography use to escalate towards more extreme content. It was revealed that Penttilä had mimicked the actions of one of the men in a pornographic video he had watched.
Despite repeatedly targeting women and girls for sexually motivated violence, Penttilä is now listed as a "female serial killer" on Wikipedia, where editors have argued amongst themselves over this classification in the site's open-access backend.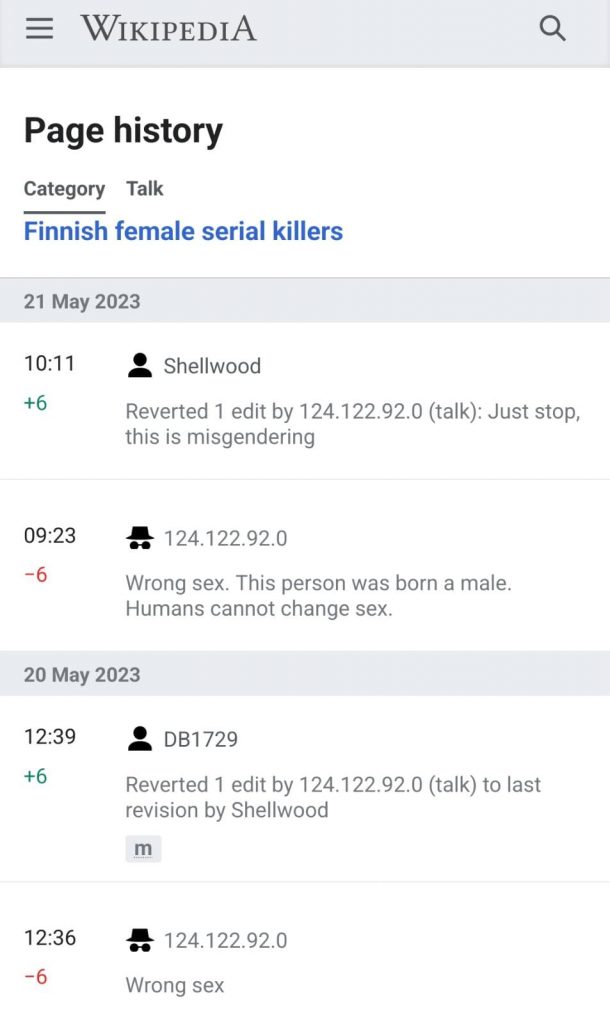 The page was initially created in 2018 under Penttilä's birth name, Jukka Lindholm.
Few changes were made until last month when, on April 5, a trans activist Wiki editor known as Maddy from Celeste updated the serial killer's name to Michael Maria Penttilä and cited "deadnaming" as the reason.
Editor Maddy from Celeste, a pseudonym which is a nod to a video game character and its developer, is credited with having created the page "Transgender history in Finland," and identifies as queer, trans, and non-binary.
"A serial murderer has zero rights – stop with the pathetic gender crap, HE is not a she," reads one comment on the article's edit page.
Other comments can be seen in the edit history and depict a back-and-forth exchange over "misgendering", with one anonymous editor stating, "This person was born a male. Humans cannot change sex."
In July of 2019, the category labeled "transgender serial killers" was deleted by Wikipedia editors. However, a category does exist for "female serial killers," and Penttilä is one of two entries in the section regarding Finnish criminals.
Penttilä's sadistic killing spree resembles the criminal behavior of American serial killer Harvey Marcelin. Marcelin, who identifies as transgender and uses the name Marceline Harvey, murdered three women and dismembered two of his victims' bodies. Marcelin similarly targeted women trafficked in the sex industry, and is currently being held in the women's ward at Rikers Island in New York.
Like with Penttilä's entry, a dispute between various Wikipedia contributors broke out over Harvey's pronouns in 2022.
---
Reduxx is your source of pro-woman, pro-child safeguarding news and commentary. We're 100% independent! Support our mission by joining our Patreon, or consider making a one-time donation.