UPDATE 8/2/22: A previous version of this article included the now-outdated claim that Marcelin was located in the men's section of Rikers Island. This article has been edited to reflect that Marcelin is currently housed in the female section of Rikers, as per the the New York City Department of Corrections.
A transgender serial killer with prior convictions for the murders of two women was granted access to a homeless shelter for women, where he reportedly was interacting with his third victim.
Harvey Marcelin, 84, who identifies as a transgender lesbian and uses the name Marceline Harvey, was arrested on March 4 for the murder of Susan Leyden, 68. Leyden, a former jewelry designer from New Jersey, was a resident of the Sage Center at Stonewall House, an LGBTQ residence in Brooklyn that also houses homeless seniors.
Leyden's headless torso was found by a passerby in a shopping cart blocks away from Marcelin's apartment on March 3, prompting police to question Marcelin on the gruesome discovery. Marcelin was well-known to police as a murderer, having been convicted in the brutal deaths of two other women on two separate occasions. In 1963, Marcelin had been convicted of murdering his ex-girlfriend. In 1986, just two years after being paroled, he stabbed a woman to death. Marcelin was paroled again in 2019.
Marcelin was arrested after witnesses reported seeing him leaving his apartment with Leyden's floral shopping bag and CCTV footage was reviewed confirming Leyden had entered, but never left, Marcelin's apartment building.
A search warrant executed at Marcelin's apartment turned up Leyden's decapitated head.
"My office charged Harvey Marcelin with allegedly concealing the severed head of a woman in [his] home and discarding the victim's torso in a bag on the street," Kings County District Attorney Eric Gonzalez said in a press conference held on March 14. "Today, the grand jury indicted Harvey Marcelin for murder, and my office is committed to vigorously seeking justice. The facts of this horrific case are gruesome and unsettling and my heart is with the victim's family and friends."
During the same press conference, the NYPD provided updates on the gruesome crime in which they released surveillance footage from a retail store featuring Marcelin. In it, Marcelin is seen utilizing a motorized wheelchair with what appears to be a severed human leg on the seat, visible when Marcelin stands from the chair to look at products.
On March 30, Marcelin pleaded not guilty to charges of first- and second-degree murder, tampering with physical evidence, and concealment of a human corpse in the killing of Leyden.
While it is unclear when Marcelin and Leyden first met, one of his many Facebook profiles reveals a communication with the victim dated 2019, just after he was released from the upstate Cayuga Correctional facility on the provision of lifetime parole.

It was at this time that both Marcelin and Leyden were seeking housing. Leyden, who was reportedly struggling with declining mental health and drug addiction, eventually secured an apartment within the Sage Center at Stonewall House.
Marcelin used Leyden's own photo as his own profile image on more than one Facebook account and had repeatedly posted her picture to his Facebook pages. In October 2021, just months before Leyden was murdered, Marcelin responded to her with the comment, "Love personified."
Yet a few comments made from Leyden's Facebook account suggest that the feeling was far from mutual.
In November 2020, Marcelin uploaded a photo of a young blond woman as his main profile photo, the identity of whom is unknown. Beneath the photo, Leyden commented: "That is not a picture of Marceline Harvey… [he] is nice but crazy… Marcaline [sic] is a freak."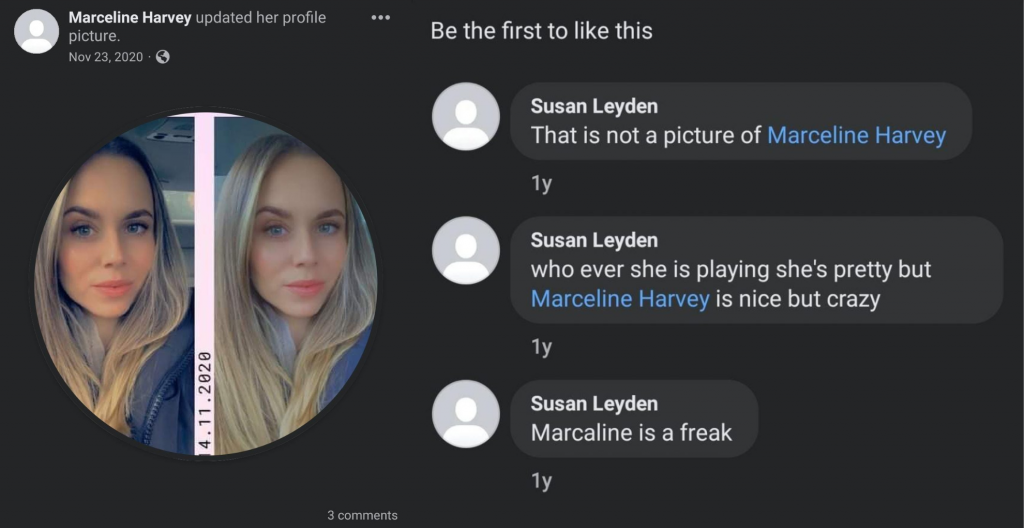 Anne Brennan, a nurse who oversees the intake of residents, told The New York Times that she had objected to Harvey being allowed entry to the women's section of the shelter where Leyden resided — particularly in light of his long record of violence against women — yet her concerns were ignored by her supervisors.
"Apparently his feelings and identity were far more important than all the other women that were terrified of him," Brennan said.
However, Julia Savel, a spokeswoman for the city's Department of Social Services, told media that policies permitted Harvey's presence.
"Our policy — in accordance with the law — is to place individuals in shelters based on their reported gender identity," she said. "Being homeless or transgender does not make you inherently violent and are not connected to the crime that was committed."
Marcelin told media in April that he met Leyden in Tompkins Square Park in the East Village and that she was among his "coven" of women. She was one of three women who occasionally visited Marcelin's East New York apartment.
According to James Essig, NYPD Chief of Detectives, Leyden was seen entering Marcelin's apartment on the morning of February 27 with a shopping cart. Marcelin was seen at a local hardware store on March 1 with "another unknown female", where they purchased a power saw, trash bags, and cleaning solutions.
Marcelin is currently detained in the Rose M. Singer section of Riker's Island, which is the only female facility on Rikers Island. In an interview with The New York Post conducted in April, he stated that he first dressed up as a woman for Halloween when he was about 13 or 14 years old.
"It felt so good," Marcelin said, who added that he did not claim a female identity until he met a transgender inmate at the Auburn state prison in 1993 who encouraged him to start taking Premarin, a form of estrogen that was developed for post-menopausal women.
On July 30, the New York Times released a lengthy sympathetic profile on Marcelin and his crimes, utilizing "she/her" pronouns throughout. The article insisted "transgender people are far more likely to become victims of violence, not perpetrators," and appeared to attribute Marcelin's history of violence against women as part of his gender identity conflict.
Marcelin has a long history of mental illness and committing sex-based violence. He was first accused of attempted rape when he was just 14 years-old; the allegation was made by a girl aged 8.
A 1963 psychiatric examination conducted by three doctors at Bellevue Psychiatric Hospital concluded Marcelin had "schizoid personality with sociopathic features" but was not deemed criminally insane nor psychotic. A hospital record from 1962 suggested he may have had "delusional grandiosity," "suggestions of chronic schizophrenia" and "paranoid reaction personality."
Prior to Leyden's grisly homicide, Marcelin had been incarcerated for more than five decades on two separate murder convictions for the brutal homicides of women – the first in 1963, and the second in 1985.
A jury found Marcelin guilty of murder in 1963 for fatally shooting his girlfriend Jacqueline Bonds inside a Manhattan apartment. At the time, Marcelin was also facing an attempted rape charge involving another woman, and Bonds had been scheduled to appear before a grand jury considering the case.
In April, Marcelin stated that he had killed Bonds out of jealousy. "She was very popular," he said. "And I had images of her just being nice to somebody else. Yeah, sexually, you know. She was beautiful. I didn't want anyone else to have her."
He was found guilty of first-degree murder and received a sentence of 20 years to life, and was released in May 1984.
On the morning of October 30, 1985, Marcelin was seen pushing a shopping cart that contained a garbage bag. Witness Robert Romano told law enforcement, "The bag ripped on the first step and blood came out." A second witness spoke of discovering the bag later and discovered a pair of women's legs inside, bound with rope.
The victim was identified as Anna Laura Serrera Miranda, 29, in police records. Miranda had a string of prostitution arrests and a heroin habit, according to parole board reports. She had been stabbed repeatedly, tied up with a rope, before being wrapped in plastic. Marcelin told parole officers that he wanted to be a pimp and that Miranda lived with him occasionally, and later told a Manhattan judge that she had been late with the rent.
"I was very nice to her but then she'd go out for two or three days and I didn't know what she was doing," he said.
Marcelin was convicted of manslaughter and sentenced to six to 12 years in prison.
State officials expressed concern over granting parole when Marcelin became eligible in the 1990s. During one State Parole Board hearing in 1997, Marcelin admitted to having "problems" with women, according to court records. Other boards had rejected parole citing Marcelin's "attempt to place the blame" on the victims. He was released on August 7, 2019.
Marcelin described his male "side" as a "pimp" and blamed his female victims for inciting him to violence. "I tell them — there's a side of me you don't want to see… but they don't listen," he told The New York Post.
When asked about his tendency to erupt in a violent rage, Marcelin said his outbursts felt "liberating" as he could let his "macho side come out". He went on to say that he "[covers] it up by being a woman" because he doesn't like his "male rage."
"Harvey's not a good guy, he's a tough guy," Marcelin said, "Marceline's nice and gentle and loving, you know, lots of laughter, fun to be with. She's the one who's perfectly normal."
Marcelin's presentation of his gender identity is similar to that of Washington state serial killer Donna Perry.
Perry murdered three prostituted women in a four-month timeframe in 1990. He managed to avoid suspicion following the heinous killings, and fled to Thailand in 2000 to undergo gender reassignment surgeries, after which he successfully concealed his identity for years.
It wasn't until a 2012 DNA test following a conviction for illegal firearms possession that Perry was forensically connected to all three women's murders.
During the trial proceedings, prosecutors contended that Perry had only undergone his gender changes to avoid suspicion for the murders and shirk justice. This was in part fueled by the fact Perry referred to his "male" and "female" identities in separate contexts, accusing his "male" side of having committed the crimes while his "female" identity was innocent of them.
He was found guilty in 2017, and in 2021 it was revealed that he had been transferred to the Washington Correctional Center for Women.
---
Reduxx is a newly-launched independent source of pro-woman, pro-child safeguarding news and commentary. We're 100% reader-funded! Support our mission by joining our Patreon, or consider making a one-time donation.