A lesbian bar that has operated in Rennes, France for nearly a decade has been forced to close its doors following a disturbing swell of vandalism and death threats by trans activists. Orane Guéneau, the owner and manager of lesbian bar La Part des Anges, was publicly denounced as "transphobic" and accused of "misgendering" by critics.
Speaking with Ouest France, Guéneau said she made the decision to shut down the venue to protect her employees in response to increased aggression, both online and at her storefront. On April 14, four unnamed trans activists spray painted the menacing message "Fuck TERFs," accompanied by a trans symbol, on the front door of the venue during activities that were aimed at opposing national pension reform.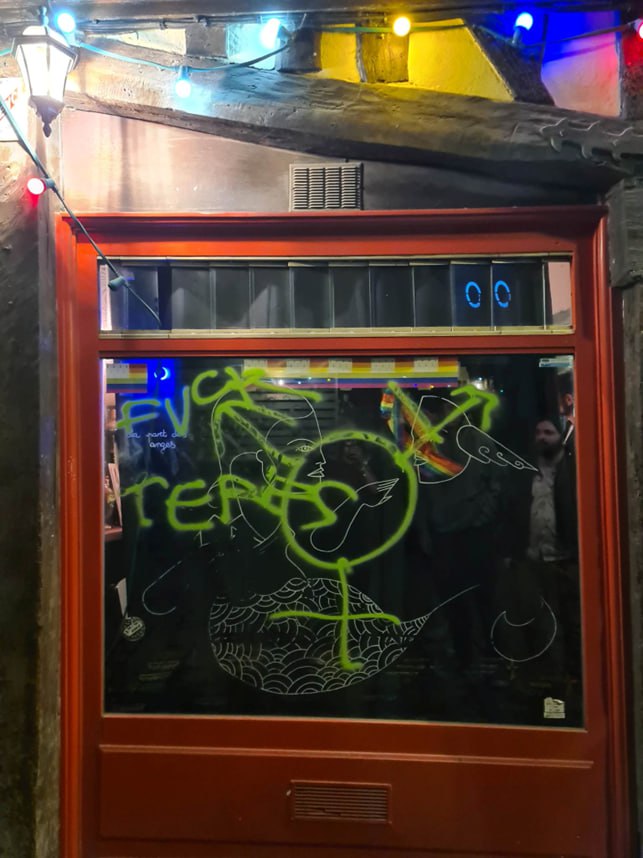 "I have to close after the attack that we experienced," Guéneau told Ouest France. "The window was tagged and a pane was broken, it was hyperviolent for employees and customers, and the bar was full."
A few days before the acts of vandalism were committed, Guéneau made a book critical of trans activism available to her patrons.
Titled When Girls Become Boys and written by Marie-Jo Bonnet, her detractors considered the act to be representative of her "coming out" as transphobic, and condemned her on social media.
But the backlash was not limited to vandalism and social media condemnation, Guéneau also started to receive threatening messages scrawled on paper slipped under her door last month, some of which read: "Save a trans, commit suicide," and "One bullet, one TERF."
Guéneau faced further harassment throughout the month of May when a local chapter of the French feminist organization Nous Toutes published a statement calling for their supporters to boycott the bar.
"In Rennes or elsewhere: no feminism without trans people," reads the call to action from Nous Toutes 35. "For several years, people from the Queer community have been denouncing attacks against them in a bar in Rennes: La Part des Anges. These recurring assaults are all the more problematic since this bar claims an identity as a lesbian and feminist bar."
The statement continues: "Therefore, it's important that this bar finally gets massively denounced. We would also like to call on the various political, activist or cultural organizations to stop organizing with this bar… transphobes have no place in our struggles."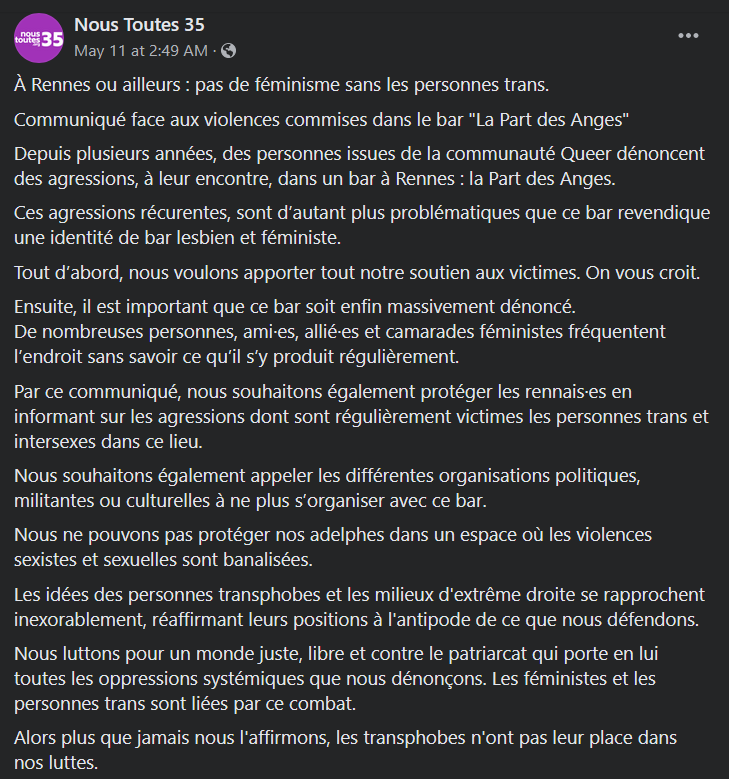 In response to the statement from Nous Toutes 35, Guéneau announced that she had filed a complaint for defamation, harassment and cyber-harassment.
Yet despite the claims of "transphobia," Guéneau has said that her venue has always been accepting of people who claim to be transgender.
"My bar has always been an inclusive bar," she said. "Trans people should be respected and have rights, and lesbian women who are born female should also have a space for themselves."
However, tensions have escalated over the past five years as Guéneau defended lesbian patrons who were being harassed by men who self-identified as women and attended the venue seeking sex.
On multiple occasions, Guéneau told Charlie Hebdo, trans-identified males came to the lesbian bar to flirt with same-sex attracted women.
"If the young woman said: I prefer women, then the trans woman was offended and cried transphobia. But this young woman is not transphobic, it's just a matter of consent, she doesn't like penises, since she's a lesbian!"
Women's rights campaigner and founder of Femelliste Marguerite Stern shared her support for Guéneau, and questioned the accusations of "misgendering" leveled against her. Stern also placed blame for some of the harassment Guéneau endured in part on Nous Toutes for their public condemnation of the venue.
J'ai pu avoir accès à l'article entier 👇

Le bar "La part des anges" à Rennes a été vandalisé (vitres cassées, inscriptions "TERF" sur la vitrine). La responsable, Orane Guéneau, harcelée depuis 5 ans, a porté plainte et a été contrainte de fermer son bar pour la sécurité du… pic.twitter.com/mvV3ZDOZBx

— Marguerite Stern (@Margueritestern) May 19, 2023
Nous Toutes, the liberal feminist group spearheading the harassment of the lesbian bar, has previously attacked causes they deemed to be "transphobic."
In 2022, the group announced it would no longer provide data on domestic femicides due to concerns over the sex-based data being used by "transphobes."
Nous Toutes had originally been founded to provide public insight into violence against women and girls in France, but launched into a social media war with another anti-femicide campaign group over transgenderism.
After Féminicides Par Compagnons ou Ex accurately reported that no trans-identified males had been murdered by domestic violence in France in 6 years, Nous Toutes responded by suspending their release of any data related to the murder of women and girls in the nation, claiming that the information was "oppressive" and "otherwise illegal."
#NousToutes a décidé de suspendre le relai du décompte des féminicides conjugaux. Nous vous expliquons pourquoi. ⬇️

— #NousToutes (@NousToutesOrg) January 5, 2022
Nous Toutes then convened to determine how to make their femicide data reporting more "inclusive," floating strategies which included counting general transphobia as femicide.
Violence against women critical of gender ideology is a regular occurrence in France, with multiple instances of women being physically attacked for not accepting the concept that trans-identified males were "female" being recorded over the past two years.
Reduxx previously reported on violence breaking out at French pro-woman events deemed "transphobic," including on International Women's Day in 2021 and 2022 when a number of women were left with injuries from rampaging trans activists.
In April of this year, a symposium intended to raise awareness of the plight of Afghan and Iranian women was abruptly postponed after trans activists threatened to violently ambush the event because of the presence of a gender critical speaker.
---
Reduxx is your source of pro-woman, pro-child safeguarding news and commentary. We're 100% independent! Support our mission by joining our Patreon, or consider making a one-time donation.