Trans users on Twitter are attacking JK Rowling after the Harry Potter author "misgendered" an account belonging to a trans-identified male convicted of murdering a 13-year-old child in a racist gang attack.
On November 29, JK Rowling called attention to a social media account under the handle @gameonterfs, posting two screenshots — one of a tweet from the account celebrating the fantasy of her death, and another of the profile photo that account was using.
While it is currently unknown if Rowling is aware, the account she brought attention to is one of several belonging to convicted child murderer Luis Morales, better known as Synthia China Blast.
On October 24, Reduxx reported that Blast had been discharged from his parole with the New York Department of Corrections and Community Supervision on July 30, quietly marking the end of his sentence and release conditions. Blast had been serving a 25-to-life sentence after being convicted in 1996 for the murder of 13-year-old Ebony Williams.
Blast, along with his boyfriend Carlos Franco, members of the Almighty Latin King and Queen Nation gang, had targeted the young girl in 1993 as she made her way to her older sister's house. Williams was taken to an apartment in Hunts Point where she was held captive. It is believed the murder had racist motivations due to Blast and Franco's gang affiliation.
According to case investigators at the time, Blast and Franco tortured the young girl before stabbing her repeatedly.
Realizing she was still alive after having been slashed by Blast, Franco then stomped on the child's neck until it was broken. Prior to being killed, Blast had reportedly sexually assaulted the girl. New York Police Department examiners determined that the child's corpse, despite being badly burned, showed signs of the assault.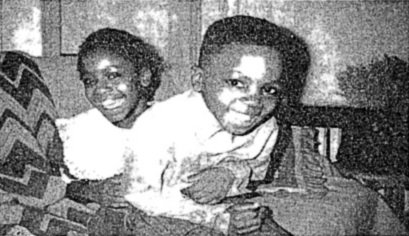 Following her death, Blast and Franco packed the girl's naked body into a box and dumped it near the Sheridan Expressway. Finally, they doused the box in gasoline, and set it ablaze. A passenger on a nearby train saw the flames and called 911.
During the trial, Bronx Prosecutor William Hrabsky said of the crime: "The suffering that this poor child went through is beyond belief and puts this crime in the category of monstrous and barbarous."
Despite pleading innocence in court and to media in later interviews, Blast had reportedly "bragged" about committing the crime to friends, some of whom would later testify against Blast and Franco on that basis. Williams' mother, Yvonne Hill, had also asserted that Blast and Franco had appeared to be entertained by the trial proceedings, and showed no signs of remorse.
"Ever since the trial was going on, all I see is Luis Morales grinning and Carlos Franco, too," Hill said during a victim impact statement, referring to Blast by the name he had used at the time. "You ain't smiling today. I hope you both rot in hell."
On November 7, Reduxx received an e-mail response about the article, with an anonymous messenger complaining that the piece had noted allegations that Blast had sexually assaulted Williams before her murder. The e-mail address, beginning with the numbers 4300, falsely asserted that Blast had been exonerated of the crime and that his conviction had been overturned.
The sender had also vaguely threatened a lawsuit or some sort of legal action against Reduxx for the piece.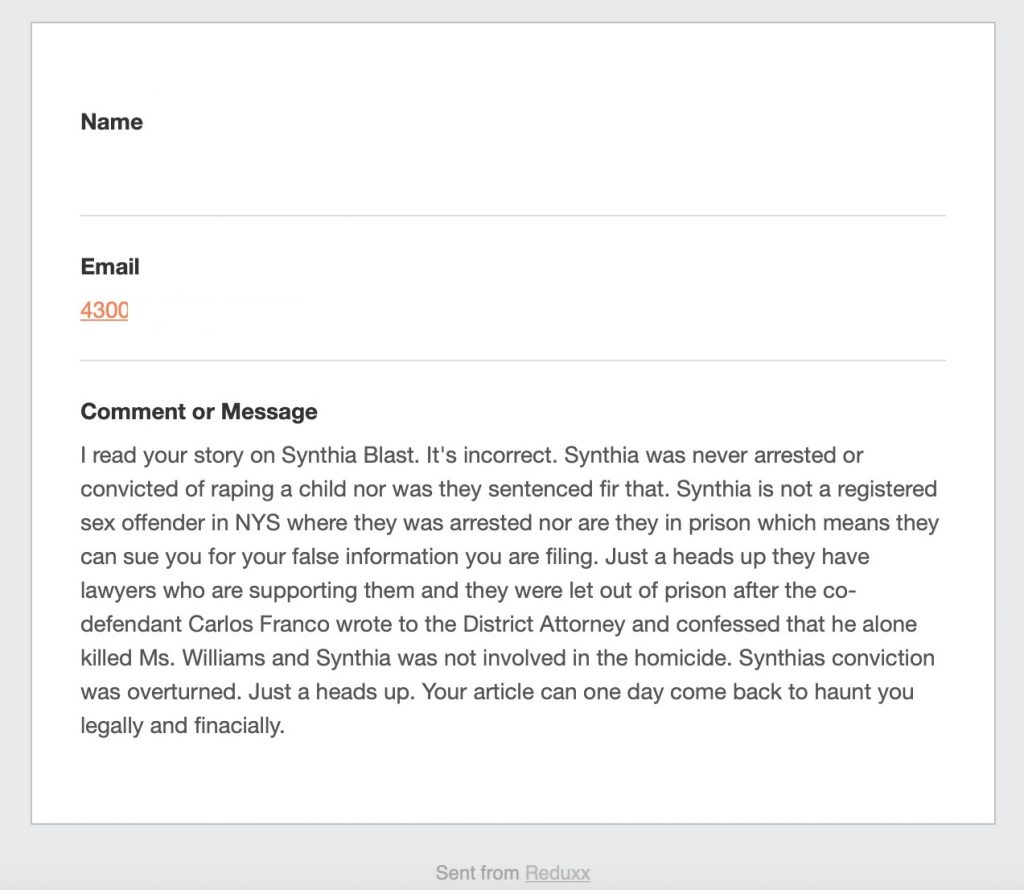 The same day, a Twitter account surfaced with the handle @Code4300, impersonating Reduxx Editor-in-Chief Anna Slatz, using her photo and Reduxx branding without authorization.
While posing as Slatz, @Code4300 claimed to be in a relationship with a trans-identified male and called for a boycott against, and the banning of, Reduxx. The owner of the account also made several references to Blast and asserted his innocence, using both the female pseudonym and his birth name, Luis Morales, as well as made wild claims that Blast had died in July of 2022.
Reduxx contributor Jennifer Gingrich was similarly targeted by the account's disturbing posts, which also began to use her profile photo and post sexualized comments about her.
Shortly after, the e-mail address associated with the sender of the November 7 complaint as well as the @Code4300 account were linked to an Instagram belonging to Synthia China Blast.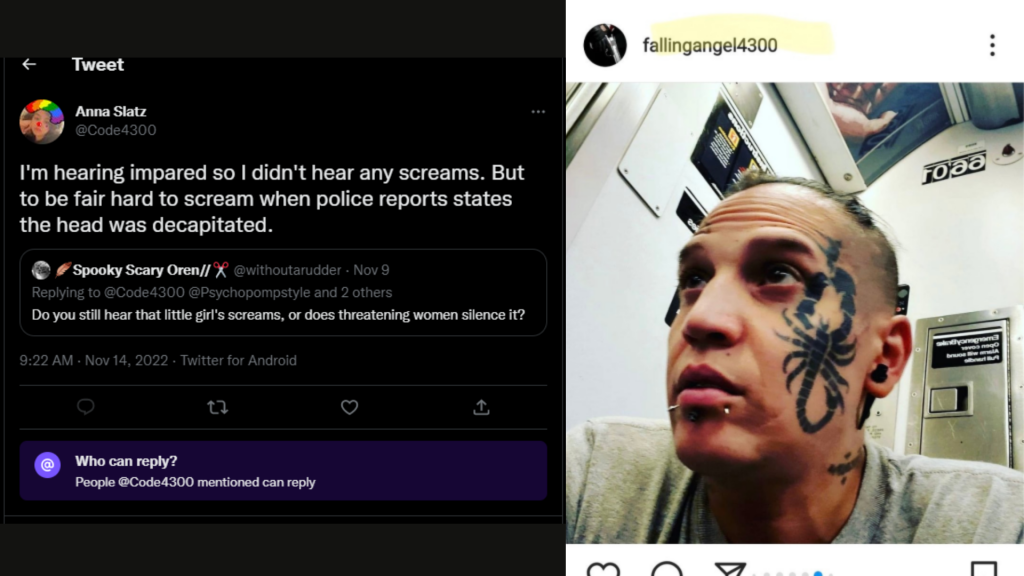 Though @Code4300 was ultimately suspended by Twitter, Blast continued to make accounts which engaged in similar conduct. Among them, Blast established multiple profiles railing against 'TERFs' — a derogatory term for women who assert their right to single-sex spaces.
"For the record, my name is Synthia China Blast and I was wrongfully convicted of murder," Blast tweeted on November 10 from one of his alternate Twitter profiles which had briefly used the handle "TERFHunter." The tweet has since been deleted.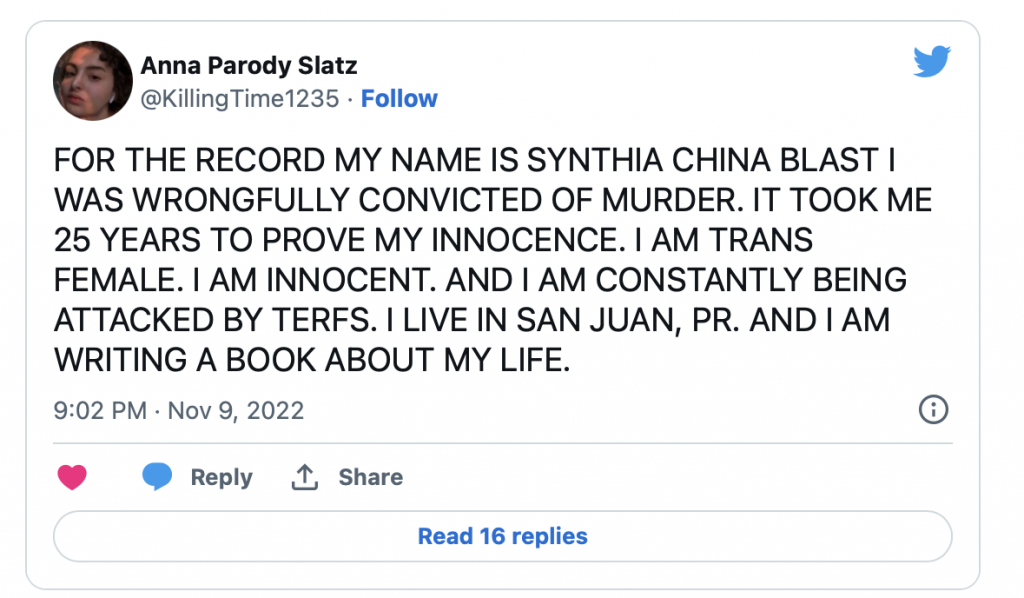 Other handles on Twitter known to belong to Blast include @Lords_ofKaos, @FXTravaganza, and @gameonterfs, the account which Rowling called attention to on November 29. All three accounts carry on a similar posting style to Blast's original @Code4300, and have parallel usernames and monikers associated with Blast's multiple Instagram accounts and real-world identities.
Blast is utilizing a heavily doctored photo of himself as the profile picture on @FXTravaganza, while @gameonterfs uses a stolen photo belonging to individuals who are not related to him or his crimes in any way. On @Lords_ofKaos, Blast is using the profile photo from @gameonterfs as an account header.
All of the accounts repeat Blast's earlier incoherent claims which simultaneously assert that his conviction was overturned, and that he died in June or July of 2022. As evidence of the second claim, Blast uploaded a poorly doctored Death Transcript to his @FXtravaganza account.
Despite his claims to the contrary, Blast's conviction was never overturned.
Blast completed his sentence in July of 2022 when the Parole Board of the state of New York discharged him fully, marking the end of the conditions he had been subjected to since 2018 when he was initially released.
Kristina Lennon, a Correctional Sentencing Review Specialist with the New York State Department of Corrections and Community Supervision confirmed Blast's discharge to Reduxx via e-mail on November 18.
Blast's accounts have also continued their habitual harassment of Reduxx Editor-in-Chief Anna Slatz and Reduxx contributor Jennifer Gingrich. Yet Gingrich received a 24-hour suspension after she responded to Blast and correctly identified him as the murderer of Ebony Nicole Williams.
Rowling's tweet calling attention to Blast's alternate account has attracted the usual attention of trans activists and those critical of women's right to single-sex spaces, with many rushing to defend the account from Rowling's platform, likely ignorant as to who was behind it.
Some took issue with Rowling "misgendering" the account owner by using the term "bro," while others claimed Rowling was engaging in "kink shaming" or expressing homophobia.
Many incorrectly claimed @gameonterfs was Rowling's own creation, or had been made by a radical feminist posing as a trans-identified individual. They pointed to the fact the accounts largely followed gender critical women as "proof," unaware that Blast typically follows those associated with his targets in an effort to get their attention.
Following his incarceration, Blast became a noted advocate for incarcerated trans people's rights, successfully demanding the state of New York provide him with feminizing hormones in 1999, and suing the state in 2003 after having been refused sex reassignment surgery.
Blast repeatedly became a media sensation for his sexual exploits while in custody, beginning a romantic relationship with Heriberto "Eddie" Seda, a convicted serial killer who had sought to murder one person of each zodiac sign as an homage to San Francisco's infamous Zodiac Killer. Blast and Seda's relationship was dotingly covered by New York Magazine in 2004, who even commissioned a portrait photograph of the couple.
Blast and Seda were ultimately separated from each other by the Department of Corrections.
Blast was regularly profiled in media throughout his incarceration, and became a subject championed by prison abolitionists who decried his extended stay in solitary confinement. During his incarceration, Blast became a regular contributor to The Sylvia Rivera Law Project (SRLP), an organization which provides assistance to inmates on how to legally change their identification documents.
In 2014, Orange is the New Black actor and SRLP representative Laverne Cox read a letter in support of Blast. But Cox quickly retracted the gushing words after learning more about the crime Blast was convicted of.
Following his initial parole in 2018, Blast was an intern and Prisoner Advisory Committee member for the Sylvia Rivera Law Project.
---
Reduxx is a newly-launched independent source of pro-woman, pro-child safeguarding news and commentary. We're 100% reader-funded! Support our mission by joining our Patreon, or consider making a one-time donation.