A male stripper will be hosting a children's event at a museum in Scotland, prompting concern from parents as debates around child safeguarding continue to get more heated.
The Stirling Smith Museum and Art Gallery in Stirling, Scotland has announced a "sing-along cabaret" targeted at children under the age 12. But the show, which promises "mesmerizing storytelling" and fun-filled Disney tunes, is being hosted by a performer who is usually seen at venues that are anything but child-friendly.
Under the ABC, set to be held on October 14, is being presented by Tom Harlow — a male burlesque dancer and stripper. The Stirling's website states Harlow will appear as a "not so little mermaid" and sing for children as well as read them "alternative and empowering fairytales."
Under the ABC is Harlow's own production, having created it in 2019 under the moniker Mermaid Tom. That year, he performed at The Savings Bank in Glasgow for children under the age of 10. In 2020, the event was online-only due to the COVID-19 lockdowns, but in 2021 The Stirling retained Harlow as part of a summer lineup during their August Family Garden Party.
In the past, Harlow has presented his Under the ABC production as being co-hosted by the "Salty Sea Men," even in the events aimed at children.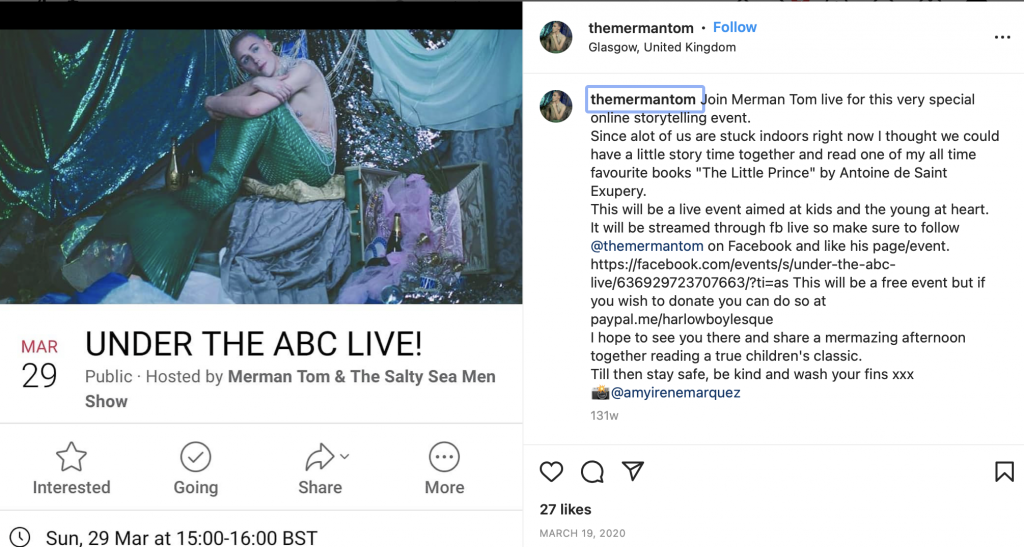 Harlow advertises his "Mermaid Tom" character on his website as being available for birthday parties and other events. His costume is often comprised of a mermaid tail and bare chest, with his nipples being covered by glittery pasties. In the last iteration of Under the ABC, Harlow included a bra as part of the outfit.
Also on his website are his adult characters and performances. Among them are "Brony," a fetishized take on a My Little Pony character Harlow describes as "very dirty," and "Woof!" — a leather-puppy inspired BDSM striptease.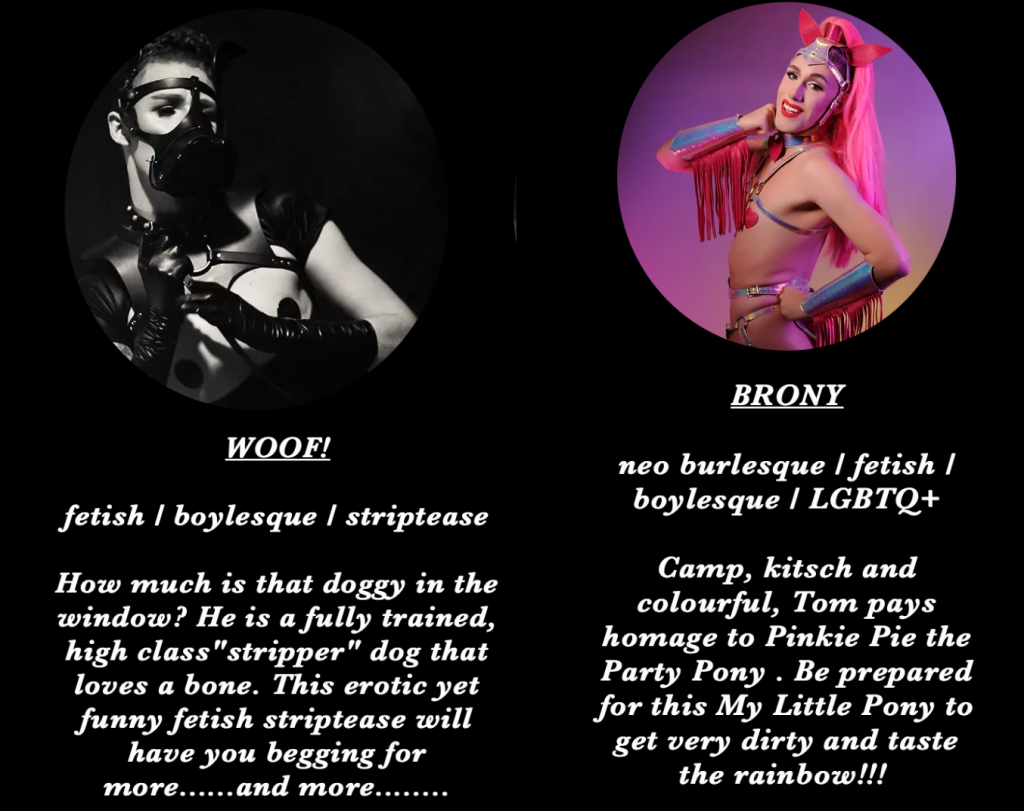 In another act, titled "Man's World," Harlow describes his performance as an "intoxicating blend of glamour and filth, sleaze and classic striptease that will leave you slack jawed, weak at the knees and yelling MORE PLEASE!"
Many of the videos on Harlow's website are age-restricted and require viewers to log-in to their YouTube accounts to verify they are over 18 before being allowed to watch.
Since word of Harlow's performance at The Stirling has begun to circulate, some organizations have tried to get the show cancelled citing safeguarding concerns.
UFT Scotland, which was created at the beginning of the COVID-19 pandemic in response to school closures, was first to have drawn attention to Harlow's show last week on social media.
On Twitter, the group revealed that parents who had tried to voice their concerns about the event on The Stirling's Facebook page had their comments quickly deleted. They added that the museum had been dismissing critical comments as "bots."
"Tom Harlow is a sex performer with easily accessible, highly sexually explicit online content. The Smith Museum is platforming this sex performer with his "not so little merman" innuendo show to children. Children will look him up online. This is a safeguarding issue," UFT Scotland tweeted yesterday.
In response to UFT's vocal campaign to have the show cancelled, Harlow has been encouraging his Instagram followers to mass-report their Facebook page, which has over 14,000 members.
"Merman Tom was created to bring joy with singing and simple storytelling to children, and they are trying to ruin it and it honestly breaks my heart. I put a lot of myself into what I create and to see people twisting it like this cuts deep," Harlow wrote in the Instagram call-to-action.
This is far from the first time an adult performer has been invited to host a children's event in the United Kingdom.
On February 22, Hollymount Primary School in South London hosted drag queen Dolly Trolley as part of its diversity week events.
Parents were not informed the drag queen would be coming to the school, but after news broke it quickly became known that Trolley was also a burlesque performer whose acts were often x-rated.
UPDATE 28/09/22: The Stirling Smith Museum and Art Gallery has announced the event has been cancelled at the request of Tom Harlow.
In the statement, The Stirling acknowledges Harlow is an adult performer, but insists the backlash was purely due to his sexuality.
"Tom is a gay man and those seeking to do him and the Smith harm have made a direct link between Tom and 'grooming' young children – that is the reality here," Chair of the Museum's trustees, Dr. David Mitchell, wrote in the statement. Dr. Mitchell also cites there had been "risks" and "threats" associated with the event, but does not elaborate or provide examples.
The Stirling has also made a complaint with police, though Dr. Mitchell does not state on what grounds the "matter" was reported beyond criticism of Harlow. In the statement, he does appear to discreetly refer to UFT Scotland, which had been the most vocal organization protesting Harlow's appearance at the Museum.
"The matter has been reported to Police Scotland and as an organization we will pass evidence on when required," Dr. Mitchell says.
Harlow's event fee is being donated to Stonewall.
---
Reduxx is a newly-launched independent source of pro-woman, pro-child safeguarding news and commentary. We're 100% reader-funded! Support our mission by joining our Patreon, or consider making a one-time donation.