A man who molested a 4-year-old girl was amongst the males transferred to a women's institution in California following the implementation of S.B 132 despite the fact he was denied a gender change, Reduxx has learned.
Levi Page McNeese was arrested in 2015 after a 4-year-old girl reported to her mother that she had been sexually molested by him. McNeese was charged on four counts of Lewd or Lascivious Acts with a Child, to which he initially pleaded not guilty.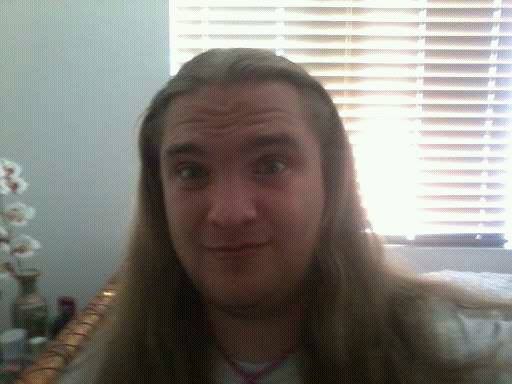 In 2016, McNeese agreed to a plea deal in which he was found guilty on two of the four counts. He was sentenced to 8 years in prison, and was sent to the California Institution for Men in Chino.
Reduxx obtained documents from the Superior Court of California in San Bernardino indicating that in June of 2021, shortly after S.B 132 went into effect, McNeese filed for a gender and name change, claiming he identified as a woman named Laura Isabell McNeese.
S.B 132 was legislation signed into effect in January of 2021 by California Governor Gavin Newsom. The law provides inmates housing based on their gender identity status. Almost immediately after the legal guideline went into effect, California correctional centers were hit with hundreds of transfer requests from male inmates seeking movement into women's facilities.
During the time of McNeese's petition and the legal document exchanges associated with his attempt to change his gender and name, he was still being housed in a men's facility.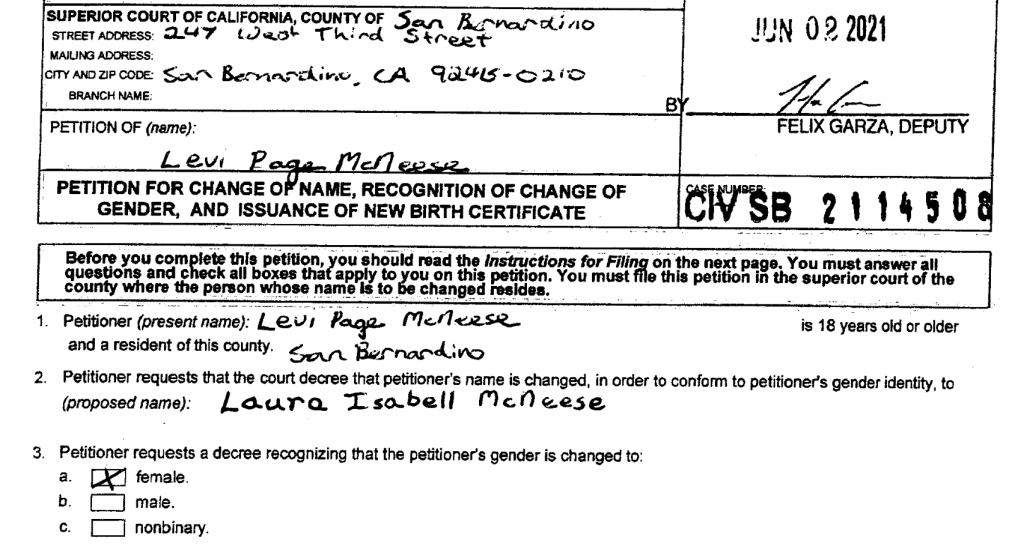 To his petition, McNeese affixed a single letter from the internal corrections health services noting that he was approved for gender affirming procedures. The letter had been acquired just prior to S.B 132 being signed into law.
The California Department of Corrections and Rehabilitation (CDCR) promptly filed an objection, noting that McNeese would be on the sex offender registry for 20 years following his eventual release, and that granting a name change was "not in the best interests of justice, and would pose an adverse effect on public safety." While the Department of Corrections opposed the name change, it did not, ultimately, oppose the legal gender change request.
But on August 27, 2021, the San Bernardino County Superior Court issued a verdict denying McNeese both the name and gender change. McNeese did not file any additional petitions after the denial.

Despite this denial, McNeese was still moved to a women's prison at some point afterwards, with his current location being the California Institution for Women in Corona. Inmate records show he is up for parole in November of this year.
Reduxx reached out to CDCR for comment, a spokesperson for which confirmed that a biological male did not need to have a legal gender change to be moved into a women's prison, and that S.B 132 relied entirely on a Gender Identity Questionnaire that could be issued during reception or requested by the inmate at any time during their incarceration.
The Questionnaire is form with a short series of questions in which inmates can declare their pronouns, honorifics, and gender identity.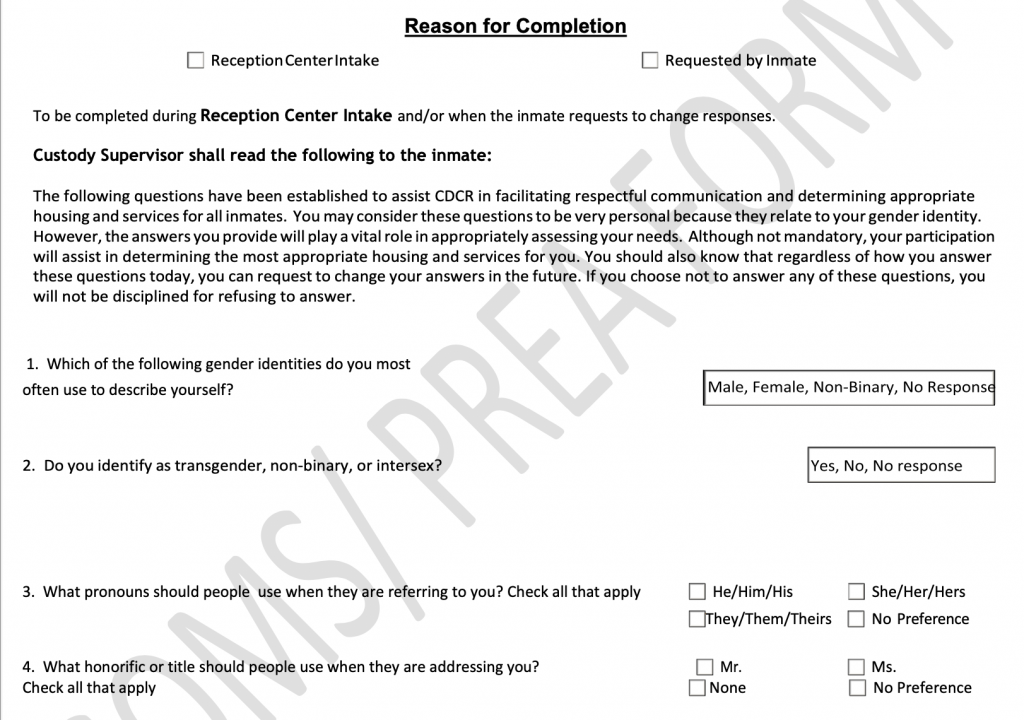 Speaking to Reduxx, Amanda Stulman of women's rights advocacy group Keep Prisons Single Sex USA said she was "outraged" that males were being permitted entry into women's correctional facilities on any basis, but not surprised by the outcome of McNeese's case.
"The California law explicitly does not require social, legal, or medical transition. So it's not surprising that CDCR has transferred a man to a women's prison without a 'legal gender change,' or one who was even denied his application to legally change his name and gender, but it's no less revolting."
Stulman says the majority of the public likely isn't aware of just how vague SB-132 is, noting that it does not require a male inmate to be in the process of medical transition or even want to transition to begin with.
"It would satisfy the law to say, 'I'm a man with long hair or a man who likes nail polish every third day; I'm transgender now' and for that person to demand special pronouns and to be housed with women," she says, noting that the 'transgender umbrella' CDCR utilizes includes such abstract identities as gender fluid and gender non-conforming, "[To be transferred] the magic words aren't even 'I'm a woman,' it's basically anything you want."
In McNeese's case, Stulman hypothesizes he might have filed for a gender change in an attempt to expedite the process of transfer. As no additional attempts to change his legal gender – something that was not opposed by CDCR – have been initiated since being moved, it calls into question McNeese's intentions in seeking the changes to begin with.
Stulman notes that the checks and balances CDCR claims to have in place to prevent the transfer of inmates posing safety or security concerns have, so far, lacked any coherence.
"Given the men they have permitted to transfer – rapists, murderers – obvious potential threats to women's safety do not appear to qualify."
In 2020, Jason Hann, a man who beat both of his infant children to death, was transferred to the California Central Women's Facility after declaring he was transgender. The facility housed his ex-wife, a woman he had threatened to murder on multiple occasions. She managed to appeal for a move to another facility just days before Hann was set to be released into the prison's general population.
"Given the reports of pregnancy, assault and a lawsuit filed on behalf of incarcerated women against the State in the wake of S.B 132, it's extraordinary that this has not stopped other states from pursuing similar laws," Stulman says, continuing: "The efforts to push self-identification in law and policy in an arena which will harm even the most vulnerable women seem to just keep steamrolling across the country."
According to CDCR, as of March 20, 2022, 307 male inmates in the state have requested transfer to a women's facility, with 46 so far having been fully moved.
---
Reduxx is a newly-launched independent source of pro-woman, pro-child safeguarding news and commentary. We're 100% reader-funded! Support our mission by joining our Patreon, or consider making a one-time donation.