A transgender politician in Mexico known for opposing the abolition of human trafficking is under fire for intentionally posting pornographic videos of himself on his official Twitter page while falsely claiming he was moonlighting as a "sex worker."
Maria Clemente made headlines last year after becoming the first transgender politician ever elected to Mexico's federal Chamber of Deputies. But Clemente's short political career has already been marred by several incidents of impropriety, the latest being posting pornographic content of himself on his official Twitter.
Over the past two weeks, Clemente has posted uncensored videos and photos to his social media, most of which show him engaged in sex with men he refers to as "daddy." The posts often utilize the tag #TransIsHot.
In a September 30 tweet, Clemente uploaded a pornographic video of a man's erect penis, captioning it: "This is the first that I'm going to show you how I suck it like the popsicle that my dad bought me when I was a girl and took me to the park."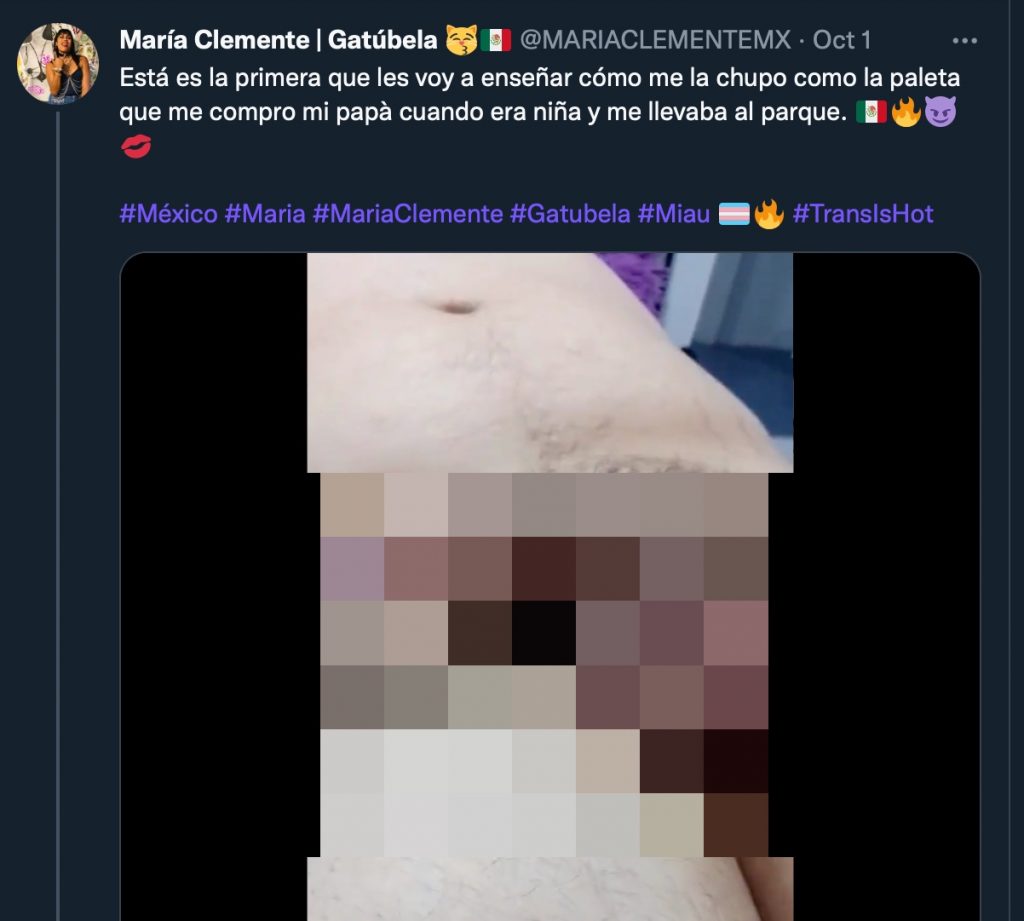 Since then, Clemente has posted multiple other graphic videos, including those showing him performing oral sex on men. The videos received negative feedback from constituents, with many decrying the behavior as inappropriate and unbecoming of a federal politician.
Clemente responded to critics by making a post with a short list justifying his decision to put the pornographic videos on his official account. The reasons, which included "I am a woman," and "It's my body, my choice," was accompanied by a video of Clemente in lingerie blowing kisses at the camera.
On October 6, VICE World News published an article praising Clemente for uploading the content and lauding his political efforts advocating for "sex workers." The article, titled "Mexico's First Trans Politician is a Sex Worker Who Has No Problem Tweeting Her Own Porn," included comment from Clemente in which he asserted that the posts were intended to bring in more clients for his side-career as a prostitute.
But the same day, Clemente's husband issued a statement in which he claimed Clemente was lying about being a prostitute, and that the politician was actually buying sex, not selling it.
"I've known you for almost six years and I can assure you that you have never done sex work," Iván Sheridan wrote, "Not professional. Not semi-professional. Not street … Don't forget that you met me when I was practicing [prostitution], and that I received payment for my services for a long time. A lot of people know that." Sheridan ended his two-page letter by telling Clemente he wanted to finalize their divorce.
According to Sheridan, Clemente has apparently only been doing "sex work" for a few days, and, despite his public persona of being a working-class sexual minority, lives in a luxurious penthouse in Mexico City's upscale Zona Rosa.
Clemente also earns a Deputy salary of 75,000 pesos per month — roughly $3,700 USD.
Sheridan has since deleted his original tweet, apologizing for publishing private information, but has asserted that what he wrote was true. The statement has been preserved on other Twitter accounts, which Sheridan has positively interacted with.
Clemente's claims of being a prostitute are not new. When running for office, he often called himself a "poor woman" and had frequently claimed to have been forced to work as a prostitute before becoming a politician.
As reported by Reduxx in July, Clemente is a staunch supporter of the sex industry. That support led him to clash with human rights experts at an annual congress meant to address the issue of trafficking in Latin America and the Carribean.
On July 6, the 7th Congreso Latinoamericano y Caribeño sobre Trata de Personas y Tráfico de Migrantes (Latinamerican and Carribean Congress on Human Trafficking and Migrant Smuggling) was held in Mexico City, and featured a diverse panel of international academics and politicians from Mexico's Chamber of Deputies.
The goal of the conference was to discuss ways to tackle the serious issue of human trafficking in the region, with a particular emphasis on the ways in which women are impacted. In Mexico, 85% of human trafficking victims are female, with women and girls overrepresented in every form of the crime, including organ trafficking, forced prostitution, and labor exploitation.
But as one speaker, Spanish Sociologist Dr. Rosa María Cobo, addressed the issue of prostitution and its impact on the humanity of women, Clemente, who was in attendance, became enraged and physically aggressive.
"This is hate speech! This is criminalizing my comrades! This is hate speech paid for with Government funds!" Clemente was heard screaming over the livestream of the conference.
A female member of the audience began to speak out against Clemente, yelling back a sarcastic question: "Women were born to be whores?"
Clemente replied: "Well I am a woman, and I am a whore! It's my job and and how my family eats! I love it!"
Following Sheridan's statement, many Mexican feminists are voicing their outrage over Clemente's apparent appropriation of sex-based oppression.
"All our support for Iván, husband of María Clemente who has unmasked this fanatic consumer of prostitution. The theater is over!" Tweeted Asteria Barahùnda Feminista, a sex trade abolitionist collective.
"I applaud that they exposed [him], it's what lying people need. And this man does not represent his community, nor the Mexican people, he is the deputy of the pimps," another user tweeted in response to Sheridan's statement.
"In other words, Mr. Maria Clemente [lies] about being a prostitute, and lives in a flat in the Zona Rosa and thus claims realities he does not live while fighting for the rights of men," @nastyevilwitch wrote.
Since uploading the videos to Twitter, Clemente has announced he intends to propose legislation to fully legalize and regulate prostitution in Mexico, providing prostituted women "social security and rights" as workers.
Clemente has not addressed the post made by his former partner beyond claiming it "never existed."
---
Reduxx is a newly-launched independent source of pro-woman, pro-child safeguarding news and commentary. We're 100% reader-funded! Support our mission by joining our Patreon, or consider making a one-time donation